** Riffs is fully in support of Harper's Law **

--------------------------------------------------------------------------------------------------------------------------------------------------------



URGENT FOR TONIGHT (Friday) AT THE SCHOONER, GATESHEAD. THEY NEED AN ACOUSTIC ACT. Call
0191 4777404. [If you get the gig please let us know so we can advertise it and also save wasted calls].


00000000000000000000000000000000000000000000000000000000000000000000000000000000

0000000000000000000000000000000000000000000000000000000000000000000000000000000000000000000


So who's this little devil squeezing (or should I say 'strangling') the life out of poor lil ol' Val then?


Stormin' 2004


We're back to 2001 again, this time it's Left Hand Drive at the Rock Garden in Easington Colliery . . .

.
That's it then!

BLACK ROSE PUBS include :
The Ox Inn
Durham, DH9 7LR
The Elephant
Ashington, NE63 0SZ
The Guide Post
Gateshead, NE9 7RR
The Cross Keys
Washington Village, NE38 7AB
The Townhouse
Whitley Bay, NE26 2TG
The Millstone Hotel
Newcastle, NE3 1QL
The Black Bull
East Boldon, NE36 0SG
The Victoria
Whitley Bay, NE26 2TE
The Black Bull
Morpeth, NE61 1PE
The Greens
Sunderland, SR1 3PY
The Lambton Arms
Durham, DH3 3BJ
Ship & Royal
South Shields, NE33 2HT
The Crown
Gateshead, NE16 4DT
The Prior
Moorside, Sunderland, SR3 2SW
Britannia Inn
Houghton Le Spring, DH4 4AL

We should call it the Battle of the Queens, but hey, thriving live gigs can not be frowned upon - just celebrated. Which is exactly what the Qween Live lads are doing right now as they wind down from another prestigious sell-out gig at The Exchange Theatre in North Shields. Rob told Riffs: "Absolutely amazing night - it was really nice to meet and greet a lot of our fans after the gig - we are playing in Norwich this Saturday as the headline guest Queen tribute band - everyone is so excited!" And if you missed them locally then you have one last chance this month: catch them at The Westovian Theatre South Shields on Sat 28th.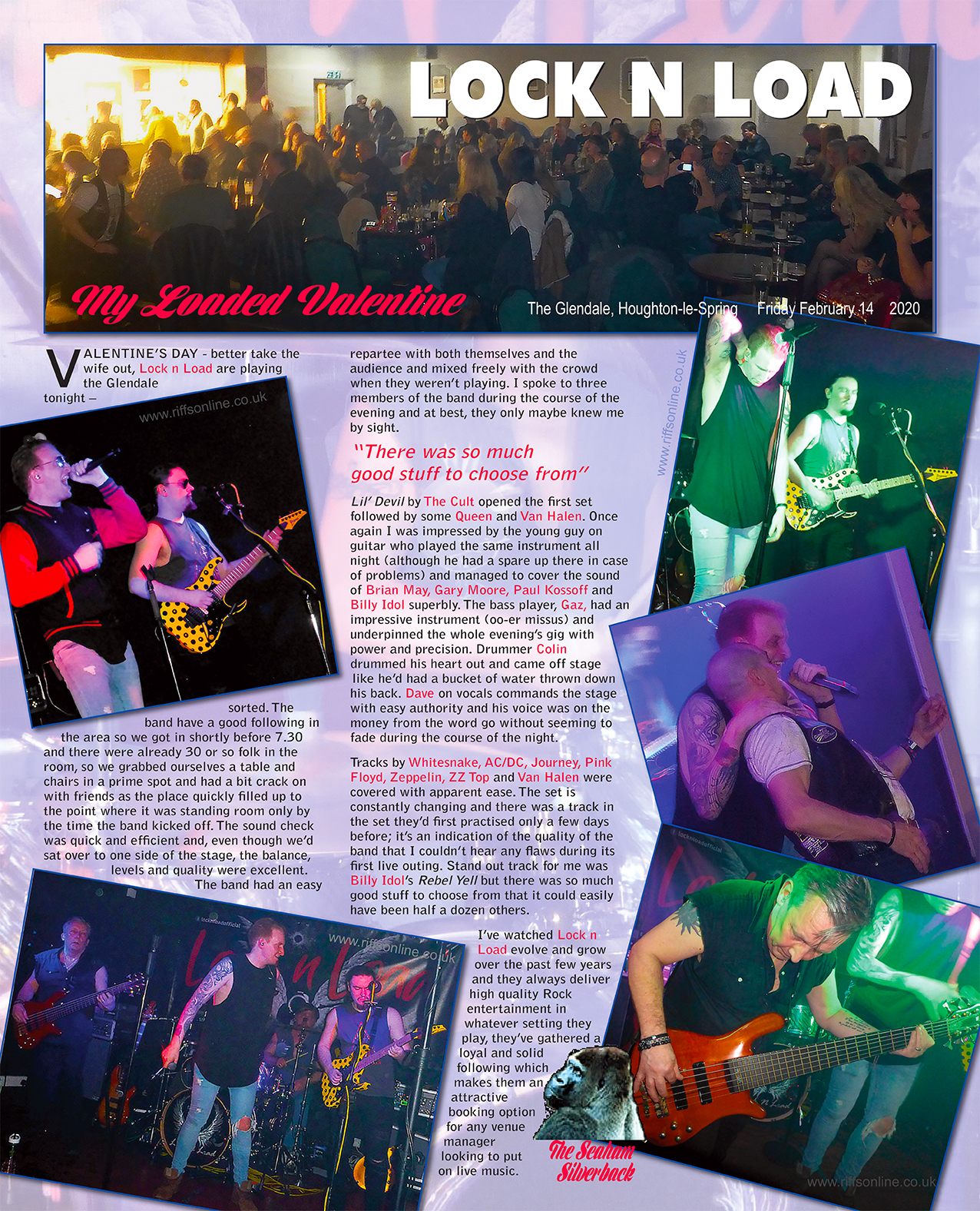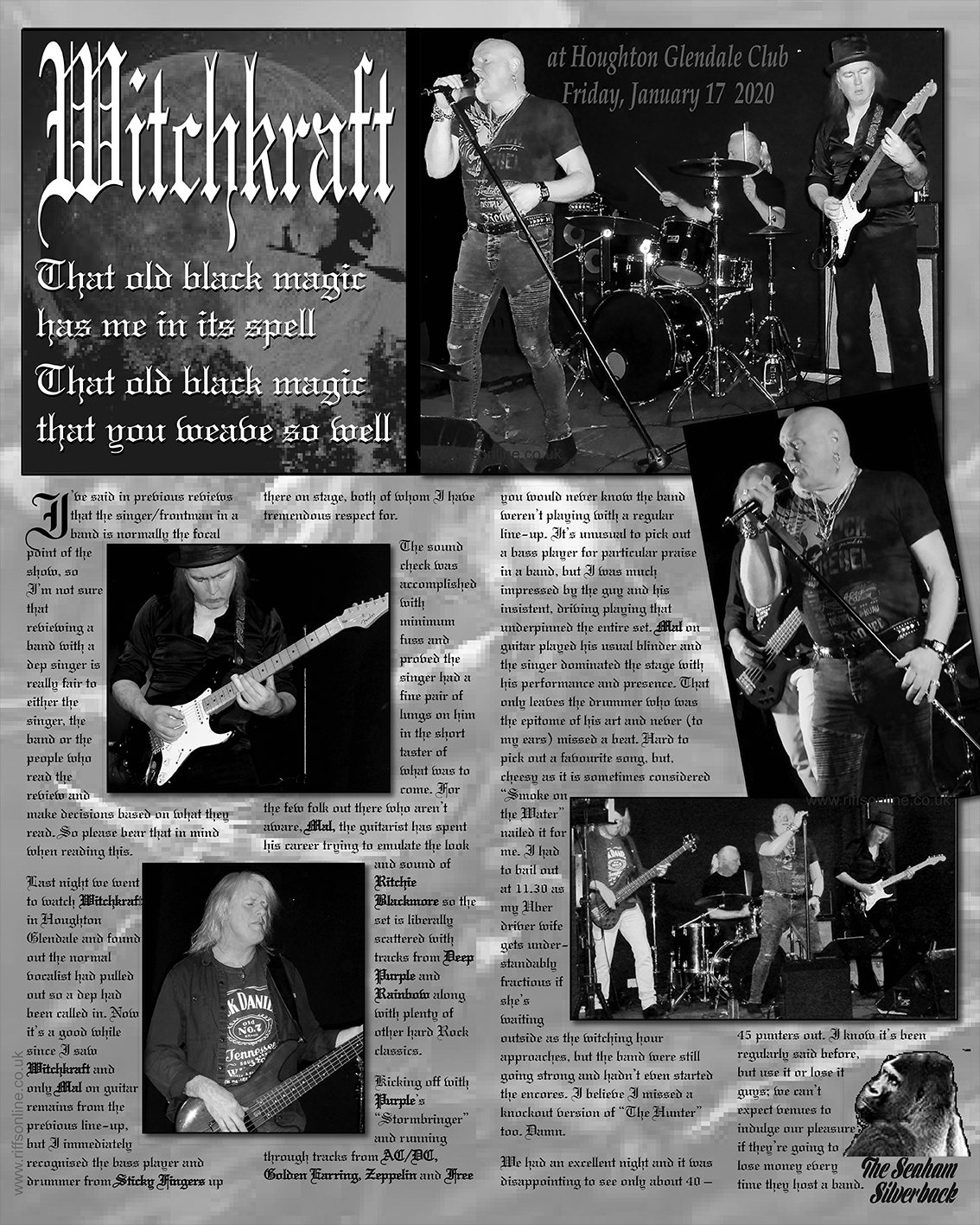 INTERNATIONAL DATELINE OCTOBER 7 . . .
INTERNATIONAL DATELINE OCTOBER 7 . . . INTE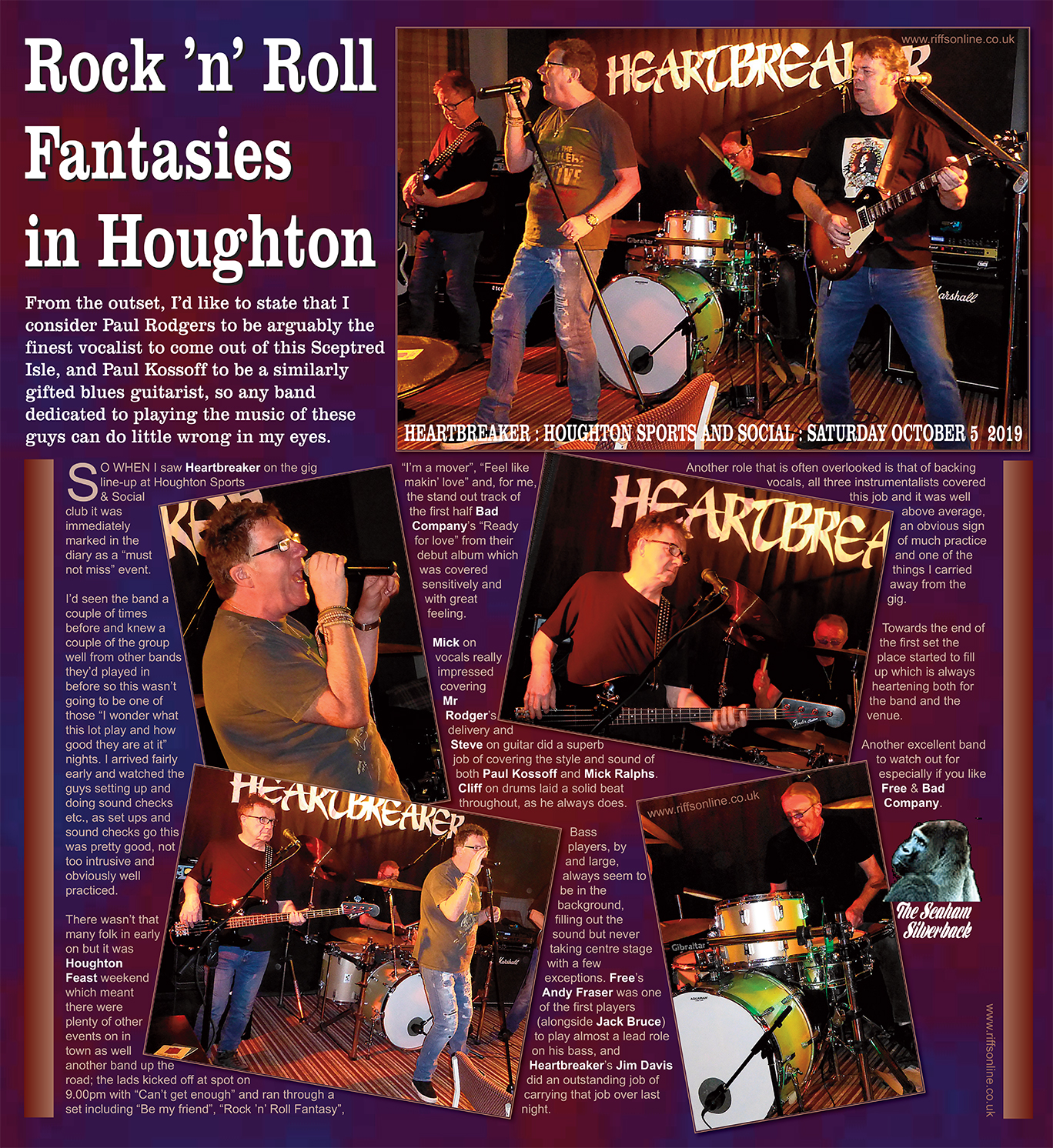 CELEBRATING ROCK AND METAL:


"Got a pain in my soul from the heavy rock and roll
Do you wanna bump and grind with me?"

WEDNESDAY SEPTEMBER 23
1965 - The Walker Brothers were at No.1 on the singles chart with the Burt Bacharach song, 'Make It Easy On Yourself', the trio's first of two No.1s.

1966 - The 'Rolling Stones 66' 12-date UK tour kicked off at the Royal Albert Hall London. Supported by Long John Baldry, Ike & Tina Turner and The Yardbirds (Jimmy Page was playing bass, with Jeff Beck on guitar). Michelangelo Antonioni attended this concert and asked The Yardbirds to appear in his forthcoming film Blow Up. Also both Keith Moon and John Entwistle from The Who were in the audience.

1969 - The Northern Star newspaper of Northern Illinois University ran a story claiming that Paul McCartney had been killed in a car crash in 1966 and had been replaced by a look-a-like. Russell Gibb of WKNR-FM in Detroit picked up on the claim and the story went worldwide. By late October 1969 the hoax was so well entrenched, that McCartney came out of seclusion at his Scottish farm to deny the story. When McCartney was asked to comment by a reporter visiting Macca's farm, he replied, "Do I look dead, I'm as fit as a fiddle."

1977 - David Bowie released 'Heroes' as a single. Co-written by Bowie and Brian Eno, the track features King Crimson guitarist Robert Fripp and has gone on to become one of Bowie's signature songs.


1978 - 10cc had their third and final No.1 single with 'Dreadlock Holiday.' The lyrics, about a white man lost in Jamaica, were based on a true event that happened in Barbados to Moody Blues vocalist Justin Hayward and Eric Stewart from 10cc.

1980 - Bob Marley collapsed on stage during a concert at the Stanley Theater in Pittsburgh, Pennsylvania. Marley had collapsed in New York's Central Park while jogging, two days before and was told to immediately cancel the US leg, but flew to Pittsburgh to perform one final performance. This was the last time Marley ever appeared on stage performing, Marley died of cancer on in May 1981.

2019 - Robert Hunter, Grateful Dead lyricist died age 78. He provided the Grateful Dead with many of their vivid and enduring lyrics for some of the band's signature songs, including 'Uncle John's Band', 'Scarlet Begonias' and 'Dark Star.'

TUESDAY SEPTEMBER 22
1964 - Herman's Hermits were at No.1 on the singles chart with the Carole King & Gerry Goffin song 'I'm Into Something Good', the group's only No.1.

1969 - The Band released their self-titled album, which peaked at No.9 on the US chart, and included the tracks; 'Rag Mama Rag', 'Up on Cripple Creek' and 'The Night They Drove Old Dixie Down'. In 2009, the album was preserved into the National Recording Registry because the album was 'culturally, historically, or aesthetically important, and reflects life in the United States.'

1973 - The Rolling Stones scored their eighth No.1 album when 'Goats Head Soup' started a two-week run at the top of the charts. Also a US No.1.

1979 - Gary Numan had his second and final No.1 single with 'Cars'. Also on this day Gary Numan went to No.1 on the album chart with 'The Pleasure Principle.'

1990 - Nirvana played their biggest gig to date when they appeared at the Motor Sports International Garage in Seattle. Drummer Dave Grohl who would audition for the band in a few days was in the audience of 15,000 people.

1992 - Def Leppard were forced to cancel two US shows after their sound-equipment truck was found abandoned after one of the bands drivers had attempted to rob a store. The driver was later charged of possessing drugs and criminal damage.

2004 - Cat Stevens, who now went by the name of Yusuf Islam, was escorted from a diverted transatlantic flight and refused entry into America by FBI agents. His name showed up on a US watch list after United Airlines Flight 919 had taken off from London. The flight landed in Maine where Islam, who was traveling with his 21-year-old daughter, was detained and questioned.

2005 - Jimmy Page was made an honorary citizen of Brazilian city Rio de Janeiro for his work helping its street children. The Led Zeppelin guitarist had opened Casa Jimmy (Jimmy's House) in 1998 which had so far supported more than 300 children.

2011 - Research conducted by car maker SEAT found that Queen's 'Bohemian Rhapsody' was the song most likely to be found on British iPods, with more than 40% of owners having the hit on their players. The Beatles had four songs in the list, a feat also matched by Coldplay. Other favourites included U2, The Killers and Rihanna.

2015 - A US District Judge ruled that the original copyright to 'Happy Birthday' was invalid and the song would now be entirely in the public domain. The copyright was obtained by the Clayton F. Summy Co. from the song's writers, sisters Mildred and Patty Hill and bought for $15 million in 1988 by Warner / Chappell Music Inc.