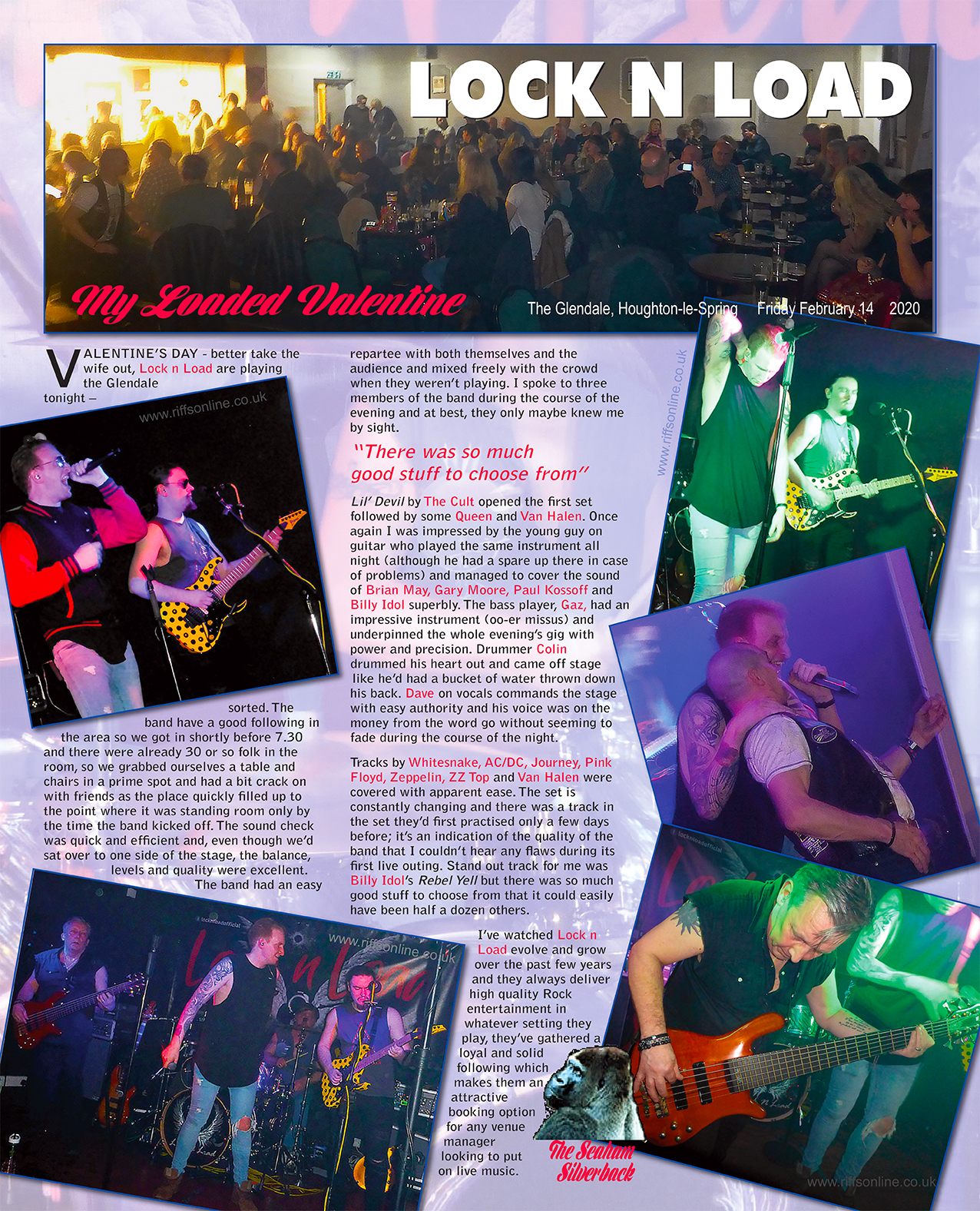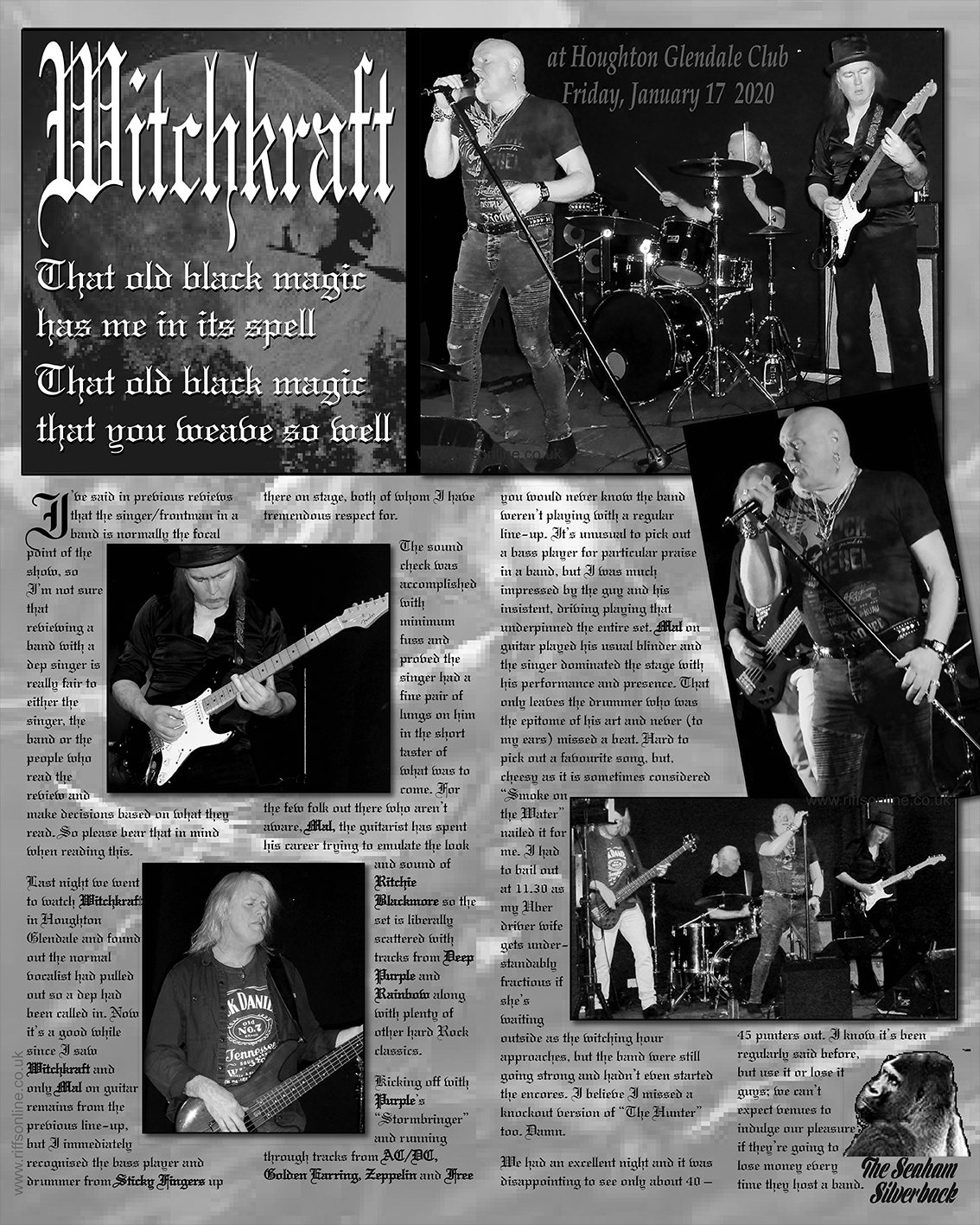 INTERNATIONAL DATELINE OCTOBER 7 . . .
INTERNATIONAL DATELINE OCTOBER 7 . . . INTE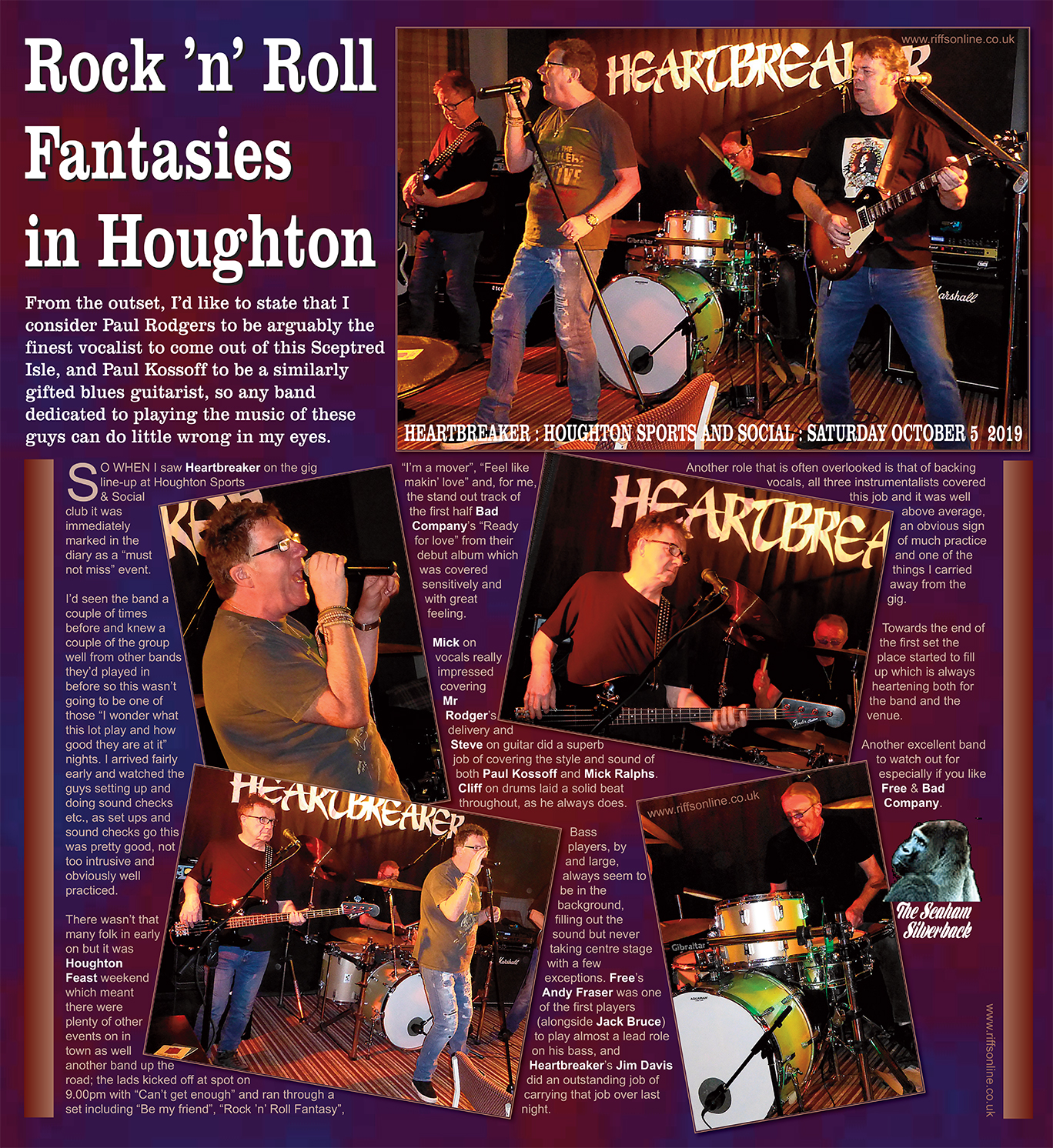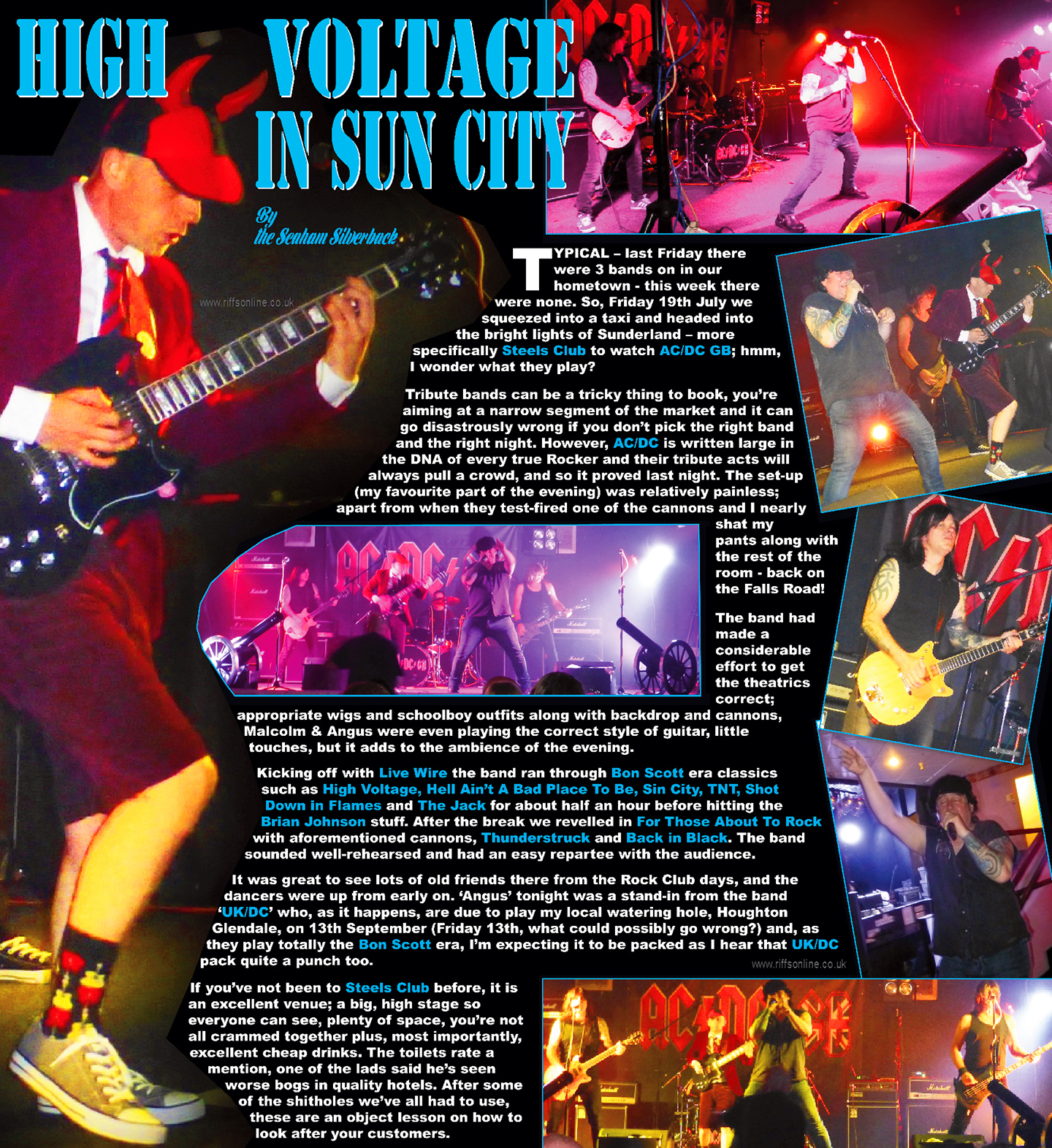 The band's website:
https://www.acdcgb.co.uk/
For a taste of the band: https://youtu.be/QRCIfpYXSC8


https://youtu.be/jhUhw_J5ItE
https://youtu.be/DkWRCv5HDjk
The NE Street Band, playing iconic songs from Bruce Springsteen and The E Street Band debuted at The Old Fox in Felling just recently and we have added a link to some footage here (only phone footage).
The band's website: https://www.nestreetband.co.uk
They are at the Amphitheatre in South Shields on Thursday 6th June, 7pm-9pm for an evening of Bruce Springsteen sounds, as part of the Summer Festival.

---------------------------------------------------------------

Over 2000 pies, 100 varieties including Veggie and Vegan options all served with creamy mash, mushy peas and special house gravy £3.50.
CROOKFEST 2019 - MAY 5
If you like your rock of the hard and heavy variety check out Conspiracy Theory; a new band making inroads into the north east rock and metal scene. If you're a bit tired of seeing too many rock bands playing the same old stuff, CT's intention is to do the songs that no-one else does. And that doesn't mean obscure material you've never heard of, if you're into rock and metal you'll know everything they do. From Rainbow to Dio, Whitesnake to Purple, Maiden to Priest, Uriah Heep to Rush or the guitar greats such as Schenker or Moore, you won't forget them in a hurry. With stellar musicianship from highly experienced players having cut their teeth in bands such as PowerAge, Ministry of Rock, Black Rose and On The Rocks you're bound to have a night to remember. You can catch them at Trillians, Newcastle on Friday 22nd February, The Penny Gill, Spennymoor Sunday 3rd March, Acklam Steelies Club, Middlesbrough Saturday 9th March or the Big Jug, Durham on Friday 15th March.


CELEBRATING ROCK AND METAL:



Factoid: Queen holds the Guinness World Record for longest-running rock group fan club. All other clubs have bit the dust.

This week in . . .
1970 - Billed as David Bowie's New Electric Band (so new they haven't got a name yet), played at the Basildon Arts Lab experimental music club at the Basildon Arts Centre in Essex. Also on the bill were High Tide, Overson and Iron Butterfly.

1970 - In an interview with the New Musical Express, Fleetwood Mac's Peter Green talked about his plans to give all his money away. The following year Green confronted his accountant with a gun after he sent him an unwanted royalty check. The guitarist went to jail briefly before being transferred to an asylum and was committed to a mental hospital in 1973. He re-launched his career in the 90s.

1970 - Led Zeppelin played a gig in Copenhagen as The Nobs after Eva Von Zeppelin a relative of the airship designer threatened to sue if the family name was used in Denmark.

Bobby Bloom shot himself dead in the head at his Hollywood apartment aged 28. Although suffering from depression, it is alleged that the shooting was accidental. Bloom had the 1970 No.3 single 'Montego Bay' and was in the doo-wop group The Imaginations.

1985 - David Byron, singer with Uriah Heep died from an epileptic fit and liver disease aged 38. Byron was the original singer of the band between 1969 and 1976 and gained a reputation with his operatic vocals and harmonies as one of the world's best rock vocalists and frontmen.

2005 - Chris Curtis, drummer with The Searchers died aged 63 after a long illness. The searchers scored the 1964 No.1 single 'Needles And Pins'.

2008 - Drummer Buddy Miles, who played with Jimi Hendrix in his last regular group, Band of Gypsys, died aged 60 at his home in Austin, Texas after struggling with a long-term illness. Born George Allen Miles in Omaha, Nebraska, Buddy's nickname was a tribute to his idol, jazz drummer Buddy Rich. Rich also played with The Delfonics, The Ink Spots, Wilson Pickett, Electric Flag, Stevie Wonder, David Bowie, Muddy Waters and Barry White. In the 1980s, he achieved a certain amount of notoriety in the US as the vocalist on the celebrated claymation California Raisins commercials.

1967 - Pink Floyd continued working on their debut album The Piper At The Gates Of Dawn at Abbey Road Studios, London. With the exception of two group-composed instrumentals and one Roger Waters song, the album was written entirely by Syd Barrett.

1968 - 25 year old Frankie Lymon, lead singer of The Teenagers, died of a heroin overdose in his grandmother's New York home. Lymon was on leave from a Georgia Army post at the time and was scheduled to record for Roulette Records the next day. He first hit the national charts in 1956 when he was just 13 with 'Why Do Fools Fall in Love'.

1971 - Five months after her death, Janis Joplin started a nine-week run at No.1 on the US album chart with her second and final solo studio album Pearl. Joplin sang on all tracks except 'Buried Alive in the Blues', which remained a Full Tilt Boogie instrumental because she died before adding her vocals.

1972 - Led Zeppelin appeared at Sydney Showgrounds, Sydney in Australia, over 25,000 fans attending the show. Jimmy Page appeared clean shaven having shaved off the beard he had grown since the summer of 1970.

2019 - English drummer Doug Sandom died one day after his 89th birthday. He was the original drummer for The Who. No recordings with Sandom playing with the band were ever released.

1965 - Jimmy Page released a solo single called 'She Just Satisfies' in the UK. Page played all the instruments on it except for the drums, and produced the track, as well as singing lead vocals.

1969 - Peter Sarstedt started a four week run at No.1 on the singles chart with 'Where Do You Go To My Lovely?' Some say the song was written about the Italian star Sophia Loren, but Peter Sarstedt has stated he wrote the song about a girl he fell madly in love with in Vienna in 1965, who later died in a hotel fire.

1979 - During a court case between the Sex Pistols and their manager Malcolm McLaren it was revealed that only £30,000 was left of the £800,000 the band had earned.

1997 - American songwriter Ben Raleigh died in a fire in his kitchen after setting fire to his bathrobe while cooking. He co-wrote 'Scooby Doo Where Are You' and 'Tell Laura I Love Her.'

The Beatles 'Revolution 1' was leaked onto the internet, giving fans a never-before-heard listen of what The White Album sessions must have been like. Only two copies of the take were made when the song was completed on June 4th, 1968. One copy left the studio with Lennon that day and the other remained behind. It was unclear which copy appeared on the bootleg, nor how anyone acquired it.

2014 - Tim Lambesis, the singer for US metal band As I Lay Dying, pleaded guilty to attempting to hire an undercover agent to murder his estranged wife. He was arrested in May 2013 after prosecutors said he met a sheriff's deputy posing as a hit man, called Red, and handed over $1,000 (£600) along with his wife's address and front door security code.

2019 - English drummer Andy Anderson died of cancer aged 68. He is best known for his work with The Cure playing on the singles 'Love Cats' and 'The Caterpillar'. He also worked with many other artists including Steve Hillage, Edwyn Collins, Mike Oldfield, The Gun Club and Peter Gabriel.

1957 - Buddy Holly recorded a new version of 'That'll Be The Day', at Norman Petty Recording Studio in Clovis, New Mexico. The title being taken from a phrase used by John Wayne in the film 'The Searchers.'

1972 - Led Zeppelin appeared in front of over 25,000 fans at the Western Springs Stadium, Auckland, New Zealand, the group's first ever gig in New Zealand (and the largest crowd ever to attend a concert on the island). A special train was chartered from Wellington to bring fans to the concert. News reviews the next day reported the band could be heard over five miles from the Stadium.

1977 - The Jam signed to Polydor Records UK for £6,000. They went on to have 18 consecutive Top 40 singles, from their debut in 1977 to their break-up in December 1982, including four No.1 hits. As of 2007, 'That's Entertainment' and 'Just Who Is the 5 O'Clock Hero?' remained the best-selling import singles of all time in the UK.

1989 - Simple Minds were at No.1 on the singles chart with 'Belfast Child.' At 6 minutes 39 seconds it became the second-longest running No.1 after The Beatles 'Hey Jude'.

2011 - Susan 'Suze' Rotolo died from lung cancer. She was the one time girlfriend of Bob Dylan, and the inspiration of some of his early songs. Susan appeared in one of the decade's signature images, walking with Dylan arm-in-arm for the cover photo of his breakthrough album Freewheelin Bob Dylan.

2019 - British publicist and talent manager Kenneth Pitt died age 96. He managed the career of musicians including David Bowie in the late 1960s (Pitt managed Bowie at the time of his first hit, 'Space Oddity' in 1969), and was responsible for publicising American musicians and bands touring the UK, including Frank Sinatra, Duke Ellington and Jerry Lee Lewis.

1963 - The Rolling Stones started a Sunday night residency at The Station Hotel, Richmond, Surrey. The Stones were paid £24 for the gig and played on the first night to a total of 66 people. £24 from 1963 would be worth £392, adjusted for inflation.

1975 - Led Zeppelin released their sixth album Physical Graffiti. Recording sessions had been disrupted when bassist and keyboard player John Paul Jones had proposed quitting the band. The group decided on a double album so they could feature songs left over from their previous albums Led Zeppelin III, Led Zeppelin IV and Houses Of The Holy.

1982 - The Police won best British group at the first annual Brit Awards held in London, Adam And The Ants won best album for 'Kings Of The Wild Frontier', Cliff Richard won British Male Solo Artist, Randy Crawford won British Female Solo Artist, British Breakthrough Act went to The Human League, British Producer was Martin Rushent and Outstanding Contribution went to John Lennon.

Ramones manager Linda Stein was convicted in a New York court of bludgeoning her boss to death at her Manhattan apartment on 30 October 2007. Prosecutors said Natavia Lowery, 28, stole more than $30,000 from Stein, then clubbed her with a piece of exercise equipment. Jurors spent less than a day reaching a second-degree murder verdict.

Week Commencing February 17
1940 - Woody Guthrie wrote the lyrics to 'This Land Is Your Land' in his room at the Hanover House Hotel in New York City. The song was brought back to life in the 1960s, when several artists of the new folk movement, including Bob Dylan, The Kingston Trio, Trini Lopez, Jay and the Americans, and The New Christy Minstrels all recorded versions, inspired by its political message.

1972 - After nearly five years of marriage, Priscilla Presley moved out of Elvis Presley's California home and into a two bedroom apartment near the Pacific Ocean. Their divorce would be finalized on October 9, 1973, with Priscilla being awarded an outright cash payment of $725,000 as well as spousal support, child support, 5% of Elvis' new publishing companies and half the income from the sale of their Beverly Hills home.

1974 - 'Rebel Rebel' by David Bowie entered the chart, the single reached No.5 the following month. Originally written for an aborted Ziggy Stardust musical in late 1973, 'Rebel Rebel' was Bowie's last single in the glam rock style that had been his trademark. It was also his first hit since 1969 not to feature lead guitarist Mick Ronson; Bowie himself played guitar on this track.

1974 - Suzi Quatro was at No.1 on the singles chart with 'Devil Gate Drive', the singers second No.1 and fourth No.1 for the songs writers Chinn & Chapman.

AC/DC shot the video clip for "It's A Long Way To The Top (If You Wanna Rock 'n' Roll)" for the Australian music television program Countdown. It featured the band's then-current lineup, along with members of the Rats of Tobruk Pipe Band, on the back of a flat-bed truck travelling on Swanston Street in Melbourne. In May 2001, Australasian Performing Rights Association celebrated its 75th anniversary by naming the Best Australian Songs of all time, as decided by a 100-member industry panel. "It's a Long Way to the Top (If You Wanna Rock 'n' Roll)" was ranked as the ninth song on the list. In honour of Bon Scott, after his tragic death in 1980, AC/DC vowed never to play the track again. ""My Neighbors Loved This Song So Much They Threw A Brick Through My Window So They Could Hear It Better".

1980 - U2 appeared at The Moonlight Club, at The Railway Hotel in London, tickets cost £2.

2003 - Norah Jones cleaned up at the 45th Grammy Awards, held at Madison Square Garden, New York. The singer, songwriter won, Album of the year and Record of the year, with 'Don't Know Why.' Song of the year, Best new artist and Best female pop vocal for 'Don't Know Why'. Other winners included Best male pop vocal, John Mayer, 'Our Body Is A Wonderland'. Best male rock vocal, Bruce Springsteen, 'The Rising', Best female rock vocal, Sheryl Crow, 'Steve McQueen', Best rock performance by group, Coldplay 'In My Place', Best rap album, Eminem, 'The Eminem Show'.

1970 - Appearing at The Roundhouse Spring Festival in Camden, David Bowie and the Hype (their first live performance of the new band), along with Bachdenkel, Groundhog and Caravan.

1975 - Scottish group The Average White Band went to No.1 on the US singles chart with 'Pick Up The Pieces', the bands album AWB also went to No.1 on the US chart.

1975 - Steve Harley and Cockney Rebel had their only No.1 single with 'Make Me Smile (Come Up And See Me)'. Singer Steve Harley said the lyrics were vindictively directed at the former band members, whom he felt had abandoned him.

1978 - The Police appeared in a Wrigley's Chewing Gum commercial for US TV, the band dyed their hair blonde for the appearance.

1981 - One Hit Wonder Joe Dolce was at No.1 on the singles chart with 'Shaddap You Face,' famously keeping the legendary Ultravox song, Vienna, off the No.1 slot. 'Shaddap You Face' was Number 1 in 11 countries with over 35 different foreign language cover versions, selling over 4 million copies.

1987 - Andy Warhol, pop artist and producer died after a gall bladder operation. The founder of the Pop Art movement, produced and managed the Velvet Underground, designed the 1967 Velvet Underground And Nico 'peeled banana' album cover and The Rolling Stones Sticky Fingers album cover.

1989 - A category for Heavy Metal was included at the Grammy Awards for the first time. Metallica performed on stage, but the award went to Jethro Tull. Many audience members booed. Meanwhile, Bobby McFerrin won Record Of The Year and Song Of The Year for 'Don't Worry, Be Happy', Tracy Chapman is named Best New Artist and Tina Turner won Best Female Rock Vocal Performance for 'Tina Live in Europe'.

1992 - The NME printed their writers all time best debut albums; at No.1, Patti Smith, 'Horses', No.2, Joy Division, 'Unknown Pleasures', No.3, MC5, 'Kick Out The Jams, No.4, The Jesus and Mary Chain, 'Psychocandy' and No.5, Television, 'Marquee Moon'.

2004 - The Sex Pistols 'Anarchy in the UK' was named the most influential record of the 1970s in a poll compiled by Q magazine. Queen's 'Bohemian Rhapsody' was voted into second place and Donna Summer's 'I Feel Love' was third, T Rex 'Get It On' was fourth and Special AKA 'Gangsters' came fifth.

2012 - American singer, songwriter, guitarist Billy Strange died aged 81. As a session musician with the famed Wrecking Crew, he appeared on hit songs for Elvis Presley, including 'A Little Less Conversation', Nancy and Frank Sinatra's 'Somethin' Stupid', played guitar on numerous Beach Boys hits, including 'Sloop John B' and the Pet Sounds album and worked with The Ventures, Willie Nelson, The Everly Brothers, Wanda Jackson, Randy Newman, and Nat King Cole, among others.

1961 - The Beatles played three gigs in one day. The first was a lunchtime show at The Cavern Club, then at night they appeared at the Casanova Club, Liverpool and then at Litherland Town Hall, Liverpool.

1964 - New York band The Echoes recruited a new young unknown piano player named Billy Joel.

1964 - Three classic British singles were released today (Friday), The Rolling Stones 'Not Fade Away' (reached No.3), The Hollies 'Just One Look' (No.2), and Billy J Kramer's 'Little Children' (No.1).

1967 - Pink Floyd started their first sessions at the EMI Studios, St. John's Wood, London on their debut album The Piper At The Gates Of Dawn, working on the song 'Matilda Mother'. While Pink Floyd were recording their album with former Beatles engineer Norman Smith, The Beatles themselves were working in the studio next door, recording 'Fixing A Hole' for their Sgt. Pepper album. Micky Dolenz from The Monkees attended the mixing session during the day.

1972 - Led Zeppelin released 'Rock And Roll / Four Sticks' as a 7 inch single in the US, peaking at No.47 on the chart. The song was written as a spontaneous jam session whilst the band were trying to finish 'Four Sticks'. Drummer John Bonham played the introduction to Little Richard's 'You Keep A-Knockin' and Page added a guitar riff; with the tapes rolling the basic song was finished fifteen minutes later.

1976 - Florence Ballard of The Supremes died of cardiac arrest, aged 32. Ballard had left The Supremes in 1967, lost an $8 million (£4.7 million) lawsuit against Motown Records and was living on welfare when she died.

1986 - Metallica released their third album, the highly influential album, Master of Puppets, considered by many in the metal community to be the best metal album of all time. This was the last Metallica album with bassist Cliff Burton who was killed when the group's tour bus over-turned in southern Sweden while touring to promote the album.



2004 - Mud singer Les Gray died aged 57 of a heart attack whilst fighting throat cancer (1974 No.1 single 'Tiger Feet' plus 14 other UK Top 40 singles').

2008 - A US music aficionado sold his collection of more than three million vinyl albums, singles and compact discs to an eBay buyer from Ireland for just over $3 million. An eBay spokeswoman said the sale was one of the highest ever for the online auction site.

2012 - Five members of the Russian feminist punk rock group Pussy Riot staged a performance on the soleas of Moscow's Cathedral of Christ the Savior where their actions were stopped by church security officials. By that evening they had turned the performance into a music video entitled "Punk Prayer - Mother of God, Chase Putin Away!" The women said their protest was directed at the Orthodox Church leader's support for Putin during his election campaign. The following month three of the group members were arrested and charged with hooliganism and were held in custody until their trial began in late July when the three members were convicted of "hooliganism motivated by religious hatred", and each was sentenced to two years imprisonment.

2014 - A statue of a weeping Kurt Cobain was unveiled in Aberdeen, Washington - the hometown of the late Nirvana frontman. The statue, which sees Cobain crying a single tear, is situated in the Aberdeen Museum of History. Kurt Cobain Day would now be celebrated annually in the city of Aberdeen. On the day, Mayor Bill Simpson recently read a proclamation which stated: "Aberdeen residents may justifiably take pride in the role our community played in the life of Kurt Cobain and the international recognition our community has gained from its connections with Kurt Cobain and his artistic achievements."

2014 - A crew member working on a biopic about Gregg Allman died after being hit by a train during filming. Police in south Georgia said the woman was struck after the crew for Midnight Rider placed a bed on the railway tracks in Doctortown. Wayne County Sheriff John Carter said several other people had been injured, two of them seriously.

2019 - American musician Peter Tork died age 77. He was diagnosed with a rare form of tongue cancer in 2009. The Monkees were brought together for an American sitcom TV series in 1966. Best known as the keyboardist and bass guitarist, they had the 1967 No.1 single 'I'm A Believer' plus other hits including 'Last Train to Clarksville', 'Pleasant Valley Sunday', and 'Daydream Believer'.

1959 - 16 year old Jimi Hendrix made his stage debut when he played a show at the Temple De Hirsch Sinai synagogue in Seattle.

1980 - AC/DC singer Bon Scott was pronounced dead on arrival at a London hospital after a heavy night's drinking. Scott was found in the passenger seat of a friend's parked car. The official coroner's report stated that he had "drunk himself to death", after suffocating on his own vomit.

2003 - 100 people died after pyrotechnics ignited a club during a gig by Great White in West Warwick, Rhode Island. Great White guitarist Ty Longley was also killed in the accident. Two brothers who owned the club were charged, along with the former tour manager with involuntary manslaughter. Foam soundproofing material at the edge of the stage set alight and the blaze spread quickly in the one-storey wooden building as fans all tried to escape through the same exit. Great White began a tour in July 2003 to raise money for the survivors and families of victims.

2008 - A 1976 Rolling Stones album bought for £2 at a car boot sale sold for £4,000 at an auction. The 'Black and Blue' LP was signed by John Lennon, Yoko Ono, Paul and Linda McCartney and George Harrison as well as members of the Rolling Stones. The seller obtained the album after haggling the cost down from £3.

1964 - A British company shipped ½ ton of Beatle wigs to the US. An American reporter later asked John Lennon, "How do you feel about teenagers imitating you with Beatle wigs?" John replied "They're not imitating us because we don't wear Beatle wigs."

1972 - Led Zeppelin appeared at the Memorial Drive, Adelaide in Australia. A local paper who reviewed the show printed: Singer Robin Plant (sic) overcame an 'Australian bug' in his throat and broke into his own in 'Black Dog' and 'Stairway To The Stars' (sic).



1977 - Manfred Mann's Earth Band scored a No.1 single in the US with their version of the Bruce Springsteen song 'Blinded By The Light.' The track was the first single from Springsteen's 1973 debut album Greetings from Asbury Park N.J. The Earth Band's version features several changed lyrics. The most prominent change is in the chorus, where Springsteen's "cut loose like a deuce" is replaced with "revved up like a deuce."

1982 - Ozzy Osbourne was arrested in San Antonio, Texas for urinating on the cenotaph at the Alamo, which honors the Alamo defenders. Osbourne was wearing a dress at the time of his arrest (due to his wife Sharon hiding all his clothes so he couldn't go outside). Osbourne was banned from ever playing in San Antonio, Texas again (a ban which was lifted in 1992).

1995 - Motley Crue drummer Tommy Lee married Baywatch actress Pamela Anderson on a Cancun beach, Mexico, the bride wore a white bikini. Anderson and Lee who married only four days after meeting had videotaped their sexual activities while on vacation which was later stolen and released on the Internet. After suing the video company who released the tape, the Lees entered into a confidential settlement agreement. The couple divorced in 1998.

2004 - Johnny Cash's family blocked an attempt by advertisers to use his hit song 'Ring of Fire' to promote haemorrhoid-relief products. The idea is said to have been backed by Merle Kilgore, who co-wrote the song with Cash's wife, June Carter Cash. Cash's daughter Rosanne said the family "would never allow the song to be demeaned like that."

2015 - Iron Maiden frontman Bruce Dickinson was being treated for cancer after a small cancerous tumour was found at the back of his tongue.

1965 - The Kinks were at No.1 on the singles chart with 'Tired Of Waiting For You', the group's second No.1. According to Ray Davies, the music for 'Tired of Waiting for You' was written on the train to the recording studio and the words were written at a coffee shop during a break in the session.

1969 - Three thousand uninvited guests showed up to see Lulu and The Bee Gees Maurice Gibb get married at St. James' Church, Gerrard's Cross. Brother Barry was the best man.

1972 - On their first Australian tour, Led Zeppelin rescheduled to the following night their concert at the Memorial Drive, Adelaide, after heavy rain left the stage and equipment unsafe. Zeppelin had brought to Adelaide the largest PA system seen in Australia to produce what was expected to be the loudest rock show ever heard.

1990 - Freddie Mercury made his final public appearance on stage when he joined the rest of Queen to collect the Brit Award for Outstanding Contribution to Music, held at the Dominion Theatre, London.

2000 - An American court ordered the release of FBI files relating to John Lennon's interests and activities including his support for the Irish Republican cause and the Workers Revolutionary Party. The British Government told the US that it wanted the files to remain secret. MI5 also had files on Lennon, which they had passed on the FBI during the 70s.

Willie C. Jackson from Fifties doo-wop group The Spaniels died aged 79. Their 1954 hit 'Goodnite, Sweetheart, Goodnite' was featured in such films as Three Men and a Baby and American Graffiti. The Spaniels became one of the first artists to sign with Vee-Jay Records, the first large, independent Afro-American owned record label.

1966 - Nancy Sinatra was at No.1 on the singles chart with 'These Boots Are Made For Walking', Frank's eldest daughters first No.1. Written by Lee Hazlewood, Sinatra's recording of the song was made with the help of Los Angeles session musicians known as the Wrecking Crew.

1975 - AC/DC released their debut album 'High Voltage'. The album featured a cover of 'Baby, Please Don't Go' (Oz pressing) a blues song first recorded by Big Joe Williams and 'She's Got Balls' which was written about singer Bon Scott's ex-wife Irene - the first AC/DC song for which he wrote lyrics.

1978 - Kate Bush released her debut studio album The Kick Inside which contained her number one hit, 'Wuthering Heights' (marking the first time a female singer-songwriter topped the charts with a self-penned song). Bush was just 19 years old and had written some of the songs when she was only 13.

1979 - Blondie scored their first No.1 album when 'Parallel Lines' started a four-week run at the top of the charts, featuring the singles 'Heart Of Glass', 'Hanging On The Telephone' and 'Sunday Girl.'

1989 - David Coverdale married actress Tawny Kitaen (known for her provocative appearances in Whitesnake's music videos 'Here I Go Again, 'Is This Love' and 'Still of the Night'). The couple divorced in 1991.

2005 - A 1965 Fender Stratocaster guitar belonging to Jimi Hendrix sold for £100,000 at an auction in London. Other Hendrix items sold included a poem written two weeks after his appearance at the Monterey Pop Festival which went for £10,000 and the first Jimi Hendrix Experience's single 'Hey Joe', signed by all the band sold for £2,000.



2014 - American musician and sound engineer Bob Casale, best known as a guitarist and keyboardist in the New Wave band Devo, died of heart failure in Los Angeles, California. He engineered the first solo album for Police guitarist Andy Summers.

Week Commencing February 10
1972 - Led Zeppelin made their Australian live debut when they kicked off a six-date tour at the Subiaco Oval, Perth. Police battled with over 500 fans who rammed locked gates trying to get into the concert. Over 4,000 fans stood outside the venue without tickets and local residents jammed police phone lines to complain about the noise.

1974 - Bob Dylan started a four week run at No.1 on the US album chart with Planet Waves, his first US No.1. The album was originally set to be titled Ceremonies Of The Horsemen, a reference to the song 'Love Minus Zero / No Limit', from the 1965 album 'Bringing It All Back Home'. When Dylan decided to change the title at the last minute, the release was delayed for two weeks.

1974 - Winners in the music weekly Disc Readers Awards Poll; Top UK group went to Slade, Top musician Roy Wood, David Bowie won UK and World male singer, Top single with 'Jean Genie' and album with 'Aladdin Sane', Top female singer was Lynsey De Paul and Brightest hope was David Essex.

1982 - The Jam were at No.1 on the singles chart with 'A Town Called Malice', & 'Precious', their third No.1 spent three weeks at the top of the chart.

2004 - Singer Doris Troy died. She had been a session singer with Dionne Warwick, sang on Pink Floyd's The Dark Side of the Moon and released an album on The Beatles Apple label. She had also had a 1964 No.37 single with 'Whatcha Gonna Do About It' and a 1963 US No. 10 hit 'Just One Look'. She sang back-up for many acts including The Rolling Stones ('You Can't Always Get What You Want'), Carly Simon's ('You're So Vain'), and George Harrison ('My Sweet Lord').

2005 - Yusuf Islam, formerly Cat Stevens was awarded substantial damages from The Sunday Times and The Sun, after they had printed articles alleging he was involved in terrorism. Both newspapers apologized to the 56 year old musician for the "false and highly defamatory allegations." The papers also paid his legal bills and pledged not to repeat the allegations. The money awarded was given to Tsunami relief projects.

1968 - John and Cynthia Lennon, along with George and Patti Harrison, flew to India to study meditation with Maharishi Mahesh Yogi. Paul and Ringo joined them a few days later, but Starr would become bored and leave on March 1st, comparing the experience to be like a 'Butlins holiday camp.' Much of the Beatles' The White Album was written during their stay.

1977 - Glen Matlock was fired as bass player from the Sex Pistols, being replaced by Sid Vicious. Matlock rejoined in the 90s when the Pistols reformed.

1991 - Kelly Emberg the ex-girlfriend of Rod Stewart filed a $25 million (£14.7 million) palimony suit in Los Angeles. The couple lived together from 1985 to 1990. Stewart later said: "Instead of getting married again, I'm going to find a woman I don't like and just give her a house."

2008 - A flat once rented by The Beatles in London went up for sale for £1.75m. The band shared the three-bedroom top floor property in Green Street, Mayfair in the autumn of 1963. A publicity photo of the Fab Four peering over a banister, used as the cover for the December 1963 edition of The Beatles Book, was taken at the top of the property's communal stairwell.

1968 - Manfred Mann were at No.1 on the singles chart with their version of the Bob Dylan song 'The Mighty Quinn'. Dylan recorded the song in 1967 during the Basement Tapes sessions, but did not release a version for another three years.

1970 - The Who appeared at Leeds University. The show was recorded for the bands forthcoming 'Live At Leeds' album. Since its initial reception, Live at Leeds has been cited by several music critics as the best live rock recording of all time. The University of Leeds refectory has now been named a national landmark in the UK, commemorated with a blue plaque.

1984 - Elton John married recording engineer Renate Blauer in Sydney, Australia. Rod Stewart and Olivia Newton-John were among the guests. The couple stayed together for four years, although John later admitted he knew he was homosexual before the marriage.

1986 - Frank Zappa appeared on an episode of the television series Miami Vice. Zappa portrayed a crime boss named 'Mr. Frankie.'



1989 - English keyboardist Vincent Crane died from a deliberate overdose of Anadin tablets aged 45. He was a member of The Crazy world of Arthur Brown, who had the 1968 No.1 single 'Fire', and Atomic Rooster (with drummer Carl Palmer later of Emerson, Lake & Palmer). Atomic Rooster enjoyed success in 1971 with two hit singles, 'Tomorrow Night' and 'Devil's Answer'.

2002 - English drummer and singer Mick Tucker with glam rock band Sweet died of leukaemia aged 54. Sweet had the 1973 No.1 single 'Blockbuster', plus 14 other UK Top 40 singles. He was a founding member of the band Sweetshop - shortened to "The Sweet" in 1968.

2004 - Dave Holland, former drummer with Judas Priest, was jailed for eight years for indecent assault and the attempted rape of a 17-year old boy. The youth, who had learning difficulties, had been taking drum lessons from Holland.

2005 - Kerrang! magazine announced the results of its readers' poll for the best British rock albums ever. The Top 10 were: No.1, Black Sabbath; No.2, Iron Maiden's Number Of The Beast. Sex Pistols' Never Mind The Bollocks, Here's The Sex Pistols; No. 4, Led Zeppelin IV; No.5, Black Sabbath's Paranoid; No.6, Muse's Absolution; No.7, The Clash's London Calling; No.8, Queen's Sheer Heart Attack; No.9, Iron Maiden and No.10, Manic Street Preachers' The Holy Bible.

2010 - American singer-songwriter-musician Doug Fieger died after a long battle with cancer. He was the rhythm guitarist and lead vocalist of The Knack, and co-wrote 'My Sharona', the biggest hit song of 1979 in the USA, and was Capitol Records' fastest gold status debut single since the Beatles' 'I Want to Hold Your Hand' in 1964. When Fieger was 25, he met 17-year-old Sharona Alperin, who he wrote the song for, as well as later becoming Fieger's girlfriend for the next four years.

1967 - 15 police officers raided Redlands the West Sussex home of Rolling Stone Keith Richards during a weekend party. The police, who were armed with a warrant issued under the dangerous drugs act, took away various substances for forensic tests. George and Pattie Harrison had been at the house, but it was said that the police waited for them to leave before they raided the house in order not to bust the holder of an MBE.

1969 - '(If Paradise Is) Half As Nice' by Amen Corner was at No.1 on the singles chart, the group's only UK No.1. The song was first offered to The Tremeloes as a potential single, who rejected it.

1970 - John Lennon performed 'Instant Karma!' on Top Of The Pops, becoming the first Beatle to have appeared on the show since 1966. Lennon wrote, recorded, and mixed his new single all in one day. It ranks as one of the fastest-released songs in pop music history. Lennon later stated, "I wrote it for breakfast, recorded it for lunch, and we're putting it out for dinner."



1977 - The Police recorded their first single, 'Fall Out' for £150 at Pathway Studios, London.

1977 - Blondie, Tom Petty & The Heartbreakers and the Ramones all appeared at the Whisky a Go Go in Los Angeles, California.

2003 - Former Doors drummer John Densmore took out legal action against The Doors keyboard player Ray Manzarek and guitarist Robby Krieger for breach of contract, trademark infringement and unfair competition. The band had reformed with Ex-Cult singer Ian Astbury and former Police drummer Stewart Copeland. Densmore said "It shouldn't be called The Doors if it's someone other than Jim Morrison singing."

2005 - The Class 47 locomotive 47828 was named after Clash frontman Joe Strummer at a ceremony in Bristol. The diesel engine, owned by Cotswold Rail, was named after the singer/guitarist who died, aged 50, in 2002.

2014 - It was reported that Rock music overtook pop in UK album sales during 2013, winning a bigger share of the market for the first time in five years. Rod Stewart's Time was the best-selling album to be classified as rock by the Official Charts Company, followed by Arctic Monkeys and Bastille. In total rock accounted for 33.8% of album sales, compared with 31% for pop, said industry body the BPI. However, pop records still held the lead in single sales.

2015 - Welsh singer Steve Strange (born Steven Harrington) lead singer of Eighties pop band Visage, died aged 55 following a heart attack in hospital in Sharm el-Sheikh, Egypt. His band formed in 1979 (with Rusty Egan and Midge Ure from Rich Kids, Billy Currie from Ultravox, and Barry Adamson, John McGeoch and Dave Formula from Magazine), and their breakthrough single, 'Fade To Grey', peaked at No.8 in 1981. Strange appeared in the video for David Bowie's No.1 hit 'Ashes to Ashes'.

1963 - In less than ten hours, The Beatles record ten new songs for their first album plus four other tracks which would be the next two singles. John Lennon's vocal on The Isley Brothers 'Twist & Shout' was recorded in one take to complete the album.

1973 - A local charity raised over £500 selling bedsheets and pillowcases used by The Rolling Stones after a show at Western Springs Stadium in Auckland, New Zealand.

1985 - The Police won Outstanding Contribution to British music at the fourth annual Brit Awards held in London. Other winners included Prince for best International Act and Best Soundtrack for Purple Rain, British Single was Frankie Goes To Hollywood 'Relax', British Video was Duran Duran for 'Wild Boys', British Comedy Recording Neil 'Hole In My Shoe', British Album went to Sade for 'Diamond Life', British Male Solo Artist was won by Paul Young, British Female Solo Artist, Alison Moyet and Best British Group went to Wham!

1992 - Motley Crue fired their singer Vince Neil when he turned up for rehearsals, claiming that he had lost his passion for the band and was now more involved with racing cars.

2014 - Queen made chart history by becoming the first act to sell six million copies of an individual album. Their first Greatest Hits collection, which includes the hits 'We Will Rock You' and 'Bohemian Rhapsody' had extended its lead after being Britain's highest-selling album for several years. The Official Charts Company said one in three British families now owned a copy of the 1981 compilation.

1942 - 'Chattanooga Choo Choo' by Glenn Miller and his Orchestra became the first recording to be awarded a Gold record. It was actually just a master copy of the disc sprayed with gold lacquer by RCA as a publicity stunt. The actual award recognized today as a Gold Record would not be initiated for another sixteen years when the Recording Industry Association of America (RIAA) borrowed the idea and trademarked the Gold Record. The first Gold single was awarded to Perry Como in 1958 for 'Catch A Falling Star' and the first Gold album was given to Gordon McRae for the soundtrack to 'Oklahoma'.

1967 - The Beatles recorded the orchestral build-up for the middle and end of 'A Day in the Life'. At the Beatles' request, the orchestra members arrived in full evening dress along with novelty items. One violinist wore a red clown's nose, while another, a fake gorilla's paw on his bow hand. Others were wearing funny hats and other assorted novelties. The recording was filmed for a possible 'Sgt. Pepper's Lonely Hearts Club Band' television special which was ultimately abandoned. Mick Jagger, Keith Richards, Mike Nesmith from The Monkees and Donovan also attended the session.

1971 - American singer-songwriter Carole King released her second studio album Tapestry. It is one of the best-selling albums of all time, with over 25 million copies sold worldwide. The lead single from the album 'It's Too Late'/'I Feel the Earth Move' spent five weeks at No.1 on the chart. The cover photograph was taken at King's Laurel Canyon home. It shows her sitting in a window frame, holding a tapestry she hand-stitched herself, with her cat Telemachus at her feet.

1972 - David Bowie appeared at the Tolworth Toby Jug, London, on the opening date of his Ziggy Stardust tour playing to around 60 people in the room. The character of Ziggy was initially inspired by British rock 'n' roll singer Vince Taylor. The Ziggy Stardust tour played a total of 182 dates.

1974 - Record producer Phil Spector was injured in a car crash. He needed extensive plastic surgery that dramatically altered his looks. Details of how the accident happened were kept secret.

Dave Alexander, the original bassist for The Stooges died from pneumonia aged 27. Alexander met Iggy Pop and formed The Stooges in 1967 and had a hand in arranging, composing and performing all of the songs that appeared on the band's first two albums, The Stooges and Fun House. He was fired from the band in August 1970 after showing up at a gig too drunk to play.

1977 - The Clash started recording their debut album at CBS studios in London. The album was recorded over three weekend sessions at CBS Studio 3 in February 1977. By the third of these sessions the album was recorded and mixed to completion, with the tapes being delivered to CBS at the start of March. It cost just £4000 to produce.

2002 - American folk singer Dave Van Ronk died aged 65. An important figure in the American folk music revival and New York City's Greenwich Village scene in the Sixties, he was nicknamed the "Mayor of MacDougal Street". Bob Dylan recorded Van Ronk's arrangement of the traditional song 'House of the Rising Sun' on his first album, which The Animals turned into a No.1 single in 1964, helping inaugurate the folk-rock movement.

Week Commencing February 3
1964 - The Beatles made their US live debut on CBS-TV's 'The Ed Sullivan Show'; they performed five songs including their current No.1 'I Want To Hold Your Hand'. Never before had so many viewers tuned-in to a live television program, which with 73 million viewers, was three-fourths of the total adult audience in the United States.The show had received over 50,000 applications for the 728 seats in the TV studio.

1968 - Hal Cone former manager of The Monkees and Head of Jones Records was found guilty of theft, forgery, receiving stolen property and conspiracy.

1972 - Paul McCartney's Wings played the first night of a College tour in Nottingham. The group arrived unannounced asking social secretaries if they would like them to perform that evening. The band's intended first stop on the tour, Ashby-de-la-Zouch, refused to allow them to play so they drove on to Nottingham. Admission was 40p, Pub rock band Brinsley Schwarz was the opening act for the tour.

1981 - American singer and musician Bill Haley who became known as the first Rock 'n' Roll star, was found dead, fully clothed on his bed at his home in Harlingen, Texas from a heart attack, aged 55. He scored the 1955 UK & US No.1 single 'Rock Around the Clock' as well as 'See You Later, Alligator', 'Shake, Rattle and Roll', 'Rocket 88', 'Skinny Minnie', and 'Razzle Dazzle'. Haley was blinded in his left eye as a child due to a botched operation and later adopted his distinctive spit-curl hairstyle to distract attention from his blind eye.

1982 - George Harrison presented UNICEF with a cheque for $9 million (£5.3 million), ten years after the fundraising The Concert For Bangladesh.

1987 - Winners at this years Brit awards held in London included Peter Gabriel who won British Male Solo Artist, Kate Bush won British Female Solo Artist, Best British Group went to Five Star, British Album was Dire Straits 'Brothers In Arms', British Breakthrough Act was The Housemartins, International Solo Artist went to Paul Simon. The Bangles won Best International Group, Best British Video went to Peter Gabriel for 'Sledgehammer' and Best British Single was The Pet Shop Boys for 'West End Girls'.

1997 - Scottish singer Brian Connolly with the Seventies Glam rock group Sweet died of kidney and liver failure aged 51. Connolly replaced Ian Gillan (later of Deep Purple and Black Sabbath) in Wainwright's Gentlemen who became Sweetshop and then shortened to Sweet. The group scored 15 top 40 hits including the 1973 No.1 hit 'Blockbuster'.

2009 - Led Zeppelin singer Robert Plant took home five prizes for his collaboration with bluegrass singer Alison Krauss at this year's Grammy Awards held in Los Angeles. The duo won album of the year for Raising Sand and record of the year for 'Please Read The Letter.' Coldplay (who won song of the year for 'Viva La Vida') Adele, Duffy, Radiohead and Peter Gabriel were among other acts to be honoured.

Guitar Slim died of pneumonia aged 32. Born Eddie Jones, he is best known for the million-selling song 'The Things That I Used to Do'. Slim had a major impact on rock and roll and experimented with distorted overtones on the electric guitar a full decade before Jimi Hendrix. He became known for his wild stage act and had an assistant who followed him around the audience with up to 350 feet of cord between his guitar and his amplifier, and occasionally rode on his assistant's shoulders or even took his guitar outside the club - bringing traffic to a stop.

1963 - The first Beatles single 'Please Please Me' was released in the US on the Vee Jay label. Capitol Records, EMI's United States label, were offered the right to release the single in the US, but turned it down. Dick Biondi, a disc jockey on WLS in Chicago and a friend of Vee-Jay executive Ewart Abner, played the song on the radio from February 1963, thus becoming the first DJ to play a Beatles record in the United States.

1969 - The Who recorded 'Pinball Wizard' at Morgan Studios, London. The song is one of the band's most famous live songs, being played at almost every Who concert since its debut live performance on 2 May 1969. The track, which featured on their 1969 rock opera album Tommy, was released as a single in 1969 and reached No. 4 in the charts.

1970 - Led Zeppelin scored their first No.1 album with Led Zeppelin II. Released in November 1969, and featuring the track 'Whole Lotta Love', it went on to stay on the chart for 136 weeks. Also reaching No. 1 in the US, the RIAA in the US has now certified it as having sold over 12 million copies in the US alone.

1973 - The Stooges released their third studio album Raw Power. The album gained a cult following in the years following its release and, like its predecessor (1970s Fun House), is generally considered an influential forerunner of punk rock. Kurt Cobain said on numerous times that Raw Power was his favorite album of all time.



2000 - English guitarist and singer Dave Peverett died from kidney cancer aged 56. He had been a member of the English blues rock band Savoy Brown and Foghat who had the Seventies hit singles 'My Babe', and 'Slow Ride'.

2004 - Queen's single 'We Will Rock You' topped a poll of music fans to find the greatest rock anthem of all time. The 1977 song beat the band's classic 'Bohemian Rhapsody' into second place in a survey of 1,000 people carried out for the UCI cinema chain. The poll was carried out to mark the release of new Jack Black comedy 'School of Rock.'

2013 - Music venues and fans criticised "heartless" touts and agencies selling tickets for guitarist Wilko Johnson's farewell tour at inflated prices. The former Dr Feelgood guitarist was suffering from terminal cancer and was playing a series of farewell dates in February and March. Originally tickets sold for £20, but were now being offered online for £225.

1971 - Led Zeppelin announced a small club tour which would see the group playing Universities and small venues with ticket prices at 12 shillings (60p). Zeppelin manager Peter Grant said 'We decided to do the clubs and forget about the bread and the big concert halls'.

1982 - Kraftwerk were at No.1 on the singles chart with 'The Model / Computer Love', the first German act to score a UK No.1 single. The single spent 21 weeks on the chart.

1990 - Billy Idol suffered serious injuries when he failed to pull up at a stop sign and crashed from his Harley-Davidson motorbike into a car.

1996 - Former Jam members Bruce Foxton and Rick Buckler reached a high court settlement with Paul Weller after suing him for more than £100,000, after claiming they were owed royalties and group assets.

1998 - American singer and guitarist Carl Wilson from The Beach Boys died aged 51 after a long battle with lung cancer (Wilson was diagnosed with brain and lung cancer in early 1997). He sang lead vocal on 'God Only Knows', 'Good Vibrations,' and 'I Can Hear Music.' Wilson also sang backing vocals on Elton John's 'Don't Let The Sun Go Down On Me.'

2001 - Guitarist Don Felder was fired from the Eagles. He would later launch a $50 million law suit against drummer Don Henley and guitarist Glen Frey, alleging wrongful termination and breach of implied-in-fact contract. Henley and Frey then countersued Felder for breach of contract, alleging that Felder had written and attempted to sell the rights to a "tell-all" book. Both parties settled out-of-court for an undisclosed amount.

Gary Moore died aged 58 in his sleep of a heart attack in his hotel room while on holiday in Estepona, Spain. Moore had been a member of Skid Row, Thin Lizzy and Colosseum II, before going solo, scoring the 1979 No.8 single 'Parisienne Walkways'. Moore's greatest influence in the early days was guitarist Peter Green of Fleetwood Mac, who was a mentor to Moore when performing in Dublin. His 1990 album Still Got the Blues featured contributions from Albert King, Albert Collins and George Harrison.

2014 - Nirvana's 'Smells Like Teen Spirit' was named as the greatest song of all time by NME. 'Smells Like Teen Spirit' was one of the last songs written for Nirvana's breakthrough album, 'Nevermind', which was released in 1991. The rest of the top five tracks were: 5: 'Last Nite', The Strokes, 4: 'How Soon Is Now?', The Smiths, 3: 'I Feel Love', Donna Summer, 2: 'Love Will Tear Us Apart', Joy Division.

1962 - The Beatles filmed part of the promo clip for 'Penny Lane' around the Royal Theatre, Stratford, and walking up and down Angel Lane in London. Together with the video for 'Strawberry Fields Forever', this was one of the first examples of what later became known as a music video.

The Move were at No.1 on the singles chart with 'Blackberry Way', the group's only No.1 and the band's most successful single.

1971 - Black Sabbath started recording what would be their third album, 'Master Of Reality' at Island Studios in London. Released in July of this year, it is sometimes noted as the first stoner rock album. Guitarist Tony Iommi decided to down tune his guitar down three semi-tones and Geezer Butler also down tuned his bass guitar to match Iommi. The result was a noticeably 'darker' sound that almost two decades later would prove hugely influential on at least three of the biggest grunge acts, namely Smashing Pumpkins, Soundgarden and Nirvana.

1972 - T Rex were at No.1 on the singles chart with 'Telegram Sam', the group's third No.1 which was taken from their album The Slider. The song is also known for bringing the term "main man" into popular culture.

1998 - American guitarist Tim Kelly from Slaughter was involved in a fatal car accident while traveling on Highway 96 in Arizona. Kelly's vehicle was hit head on when an 18 wheeler crossed the middle line. Kelly released four studio albums with Slaughter and two live albums.

2006 - The Rolling Stones played three songs during the half-time show of The Super Bowl in Detroit. After the event, the Stones expressed their displeasure over having Mick Jagger's microphone turned down during the song "Start Me Up". The line "you make a dead man come" was cut short and a barnyard reference to "cocks" in the new song "Rough Justice" also disappeared.

2015 - INXS guitarist Tim Farriss said he may never play the guitar properly again after severing his finger in a boating accident. Farriss caught his left hand while operating a winch on his boat in Sydney, severing his ring finger. He had undergone surgery twice to try to reattach the finger but had been left with permanent hand damage.

2016 - A new species of black tarantula that lives near Folsom Prison, California, was named after Johnny Cash. Aphonopelma johnnycashi was among 14 new tarantula species from the southern US which were described by biologists in the journal ZooKeys.

1965 - The Righteous Brothers were at No.1 on the singles chart with the Phil Spector song 'You've Lost That Lovin' Feelin'. Also a US No.1 at the same time. In 1999 the PRS announced that it was the most played song of the 20th Century.

1977 - Fleetwood Mac released Rumours. The songs 'Go Your Own Way', 'Don't Stop', 'Dreams', and 'You Make Loving Fun' were released as singles. Rumours is Fleetwood Mac's most successful release; along with winning the Grammy Award for Album of the Year in 1978, the record has sold over 45 million copies worldwide, making it one of the best-selling albums of all time.

1982 - Scottish singer Alex Harvey died of a heart attack while waiting to take a ferry back to shore after performing a concert with his new band, the Electric Cowboys. In an ambulance on the way to the hospital, he suffered a second heart attack, this one fatal. It occurred on the day before his 47th birthday, in Zeebrugen, Belgium. Formed Alex Harvey Big Soul Band in 1959 and then mid 1960s band Tear Gas. Had the 1975 No.7 single with Sensational Alex Harvey Band 'Delilah' and 1973 album 'Next'.

1996 - Former Milli-Vanilli member Rob Pilatus was hospitalised after a man hit him over the head with a baseball bat in Hollywood, California. Pilatus was attempting to steal the man's car at the time of the attack.

2007 - A Razorlight's gig in Lyon was halted mid-set because of an altercation between singer Johnny Borrell and bassist Carl Dalemo. The pair exchanged insults before they came to blows onstage. Borrell then stormed off leaving the French crowd amazed and unsure about what was going on.

2009 - Robert Plant said he felt Led Zeppelin couldn't reunite for a full tour because the band feels incomplete without drummer John Bonham. In an interview on Absolute Radio Plant stated 'The reason that it stopped was because we were incomplete, and we've been incomplete now for 29 years,' he said. He admitted: 'I think the thing about it is really, is that to visit old ground, it's a very incredibly delicate thing to do, and the disappointment that could be there once you commit to that and the comparisons to something that was basically fired by youth and a different kind of exuberance to now, it's very hard to go back and meet that head on and do it justice'.

2013 - Reg Presley lead singer with the Sixties band The Troggs, died aged 71. Hit singles, included 'Wild Thing', 'I Can't Control Myself' and the No.1 'With a Girl Like You'. He also wrote the song 'Love Is All Around', which featured in the film Four Weddings and a Funeral and was a No.1 hit for Wet Wet Wet in 1994. Presley used his royalties from that cover to fund research subjects such as alien spacecraft, lost civilisations, alchemy, and crop circles, and outlined his findings in the book Wild Things They Don't Tell Us, published in October 2002.

2017 - Black Sabbath - the band credited with inventing heavy metal music - played their last concert. The two-hour gig at the NEC Arena in their home city of Birmingham saw the rock veterans play 15 songs ending with their first hit, 'Paranoid'. Ticker tape and balloons fell as singer Ozzy Osbourne, 68, thanked fans for nearly five decades of support. Sabbath's The End Tour began in the US in January last year and took in 81 dates across the world.

1959 - 22 year old Buddy Holly, The Big Bopper and Ritchie Valens, aged 17, died in a crash shortly after take-off from Clear Lake, Iowa, the pilot of the single-engined Beechcraft Bonanza plane was also killed. Holly hired the plane after heating problems developed on his tour bus. All three were travelling to Fargo, North Dakota, for the next show on their Winter Dance Party Tour which Holly had set - covering 24 cities in three weeks, to make money after the break-up of his band, The Crickets, last year.

1967 - Producer Joe Meek shot his landlady Violet Shenton and then shot himself at his flat in London, Meek produced The Tornadoes hit 'Telstar', the first No.1 in the US by a British group.



1968 - One Hit Wonders The Lemon Pipers went to No.7 on the singles chart with 'Green Tambourine'. The song has been credited as being one of the first bubblegum pop chart-toppers.

1970 - Led Zeppelin II was in the Top 20 on both the UK & US album charts after peaking at No.1. The album went on to spend 138 weeks on the UK chart. The album is now recognised by writers and music critics as one of the greatest and most influential rock albums ever recorded.

1979 - Blondie had their first of five No.1 singles, with 'Heart Of Glass', taken from the band's third studio album, Parallel Lines. 'Heart of Glass' was originally recorded in 1975 under the name 'Once I Had a Love.'

1992 - On their first Europe tour Pearl Jam played at The Esplanade Club in Southend, to just 300 people, the band's first ever UK show.

1999 - Tony Hadley, singer with Spandau Ballet, told a High Court in London of his "desperate" financial situation after his solo career failed. Hadley and band members Steve Norman and drummer John Keeble were suing Spandau Ballet songwriter Gary Kemp for hundreds of thousands of pounds of allegedly unpaid publishing royalties. Hadley earned £120,000 a year during the band's heyday in the early 1980s, but the court heard that when he fell on hard times he was forced to sell his home to pay off a £50,000 overdraft in 1993.

2007 - Wayne Fontana was arrested at his home in Glossop, Derbyshire, and charged with arson with intent to endanger life. The 61 year-old, who was already set to appear in court in March on traffic offenses, was accused of pouring gasoline over a bailiff's car and setting it on fire. The following November, he was sentenced to 11 months in jail, but was allowed to walk free from court immediately after already serving the equivalent of his term while held under the Mental Health Act.

2010 - AC/DC singer Brian Johnson, joined a growing group of critics of Bob Geldof and U2 singer Bono over their very public charity work, saying they should stop lecturing audiences about charity work and instead do their good deeds in private. Johnson said "When I was a working man I didn't want to go to a concert for some bastard to talk down to me that I should be thinking of some kid in Africa. I'm sorry mate, do it yourself, spend some of your own money and get it done. It just makes me angry."

1967 - The Jimi Hendrix Experience appeared at the Blue Pad Club in Darlington, County Durham, which was part of the Imperial Hotel Complex on Grange Road. The show was advertised as "Don't miss this man who is Dylan, Clapton, and James Brown all in one". After the show, as the roadies were loading up a van, one of Hendrix's Fender guitars was stolen.

1973 - Keith Emerson of Emerson Lake and Palmer injured his hands when his piano rigged to explode as a stunt, detonated prematurely during a concert in San Francisco.

1979 - Sex Pistols bassist Sid Vicious died of a heroin overdose in New York City. There had been a party to celebrate Vicious' release on $50,000 bail pending his trial for the murder of his former girlfriend, Nancy Spungen, the previous October. Party guests said that Vicious had taken heroin at midnight. An autopsy confirmed that Vicious died from an accumulation of fluid in the lungs that was consistent with heroin overdose. A syringe, spoon and heroin residue were discovered near the body.



2001 - Bad Manners singer Buster Bloodvessel was told he was 'too fat' to survive an urgently needed operation. Buster collapsed on stage during a show in Italy but Doctors felt that his huge 30 stone frame might not make it through surgery. Among their early incarnations were known as Stoop Solo and the Sheet Starchers.

2004 - TV network CBS apologised for its broadcast of the American Super Bowl after Janet Jackson was left exposed when Justin Timberlake ripped her top. The pair had been performing a raunchy half-time duet when one of Jackson's breasts was exposed as Timberlake pulled at her top. CBS quickly cut away from the scene but was still flooded with calls from angry viewers about the half-time entertainment, produced by MTV. Timberlake insisted it had been an accident saying "I am sorry that anyone was offended by the wardrobe malfunction during the half-time performance of the Super Bowl."

Week Commencing January 27
1967 - The Beatles spent a second day at Knole Park, Sevenoaks, to complete filming for the 'Strawberry Fields Forever' promotional video. The film was shot in colour for the benefit of the US market, since UK television was still broadcasting only in black and white. Taking time out from filming John Lennon bought a 1843 poster from an antiques shop in Surrey which provided him with most the lyrics for The Beatles song 'Being For The Benefit Of Mr Kite'.

1969 - Led Zeppelin played the first of two nights at The Fillmore East, New York City during the band's first North American tour. Porter's Popular Preachers opened the night, then Zeppelin took the stage. It is alleged that Zeppelin's show was so powerful and got such an enthusiastic response that headliners Iron Butterfly refused to follow them.

Slim Harpo died of a heart attack while recording in London aged 46. His most successful and influential recordings included 'I'm a King Bee' (1957), 'Rainin' In My Heart' (1961), and 'Baby Scratch My Back' (1966). A master of the blues harmonica, his stage name was derived from the popular nickname for that instrument, the "harp". The Rolling Stones, Pretty Things, Yardbirds and Them all covered his songs. Jagger once remarked: "What's the point of listening to us singing I'm A King Bee when you can listen to Slim Harpo doing it?"

2007 - Jim Morrison was enlisted to help fight global warming more than 35 years after his death. 'Woman in the Window', a previously unreleased poem written and recorded by The Doors frontman shortly before he died in 1971 was being set to music and used to publicise the Global Cool campaign.

2017 - English singer, bassist, and songwriter John Wetton died in his sleep at his home in Bournemouth, from colon cancer. He rose to fame with bands Mogul Thrash, Family, King Crimson, Roxy Music, Uriah Heep and Wishbone Ash. After his period with King Crimson, Wetton formed UK, and later he was the frontman and principal songwriter of the supergroup Asia. Their biggest hit, 'Heat of the Moment', reached No. 4 in the US in 1982.

1964 - The Searchers were at No.1 on the singles chart with the Sonny Bono song 'Needles And Pins'. The group's second No.1 had originally been recorded by Jackie DeShannon.

1969 - The Beatles with Billy Preston played their lunchtime rooftop gig on top of the Apple building on Savile Row, London. Lasting for just over 40 minutes it was the last time The Beatles performed live. The played 'Get Back', 'Don't Let Me Down', 'I've Got A Feeling', 'The One After 909' and 'Dig A Pony'. Traffic was brought to a standstill as crowds of people gathered below and watched from windows in nearby buildings. John Lennon ended the performance by saying "I'd like to say thank you on behalf of the group and ourselves and I hope we passed the audition."

1970 - Edison Lighthouse were at No.1 on the singles chart with 'Love Grows (Where My Rosemary Goes).' The group's only Top 40 hit spent five weeks at the top of the charts. In February 1970, Tony Burrows became the first (and still the only) person to appear on Top Of The Pops fronting three different acts in one show: Edison Lighthouse (who were number one that week), White Plains, and Brotherhood of Man.

Rainbow to Wicked Lester, Gene Simmons, Paul Stanley, Ace Frehley and Peter Criss made their first appearance as Kiss at the Popcorn Club in Queen's, New York.

1976 - Music weekly Sounds readers Poll Winners included; best album 'A Night At The Opera', by Queen, best single 'Bohemian Rhapsody', by Queen, best band went to Queen, musician Mike Oldfield, female singer Maddy Prior, new band Rainbow, bore of the year The Bay City Rollers.

1988 - During a court case involving Holly Johnson and ZTT Records it was revealed that Frankie Goes To Hollywood had not played on their hits 'Relax' and 'Two Tribes'. The court was told that top session musicians were used to make the records.

1990 - Unhappy with the re-issue of the bands early single 'Sally Cinnaman' The Stone Roses trashed their former record company Revolver FM's offices and threw paint over cars. The band were arrested and charged with criminal damage.

2013 - Mick Jagger was named the most stylish rock star of all time by lifestyle website Complex. Jagger lead their top 50 list ahead of Prince, David Bowie, Kurt Cobain, Sid Vicious and Keith Richards. Complex stated "Even today, he wears silk scarves and suits with more rakish appeal than most men – and he's pushing 70."

1964 - The Beatles spent the day at Pathe Marconi Studios in Paris, France, The Beatles' only studio recording session for EMI held outside the UK. They recorded new vocals for 'She Loves You', 'I Want to Hold Your Hand' and 'Can't Buy Me Love', after EMI's West German branch persuaded Brian Epstein that they would be unable to sell large quantities of records in Germany unless they were recorded in the German language. A translator coached John, Paul, and George, although their familiarity with the German language from their Hamburg days made things much easier.

1969 - Fleetwood Mac had their only No.1 single with the instrumental 'Albatross' which was composed by guitarist Peter Green. 'Albatross' is the only Fleetwood Mac composition with the distinction of having inspired a Beatles song, 'Sun King' from 1969's Abbey Road.

1972 - The triple album The Concert For Bangladesh went to No.1 on the album chart. Organised by George Harrison to raise funds for the people caught up in the war and famine from the area. The set featured Bob Dylan, Ringo Starr, Billy Preston, Eric Clapton, Ravi Shankar and members from Badfinger.

1979 - 16-year-old Brenda Spencer killed two people and wounded nine others when she fired from her house across the street onto the entrance of San Diego's Grover Cleveland Elementary School. Spencer fired the shot's from a .22-caliber rifle her father had given her for Christmas. When asked why she did it, she answered 'I don't like Mondays.' The Boomtown Rats went on to write and record a song based on the event.

Willie Dixon died of heart failure. He wrote the classic songs 'You Shook Me', 'I Can't Quit You Baby', 'Hoochie Coochie Man', 'I Just Want to Make Love to You' and 'Little Red Rooster'. Dixon was a major influence on The Rolling Stones, Cream, The Yardbirds and Led Zeppelin.

1965 - The Who made their first appearance on Ready Steady Go! To project the desired image, the hand-picked audience consisted only of teens dressed in the current Mod fashion.

1977 Pink Floyd's tenth studio album Animals entered the charts at No.2. The sleeve concept was that of Roger Waters, who lived at the time near Clapham Common, and regularly drove past Battersea Power Station. A view of the imposing but disused former power station building was chosen for the cover image, complete with massive inflatable pig suspended between two of the towers.

1978 - The Fleetwood Mac album Rumours went to No.1 on the album chart. The groups eleventh studio album went on to sell over 45 million copies world-wide and spent over 440 weeks on the chart. The songs 'Go Your Own Way', 'Dreams', 'Don't Stop', and 'You Make Loving Fun' were released as singles.

Men At Work, The Church, The Choirboys, Cold Chisel and INXS. The following year saw Simple Minds, Talking Heads, Def Leppard, Eurythmics and The Pretenders all appearing.

1983 - Rock & Roll singer Billy Fury died of heart failure aged 42. An early British rock and roll (and film) star, he equalled the Beatles' record of 24 hits in the Sixties, and spent 332 weeks on the chart - without a chart-topping single or album. His We Want Billy (released in 1963, with The Tornados) was one of the first live albums in British rock history. Fury later played rock 'n' roller "Stormy Tempest" in the film That'll Be The Day alongside David Essex and Ringo Starr.

1984 - Backstage after a Motley Crue show in Buffalo, New York, Tommy Lee found out that his girlfriend has posed for the current issue of Penthouse magazine without his knowledge, after a fan passed comment on the pictures. Tommy punched the fan unconscious with one hit. Motleys manager Doug Thaler later convinced the fan not to press any charges.

2004 - Elvis Presley fans expressed their anger at plans to cut up a rare tape of the singer's early songs and sell the snippets at auction. The tape, which featured a recording made by Presley during the early 1950s, was now too fragile to play. US firm Master Tape Collection said the tape would be cut into two-inch snippets and sold for £270 each.

2005 - Drummer and singer songwriter Jim Capaldi died of stomach cancer aged 60. He co-founded Traffic with Steve Winwood who had the 1967 No.2 single 'Hole In My Shoe'. Capaldi also had the solo 1975 No.4 single 'Love Hurts'. Capaldi also worked with Jimi Hendrix, Eric Clapton and George Harrison.

2009 - Lynyrd Skynyrd keyboard player Billy Powell died at the age of 56 of a suspected heart attack in Florida. Powell called police saying he was having trouble breathing and emergency services tried to resuscitate him, but he was pronounced dead an hour later. Powell had missed a doctor's appointment on the day before his death; the appointment was for a checkup on his heart. He played piano on Kid Rock's 'All Summer Long' (which sampled the Lynyrd Skynyrd song 'Sweet Home Alabama').

2016 - American guitarist, singer and songwriter Paul Kantner died in San Francisco at the age of 74 due to multiple organ failure and septic shock after he suffered a heart attack days earlier. He was known for co-founding Jefferson Airplane, the leading psychedelic rock band of the counterculture era, and its more commercial spin-off band Jefferson Starship. With Jefferson Airplane, Kantner was among the performers at the Monterey Jazz Festival in 1966 and the Monterey Pop Festival in 1967 and the Woodstock Festival in 1969.

Black Sabbath, Geoff Nicholls died aged 68. Until his death, Nicholls played keyboards with former Black Sabbath singer Tony Martin, in his band Tony Martin's Headless Cross. Nicholls also played in the NWOBHM band Quartz, before joining Sabbath. In the 1960s/early 1970s, Geoff played lead guitar for the Birmingham bands The Boll Weevils, The Seed, Johnny Neal and the Starliners and keyboards for World Of Oz.

1962 - The Beatles appeared at Aintree Institute in Aintree, Liverpool. The group had played here many times before but this was their last performance at the venue. Brian Epstein became infuriated when the promoter paid The Beatles' fee (£15 pounds) with handfuls of loose change. Epstein took this as an insult to the group, and made sure that The Beatles never played for that promoter (Brian Kelly) again.

1970 - John Lennon wrote, recorded and mixed his new single 'Instant Karma!' all in one day. It ranks as one of the fastest-released songs in pop music history, recorded at London's Abbey Road Studios and arriving in stores only ten days later.

Sweet appeared at the Grand Hall in Kilmarnock, Scotland and were driven offstage by a barrage of bottles. The incident inspired their song 'The Ballroom Blitz' which went on to reach number one in Canada, number two in the UK and the Australian Chart, and number five on the US Billboard Hot 100.

1977 - The Clash signed to CBS Records for £100,000.

1996 - Babylon Zoo started a five-week run at No.1 on the singles chart with 'Spaceman', the fastest selling single by a debut artist in the UK (420,000 copies in 6 days). The song was used for a Levi Jeans TV commercial. The single also went to Number 1 in twenty-three other countries.

2006 - American singer, songwriter, and record producer Gene McFadden, best known as half of the Philly soul team McFadden & Whitehead, died of cancer at the age of 56. The duo, who were discovered by Otis Redding who acted as their manager, had the 1979 hit 'Ain't No Stoppin' Us Now', which sold more than 8 million copies and was nominated for a Grammy Award.

Week Commencing January 20
1968 - Pink Floyd played their first gig without Syd Barrett at Southampton University. They were supported by Tyrannosaurus Rex (later to be renamed T Rex) featuring Marc Bolan and percussionist Steve Peregrine Took.

1973 - Sweet were at No.1 on the singles chart with 'Blockbuster'. The glam rockers only No.1 of 15 Top 40 hits.

1974 - Ringo Starr went to No.3 on the singles chart with his version of the Johnny Burnette 1960 hit 'Your Sixteen'.

1975 - The BBC 'Omnibus' documentary 'Cracked Actor' a film about David Bowie was shown on TV. Filmed in 1974 when Bowie was was a cocaine addict, the documentary has become notorious for showing Bowie's fragile mental state during this period.

Fleetwood Mac guitarist Peter Green was committed to a mental hospital following an incident when he threatened his accountant Clifford Adams with an air rifle when he was trying to deliver a £30,000 royalty cheque to him.

1989 - American soul singer Donnie Elbert died of a stroke aged 52. In 1955 he formed a doo-wop group, the Vibraharps making his recording debut on their single 'Walk Beside Me' but it wasn't until the Seventies when he had major success with the solo hit 1972 No.11 single 'I Can't Help Myself', Sugar Pie Honey Bunch', as well as the hits 'Where Did Our Love Go?' and 'A Little Piece of Leather'.

1991 - Queen had their second No.1 with 'Innuendo'. At 6 minutes 30 seconds, it exceeded their epic 'Bohemian Rhapsody' by 35 seconds and became the third longest No.1 song of all time, behind The Beatles 'Hey Jude' and Simple Minds 'Belfast Child' (subsequently the 9 minutes 38 seconds 'All Around The World' by Oasis took over the top slot and demoted Innuendo to fourth place). For 'Innuendo's' flamenco guitar solo, Brian May was joined by Yes guitarist Steve Howe.

1969 - Pink Floyd appeared at the Sixty Nine Club, Royal York Hotel, Ryde, Isle of Wight. Support band was The Cherokees, who had had a minor hit single in 1964 with Seven Golden Daffodils produced by Mickie Most. They later changed their name to New York Public Library.

1975 - The last Sunbury Rock Festival in Victoria, Australia was held. The promoters, who had made heavy losses, paid only Deep Purple. AC/DC were scheduled to play after Deep Purple but a fight started on stage between road crews after Purple's set when they began packing up the lights and PA and denied AC/DC use of them, who then left the festival site without playing.

1978 - After changing their name from Warsaw (inspired by the song Warszawa on David Bowie's Low album), Joy Division made their live debut when they played at Pips Disco in Manchester.

1986 - Norwegian group A-Ha were at No.1 in the with 'The Sun Always Shines On TV,' becoming the first ever-Norwegian act to score a UK No.1 hit single.

1986 - US manager Albert Grossman died of a heart attack while flying on Concorde from New York to London. He managed Bob Dylan (between 1962 and 1970), Peter, Paul and Mary, The Band, Janis Joplin and Todd Rundgren. Grossman built the Bearsville Recording Studio near Woodstock in 1969 and in 1970 he founded Bearsville Records.

1992 - The inaugural Big Day Out festival took place at the Hordern Pavilion in Sydney. Acts appearing included Nirvana, Beasts of Bourbon, Box The Jesuits, Celibate Rifles, Cosmic Psychos, The Clouds, Club Hoy, Died Pretty, Falling Joys, The Hard Ons with Henry Rollins Hellmen, Massappeal, The Meanies, Smudge, Sound Unlimited Posse, Ratcat, The Village Idiots, Violent Femmes and Yothu Yindi.

2011 - A former Miss Canada finalist became the first person in the world to graduate with a Masters degree in The Beatles. Canadian singer Mary-Lu Zahalan-Kennedy, 53, was one of the first students to sign up for the course on the Fab Four when it launched at Liverpool Hope University in March 2009. The ground-breaking course looked at the studio sound and composition of The Beatles and how Liverpool helped to shape their music as well as examining the significance of the music of the band and their impact on Western culture.

1953 - Eddie Fisher was at No.1 on the singles chart with 'Outside Is Heaven'. The American singer and entertainer divorced his first wife, Debbie Reynolds to marry his best friend's widow, Elizabeth Taylor, which gave him too much unwelcome publicity at the time. Eddie is father of actress Carrie Fisher who died in 2016.

1958 - The Quarry Men performed at The Cavern Club in Liverpool - this was the band's only performance at the club. It was three years later when they appeared again at the Cavern but under their new name The Beatles.

1967 - Pink Floyd spent the second of three days recording the Syd Barrett songs 'Arnold Layne' and 'Candy And A Current Bun' at Sound Techniques Studios, Chelsea. 'Candy And A Current Bun' was first known as 'Let's Roll Another One' and contained the line 'I'm high - Don't try to spoil my fun', but it was decided that Syd Barrett should rewrite it without the drug references.

1970 - James Sheppard, the lead singer from the Heartbeats and Shep and the Limelites, was found murdered in his car on the Long Island Expressway. The US singer had been beaten and robbed. The Limelites reached No.2 in the US in 1961 with 'Daddy's Home'.

1970 - Led Zeppelin appeared at Leeds University. It was at this show when Zeppelin had a meeting with fine arts lecturer Zacron to discuss their ideas for the album sleeve of the band's next album, Led Zeppelin III. Zacron, born Richard Drew, had studied at Kingston College of Art with members of the Yardbirds.

The Buzzcocks appeared at the Roxy, in London, supported by Chelsea. Also appearing at the venue over the last week; The Damned, The Boys, The Adverts, Slaughter And The Dogs and Squeeze.

1999 - The Offspring went to No.1 on the singles chart with 'Pretty Fly, For A White Guy'. Taken from their fifth studio album Americana the single was a No.1 hit in ten other countries.

2017 - American drummer Butch Trucks from The Allman Brothers Band died of a self-inflicted gunshot wound to the head at the age of 69, in West Palm Beach, Florida. He played in various groups before forming the 31st of February while at Florida State University in the mid 1960s. He joined the Allman Brothers Band in 1969. Their 1971 live release, At Fillmore East, represented an artistic and commercial breakthrough.

2018 - English singer and songwriter Mark E. Smith from Manchester post-punk band The Fall died aged 60 after a long illness with lung and kidney cancer. Smith formed the Fall in 1976 and was the only constant member of the band. He was known for his tempestuous relationship with his bandmates, and frequently fired them – there have been 66 different members over the years.

1965 - 'Downtown' made Petula Clark the first UK female singer to have a No.1 on the US singles chart since Vera Lynn in 1952. The song was also a No.2 hit in the UK. Recorded in three takes (with the second take ultimately chosen as the completed track), session players in the studio recording included Jimmy Page.

1967 - Pink Floyd spent the first of three days recording the Syd Barrett songs Arnold Layne and Candy And A Current Bun at Sound Techniques Studios, Chelsea. According to Roger Waters, Arnold Layne was based on a real person - a transvestite whose primary pastime was stealing women's clothes and undergarments from washing lines in Cambridge.

1971 - George Harrison became the first solo Beatle to have a No.1 when ' 'My Sweet Lord' went to the top of the single charts. The song from his 'All Things Must Pass' album stayed at No.1 for five weeks. The track returned to the top of the charts in 2002, following his death.

1978 - American musician and songwriter Terry Kath, best known as the original guitarist, and founding members of the rock band Chicago accidentally shot himself dead. After a party at roadie and band technician Don Johnson's home in Woodland Hills, Los Angeles, California, Kath picked up a semiautomatic 9mm pistol and, leaning back in a chair, said to Johnson "Don't worry about it ... look, the clip is not even in it." To satisfy Johnson's concerns, Kath showed the empty magazine to Johnson. Kath then replaced the magazine in the gun, put the gun to his temple and pulled the trigger. Apparently unbeknownst to Kath, however, there was still one round in the chamber, and he died instantly from the gunshot.

1990 - Allen Collins guitarist from Lynyrd Skynyrd died of pneumonia after being ill for several months. Collins who was one of the founding members also co-wrote most of the band's songs (including Free Bird), with late frontman Ronnie Van Zant. He survived a plane crash in 1977 that killed two other band members. Collins was behind the wheel in a car accident in 1986 that killed his girlfriend and left him paralyzed from the waist down. He later pleaded no contest to vehicular manslaughter as well as driving under the influence of alcohol.

2016 - Scottish musician Jimmy Bain died aged 68 while in his cabin on Def Leppard's "Hysteria on the High Seas" cruise. The cause of death was determined to be lung cancer. Bain was best known for playing bass guitar in the bands Rainbow and Dio, he also worked with Thin Lizzy frontman Phil Lynott, co-writing on his solo albums as well as Ian Hunter, Gary Moore and John Cale.

2017 - African-American soul and R&B singer, songwriter and record producer Bobby Freeman died of natural causes aged 76. He scored the 1958 No.5 single 'Do You Want To Dance'. The song has been covered (as 'Do You Wanna Dance') by Del Shannon, The Beach Boys, Johnny Rivers, Bette Midler, John Lennon, Cliff Richard, Marc Bolan & T.Rex, the Mamas & The Papas and the Ramones.

1959 - Alone with an acoustic guitar and tape recorder in his New York City apartment, Buddy Holly made his last recordings, including 'Peggy Sue Got Married', 'Crying, Waiting, Hoping', 'That's What They Say', 'What To Do', 'Learning The Game' and 'That Makes It Tough'. The recordings would be overdubbed posthumously and were later released by Coral Records.

1967 - The Monkees performed live for the very first time at The Cow Palace, San Francisco to a sell-out crowd.

1969 - The Beatles moved from Twickenham Film Studios to Apple studios in London to start recording the "Get Back" LP. Billy Preston was brought into the sessions (John, Paul, and George knew Preston from 1962, when he was a member of Little Richard's backing group). The Beatles were determined to record the album "live", flaws and all.

1970 - Steel Mill (featuring Bruce Springsteen) opened for The Elvin Bishop Band at The Matrix in San Francisco, California. Steel Mill were paid only $5 for the gig, The Elvin Bishop Band received $90 as headliner.

1972 - David Bowie 'came out' as bisexual during an interview in Melody Maker.

1994 - American musician Rhett Forrester was shot and killed at a Northwest Atlanta intersection after he refused to give up his vehicle in an attempted carjacking, he was 37 years old. He was best known as the lead singer for New York-based band Riot from 1981 until 1984.

Billy MacKenzie (2nd right) from The Associates committed suicide aged 39 after he overdosed on a combination of paracetamol and prescription medication in the garden shed of his father's house in Auchterhouse, Scotland. The Associates debut single, a cover of David Bowie's 'Boys Keep Swinging', was released June 1979, just six weeks after Bowie's version hit the Top 10 in April.

2002 - English keyboardist Peter Bardens died from lung cancer aged 57. He was a founder member of the progressive rock group Camel and during his career Bardens also worked alongside Rod Stewart, Mick Fleetwood and Van Morrison, and recorded solo albums.

2017 - English bass guitar player Pete Overend Watts and founding member of the 1970s rock band Mott the Hoople died from throat cancer aged 69. Watts helped start the Buddies with guitarist Mick Ralphs, a band that evolved into Mott the Hoople after periods in which it was known as the Doc Thomas Group, the Shakedown Sound, then Silence. They became Mott the Hoople after Ian Hunter joined in 1969. Watts continued with Dale Griffin, Morgan Fisher and Ray Major in the Mott successor British Lions. He later became a record producer, producing albums for artists including Hanoi Rocks and Dumb Blondes.

2017 - German drummer Jaki Liebezeit died of pneumonia aged 78. He was best known as a founding member of the experimental rock band Can who were hailed as pioneers of the German krautrock scene. He also worked with Jah Wobble, Depeche Mode and Brian Eno.

1965 - American disc-jockey Alan Freed died at the age of 42 from uraemia and cirrhosis brought on by alcoholism. Freed called himself the "father of rock and roll", appeared in the movies such as Rock Around the Clock and Don't Knock the Rock. His career was destroyed by the payola scandal that hit the broadcasting industry in the early 1960s.

1967 - The Monkees TV show was shown for the first time in the UK. The series followed the adventures of four young men trying to make a name for themselves as rock 'n roll singers. They went on to sell more than 75 million records worldwide and had international hits, including 'Last Train to Clarksville', 'Pleasant Valley Sunday', 'Daydream Believer', and 'I'm a Believer'.

1968 - One Hit Wonders John Fred and the Playboy Band started a run at No.3 on the singles chart with 'Judy In Disguise (With Glasses)'. The song was inspired by The Beatles 'Lucy In The Sky'.

1969 - Led Zeppelin appeared at the Wheaton Youth Center, Wheaton, during their first North American tour. Some reports suggest that only 55 fans attended this show (if so, this would make it the smallest audience they ever played to). This show was on a Monday and the night of Richard Nixon's inauguration. Zeppelin were paid $250 to appear.

1972 - On the first date of a UK tour at The Dome, Brighton, Pink Floyd attempted to premiere their new album The Dark Side of The Moon but due to technical problems this was abandoned after a performance of the track 'Money'.

1988 - The Beatles were inducted into the Rock and Roll Hall of Fame. George Harrison, Ringo Starr and Yoko, Sean and Julian Lennon all attend. Paul McCartney did not attend, sending instead a letter stating that continuing business differences with the other ex-Beatles was the reason for his absence.

Bill Albaugh drummer from the Sixties psychedelic group The Lemon Pipers died aged 53. The Lemon Pipers scored the 1967 US No.1 single 'Green Tambourine'. The song has been credited as being the first bubblegum pop chart-topper.

2000 - English bassist Ray Jones from The Dakotas died. They had the 1964 No.1 single 'Little Children' as Billy J Kramer and The Dakotas. In addition to backing Kramer, the group itself is best known for their instrumental single 'The Cruel Sea', that reached No.18 in the charts in July 1963.

Week commencing January 13
1967 - Pink Floyd and Marmalade played at The Marquee Club, London. Marmalade went on to score a No.1 hit with their version of The Beatles' Ob-La-Di, Ob-La-Da in 1968.

1967 - The Monkees were at No.1 on the singles with 'I'm A Believer', the group's only No.1. The song, composed by Neil Diamond, had 1,051,280 advance orders, and went gold within two days of release. It is one of fewer than forty all-time singles to have sold more than 10 million physical copies worldwide.

1980 - The Pretenders scored their first No.1 hit with their third single 'Brass In Pocket'. The bands self-titled debut album started a four-week run at No.1 on the chart also on this day. Singer Chrissie Hynde got the idea for the song's title when, during an after-show dinner, she overheard someone enquiring if anyone had "Picked up dry cleaning? Any brass in pocket?"

1988 - Bon Jovi and Mötley Crüe manager Doc McGhee pleaded guilty to importing more than 40,000lb of marijuana into the US from Colombia via a shrimp boat. McGhee received a five-year suspended prison sentence, a fine of $15,000, and was ordered to set up an anti-drugs foundation.

1998 - American singer, songwriter Carl Perkins died aged 65 from throat cancer. He wrote the classic rock n roll song 'Blue Suede Shoes', the first record on the Sun label to sell a million copies. His songs were recorded by Elvis Presley, The Beatles Jimi Hendrix and Johnny Cash. Paul McCartney claimed that "if there were no Carl Perkins, there would be no Beatles."

Wilson Pickett died in hospital near his Ashburn, Virginia home aged 64 of a heart attack. Pickett recorded the soul classics 'Mustang Sally', 'Everybody Needs Somebody to Love' and 'In The Midnight Hour' plus Pickett scored 15 other US Top 40 singles.

2012 - Jamaican singer, songwriter and record producer Winston Riley died aged 68. He had been shot in the head at his home in Kingston. After being in a coma since the shooting, he died on 19 January. He formed the band The Techniques in 1962. Riley's own song, 'Double Barrel', performed by Dave and Ansell Collins under his own production, was one of the first international reggae hits, reaching No.1 in the Dutch and UK Singles Chart.

2019 - Scottish drummer Ted McKenna died aged 68 of a hemorrhage during a routine operation for a hernia. He worked with The Sensational Alex Harvey Band, Rory Gallagher, The Michael Schenker Group and toured with Ian Gillan for a short period in 1990.

1960 - Johnny Preston started a run at No.1 on the singles chart with 'Running Bear'. Written by J.P. Richardson (The Big Bopper), the tune originally entered the chart in October 1959, then quickly vanished, but re-entered in November and slowly climbed to the top.

1964 - The Beatles made their US chart debut when 'I Want To Hold Your Hand' entered the chart at No.45 just ten days after its release, making it the fastest-breaking and the fastest selling single in Capitol Records history. It went on to spend seven weeks at the No.1 position.

1967 - The Jimi Hendrix Experience recorded an appearance on Top Of The Pops performing a live version of "Hey Joe". They also played a show at the Seven and a Half Club in Mayfair, London during the evening.

1974 - Former members from Free (Paul Rodgers & Simon Kirke), Mott The Hoople (Mick Ralphs), and King Crimson (Boz Burrell) formed Bad Company. The band went on to score a No.1 album with their debut release.

Wendy O. Williams of The Plasmatics was arrested on stage at Milwaukee and was charged with the offence of simulating sex with a sledgehammer. Williams later filed a multimillion dollar civil suit against the Milwaukee Police, claming they sexually assaulted and beat her during the arrest, but a jury rejected her claims.

2000 - Spencer Goodman was executed by lethal injection in Huntsville, Texas. Goodman was convicted of kidnapping and murdering the wife of ZZ Top manager Bill Ham in 1991. Ham was present for the execution.

2007 - Islington Green School in North London was fighting plans to turn it into an academy. The school, which found fame when some of its pupils sang on Pink Floyd's hit 'Another Brick In The Wall (Part 2)' wrote a new version of the song to sing outside Islington Town Hall as part of their protest. They hoped lyrics such as 'We don't need no business control' and 'Hey bankers leave our kids alone' could persuade authorities to reject the proposal.

2010 - Canadian folk singer Kate McGarrigle died of cancer at home in Montreal at the age of 63. Once married to folk singer Loudon Wainwright lll, Kate was the mother of singers Rufus and Martha Wainwright. She rose to prominence with sister Anna when they recorded together in the 1970s. Other artists who covered the pair's songs included Emmylou Harris, Elvis Costello, Billy Bragg, Kirsty MacColl and Judy Collins.

2015 - American session drummer Dallas Taylor died of complications from viral pneumonia and kidney disease, aged 66. He is best known as the drummer on Crosby, Stills and Nash's debut album, Crosby, Stills & Nash (1969) and their follow-up with Neil Young, Déjà Vu (1970) as well as appearing on Stephen Stills' eponymous first solo album in 1970. Taylor was the drummer for Stills' group Manassas in 1972 and 1973. In 1970, Dallas sat in with The Doors accompanying John Densmore on drums. Jim Morrison acknowledges him on The Doors Live in New York album.

2016 - The Eagles guitarist Glenn Frey died at the age of 67 in New York City from complications arising from rheumatoid arthritis, colitis and pneumonia. Frey co-founded the Eagles in 1971 with Don Henley, Bernie Leadon and Randy Meisner. After the breakup of the Eagles in 1980, Frey embarked on a successful solo career and went on to score the Top 40 hits 'The One You Love', 'Smuggler's Blues', 'The Heat Is On', and 'You Belong to the City'.

1966 - NBC-TV in the US bought The Monkees series, placing it on their 1966 autumn schedule. The series centered on the adventures of The Monkees, a struggling rock band from Los Angeles, California and introduced a number of innovative new-wave film techniques to television.

1967 - 40-year-old David Mason recorded the piccolo trumpet solo for The Beatles 'Penny Lane' at Abbey Road Studios in London. He was paid £27 and 10 shillings for his performance. In August, 1987, the trumpet he used was sold at a Sotheby's auction for £10,846.

1967 - The Jimi Hendrix Experience recorded a session for Radio Luxembourg's Ready Steady Radio. The band ran up a bar bill of £2 and 5 shillings, which they were unable to pay.

1978 - Scottish rock band Simple Minds made their live debut at The Satellite Club, Glasgow.

1981 - Motley Crue formed when bass guitarist Nikki Sixx left the band London and began rehearsing with drummer Tommy Lee and vocalist, guitarist Greg Leon (who later left). Sixx and Lee then added guitarist Bob "Mick Mars" Deal. Vince Neil accepted an offer to join (after turning them down) in April of this year.

1987 - Kate Bush started a two-week run at No.1 on the album chart with The Whole Story'. The compilation album was Bush's third number one album as well as her best selling release.

1996 - David Bowie Tom Donahue, The Jefferson Airplane, Gladys Knight And The Pips, Little Willie John, Pink Floyd, Pete Seeger, The Shirelles and The Velvet Underground were all inducted into the Rock and Roll Hall of Fame.



2003 - A long-lost recording featuring John Lennon and Mick Jagger was set to spark a bidding war at a London auction. The acetate record was recorded in 1974 with Jagger singing the blues song 'Too Many Cooks'. The track features guitarists Danny Kortchmar and Jesse Ed Davis, keyboardist Al Kooper, bassist Jack Bruce, drummer Jim Keltner and, on backing vocals, singer-songwriter Harry Nilsson. Neither Lennon nor Bill Wyman, who was present at the session, appear on the track. The track had never been released because the two artists were both signed to different record companies.

2016 - English drummer Dale Griffin died aged 67. He was a founder member of Mott the Hoople best known for classic tracks 'Roll Away The Stone' and 'All The Young Dudes'. The band, who made eight albums during their five-and-a-half year existence, reformed to mark their 40th anniversary in 2009 - but Griffin was too ill to take part. Griffin also produced numerous BBC John Peel sessions from 1981 to 1994 including the first professional recording session for Pulp in 1981.

1964 - The Beatles played two shows at the Olympia Theatre, Paris, France, the first of an 18-night engagement. This first show was attended mostly by Paris' 'top society' members (all dressed in formal evening attire). The French press had little good to say about The Beatles in the next day's papers, but The Beatles didn't care because they'd just received news that their single 'I Want to Hold Your Hand' had hit No.1 in the US, selling 10,000 copies an hour in New York City alone.

1973 - Bruce Springsteen appeared at Villanova University, Philadelphia, to an audience of 25 people. Due to a strike at the time by Villanova's school newspaper The Villanovan, this concert went unadvertised, so this is probably the smallest crowd Bruce and The E Street Band have ever played in front of.

1982 - Bucks Fizz were at No.1 on the singles chart with their second No.1 'Land Of Make Believe'. The lyrics to the song were written by ex-King Crimson member Peter Sinfield.

1985 - 1985, David Bowie's schizophrenic half-brother Terry Burnes killed himself aged 47 after laying down on the railway lines at Coulsdon South station, London. He was killed instantly by a passing train. Bowie refers to his half-brother in the line 'a crack in the sky and a hand pointing down at me' in his song 'Oh, You Pretty Things'.

1987 - TV presenter Jools Holland was suspended from Channel 4's The Tube for 6 weeks, after using the phrase 'groovy fuckers' during a live trailer broadcast in children's hour.

1992 - Eric Clapton recorded his unplugged session for MTV. The set which included his current hit single 'Tears in Heaven' and a reworked acoustic version of 'Layla', earned six Grammy Awards for the album including Record of the Year.

2000 - It was reported that Mick Jagger had lost the chance of a knighthood because of his errant ways, Prime Minister Tony Blair having doubts about the message it would give about family values. This decision was changed and on 12 December 2003, Mick Jagger was made a Knight Bachelor by The Prince of Wales for services to music, as Sir Michael Jagger.

2007 - Bob Dylan and his brother bought Aultmore House a mansion in the Scottish Cairngorms National Park, near Nethybridge, Invernesshire.

2013 - It was announced that Joe Strummer was to have a city square named after him in Spain following a Facebook campaign. More than 2,000 residents of Granada, where The Clash frontman became a frequent visitor, signed a petition calling for him to be honoured. City hall officials agreed to the proposals and a square in the area was set to be renamed 'Plaza de Joe Strummer'.



2019 - American musician Lorna Doom died of cancer age 61. She was the bass guitarist for the punk rock band the Germs. Their music was influential to many later punk rock acts. Germs guitarist Pat Smear went on to achieve greater fame performing with Nirvana and Foo Fighters.

1967 - The Rolling Stones were forced to change the lyrics of 'Let's Spend The Night Together' to Let's Spend Some Time Together when appearing on the US TV The Ed Sullivan Show, after the producers objected to the content of the lyrics. Jagger ostentatiously rolled his eyes at the TV camera while singing the changed lyrics, resulting in host Ed Sullivan announcing that The Rolling Stones would be banned from performing on his show ever again.

1969 - George Harrison had a five-hour meeting with John, Paul and Ringo where he made it clear that he was fully prepared to quit The Beatles permanently. Harrison wasn't happy with plans for live performances and the current Let It Be film project.

1971 - David Bowie released 'Holy Holy' as a single which failed to chart. A more frantic version of the song was recorded in 1971 for The Rise And Fall Of Ziggy Stardust And The Spiders From Mars but was dropped from the album but subsequently appeared as the B-side to 'Diamond Dogs' in 1974.

1976 - Pink Floyd's Wish You Were here was on the album chart. The album's packaging, designed by Storm Thorgerson, featured an opaque black sleeve inside which was hidden the album artwork. Thorgerson had noted that, in the US, Roxy Music's Country Life was sold in an opaque green cellophane sleeve - censoring the cover image - and he adopted the idea, concealing the artwork for Wish You Were Here in a dark-coloured shrink-wrap (making the album art 'absent').

1992 - Bass guitarist Dee Murray died after suffering a stroke aged 45. He is best known as a member of Elton John's band. He first appeared with Elton on the 1970 album Tumbleweed Connection and the milestone albums Goodbye Yellow Brick Road and Captain Fantastic and the Brown Dirt Cowboy. Murray and drummer Nigel Olsson were also members of the Spencer Davis Group in 1969 and during the Eighties Murray continued working as a session musician.

2002 - 1980s Pop legend Adam Ant was admitted to a mental ward 24 hours after being charged by police with pulling a gun on staff in a London pub.

2016 - Nineteen of David Bowie's albums entered the album charts in the wake of his death. His new album, Blackstar, reached No.1, and in the top 40, Nothing Has Changed - The Very Best Of was at No.5, The Best Of 1969 / 1974 was at No.11, Hunky Dory, No.14, The Rise and Fall of Ziggy Stardust, No.17, Best of Bowie, No.18, Aladdin Sane, No.23, The Next Day, No.25, Low No.31 and Diamond Dogs, No. 37. Thirteen Bowie tracks also entered the top 100, led by 'Heroes' at No.12. Also his songs were streamed more than 19 million times on services such as Apple Music and Spotify.

1967 - Over 25,000 people attend The Human Be-In-A Gathering Of The Tribes at San Francisco's Golden Gate Park. The event was a forerunner of major outdoor rock concerts and featured The Grateful Dead, Jefferson Airplane, Quicksilver Messenger Service and Big Brother And The Holding Company.

1977 - David Bowie released his eleventh studio album Low, the first of three collaborations with Brian Eno termed the "Berlin Trilogy". The track 'Sound and Vision' was released as a single and used by the BBC on trailers at the time, providing much needed exposure as Bowie opted to do nothing to promote the single himself, and helped the song reach No.3 on the charts.

1978 - The Sex Pistols played their last show at the Winterland Ballroom in San Francisco where Johnny Rotten yelled to the crowd at the outset, "Ever get the feeling you've been cheated." It was the last time the band played with bassist Sid Vicious.

Jerry Nolan from The New York Dolls died from a fatal stroke aged 45. The influential American band formed in 1972 and made just two albums, the 1973 New York Dolls and 1974 Too Much Too Soon. Nolan joined the New York Dolls in the autumn of 1972 to replace Billy Murcia, who had died of asphyxiation as a result of a failed attempt to revive him from a drug overdose while on tour in England, early in the band's career. Nolan left the Dolls together with Johnny Thunders in the spring of 1975. The two then placed a call to bassist Richard Hell, formerly of the Neon Boys and Television, to form The Heartbreakers.

2005 - A $100,000 (£58,823) statue honouring the late punk guitarist Johnny Ramone was unveiled by his widow Linda at the Hollywood Forever Cemetery. Johnny died from prostate cancer in September 2004 at the age of 55. Hundreds turned out for the ceremony, including Tommy Ramone the only surviving band member. Dee Dee Ramone died of a drugs overdose in 2002 and Joey died in 2001 of lymphatic cancer.

2012 - English drummer, producer, journalist, music educator, and broadcaster Robbie France died aged 52. Born in Sheffield, France moved to Australia where he formed the jazz-fusion group Carnival. He also worked with Stevie Wright of the Easybeats, Marty Rhone, Tim Gaze, and other major Australian artists as well as Skunk Anansie and Diamond Head. He amassed over 1,000 television, radio and advertising credits, including eight documentaries and four film scores, including Band on the Run, one of the most successful surfing films ever made.

Week Commencing January 6 . . .
1965 - The first day of recording sessions for Bob Dylan's Bringing It All Back Home album were held at Studio A, Columbia Recording Studios in New York City. Dylan recorded Subterranean Homesick Blues and 'It's All Over Now, Baby Blue'.

1967 - Paul McCartney and Ringo Starr both went to the Bag O'Nails Club, London, to see the Jimi Hendrix Experience.

1973 - Eric Clapton made his stage comeback at the Rainbow Theatre, London, with Pete Townsend, Ronnie Wood, Stevie Winwood, Rebop, Jim Capaldi and support from The Average White Band. The night's two shows were recorded for the 'Rainbow Concert' album. Pete Townshend from The Who had organised the concert to help Clapton kick his heroin addiction.

1978 - With a budget of only £1,500 borrowed from Stewart Copeland's brother Miles Copeland III, The Police started recording their debut album at Surrey Sound Studios, Surrey, with producer Nigel Gray. The album 'Outlandos d'Amour' which was released in November of this year featured the hits 'So Lonely', 'Roxanne' and 'Can't Stand Losing You'.

1984 - BBC Radio 1 announced a ban on 'Relax' by Frankie Goes To Hollywood, after DJ Mike Read called it 'obscene', a BBC TV ban also followed. The song went on to become No.1 and spent a total of 48 weeks on the chart. It has been revealed since that the band never actually played on the record - it was completed by session musicians.

1986 - Sex Pistols members John Lydon, Steve Jones and Paul Cook, as well as the mother of Sid Vicious, sued former manager Malcom McClaren for £1 million. They later settled out of court.

2003 - Who guitarist Pete Townshend was arrested on suspicion of child porn offences. Police officers impounded seven computers from his £15 million home in Richmond, Surrey.

2016 - The Rolling Stones first manager, Giorgio Gomelsky, passed away at the age of 82. He owned the Crawdaddy Club in London where The Rolling Stones were the house band. After he was replaced by Andrew Loog Oldham in May, 1963, Gomelsky went on to manage The Yardbirds, Julie Driscoll and Brian Auger before moving to New York in 1978 and opening The Green Door nightclub.

2017 - Magic Alex (Alexis Mardas) a Greek electronics engineer died aged 74. He is best known for his close association with the Beatles. His nickname was given to him by John Lennon when he was involved with the group between 1965 and 1969, during which time he became head of Apple Electronics. Mardas often said that the Abbey Road studio was "no good", much to producer George Martin's annoyance. He allegedly said that he could build a 72-track tape machine and was then given the job of designing the new Apple Studio in Savile Row, London. His schemes lost Apple at least £300,000 (£3 million in 2017).

1969 - Led Zeppelin's debut album was released. Recorded at Olympic Studios in Barnes, London, the album took only 36 hours of studio time to complete at a cost of just £1,782, most of the tracks being recorded 'live' in the studio with very few overdubs. The album spent a total of 71 weeks on the chart.

Little Feat, Montrose, Tower Of Power, The Doobie Brothers and Graham Central Station. Also released was an album sampler featuring all the acts that was priced at 69p.

1977 - The Police had their first rehearsal, held at drummer's Stewart Copeland's London flat, with Henri Padovani on guitar.

1983 - Swedish percussionist with Traffic, Reebop Kwaku Baah died from a brain haemorrhage in Stockholm, Sweden. Also worked with Eric Clapton, Steve Winwood, Ginger Baker's Air Force, Can and The Rolling Stones.

1993 - Van Morrison failed to turn up at the Rock And Roll Hall Of Fame induction dinner, making him the first living inductee not to attend.

2003 - Singer-songwriter Maurice Gibb from The Bee Gees died aged 53 in Miami Hospital, Florida following a heart attack during abdominal surgery. The Bee Gees released over 20 albums and had the 1979 world-wide No.1 album 'Spirits Having Flown'. Gibb was married to the Scottish singer Lulu from 1969 to 1973. In 2002, Maurice was made a Commander of the British Empire (CBE), along with his brothers.

2013 - The 1974 Rolls-Royce Silver Shadow used by Freddie Mercury until his death in November 1991, sold at auction for £74,000 to a Russian businessman. The 62,000-mile classic Rolls-Royce which had a guide price of just £9,000-£11,000 featured grey leather, wood trim, electric windows, automatic gearbox, a car phone and radio cassette player and a 6.75-litre V8 engine. It was sold as part of the Coys auction at Autosport International.

2017 - Richard Carpenter said he was owed at least $2m (£1.6m) in royalties for the hits he recorded in The Carpenters. He claimed Universal Music had only paid the band a "minuscule fraction" of the money they were owed from downloads on sites such as iTunes and Amazon. The musician was suing for compensation, according to legal documents filed in Los Angeles.

1958 - The release date for the Elvis Presley single 'Jailhouse Rock' was put back a week after Decca Records pressing plant in the UK were unable to meet the advance orders of 250,000 copies. Some of the characters named in the song are real people. Shifty Henry was a well-known LA musician, not a criminal. The Purple Gang was a real mob. "Sad Sack" was a U.S. Army nickname in World War II for a loser.

1967 - The Jimi Hendrix Experience recorded 'Purple Haze' at De Lane Lea studios in London. Hendrix later stated 'The Purple Haze,' was about a dream he had and that he was walking under the sea." In concert, Hendrix sometimes substituted lyrics for comic effect; "'scuse me while I kiss the sky" was rendered "'scuse me while I kiss this guy" (while gesturing towards his drummer Mitch Mitchell).

1975 - The Alan Freeman BBC Radio 1 show broadcast a Pink Floyd show recorded at the Empire Pool, Wembley, on 16th Nov 1974. The band had played four nights at Wembley on their The Dark Side of The Moon tour and tapes from these shows have been remixed.

1975 - Led Zeppelin played