That's it then!

BLACK ROSE PUBS include :
The Ox Inn
Durham, DH9 7LR
The Elephant
Ashington, NE63 0SZ
The Guide Post
Gateshead, NE9 7RR
The Cross Keys
Washington Village, NE38 7AB
The Townhouse
Whitley Bay, NE26 2TG
The Millstone Hotel
Newcastle, NE3 1QL
The Black Bull
East Boldon, NE36 0SG
The Victoria
Whitley Bay, NE26 2TE
The Black Bull
Morpeth, NE61 1PE
The Greens
Sunderland, SR1 3PY
The Lambton Arms
Durham, DH3 3BJ
Ship & Royal
South Shields, NE33 2HT
The Crown
Gateshead, NE16 4DT
The Prior
Moorside, Sunderland, SR3 2SW
Britannia Inn
Houghton Le Spring, DH4 4AL

We should call it the Battle of the Queens, but hey, thriving live gigs can not be frowned upon - just celebrated. Which is exactly what the Qween Live lads are doing right now as they wind down from another prestigious sell-out gig at The Exchange Theatre in North Shields. Rob told Riffs: "Absolutely amazing night - it was really nice to meet and greet a lot of our fans after the gig - we are playing in Norwich this Saturday as the headline guest Queen tribute band - everyone is so excited!" And if you missed them locally then you have one last chance this month: catch them at The Westovian Theatre South Shields on Sat 28th.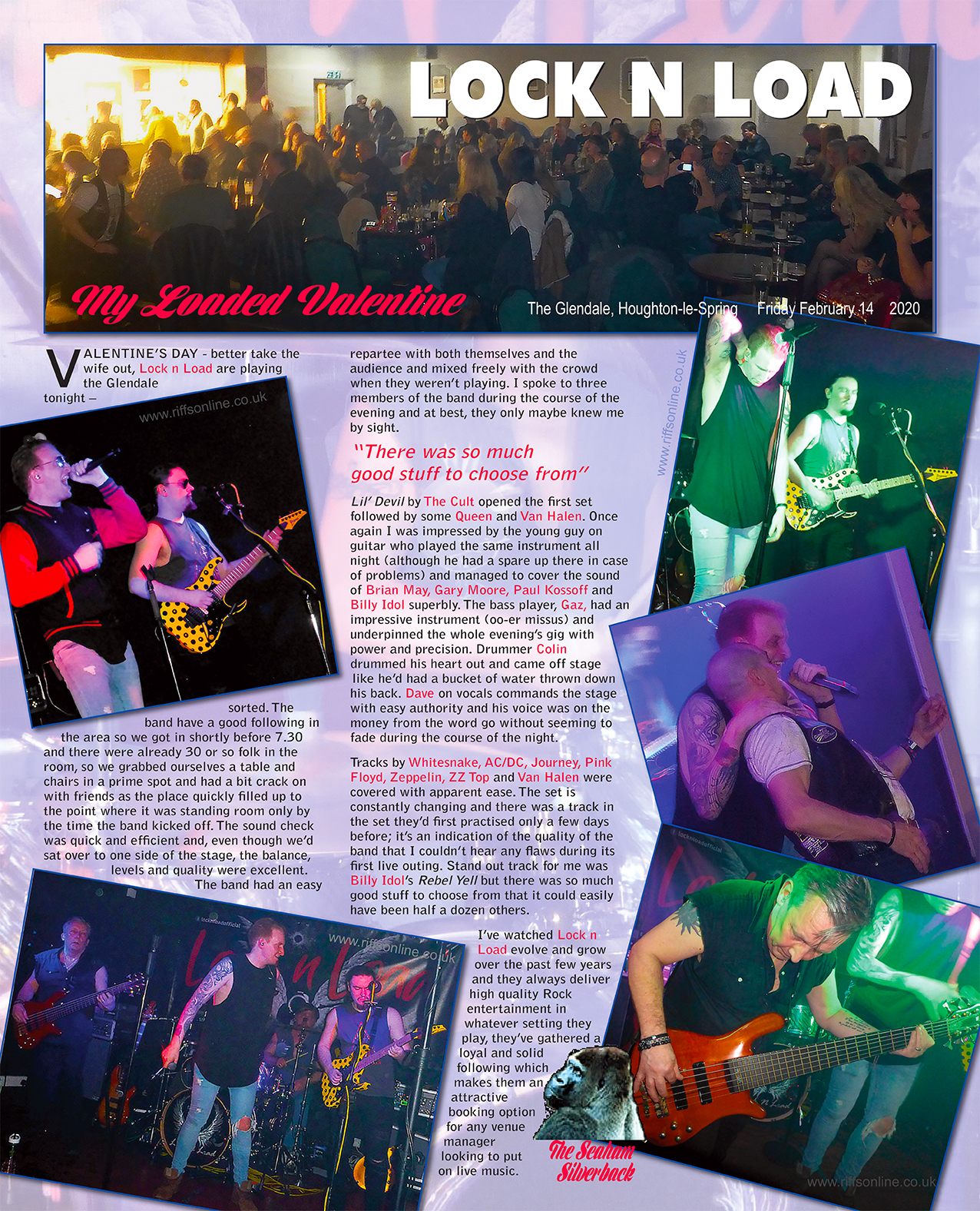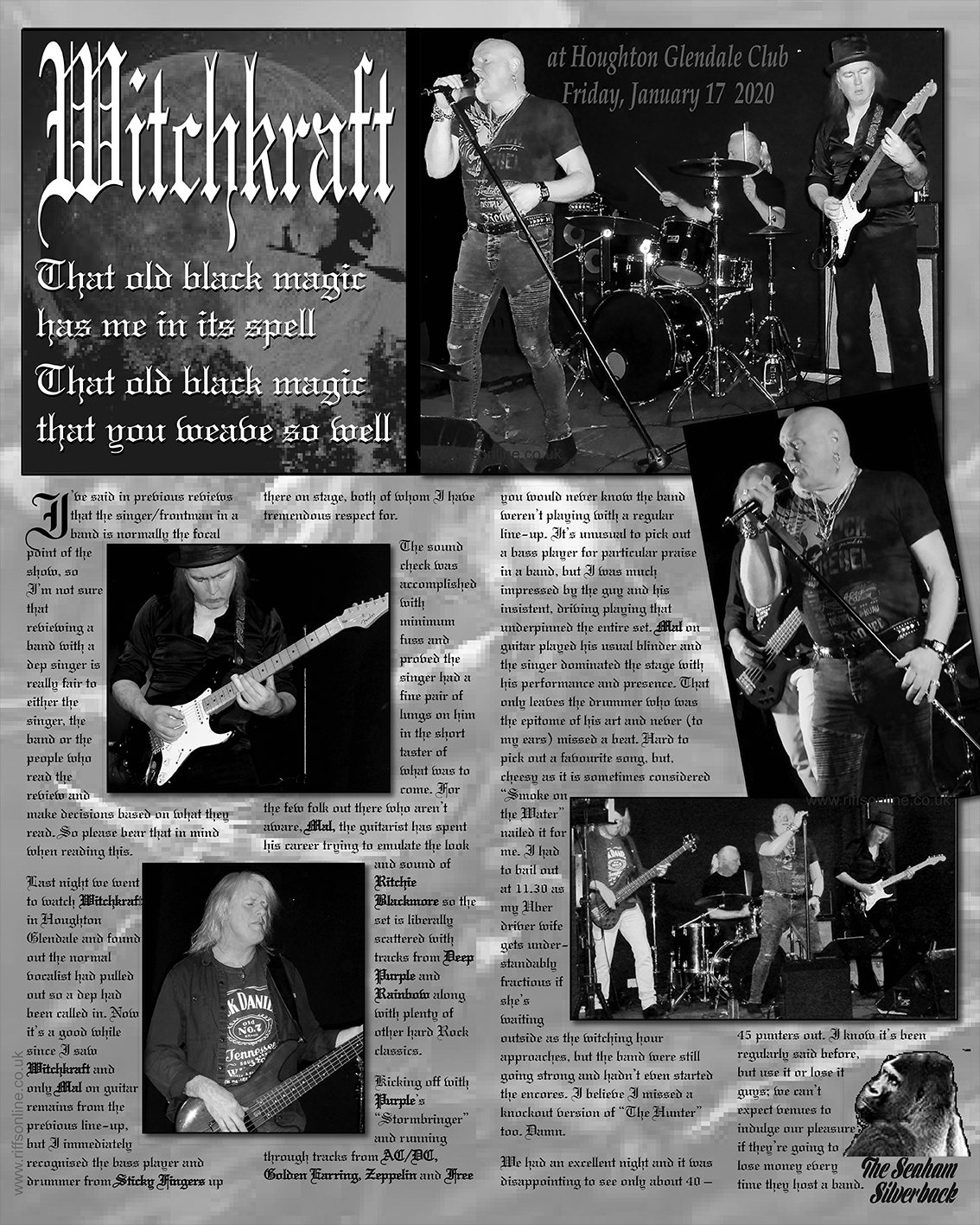 INTERNATIONAL DATELINE OCTOBER 7 . . .
INTERNATIONAL DATELINE OCTOBER 7 . . . INTE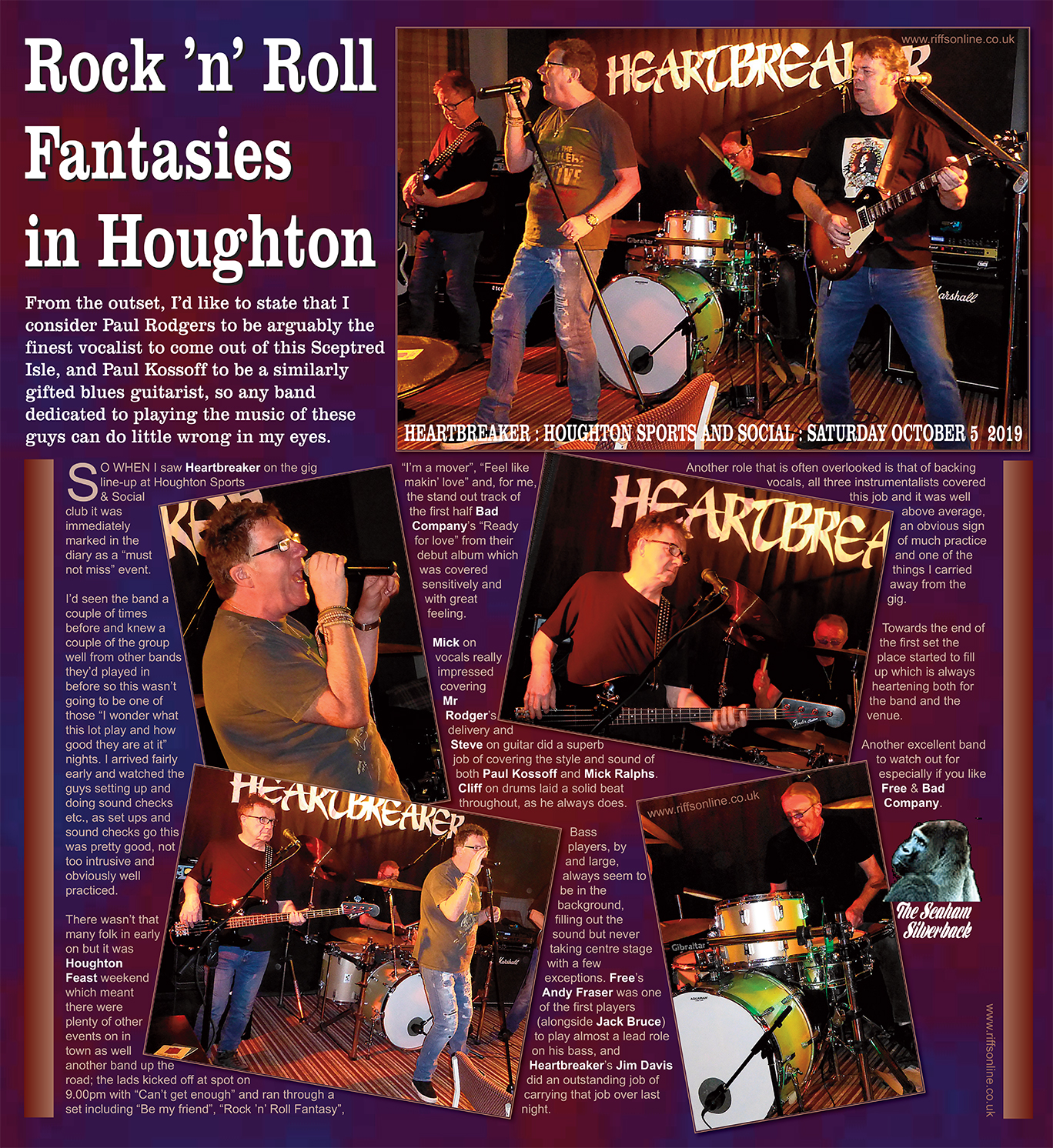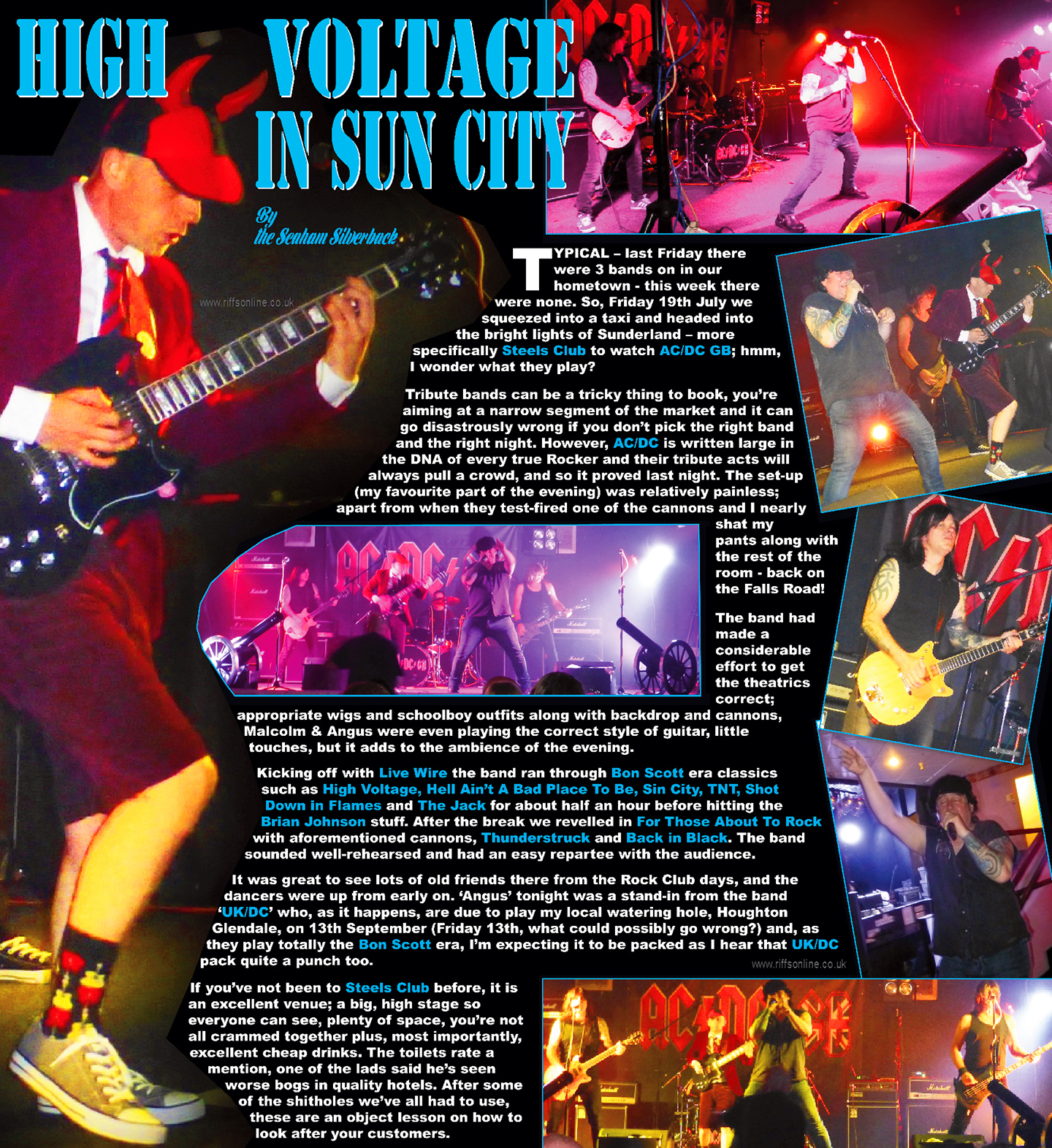 The band's website:
https://www.acdcgb.co.uk/
For a taste of the band: https://youtu.be/QRCIfpYXSC8


https://youtu.be/jhUhw_J5ItE
https://youtu.be/DkWRCv5HDjk
The NE Street Band, playing iconic songs from Bruce Springsteen and The E Street Band debuted at The Old Fox in Felling just recently and we have added a link to some footage here (only phone footage).
The band's website: https://www.nestreetband.co.uk
They are at the Amphitheatre in South Shields on Thursday 6th June, 7pm-9pm for an evening of Bruce Springsteen sounds, as part of the Summer Festival.

---------------------------------------------------------------

Over 2000 pies, 100 varieties including Veggie and Vegan options all served with creamy mash, mushy peas and special house gravy £3.50.
CROOKFEST 2019 - MAY 5
If you like your rock of the hard and heavy variety check out Conspiracy Theory; a new band making inroads into the north east rock and metal scene. If you're a bit tired of seeing too many rock bands playing the same old stuff, CT's intention is to do the songs that no-one else does. And that doesn't mean obscure material you've never heard of, if you're into rock and metal you'll know everything they do. From Rainbow to Dio, Whitesnake to Purple, Maiden to Priest, Uriah Heep to Rush or the guitar greats such as Schenker or Moore, you won't forget them in a hurry. With stellar musicianship from highly experienced players having cut their teeth in bands such as PowerAge, Ministry of Rock, Black Rose and On The Rocks you're bound to have a night to remember. You can catch them at Trillians, Newcastle on Friday 22nd February, The Penny Gill, Spennymoor Sunday 3rd March, Acklam Steelies Club, Middlesbrough Saturday 9th March or the Big Jug, Durham on Friday 15th March.


CELEBRATING ROCK AND METAL:



Factoid: Stevie Ray Vaughan was the guitarist on David Bowie's "Let's Dance" album.

This week in . . .
1965 - Unit Four Plus Two were at No.1 on the singles chart with 'Concrete And Clay', the group's only No.1 hit.

1973 - During his Ziggy Stardust world tour, David Bowie played the first of three sold out nights at Shinjuku Koseinenkin, Kaikan, Tokyo.

1977 - CBS released the self- titled first album by The Clash. The album is widely celebrated as one of the greatest punk albums of all time. CBS in the US refused to release it until 1979 and Americans bought over 100,000 imported copies of the record making it one of the biggest- selling import records of all time.

The Damned played at the home of the New York punk scene CBGBS, the first UK Punk group to play live dates in the USA.

1978 - Brian and Michael (Kevin Parrott and Michael Coleman), were at No.1 on the singles chart with a song inspired by painter LS Lowery 'Matchstalk Men And Matchstalk Cats And Dogs.' The backing vocals are by the St Winifred's School Choir, who had a No.1 in 1980.

1994 - The Recording Industry Association of America announced that Pink Floyd's 1973 album The Dark Side Of The Moon had become the fourth biggest-selling album in US history and had passed the 13 million mark in sales. The album has sold more than 25 million copies worldwide.

1994 - Electrician Gary Smith who was working at Kurt Cobain's house in Seattle discovered Cobain's body lying on the floor in the greenhouse. Local radio station KXRX broke the news at 9.40am that the Nirvana singer and guitarist was dead. A shotgun was found next to Cobain's body. A suicide note was found that said, 'I haven't felt the excitement of listening to as well as creating music, along with really writing . . . for too many years now'. A high concentration of heroin and traces of Valium were also found in Cobain's body.

1998 - Rolling Stones guitarist Ronnie Wood was rescued, along with 11 other passengers, in the nick of time, from a boat when an engine caught fire. The boat was exploring the islands near Angra Dos Reis, south of Rio De Janeiro, Brazil, when one of the boat's engines caught fire. Passengers were rescued by nearby journalists, just before the boat exploded.

2002 - Marilyn Manson denied claims that he was responsible for the death of a woman after a party at his mansion in 2001. Jennifer Syme, a former girlfriend of actor Keanu Reeves, died when her Jeep Cherokee hit three parked cars. Her mother, Maria St John, was suing the singer for wrongful death, claiming Manson was negligent in "instructing the woman to operate a motor vehicle in her incapacitated condition".

2010 - Malcolm McLaren former manager of the Sex Pistols, the New York Dolls and Bow Wow Wow died from cancer aged 64. As a solo artist he scored the 1983 No.3 single 'Double Dutch'. He set up the fashion store Let It Rock in the late 60s with Vivienne Westwood selling rubber and fetish gear.

2012 - It was reported that organizers for the 2012 London Olympics ceremony had recently asked the manager of The Who if legendary drummer Keith Moon would be able to perform at the forthcoming London Olympics Games. Who manager Bill Curbishley told The Times how he responded to the request. 'I emailed back saying Keith now resides in Golders Green crematorium, having lived up to The Who's anthemic line 'I hope I die before I get old,' he said. 'If they have a round table, some glasses and candles, we might contact him.'

1975 - Minnie Riperton went to No.2 on the singles chart with the Stevie Wonder produced song 'Loving You'. It was the singers only US chart hit. Riperton died of cancer on 12th July 1979.

1981 - Canned Heat singer Bob "The Bear" Hite died of a heart attack aged 36. (1970 UK No.2 single 'Let's Work Together'). Played at both the 1967 Monterey Pop Festival and the 1969 Woodstock Festival.

1983 - Danny Rapp, leader of 50s group Danny and the Juniors committed suicide in a hotel in Arizona by shooting himself. With Danny and the Juniors he had the 1958 No.3 single 'At The Hop'.

1994 - Kurt Cobain committed suicide by shooting himself in the head at his home in Seattle. Cobain's body wasn't discovered until April 8, by an electrician who had arrived to install a security system, who initially believed that Cobain was asleep, until he saw the shotgun pointing at his chin. A suicide note was found that said, "I haven't felt the excitement of listening to as well as creating music, along with really writing . . . for too many years now". A high concentration of heroin and traces of Valium were found in Cobain's body. His death was officially ruled as suicide by a self-inflicted shotgun wound to the head.

1995 - Monika Dannerman, the one time girlfriend of Jimi Hendrix committed suicide, two days after losing a court battle with another of the guitarist's ex-lovers.

Cozy Powell (Colin Flooks) was killed when his car smashed into crash barriers on the M4 motorway near Bristol. Powell had worked with the Jeff Beck Group, Whitesnake, Black Sabbath, Rainbow, Brian May, Peter Green and the ELP spin-off Emerson, Lake and Powell. Powell, known as one of the most driving drummers in rock, had also had hits as a solo artist including Dance WithThe Devil and The Man In Black, and had fronted his own band, Cozy Powell's Hammer.

2002 - American singer Layne Staley of Alice in Chains was found dead from a mixture of heroin and cocaine in his home. It was reported that the 6-foot Staley weighed only 86 pounds when his body was discovered. His body was partially decomposed when he was found. Medical examiners had to identify it by dental records.

2006 - Gene Pitney was found dead aged 65 in his bed in a Cardiff hotel. The American singer was on a UK tour and had shown no signs of illness. Pitney helped The Rolling Stones break the American market with his endorsement of the band. Jagger and Richards wrote his hit 'That Girl Belongs to Yesterday' which became the Stones duo's first composition to reach the American charts. He scored the 1962 US No.4 single 'Only Love Can Break A Heart'. and 1967 solo UK No.5 & 1989 UK No.1 single with Marc Almond 'Something's Gotten Hold Of My Heart', plus over 15 other US & UK Top 40 hits.

2007 - Former Kiss guitarist Mark St. John died from an apparent brain haemorrhage at the age of 51. St. John was Kiss' third official guitarist, having replaced Vinnie Vincent in 1984 and appeared on the album 'Animalize'.

Week Commencing March 31
1961 - The Marcels started a run at No.1 on the chart with the Rodgers and Heart song 'Blue Moon'.

1971 - The Temptations scored their second US No.1 with 'Just My Imagination (Running Away With Me)'. The track is considered one of the Temptations' signature songs, and is notable for recalling the sound of the group's 1960s recordings. It is also the final Temptations single to feature founding members Eddie Kendricks and Paul Williams.

1975 - Steve Miller was charged with setting fire to the clothes of a friend, Benita Diorio. When police arrived at Miller's house, Diorio was putting out the flames, Miller then got into a fight with some of the policemen and was charged with resisting arrest.

1976 - A then-unknown Sex Pistols opened for The 101'ers at The Nashville Rooms in London. The 101ers were a pub rock band, notable as being the band that Joe Strummer left to join The Clash.

1979 - Kate Bush kicked off the 28-date 'Tour Of Life' trek making her concert debut at Liverpool's Empire Theatre. Bush never set out on another tour until she played a run of 22 shows at London's Hammersmith Apollo in 2014.

1993 - 10 years after its first release, The Bluebells had a No.1 single with 'Young At Heart' after the track was featured on a Volkswagen TV commercial. The song was co-written by Bananarama member Siobhan Fahey (and recorded by Bananarama). In 2002 session musician Bobby Valentino, who performed the violin solo on The Bluebells version of the song won the right to be recognised as co-author after taking legal action.
Frank Tovey of Fad Gadget died of heart failure aged 45. Was infamous for spreading his naked body in shaving cream onstage and would play various instruments with his head.

2006 - Founder member and original drummer for The Wonder Stuff, Martin Gilks died aged 41, after losing control of his motorbike in London. Gilks was voted the best drummer on the planet in an NME poll in 1989.

2015 - Drummer Bob Burns, who was in the original line-up of the Southern rock band Lynyrd Skynyrd died in a car crash in Georgia when his car struck a mailbox and a tree with the front of the vehicle. Burns was the only occupant of the car and was not wearing a seat belt at the time of the crash. He appeared on the band's 'Sweet Home Alabama,' 'Gimme Three Steps' and 'Free Bird.'

1964 - The Beatles had their fourth No.1 single with 'Can't Buy Me Love.' With advanced sales of over 2.1 million, it holds the record for the greatest advanced orders for a single in the UK.

1967 - 154 Austrian Rolling Stones fans were arrested when a riot broke out at a 14,000-seated Town Hall gig; a smoke bomb was thrown on the stage.

1977 - Fleetwood Mac went to No.1 on the US album chart with Rumours. The album is Fleetwood Mac's most successful release; along with winning the Grammy Award for Album of the Year in 1978, the record has sold over 45 million copies worldwide.

1981 - CBS records launched the 'Nice Price' series of back catalogue albums. The first batch priced at £2.99 included early albums by Bob Dylan, Santana, Billy Joel, ABBA, Janis Joplin and Simon And Garfunkel.

1998 - Rob Pilatus, one half of pop duo Milli Vanilli was found dead in a Frankfurt Hotel room after taking a lethal combination of drugs and alcohol. Milli Vanilli won the 1989 best new artist Grammy after hits like 'Blame it on the Rain' and 'Girl, You Know It's True,' selling 30 million singles and 14 million albums. But in late 1990, the performers were stripped of the award after it was revealed that neither actually sang on the Milli Vanilli album.

2006 - A John Lennon schoolbook containing the 12-year-old's drawing of Lewis Carroll's poem The Walrus and the Carpenter was sold at auction for £126,500. The poem inspired Lennon to write The Beatles' 1967 song 'I Am The Walrus'. Also sold for £12,000 was a ship's log book written by Lennon during a stormy trip to Bermuda in 1980, and a letter from Paul McCartney to his bandmates Lennon, George Harrison and Ringo Starr failed to reach its £50,000, reserve price.

2014 - Recordings by U2 (The Joshua Tree), the Everly Brothers ('Cathy's Clown'), Jeff Buckley ('Hallelujah'), Linda Ronstadt (Heart Like a Wheel) and Creedence Clearwater Revival's 'Fortunate Son' were among those newly selected for induction into the Library of Congress National Recording Registry.

1961 - The Beatles began a three-month residency at The Top Ten Club, Hamburg, playing 92 straight nights. The group played for seven hours a night on weekdays and eight hours at weekends with a fifteen-minute break every hour. It was during this visit that Astrid Kirchherr cut Stuart Sutcliffe's hair into the style destined to become known as the "Beatle haircut" which The Beatles later adopted themselves.

1965 - The Who recorded an appearance for Top Of The Pops at the Manchester television studio. The band then played a gig supporting Donovan at The Town Hall, Wembley, with Rod Stewart and the Soul Agents appearing at the bottom of the bill.

The Troggs recorded 'Wild Thing' at Regent Sound Studio in London. The song went on to be a No.2 hit in June the following year. The track was recorded in one complete take (take two).

1966 - Pye Records released David Bowie's first solo single, 'Do Anything You Say'. Despite featuring Bowie's backing band at the time, The Buzz, the single was to be the first simply credited to David Bowie (which failed to chart). Bowie had previously recorded as David Jones and The Lower Third.

1966 - John Lennon bought a copy of Timothy Leary's The Psychedelic Experience and The Tibetan Book Of The Dead, where he read near the beginning of the book's introduction; "When in doubt, relax, turn off your mind, float downstream," which captured Lennon's imagination and became the first line of 'Tomorrow Never Knows' (which he recorded 5 days later).

1969 - The Beach Boys announced they were suing their record label Capitol for $2m in unpaid royalties.

1970 - Earls Court in London received over one million postal ticket applications for The Rolling Stones forthcoming six concerts as part of the group's European tour.

1976 - Making their live debut in the UK, AC/DC played at The Red Cow in Hammersmith, London.

The Buzzcocks played their debut live gig when the appeared at Bolton Institute Of Technology. The power was turned off after three numbers.

1984 - Marvin Gaye was shot dead by his father at his parent's home in Los Angeles, California. The argument started after his parents squabbled over misplaced business documents, Gaye attempted to intervene, and was killed by his father using a gun he had given him four months before. Marvin Sr. was sentenced to six years of probation after pleading guilty to manslaughter. Charges of first-degree murder were dropped after doctors discovered Marvin Sr. had a brain tumour.

1985 - David Lee Roth quit Van Halen shortly after releasing his version of The Beach Boys 'California Girls' (which featured Carl Wilson on background vocals). He was replaced by Sammy Hagar later in the year.

2004 - Paul Atkinson guitarist with The Zombies died aged 58 due to liver and kidney disease. They scored the 1964 No.12 single 'She's Not There'. He later became an artists and repertoire executive, working for Columbia and RCA discovering and signing such bands as ABBA, Bruce Hornsby, Mr. Mister, Judas Priest and Michael Penn.

2015 - Cynthia Lennon, first wife of The Beatles' John Lennon, died at her home in Spain following a short battle with cancer. At the height of The Beatles' early success she was, at the insistence of the band's management, kept in the background so their legions of female fans were not aware of her existence. The couple divorced in 1968 after Cynthia discovered her husband's affair with Yoko Ono.

1949 - RCA Victor introduced the 45rpm single record, which had been in development since 1940. The 7-inch disc was designed to compete with the Long Playing record introduced by Columbia a year earlier. Both formats offered better fidelity and longer playing time than the 78rpm record that was currently in use. Advertisements for new record players boasted that with 45rpm records, the listener could hear up to ten records with speedy, silent, hardly noticeable changes.

1958 - Chuck Berry's rock 'n' roll classic 'Johnny B. Goode' single was released. It entered the US charts six weeks later and peaked at No.8 on the chart. The song's original lyrics referred to Johnny as a 'colored boy', but Berry later acknowledged that he changed it to 'country boy' to ensure radio play.

1960 - Lonnie Donegan was at No.1 on the singles chart with 'My Old Man's A Dustman', his third No.1. Donegan became the first British artist to enter the chart at No.1, the only other artist to achieve this feat at this time was Elvis Presley. The song which was recorded live at the Bristol Hippodrome was a music hall novelty song.

1967 - Jimi Hendrix set fire to his guitar live on stage for the first time when he was appearing at The Astoria in London. It was the first night of a 24-date tour with The Walker Brothers, Cat Stevens and Engelbert Humperdink. The Fender Stratocaster burned on stage by Hendrix sold for £280,000 at a 2008 London auction of rock memorabilia.

1972 - The Beatles Official Fan Club closed. The Beatles Monthly magazine had ceased three years previously.

1976 - Led Zeppelin released Presence, their seventh studio album, on their own Swan Song Records. Presence has now been certified 3 times Platinum by the Recording Industry Association of America (RIAA) for US sales in excess of 3 million copies.

1995 - Jimmy Page escaped being knifed when a fan rushed the stage at a Page and Plant gig at Auburn Hills, Michigan. The fan was stopped by two security guards who he knifes instead. After his arrest he told police that he wanted to kill Jimmy Page because of the Satanic music he was playing.

1963 - The Chiffons started a four week run at No.1 on the US singles chart with 'He's So Fine', which was a No.16 UK hit. In 1971 George Harrison was taken to court accused of copying the song on his 1970 'My Sweet Lord' and ordered to pay $587,000 (£345,000) to the writers.

1967 - During an appearance by Jimi Hendrix on Top Of The Pops a technician put on the backing track of Alan Price's 'Simon Smith and His Amazing Dancing Bear', to which Hendrix responded 'I don't know the words to this one man.'

1976 - The Sex Pistols played their first show at The 100 club, London, they begin a weekly residency at the club in June.



1996 - The Prodigy started a three-week run at No.1 on the singles chart with 'Firestarter', the first single from the album The Fat of the Land. The wah-wah guitar riff in 'Firestarter' was sampled from The Breeders' track 'S.O.S.'

2000 - Rolling Stone Mick Jagger made a nostalgic visit to his old school. He opened the new arts centre that had been named after him at Dartford Grammar. The singer said he had spent the worst years of his life at the school.

2000 - Mungo Jerry singer Ray Dorset was ordered to pay a former employee £620 in back wages after a tribunal heard he had harassed her after she left his company. Dorset told the court he had paid her double pay by mistake for ten months.

Week Commencing March 24
1967 - Working on sessions for the new Beatles album Sgt. Pepper at Abbey Road studios in London, John Lennon recorded his lead vocal for 'Good Morning Good Morning', and Paul McCartney added a lead guitar solo to the track. Lennon had decided he wanted to end the song with animal sound effects, and asked that they be sequenced in such a way that each successive animal was capable of scaring or eating the preceding one.

1968 - Pink Floyd recorded a performance for BBC 2 Omnibus - The Sound of Change show from Barnes Common, London. The special, which was produced by Tony Palmer, also featured performances by The Who, Cream and The Jimi Hendrix Experience. The show was broadcast in September of this year.

1973 - Led Zeppelin released their fifth studio album, Houses Of The Holy. The album title was a dedication by the band to their fans who appeared at venues they dubbed 'Houses of the Holy'. The cover is a collage of several photographs which were taken at the Giant's Causeway, Northern Ireland, by Aubrey Powell of Hipgnosis. The two children who modelled for the cover were siblings Stefan and Samantha Gates.

1982 - David Crosby was arrested after crashing his car on the San Diego Highway. Police also found cocaine and a pistol in the Crosby Stills & Nash star's car. When the police asked Crosby why he carried the gun, his reply was, 'John Lennon'.

1992 - Over a $100,000 (£58,800) worth of damage was caused at The Irvine Meadows Amphitheatre, California, when Ozzy Osbourne invited the first two rows of the audience on stage. Several others took up the offer and the band was forced to exit the stage.

2000 - Jimmy Page accepted substantial undisclosed libel damages from a magazine which claimed he had caused or contributed to the death of his Led Zeppelin bandmate John Bonham. Page's solicitor, Norman Chapman, told High Court Judge Mr Justice Morland that the feature in Ministry magazine printed in 1999 claimed Page was more concerned with keeping vomit off his bed than saving his friend's life, and that he stood over him wearing Satanist robes and performing a useless spell.

Hugh McCracken died of leukemia in New York City at the age of 70. He appeared on many recordings by Steely Dan, Donald Fagen, Billy Joel, Roland Kirk, Roberta Flack, B.B. King, John Lennon, Paul McCartney, The Monkees, Paul Simon, Art Garfunkel, James Taylor, Phoebe Snow, Bob Dylan, Carly Simon, Graham Parker, Eric Carmen, Loudon Wainwright III, Aretha Franklin, Van Morrison, The Four Seasons, Hall and Oates, Gary Wright and Andy Gibb. Because of such high demand for his work, McCracken declined Paul McCartney's invitation to help form his new band Wings, after appearing on his 1971 album Ram.

2014 - Tickets for Kate Bush first live shows in 35 years sold out in less than 15 minutes. The Before the Dawn concerts, which were booked to take place this August and September, marked the singer's first return to the stage since The Tour Of Life in 1979. Demand was so high that the singer's own website, as well as some ticket-selling sites, crashed as people tried to log on.

1965 - The Supremes scored their fourth US No.1 single with 'Stop! In The Name Of Love.' The song was included on the Supremes' sixth album, More Hits by The Supremes, and was nominated for the 1966 Grammy Award for Best Contemporary Rock & Roll Group Vocal Performance, losing to 'Flowers on the Wall' by the Statler Brothers. The song was also honored by inclusion in the Rock and Roll Hall of Fame's permanent collection of the 500 Songs that Shaped Rock and Roll.

1966 - During a UK tour, Roy Orbison fell off a motorbike while scrambling at Hawkstone Park, Birmingham fracturing his foot. He played the remaining dates sat on a stool and walking on crutches.

1971 - Bruce Springsteen & Friendly Enemies opened for The Allman Brothers Band at the Sunshine In, Asbury Park in New Jersey, tickets cost $4.00. Springsteen had just disbanded his group Steel Mill and within a few weeks would form Dr Zoom & The Sonic Boom with Steve Van Zandt.

1979 - Eric Clapton married Patti Harrison (the ex wife of George) at Temple Bethel, Tucson, Arizona. Patti applied for a divorce in 1988.

2000 - Singer, songwriter, poet and actor, Ian Dury died aged 57 after a long battle with cancer. Dury had been disabled by polio as a child, formed Kilburn and the High Roads during the 70s. His first album New Boots And Panties became a punk classic spending 90 weeks on the chart.

2008 - An inquest in Leeds heard the husband of singer Corinne Bailey Rae died from a suspected overdose. The body of saxophonist Jason Rae, 31, was found in a flat in the Hyde Park area of Leeds. A 32-year-old man arrested on suspicion of supplying controlled drugs was bailed pending further inquiries.

2012 - David Bowie's landmark album Ziggy Stardust was celebrated with a blue plaque in central London. Spandau Ballet star Gary Kemp unveiled a plaque at the spot where the cover of the 1972 release was shot. The location in Heddon Street, just off Regent Street, is now a pedestrianised area brimming with bars and restaurants.

2019 - Both members of Liverpool band Her's were killed after being involved in a car accident. Both Stephen Fitzpatrick and Audun Laading were killed in the crash along with their tour manager Trevor Englebrektson on their way to a gig in Santa Ana, California. The duo released their debut album, Invitation to Her's, in 2018.

1965 - Mick Jagger, Brian Jones and Bill Wyman all received electric shocks from a faulty microphone on stage during a Rolling Stones show in Denmark. Bill Wyman was knocked unconscious for several minutes.

1969 - Marvin Gaye was at No.1 on the singles chart, with 'I Heard It Through The Grapevine'. The song was first recorded by The Miracles and had also been a million seller in 1967 for Gladys Knight and the Pips.

1976 - British blues singer and musician Duster Bennett was killed in a car crash. After performing with Memphis Slim Bennett, Duster was driving home in a Ford Transit van in Warwickshire when he apparently fell asleep at the wheel. The van collided with a truck. His first album Smiling Like I'm Happy saw him playing as a one-man band, playing a bass drum with his foot and blowing a harmonica on a rack while playing a 1952 Les Paul Goldtop guitar given to him in 1968 by Peter Green from Fleetwood Mac.

1985 - Radio stations in South Africa banned all of Stevie Wonder's records after he dedicated the Oscar he had won the night before at The Academy Awards to Nelson Mandela.

2002 - Randy Castillo drummer with the Ozzy Osbourne band died of cancer aged 51. Worked with Osbourne during the 1980s and early 1990s. Also worked with Lita Ford and Motley Crue.

2005 - Australian drummer Paul Hester died aged 46, after he attempted suicide and died from strangulation after being found hanged in a park in Melbourne. He had been a member of Crowded House, Split Enz and Largest Living Things. After leaving Crowded House in 1994 Hester appeared on many TV and radio shows in Australia.

2006 - Readers of Total Guitar magazine voted the guitar solo by Jimmy Page in Led Zeppelin's 'Stairway To Heaven' as the greatest guitar solo of all time. The 1971 track was voted ahead of tracks by Van Halen, Queen, Jimi Hendrix and the Eagles. On the 20th anniversary of the original release of the song, it was announced that the song had logged up an estimated 2,874,000 radio plays - back to back, that would run for 44 years solid.

Nikki Sudden from a heart attack at the age of 49 after performing at the Knitting Factory in New York City. He co-founded the post-punk band Swell Maps with his brother, Epic Soundtrack. Sudden collaborated with, among others, the Waterboys, Jeff Tweedy of Wilco, Mick Taylor, Tom Ashton of the March Violets, and members of R.E.M. and Sonic Youth.

2019 - British musician Ranking Roger died age 56. In January 2019 it was announced that Roger had undergone surgery for two brain tumours, and was undergoing treatment for lung cancer. He was a vocalist in the 1980s two-tone band the Beat and later General Public.

1965 - Bobby Vee, Dusty Springfield, The Searchers, Heinz and The Zombies all appeared at The Odeon Cinema, Stockton-on-Tees.

1966 - At a photo session at Bob Whitaker's studio in London, The Beatles posed in white coats using sides of meat with mutilated and butchered dolls for the cover of their next American album, Yesterday and Today. After advance copies were sent to disc jockeys and record reviewers, negative reaction to the cover photo was so strong Capitol recalled 750,000 copies from distributors to replace the cover. The total cost to Capitol to replace the cover and promotional materials was $250,000, wiping out their initial profit.

1967 - Pink Floyd played three gigs in 24 hours. The appeared at the Ricky Tick Club in Windsor, then the New Yorker Discotheque in Swindon and then played at the Shoreline Club in Bognor Regis (in the early hours 26 March).

1972 - America started a three week run at No.3 with their debut hit 'Horse With No Name'. The group scored eight other US top 40 hits during the 70s.

1978 - Bill Kenny, lead singer of The Ink Spots died. Had the No.10 single 'Melody Of Love.' 'The Gypsy' was their biggest chart success, staying at the No.1 position on the US chart for 13 weeks.

1995 - Pearl Jam singer Eddie Vedder was rescued after a riptide carried him 250 feet offshore in New Zealand.

2002 - The seven-year mystery of missing Manic Street Preachers guitarist Richey Edwards took a grisly twist when human feet were found near where he vanished in 1995.

2019 - Scott Walker singer with The Walker Brothers died age 76. The US star found fame as a teen idol in the band, scoring hits with 'The Sun Ain't Gonna Shine Anymore' and 'Make It Easy On Yourself'. He lived in the UK from 1965 and became a British citizen in 1970. Walker began a solo career with 1967's Scott, moving toward an increasingly challenging baroque pop style on late '60s albums such as Scott 3 (1969) and Scott 4 (1969). As a record producer or guest performer, he worked with a number of artists including Pulp, Ute Lemper and Bat for Lashes.

1973 - During a Lou Reed show in Buffalo, New York, a fan jumped on stage and bit Lou on the bottom. The man was thrown out of the theatre and Reed completed the show.

1976 - Transvestite singer Wayne County appeared in court charged with assault after an incident at New York club CBGBs. County had attacked Dictators singer Handsome Dick Manitoba with a mike stand fracturing his collarbone.

1992 - A Chicago court settled the Milli Vanilli class action suit by approving cash rebates of up to £1.76 to anyone proving they bought the group's music before November 27 1990, the date the lip synching scandal broke. Milli Vanilli won the 1989 best new artist Grammy after hits like 'Blame it on the Rain' and 'Girl, You Know It's True,' selling 30 million singles and 14 million albums. But in late 1990, the performers were stripped of the award after it was revealed that neither actually sang on the Milli Vanilli album.

2001 - A stretch of road on Highway 19 in Macon, Georgia, was named Duane Allman Boulevard, near where The Allman Brothers Band guitarist died aged 24 in a motorcycle crash on October 29, 1971.

2009 - The prosecutor in the Phil Spector murder retrial told the jury he was a 'demonic maniac' when he drinks and 'a very dangerous man' around women. Deputy District Attorney Truc Do urged jurors to find the music producer guilty of murdering Hollywood actress Lana Clarkson in 2003. During her closing argument, she also accused Mr Spector of demonstrating a 'conscious disregard for human life'.

1964 - John Lennon's book of verse and rhyme 'In His Own Write' was published. Some of the content was first published in Lennon's 'Beachcomber' column in the Liverpool weekly paper Mersey Beat.

1967 - At a ceremony held at the Playhouse Theatre in London, The Beatles were awarded three Ivor Novello awards for 1966: Best-selling British single 'Yellow Submarine', most-performed song 'Michelle', and next-most-performed song 'Yesterday'. None of the Beatles attended and the winning songs were played by Joe Loss and his Orchestra. The lead vocal for 'Michelle' was sung by Ross MacManus, whose son would go on to become Elvis Costello.

1985 - Former Creedence Clearwater Revival frontman John Fogerty went to No.1 on the US album chart with his third solo studio album Centerfield. This was Fogerty's first album in nine years after he decided to take a long break from the music business because of legal battles with his record company.

1995 - Singer Alan Barton of died aged 41 from injuries incurred when Smokie's tour bus crashed during a hailstorm in Cologne, Germany. With Black Lace he had the 1984 No.2 single 'Agadoo.' Black Lace represented the UK in the Eurovision Song Contest 1979 in which they finished in seventh position. 'Agadoo' earned them the dubious accolade of being voted as the worst song of all time by a panel of music writers for Q Magazine. Barton replaced Chris Norman in Smokie in 1986, recording six albums with them.

2011 - The Who's Pete Townshend told Uncut magazine that he regretted ever forming the band. 'What would I have done differently? I would never have joined a band. Even though I am quite a good gang member and a good trooper on the road, I am bad at creative collaboration.'


2015 - British artist Lil' Chris was found dead in Suffolk at the age of 24. Chris Hardman first rose to fame on the UK reality show Rock School in 2006 when he was just 15 years old. He later released a hit single, 'Checkin' It Out,' which reached No.3 on the singles chart.

Week Commencing March 17
1974 - The Eagles released their third studio album On the Border the first Eagles album to feature guitarist Don Felder. Three singles were released from the album: 'Already Gone', 'James Dean' and 'Best of My Love'. A hidden message carved into the run out groove of some vinyl LPs reads: "He who hesitates is lunch".

1975 - Led Zeppelin were enjoying a six-week run at No.1 on the album chart with Physical Graffiti the group's fourth No.1 album. On its first day of release in the US, the album shipped a million copies – no other album in the history of Atlantic records had generated so many sales. Physical Graffiti has now been certified 16 times Platinum by the Recording Industry Association of America (RIAA) for US sales in excess of 16 million copies.

1980 - Pink Floyd's 'Another Brick In The Wall (Part 2)' started a run at No.1 on the singles chart. The track, which was the group's only US chart topper, was also a No.1 in Germany, Australia, Italy and in many other countries around the world. Pink Floyd received a Grammy nomination for Best Performance by a Rock Duo or Group for the song, but lost to Bob Seger's 'Against The Wind.'

1980 - The Jam had their first No.1 with their tenth release, 'Going Underground / Dreams Of Children' the first single of the 80s to debut at No.1.

1984 - Queen filmed the video for 'I Want To Break Free' at Limehouse Studio in London. Directed by David Mallet, it was a parody of Coronation Street with the band members dressed in drag. Guitarist Brian May later said the video ruined the band in America, and was initially banned by MTV.

1986 - American singer Mark Dinning died from a heart attack aged 52. He scored the 1959 US No.1 hit 'Teen Angel'. The song, which is about a girl and her boyfriend whose car stalled on a railroad track in the path of an oncoming train, was initially banned by many radio stations that considered it too sad.

1994 - Musician, singer, songwriter and record producer Dan Hartman died aged 43 of a brain tumor in Westport, Connecticut. He was a member of the Edgar Winter Group and wrote the band's hit 'Free Ride.' As a solo artists he had the 1978 No.1 dance hit 'Instant Replay,' and wrote 'Relight My Fire' a No.1 for Take That and Lulu and also co-wrote The James Brown song 'Living in America.' Hartman collaborated with Tina Turner, Dusty Springfield, Joe Cocker, Bonnie Tyler, Paul Young, Living In A Box, Holly Johnson and Steve Winwood.

Rod Price, former member of Black Cat Bones and a founding member of Foghat, died after falling down a stairway at his home after suffering a heart attack. The 57 year old English guitarist played on Foghat's highest charting single 'Slow Ride' a hit in 1976.

2016 - Dave Grohl leapt to the defence of a teenage heavy metal band from Cornwall, after their local council said they were too loud. The Black Leaves of Envy were told they would have to stop practising in a family garage after noise complaints from neighbours. Foo Fighters frontman Grohl penned an open letter to the authority after the band contacted him asking Cornwall Council to 'reconsider the restrictions'.

1971 - Led Zeppelin appeared at the Boat Club, Nottingham, on their 'Back To The Clubs' tour. This was the first tour which saw Zeppelin performing 'Stairway To Heaven', 'Black Dog' and 'Going To California'. Zeppelin opened the set with 'Immigrant Song' and 'Heartbreaker'. This small club on the banks of the River Trent had also seen performances by Elton John, Black Sabbath, Sex Pistols and Rod Stewart.

1973 - The BBC banned all teenybopper acts appearing on Top Of The Pops after a riot following a David Cassidy performance.

1976 - After a David Bowie concert at the Community War Memorial arena in Rochester, New York, Iggy Pop and Bowie were involved in a drug bust at their hotel room where the police found 182 grams (a little over 6.4 ounces) of marijuana. The pair spent the rest of the night in the Monroe County Jail and were released at about 7 a.m. on $2,000 bond each.

1980 - Hugh Cornwell of The Stranglers was sent to Pentonville Prison after losing his appeal against a drugs conviction.

2004 - Ozzy Osbourne was named the nation's favourite ambassador to welcome aliens to planet earth. The 55-year-old singer came top of a poll as the face people want to represent them to alien life. The poll of internet users was carried out following the discovery of signs of water on Mars. Ozzy won 26 per cent of the vote. A spokesman for Yahoo! News said: 'As the world waits desperately for signs of alien life, we decided to ask our users who they thought was best suited for this most auspicious of roles. Ozzy is a great choice but I'm not sure what the Martians would make of his individual approach to the English language.'

2008 - A five-year legal row over the use of The Beach Boys name was settled by two former members of the group. Mike Love had argued he was the only person allowed to perform under the name of the band and sued Al Jardine, whom he claimed was appearing as an unlicensed Beach Boys act. Mr Jardine's lawyer said "a friendly settlement" had been reached that allowed them to focus on the talent and future of this American iconic band.'

2016 - A rare Beatles record found in the loft of Les Maguire - the keyboardist in fellow Liverpool act, Gerry and the Pacemakers, sold for £77,500 at auction. The 10-inch acetate of 'Till There Was You' and 'Hello Little Girl' from 1962 was described as 'a Holy Grail item'. It was the first Beatles disc to be cut before the band broke into the national charts.

1968 - Dave Dee, Dozy, Beaky, Mick and Tich were at No.1 on the singles chart with 'The Legend Of Xanadu', the group's only No.1.

1969 - John Lennon married Yoko Ono in Gibraltar. They spent their honeymoon in Amsterdam campaigning for an international 'Bed-In' for peace. They planned another 'Bed-in' in the United States, but were denied entry. The couple then went to Montreal, and during a 'Bed-in' at the Queen Elizabeth Hotel recorded 'Give Peace a Chance'. Lennon also detailed this period in The Beatles 'The Ballad of John and Yoko', recorded by Lennon and McCartney on April 14, 1969.

1970 - David Bowie and Angela Bowie were married at Beckenham Registry Office, London. The couple had one child, film director Duncan Jones. They divorced in 1980.

1971 - At their own expense The Rolling Stones placed full page advertisements in all the music papers disclaiming any connection with the release of the Decca album Stone Age, saying 'in our opinion the content is below the standard we try to keep.'

1971 - Janis Joplin started a two week run at No.1 on the US singles chart with her version of the Kris Kristofferson and Fred Foster song 'Me And Bobby McGee.' Joplin, who was a lover and a friend of Kristofferson's from the beginning of her career to her death, changed the sex and a few of the lyrics in her cover. Kristofferson states he did not write this song for her, but the song is associated with her - especially, he has said, in the line 'Somewhere near Salinas, Lord, I let her slip away.' Joplin died of a drug overdose the year before on 4th October, aged 27.

1973 - Slade were at No.1 on the singles chart with 'Cum On Feel The Noize', the group's fourth No.1.

Status Quo started a three-week run at No.1 on the chart with their third No.1 album Blue For You. The band's record label set up a deal with Levi Jeans, advertising in over 6,000 clothes shops to help promote the album.

1977 - Lou Reed was banned from appearing The London Palladium because of his punk image.

1977 - T Rex played their final ever gig when they appeared at The Locarno in Portsmouth.

1991 - Eric Clapton's four year old son, Conor, fell to his death from the 53rd story of a New York City apartment after a housekeeper who was cleaning the room left a window open. The boy was in the custody of his mother, Italian actress Lori Del Santo and the pair were visiting a friend's apartment. Clapton was staying in a nearby hotel after taking his son to the circus the previous evening. The tragedy inspired his song 'Tears in Heaven'.

1962 - Bob Dylan's debut album Bob Dylan was released in the Untied States. Initially poor sales led the record to be known around Columbia Records as 'Hammond's Folly' (John Hammond was producer of Dylan's early recordings and the man responsible for signing Dylan). The album was praised by the New York City weekly newspaper Village Voice as an 'explosive country blues debut', but featured only two Dylan original compositions, 'Talkin' New York' and 'Song To Woody', the rest being old folk standards.

1971 - T Rex were at No.1 on the singles chart with 'Hot Love.' The group's first of four No.1s spent six weeks at the top of the charts.

Paul Kossoff guitarist with Free and Back Street Crawler died aged 25 of heart failure during a flight from Los Angeles to New York (Kossoff had a long history of drug abuse). Free had the 1970 No.2 single 'All Right Now'. His first band was Black Cat Bones alongside drummer Simon Kirke (later of Free), and Kossoff formed Back Street Crawler after leaving Free.

1982 - Ozzy Osbourne guitarist and former Quiet Riot member Randy Rhoads was killed when the plane he was riding in crashed. After driving much of the night, the band had stopped near a small airstrip. The tour bus driver, Andrew Aycock, talked the band's keyboardist, Don Airey, into taking a test flight in a '55 Beechcraft Bonanza, the joyride ended and the plane landed safely. Then Aycock took Rhoads and Rachel Youngblood on another flight and attempts were made to 'buzz' the tour bus. The left wing clipped the bus which sent the plane spiralling into a nearby house and bursting into flames. All three bodies were burned beyond recognition, and were identified by dental records.

1996 - The second Beatles Anthology series was released. The album featured 'Real Love', a track the remaining members of the Beatles recorded using an old demo track of John Lennon's. The song was first recorded by Lennon in 1977 with a handheld tape recorder on his piano at home. It originated as part of an unfinished stage play that Lennon was working on at the time entitled 'The Ballad of John and Yoko.'

1965 - The Rolling Stones were each fined £5 for urinating in a public place, following an incident that had taken place at a petrol station after a gig at the ABC Theatre in Romford, Essex. This was after the last show on their fifth UK package tour with The Hollies, The Konrads, all girl-group Goldie and the Gingerbreads and Dave Berry and the Cruisers.

1965 - The groundbreaking Motortown Revue landed at the Finsbury Park Astoria, on the first night of a package tour that took them around the UK visiting 21 theatres for two shows a night, plus a live TV special. Topping the bill was Smokey Robinson and the Miracles, Supremes, Martha & The Vandellas, and 14 year-old Little Stevie Wonder all backed by the legendary Funk Brothers.

1967 - The New Musical Express announced that former Spencer Davis Group member Steve Winwood was planning to form a new group with Jim Capaldi, Chris Wood and Dave Mason. The ensemble would choose the name Traffic.

1972 - T Rex played the first of two sold out nights at Wembley's Empire Pool; Ringo Starr filmed the shows for the 'Born To Boogie' Apple documentary.

1977 - The Clash released their debut single 'White Riot.' The song is in the typical punk style of three chords played very fast. Mick Jones counts off '1-2-3-4' at the start of the album version while the single version begins with the sound of a police siren instead.

2002 - The Ramones were inducted into the Rock and Roll Hall of Fame by Eddie Vedder, lead singer of Pearl Jam and close friend of the Ramones. The ceremony took place at the Waldorf Astoria Hotel in New York City.

Chuck Berry died aged 90. The American guitarist, singer and songwriter was one of the pioneers of rock and roll music. With songs such as 'Maybellene' (1955), 'Roll Over Beethoven' (1956), 'Rock and Roll Music' (1957) and 'Johnny B. Goode' (1958), Berry refined and developed rhythm and blues into the major elements that made rock and roll distinctive.

1965 - The Rolling Stones were at No.1 on the singles chart with 'The Last Time', the bands third No.1 and first No.1 for songwriters Mick Jagger and Keith Richards.

1970 - Motown singer Tammi Terrell died of a brain tumour at the age of 24. She had collapsed onstage on October 14, 1967 into Marvin Gaye's arms during a concert in Hampton, Virginia. Initially Terrell recorded solo, but from 1967 onwards she recorded a series of duets with Marvin Gaye, including the 1967 US No.5 'Your Precious Love' and the 1968, 'Ain't Nothing Like the Real Thing'. Marvin Gaye reacted to her death by taking a four year hiatus from concert performance and went into self-isolation.

1977 - Paper Lace were at No.1 on the singles chart with the anti-war pop song 'Billy Don't Be A Hero,' the group's only No.1.

1992 - During a Metallica gig at Orlando Arena in America, fans dangled an usher by his ankles from the balcony as trouble broke out at the concert. The band were charged $38,000 (£22,353) for repairs and cleaning after the audience trashed the building.

1996 - Charles Pope singer with the American vocal group The Tams died of heart failure. They had the 1971 No.1 single 'Hey Girl Don't Bother Me'. The group took their name from the Tam O'Shanter hats they wore on stage.

2010 - A rare Led Zeppelin recording from the group's 1971 gig at St Matthew's Baths Hall in Ipswich, was unearthed at a car boot sale. The bootleg copy of the audio from the group's gig on November 16th 1971 was picked up for just 'two or three pounds' by music fan Vic Kemp who said 'I was going through a stand of CDs at the car boot at Portman Road and the guy who was selling them said, 'You might be interested in this. It must have been recorded by someone standing at the front with a microphone. You can hear Robert Plant talking to the audience quite clearly.'

2015 - Andy Fraser, songwriter and bass guitarist with Free, died aged 62 in California of a heart attack caused by Atherosclerosis. The London-born musician became a founding member of the group when he was just 15 and went on to write most of the material with lead singer Paul Rodgers, including Free's 1970 hit 'All Right Now', 'My Brother Jake' and 'The Stealer'. Fraser also penned 'Every Kinda People', a hit for Robert Palmer as well as songs for Joe Cocker, Chaka Khan, Rod Stewart and Paul Young.

Dick Dale died of heart failure at the age of 81. He was known as The 'King of the Surf Guitar'. He pioneered and created what many call the surf music style. Dale worked closely with Fender to produce custom made amplifiers, including the first-ever 100-watt guitar amplifier. His song 'Misirlou' featured over the opening credits to Quentin Tarantino's Pulp Fiction.

Week Commencing March 8
1964 - For the first time in British recording history, all Top Ten singles in the UK were by British acts. No.1 was 'Anyone Who Had A Heart' by Cilla Black, No.2 - 'Bits and Pieces' by The Dave Clark Five, No.3 - 'Little Children' by Billy J Kramer, No.4 - 'Diane' by The Bachelors, No.5 - 'Not Fade Away' by The Rolling Stones, No.6 - 'Just One Look' by The Hollies, No.7 - 'Needles and Pins' by The Searchers, No.8 - 'I Think Of You' by The Merseybeats, No.9 - 'Boys Cry' by Eden Kane, and No. 10 - 'Let Me Go Lover' by Kathy Kirby.

1972 - Soul singer Linda Jones died aged 26 in New York after collapsing into a diabetic coma following a performance at Harlem's Apollo Theatre in New York. Jones scored the 1967 US No.21 single 'Hypnotized'.

1978 - Blondie were at No.2 on the chart with their version of the Randy & the Rainbows song 'Denis', kept off the No.1 position by Kate Bush's 'Wuthering Heights'.

1982 - Metallica made their live debut when they appeared at Radio City in Anaheim, California. Metallica formed in Los Angeles in late 1981 when Danish-born drummer Lars Ulrich placed an advertisement in a Los Angeles newspaper, The Recycler, which read, "Drummer looking for other metal musicians to jam with Tygers of Pan Tang, Diamond Head and Iron Maiden." Guitarists James Hetfield and Hugh Tanner of Leather Charm answered the advertisement.

1985 - Dead Or Alive were kicked off The Tube after admitting they were incapable of playing 'live.' The group scored the 1985 No.1 single 'You Spin Me Round, Like A Record'.

1991 - Songwriter and Blues singer Doc Pomus died from lung cancer aged 65. He is best known as the lyricist of many rock and roll hits written with Mort Shuman including, 'A Teenager in Love', 'Save The Last Dance For Me', 'Sweets For My Sweet', 'Can't Get Used to Losing You', 'Little Sister', 'Suspicion', 'Surrender' and 'Viva Las Vegas.'

2001 - Peter Blake, who designed The Beatles classic Sgt. Pepper album cover sued the group's record company for more money. Blake was paid £200 for the famous figures in 1967, but was now 'cheesed off' that EMI had never offered to pay more money. Blake also made sleeves for the Band Aid single, 'Do They Know It's Christmas?' (1984), Paul Weller's Stanley Road (1995) and the Ian Dury tribute album Brand New Boots and Panties (2001).



2014 - American musician Gary Burger died of pancreatic cancer on at the age of 71. He is best known as the guitarist and vocalist for the Garage rock band the Monks who formed in Gelnhausen, West Germany in 1964, by five American GIs stationed in the country. With their blend of shrill vocals, feedback, and guitarist David Day's six-string banjo (which baffled audiences), music historians have since identified the Monks as a pioneering force in avant-garde music. [check out the pic link and also the 'celebrating rock and metal' link - these guys were decades ahead of their time]

1965 - Eric Clapton quit The Yardbirds due to musical differences with the other band members. Clapton wanted to continue in a blues type vein, while the rest of the band preferred the more commercial style of their first hit, 'For Your Love'.

1965 - The Beatles started a two week run at No.1 on the US singles chart with 'Eight Days A Week', the group's 7th US No.1. Paul McCartney would later say the name of the song came from a chauffeur who drove him one day. 'I said, 'How've you been?' 'Oh working hard,' he said, 'Working eight days a week.'

1966 - Pink Floyd appeared for the first time at The The Marquee Club in Wardour Street, London. The Marquee became the most important venue for the emerging British scene and witnessed the rise of some of the most important artists in the 1960s and 1970s, such as Jimi Hendrix, Cream, Manfred Mann, The Who, Yes, Led Zeppelin, Jethro Tull, King Crimson and Genesis.

Rod Stewart left the Blues band Steampacket to work as a solo artist. Arguably the UK's first "supergroup" Steampacket was formed in 1965 by Long John Baldry and also featured singer Julie Driscoll, organist Brian Auger and guitarist Vic Briggs.

1977 - Iggy Pop kicked off a the North American leg of The Idiot World Tour at Le Plateau Theatre, Montreal, Canada (with David Bowie in the band playing keyboards and backing vocals). Blondie were the opening act on this leg of the tour.

1993 - Eric Clapton started a run on the album chart with Unplugged. It remains the most successful and best-selling live album ever, winning two Grammy awards at the 35th Annual Grammy Awards in 1993. It is also Clapton's best-selling album ever, having sold 26 million copies worldwide.

1995 - Radiohead released their second studio album The Bends. The album, which features the tracks 'High and Dry' and 'Fake Plastic Trees' reached No.4 and stayed on the chart for 160 weeks. In 2006, British Hit Singles & Albums and NME organised a poll in which 40,000 people worldwide voted for the 100 best albums ever. The Bends was placed at No.10.

2006 - The Sex Pistols refused to attend their own induction into the Rock and Roll Hall of Fame in Cleveland, Ohio. Blondie, Herb Alpert and Black Sabbath were all inducted but the Pistols posted a handwritten note on their website, calling the institution 'urine in wine', adding 'We're not your monkeys, we're not coming. You're not paying attention'.

2006 - The Kinks came out the top earners for music used in TV adverts in the US, earning them £6m a year. The sixties group were enjoying a resurgence with their music being used to sell washing powder, computers and medicines. Led Zeppelin came in second place with £4m and The Rolling Stones third with £2.3m.

2013 - Jimi Hendrix scored his highest chart debut since 1969 when his new studio album, People, Hell & Angels, consisting of unreleased tracks recorded with a variety of musicians between 1968 and 1970, sold 72,000 copies in the US on the week of release and made its debut at No.2 on the charts.

1955 - American jazz saxophonist and composer Charlie Parker died of a heart attack in New York City while watching Tommy Dorsey's Orchestra on television. He was 34. The coroner who performed his autopsy mistakenly estimated Parker's 34-year-old body to be between 50 and 60 years of age due to years of drug and alcohol abuse.

the Velvet Underground was released by Verve Records. Though the record was a commercial failure upon release and was almost entirely ignored by contemporary critics, The Velvet Underground & Nico is now widely recognised as one of the greatest and most influential albums in the history of popular music.

1969 - Paul McCartney married Linda Eastman at Marylebone Register Office. They then held a reception lunch at The Ritz Hotel, Paul then went to Abbey Road studios in the evening to work. George Harrison and his wife Patti were arrested on the same day and charged with possession of 120 joints of marijuana.

1971 - The Allman Brothers Band played the first of two nights at the Fillmore East, New York. Both shows were recorded and released as The Allman Brothers live double album, which became the groups breakthrough album.

1977 - The Sex Pistols were involved in a fight at London's Speakeasy Club with Bob Harris, presenter of The Old Grey Whistle Test, resulting in one of the shows engineers needing 14 stitches in his head. Two days later Harris's solicitors contact Derek Green at A&M, the band's record label. Harris's management also managed Peter Frampton, one of the label's top acts at A&M. Green discussed the matter with the company's two founders, Jerry Moss and Herb Alpert and the decision is made to cancel the Pistols contract and halt production of the bands first single, 'God Save The Queen'.

2004 - Rosalind Morganfield, the 34 year old daughter of Blues artist Muddy Waters, surrendered to police after a warrant was issued accusing her of being involved in the 1996 murder of 19 year old Timothy Jason Harrington during a drug deal.

2006 - Former Pink Floyd guitarist David Gilmour went to No.1 on the album chart with his third solo album On An Island. In 2009 Planet Rock held a poll asking listeners to name the 'Greatest Solo Album Written By A Former Band Member'. David Gilmour was voted into first place with On An Island.

2013 - Clive Burr, drummer with Iron Maiden died in his sleep in London, four days after his 56th birthday, due to complications related to MS. Maiden had the 1982 No.1 album The Number Of The Beast, and the 1991 No.1 single 'Bring Your Daughter To The Slaughter'. Burr was a member of up-and-coming band Samson before joining Maiden in 1979.

2013 - Bob Dylan was voted into the American Academy of Arts and Letters, marking the first time a rock musician had been chosen for the elite honor society. Officials in the Academy – which recognises music, literature and visual art – were unable to decide if Dylan belonged for his words or his music and instead inducted him as an honorary member like previous honorees Meryl Streep, Woody Allen and Martin Scorsese.

2016 - Iron Maiden's personal Boeing 747 was badly damaged after colliding with a tow truck while grounded at Santiago, Chile. The band's crew and their twenty tons of equipment were not onboard at the time of the crash, but two ground crew workers were injured.

1956 - The Dream Weavers were at No.1 on the singles chart with 'It's Almost Tomorrow'. The Miami based studio band's only chart hit in the UK, thus condemning The Dream Weavers to the One Hit Wonder tag.

1965 - Tom Jones was at No.1 on the singles chart with 'It's Not Unusual.' The Welsh singer's first of 16 Top 40 hits during the 60s. Written by Les Reed and Gordon Mills, the song was first offered to Sandie Shaw. Jones recorded a demo for Shaw, and when she heard it she was so impressed with Jones's delivery that she declined the song and recommended that Jones release it himself.

1970 - Deja Vu, the first album by Crosby, Stills, Nash & Young (and the second by the trio configuration of Crosby, Stills and Nash) was released. It topped the pop album chart for one week and spawned three US Top 40 singles: 'Teach Your Children', 'Our House', and 'Woodstock'.

1971 - Jim Morrison of The Doors arrived in Paris booking into The Hotel George's. The following week he moved into an apartment at 17 Rue Beautreillis in Paris. Morrison lived in Paris until his death on July 3rd 1971 (two years to the day after the death of the Rolling Stones guitarist Brian Jones, and approximately nine months after the deaths of Jimi Hendrix and Janis Joplin).

1975 - The Original Soundtrack, the third album by 10cc was released. It featured the world wide, multi million selling single 'I'm Not in Love' notable for its innovative and distinctive backing track, composed mostly of the band's multitracked vocals. The song was the band's breakthrough hit worldwide, reaching No.1 in Ireland and Canada and No.2 in the US, as well as reaching the top ten in Australia, New Zealand and several European countries.

1978 - The debut single from Kate Bush, 'Wuthering Heights' a song inspired by the Emily Bronte novel, started a four-week run at No.1 on the singles chart. EMI had originally chosen another track, 'James and the Cold Gun' as the lead single, but Bush insisted on 'Wuthering Heights'.

2011 - The former singer with Iron Maiden was jailed for nine months for fraudulently claiming benefits. Paul Andrews fronted the band between 1978 and 1981 under the stage name Paul Di'Anno. Andrews, 52, was jailed at the city's crown court after earlier admitting falsely claiming more than £45,000. Fraud investigators had viewed online videos and read about gigs on the performer's website.



2015 - Jimmy Greenspoon, keyboardist with Three Dog Night died after a long battle with cancer at the age of 67. During the course of their career, Three Dog Knight had 21 top 40 hits, including three No.1 singles.

2016 - Musician Keith Emerson died in Santa Monica, California, of a self-inflicted gunshot wound to the head after he had become 'depressed, nervous and anxious' because nerve damage in his hands had hampered his playing. Emerson found his first commercial success with the Nice, in the late 1960s and was a founding member of Emerson, Lake & Palmer (ELP), one of the early progressive rock supergroups.

1960 - UK trade paper Record Retailer published the UK's first ever EP (extended player) chart and LP chart. No. 1 EP was 'Expresso Bongo' by Cliff Richard & The Shadows and No.1 LP 'The Explosive Freddy Cannon.'

1977 - At 7am in the morning on a trestle table set up out-side Buckingham Palace, the Sex Pistols signed to A&M Records (the real signing had taken place the day before). An after party was held at the offices of A&M records following the signing where the group set about reeking unforeseen havoc on the posh building, with Sid Vicious smashing a toilet and cutting his foot, trailing blood everywhere he went, while Rotten cursed and threatened every upscale executive in sight and guitarist Steve Jones getting it on with an unnamed fan in the restrooms.The contract lasted for six days.

1995 - Former Stone Roses manager Gareth Evans' £10 million lawsuit with the band was settled out of court over alleged wrongful dismissal for an undisclosed sum.

2010 - Pink Floyd won a court battle with EMI that prevented the record company from selling single downloads and ringtones on the Internet from the group's albums. Pink Floyd's back catalogue was second only in sales to The Beatles.

Asa Brebner died age 65. He was a member of The Modern Lovers led by Jonathan Richman. They are best know for their 1976 hit 'Roadrunner' which Rolling Stone ranked it Number 274 on their list of the 500 Greatest Songs of All Time.

1964 - Capitol Records released a song called 'Letter To The Beatles' by The Four Preps. The lyrics describe a boy lamenting to The Fab Four, the fact that he's lost his girlfriend. On its first day the record shot to No.85 on the charts and it looked like The Preps were going to have another hit on their hands. Unfortunately they had included a few bars from 'I Want To Hold Your Hand' without permission and Capitol was forced to withdraw the single to avoid a lawsuit.

1967 - Pink Floyd and The Thoughts appeared at The Marquee Club, London. The Marquee club has often been defined as 'the most important venue in the history of pop music', not only for having been the scene of the development of modern music culture in London, but also for having been an essential meeting point for some of the most important artists in rock music.

1968 - Bob Dylan started a ten week run at No.1 on the chart with John Wesley Harding. The album marked Dylan's return to acoustic music after three albums of electric rock music and was exceptionally well received by critics, also reaching No.2 on the US charts. The commercial performance was considered remarkable, considering that Dylan had made Columbia Records release the album without much publicity.

1971 - Led Zeppelin appeared at Leeds University, during their 'Back To The Clubs' tour. This was the first tour which saw Zeppelin performing 'Stairway To Heaven', 'Black Dog' and 'Going To California.'

Robert Plant played a secret gig at Keele University with his new band The Honey Drippers.

1991 - 'Should I Stay Or Should I Go' gave The Clash their only No.1 single after the track was used for a Levi's TV advertisement. The track was first released in 1982 from their album Combat Rock. The Spanish backing vocals were sung by Joe Strummer and Joe Ely.

2005 - 53-year-old Danny Joe Brown, the original lead singer of Molly Hatchet, died from renal failure due to complications from diabetes. Brown was the front man for the band's self-titled album in 1978, which went Platinum.

2007 - Brad Delp lead singer of Rock band Boston committed suicide by carbon monoxide poisoning at his home in the New Hampshire town of Atkinson. He died from the smoke of two charcoal grills he'd lit inside his sealed master bathroom. He was found by police lying on a pillow on his bathroom floor with a note paper-clipped to his shirt which read: "Mr. Brad Delp. I am a lonely soul."

1962 - The Beatles made their radio debut on the BBC's 'Teenagers Turn' (Here We Go), singing Roy Orbison's 'Dream Baby'. It was reportedly the first time The Beatles wore suits onstage.

1965 - Bob Dylan's single Subterranean Homesick Blues was released in the US. The lead track from his Bringing It All Back Home album, gave Dylan his first top 40 hit. Subterranean Homesick Blues is also noted for its innovative film clip, in what became one of the first 'modern' promotional film clips. The clip was shot in an alley behind the Savoy Hotel in London, the cue cards which Dylan holds were written by Donovan, Allen Ginsberg, and Dylan himself.

1965 - David Bowie made his TV debut with The Manish Boys on a program called 'Gadzooks! It's All Happening' when they performed their current single 'I Pity The Fool.'

1969 - Small Faces split up after singer Steve Marriott announced he was leaving the band to form Humble Pie. Small Faces scored the hit songs 'Itchycoo Park', 'Lazy Sunday', 'All or Nothing', and 'Tin Soldier', as well as their concept album Ogdens Nut Gone Flake. Members Ronnie Lane, Ian McLagan and Kenny Jones linked up with Ronnie Wood and Rod Stewart to form the Faces.

1973 - American singer and musician Ron McKernan died aged 27 from liver failure brought on by alcohol poisoning. He was a founding member and keyboard player with the Grateful Dead and played in the group from 1965 to 1972. Unlike the other members of the Grateful Dead, McKernan avoided psychedelic drugs, preferring to drink alcohol (namely whiskey and flavored fortified wine). By 1971, his health had been affected by alcoholism and liver damage and doctors advised him to stop touring.

2003 - Former Dire Straits frontman Mark Knopfler was injured when the Honda motorbike he was riding was involved in a collision with a Fiat Punto car. The 53-year-old singer and guitarist suffered a broken collar bone and six broken ribs in the accident which happened in London's smart Belgravia district in mid-morning traffic.

2009 - A blue plaque in honour of The Who drummer Keith Moon was unveiled on the site of The Marquee Club in Soho, where in 1964 the band played the first of 29 gigs there. Fans on scooters turned up to pay tribute to Moon, who was 32 when he died of an accidental overdose in 1978. The blue plaque, which means the site is of historic importance, was awarded by the Heritage Foundation.

2016 - AC/DC postponed the rest of their current US tour after singer Brian Johnson was warned he was going deaf. The band posted a statement on their website saying doctors had advised Johnson to stop touring immediately or risk total hearing loss.

2016 - English record producer, arranger, composer, conductor, audio engineer and musician, Sir George Martin died aged 90. He worked as EMI records in-house record producer and became known as the so-called fifth Beatle. Martin produced all but one of The Beatles albums giving him 30 No.1 hit singles in the UK and 23 No.1 hits in the US. He also produced many other acts including: Matt Monro, Cilla Black, Gerry & The Pacemakers, Billy J. Kramer & the Dakotas, The Fourmost, Jeff Beck, Ultravox, Kenny Rogers, UFO, Cheap Trick, Elton John and Celine Dion. Martin received a Knighthood in 1996.

Week Commencing March 1
1966 - The Rolling Stones started recording sessions for their tenth UK single 'Paint It, Black' at RCA studios in Hollywood. It was originally titled 'Paint It Black' without a comma. Keith Richards has stated that the comma was added by the record label, Decca.

1970 - Charles Manson released an album called Lie to help raise money for his defence in the Tate-LeBianca murder trial. The album jacket was made to look like a cover of Life magazine with the letter f removed from the word Life. In the mid sixties, Manson had been a wanna-be musician who befriended The Beach Boys drummer Dennis Wilson, eventually talking the group into recording one of his songs, 'Cease To Exist'. The title was changed to 'Never Learn Not To Love' and was released as the B side of the single 'Bluebirds Over The Mountain', which eventually climbed to number 61 in the US in early 1969.

David Bowie released the single 'The Prettiest Star' as a follow-up single to 'Space Oddity'. The track featured Marc Bolan on guitar, with whom Bowie would spend the next few years as a rival for the crown of the king of Glam Rock. Despite receiving good reviews, the single reportedly sold fewer than 800 copies, a major disappointment on the back of the success of 'Space Oddity'.

1971 - Mungo Jerry were at No.1 on the singles chat with 'Baby Jump', the group's second and final No.1.

1998 - Oasis singer Liam Gallagher appeared handcuffed in a Brisbane court on charges of head butting a fan during a gig in Australia. Gallagher was released on bail.

2010 - Mark Linkous, frontman with US band Sparklehorse committed suicide by shooting himself in the heart outside a friend's house in Knoxville, Tennessee. In 1996 Linkous "died" for two minutes after ingesting a mix of Valium and antidepressants while supporting Radiohead on tour in the UK. He recovered, but the incident left him paralysed, after lying unconscious for 14 hours, with circulation to his legs cut off. He had surgery seven times to save his legs, but suffered a heart attack when doctors tried to straighten his limbs.

2013 - English guitarist, singer, Alvin Lee died age 68. Lee's performance at the Woodstock Festival in 1969 was captured on film in the documentary of the event, and his 'lightning-fast' playing helped catapult him to stardom. Ten Years After were known for tracks such as 'I'm Going Home', 'Hear Me Calling', 'I'd Love to Change the World' and 'Love Like a Man'.

2016 - Lana Rae Meisner, the wife of former Eagles' bassist Randy Meisner, died after she accidentally shot herself while looking for something in a closet. Although the couple had a history of domestic incidents, police cleared Randy of any wrongdoing.

1963 - The Beach Boys released 'Surfin' USA' a song with lyrics by Brian Wilson set to the music of 'Sweet Little Sixteen', written by Chuck Berry. Billboard ranked 'Surfin' USA' the No. 1 song of 1963.

1979 - Randy Jackson of The Jackson Five was seriously injured in a car crash breaking both legs and almost died in the emergency room when a nurse inadvertently injects him with methadone.

1986 - After just completing a two set show with The Band in Winter Park, Florida, 41 year old Richard Manuel of The Band hanged himself from a shower curtain rod in a hotel room in Florida. His band mate, Robbie Robertson honoured his friend with the song, 'Fallen Angel' in 1987.

1994 - Kurt Cobain was rushed to hospital after overdosing on alcohol and drugs in a Rome hotel during a Nirvana European tour. Cobain had taken 50-60 pills of Rohypnol mixed with champagne; rumours on the internet claimed that Kurt was dead.

2001 - Village People singer Glenn Hughes died of lung cancer aged 50 in his Manhattan apartment in New York. He was the original "Biker" character in the disco group who scored the 1978 No.1 single Y.M.C.A.

2015 - Daryl Hall and John Oates were suing cereal maker Early Bird Foods & Co. over the company's use of the name Haulin' Oates for their maple syrup granola bars. The two musicians accused the Brooklyn-based firm of infringing on their trademark with the packet of cereal deliberately creating a phonetic play on the band's well-known name.

2019 - Keith Flint, singer and dancer with The Prodigy was found dead at his home in Essex, age 49. The Prodigy scored the 1996 No.1 No. 30 single 'Firestarter' and the 1997 No.1 album 'The Fat Of The Land'. He owned a motorcycle race team, Team Traction Control, which won three Isle of Man TT races in 2015 and competed in the British Supersport Championship running Yamaha YZF-R6 motorcycles.

1966 - Neil Young, Stephen Stills and Richie Furay formed Buffalo Springfield in Los Angeles. Among the first wave of American bands to become popular in the wake of the British invasion, the group combined rock, folk, and country music into a sound all its own. Its million-selling song 'For What It's Worth' became a political anthem for the turbulent late 1960s.

1969 - Led Zeppelin recorded their first BBC Radio 1 'Top Gear' session during the afternoon at the Playhouse Theatre in London. Songs recorded were 'Dazed And Confused', 'Communication Breakdown', 'You Shook Me' and 'I Can't Quit You Baby'. Free, The Moody Blues and Deep Purple were also in session on the show.

1972 - Elton John released 'Rocket Man' as a single (officially titled 'Rocket Man (I Think It's Going to Be a Long, Long Time)'. The song was inspired by the short story "The Rocket Man" in The Illustrated Man by Ray Bradbury, and echoes the theme of David Bowie's 1969 song 'Space Oddity'. Kate Bush released a cover of 'Rocket Man' in 1991 as part of the Elton John, Bernie Taupin tribute album Two Rooms.



1977 - The first night of a UK tour with Johnny Thunders and the Heartbreakers, Cherry Vanilla and The Police kicked off at the Roxy Club, London. John Otway and Wild Willie Barratt played at The Speakeasy, London, and Iggy Pop supported by The Vibrators appeared at Huddersfield Poly.

1994 - The Smashing Pumpkins were banned from appearing on Top Of The Pops due to the content of the song's lyrics. The bands single 'Disarm' was this week's highest new entry.

2003 - Ray Jackson - who found fame with Lindisfarne - took out legal action against Rod Stewart over his 1970s hit song 'Maggie May.' Jackson claimed he came up with the worldwide hit's classic mandolin melody and claimed he may have lost at least £1m because he was not credited for the track's distinctive "hook." Jackson was paid just £15 for the recording session by Stewart in 1971.

2012 - American rock guitarist Ronnie Montrose died from a self-inflicted gunshot wound aged 64. The guitarist, who led the bands Montrose and Gamma, had been ill suffering from prostate cancer. Montrose had also worked with Edgar Winter, Van Morrison, Dan Hartman, Sammy Hagar and many other artists.

2017 - American guitarist Jim Fuller from The Surfaris died aged 69. The Surfaris had the 1963 No.3 single 'Wipe Out' and Fuller was known as the "Godfather" of surf music, a Californian instrumental music. With his Fender guitar he contributed to the popularity of Leo Fender's instruments.

1961 - The Everly Brothers had their third No.1 single with 'Walk Right Back' a song written by Sonny Curtis of The Crickets.

1967 - Engelbert Humperdinck was at No.1 on the singles chart with 'Release Me.' The singers first of two number 1s, the song spent six weeks at the top of the chart and a record fifty six weeks on the chart.

1974 - Terry Jacks started a run at No.1 on the singles chart with 'Seasons In The Sun'. The song (written in French by Belgian, Jacques Brel), had English lyrics by poet Rod McKuen.

1977 - The Jam played the first of a five-week Wednesday night run at The Red Cow, Hammersmith. The group had just signed a four-year recording contract with Polydor records.

1991 - French singer Serge Gainsbourg died of a heart attack. Famous for his 1969 No.1 duet with Jane Birkin on 'Je t'aime... Moi non plus.' During his career, he wrote the soundtracks for more than 40 films.

2003 - Singer, songwriter Hank Ballard died from throat cancer. Wrote and recorded 'The Twist' but it was only released on the B-side of a record. One year later, Chubby Checker debuted his own version of 'The Twist' on Dick Clark's Philadelphia television show. It topped the charts and launched a dance craze that prompted the creation of other Twist songs, including 'Twist and Shout' by the Isley Brothers and 'Twistin' the Night Away' by Sam Cooke.

2007 - Jimi Hendrix was crowned the 'wildest guitar hero' of all-time in a poll of music fans for Classic Rock magazine. Hendrix beat Keith Richards into second place, with Stevie Ray Vaughan in third. Led Zeppelin's Jimmy Page made it to number four, followed by Dimebag Darrell, who played for several heavy metal bands including Pantera and Damageplan.

2008 - Canadian guitarist, singer, Jeff Healey, died of cancer. Healey lost his sight to retinoblastoma, a rare cancer of the eyes when he was 8 months old, resulting in his eyes being surgically removed. After living cancer-free for 38 years, he developed sarcoma in his legs. Despite surgery for this, the sarcoma spread to his lungs and ultimately was the cause of his death. Healey released over 12 albums, presented a long running radio show and worked with many artists incuding; Stevie Ray Vaughan, Buddy Guy, B.B. King, ZZ Top & Eric Clapton.

Week Commencing February 24
1968 - Elton John's first single 'I've Been Loving You' was released on the Phillips label, with lyrics credited to Bernie Taupin (although John later admitted that he wrote the song by himself, giving Taupin credit as an effort to earn Taupin his first publishing royalties). The song didn't chart.

1973 - Pink Floyd released their eighth studio album The Dark Side of The Moon. It remained in the US charts for 741 discontinuous weeks from 1973 to 1988, longer than any other album in history. After moving to the Billboard Top Pop Catalog Chart, the album notched up a further 759 weeks, and had reached a total of over 1,500 weeks on the combined charts by May 2006. With an estimated 45 million copies sold, it is Pink Floyd's most commercially successful album and one of the best-selling albums worldwide.

Chris Difford placed an advert in a shop window saying: 'lyricist seeks musician for co-writing'. Glen Tillbrook answered the ad and the pair went on to form Squeeze and had hits with 'Cool for Cats', 'Up the Junction', 'Tempted', 'Labelled With Love', and 'Pulling Mussels (From the Shell)'.

1979 - Joy Division appeared at The Hope & Anchor, Islington, London. Admission was 75p.

1995 - During a gig at the Patinoire Auditorium in Lausanne, Switzerland, REM drummer Bill Berry collapsed on stage from a ruptured brain aneurysm. He recovered and later re-joined the band.

1995 - Bruce Springsteen's 'Streets of Philadelphia' won three Grammys for Song of the Year, Best Male Vocal Performance and Best Rock Song. The track was featured in the film Philadelphia (1993), an early mainstream film dealing with HIV/AIDS which stars Tom Hanks and Denzel Washington.

1997 - A Motley Crue fan who claimed his hearing had been irreparably damaged after a show in New Jersey had his lawsuit thrown out of court. The judge told Clifford Goldberg who had sat near the front of the stage, he knew the risk he was taking.

2016 - 76-year-old Ginger Baker posted on his blog that he had cancelled all of his scheduled shows for the year and was going into immediate retirement. The former drummer for Cream and Blind Faith revealed that his doctor had just diagnosed him with serious heart problems, causing him to announce all forthcoming shows.

2019 - English blues and rock singer and musician Paul Williams died age 78. He joined Zoot Money's Big Roll Band on bass and vocals, alongside the guitarist Andy Summers. He then replaced John McVie in John Mayall & the Bluesbreakers. He later worked with the progressive rock group Tempest.

1970 - Billed as David Bowie's New Electric Band (so new they haven't got a name yet), played at the Basildon Arts Lab experimental music club at the Basildon Arts Centre in Essex. Also on the bill were High Tide, Overson and Iron Butterfly.

1970 - In an interview with the New Musical Express, Fleetwood Mac's Peter Green talked about his plans to give all his money away. The following year Green confronted his accountant with a gun after he sent him an unwanted royalty check. The guitarist went to jail briefly before being transferred to an asylum and was committed to a mental hospital in 1973. He re-launched his career in the 90s.

1970 - Led Zeppelin played a gig in Copenhagen as The Nobs after Eva Von Zeppelin a relative of the airship designer threatened to sue if the family name was used in Denmark.

Bobby Bloom shot himself dead in the head at his Hollywood apartment aged 28. Although suffering from depression, it is alleged that the shooting was accidental. Bloom had the 1970 No.3 single 'Montego Bay' and was in the doo-wop group The Imaginations.

1985 - David Byron, singer with Uriah Heep died from an epileptic fit and liver disease aged 38. Byron was the original singer of the band between 1969 and 1976 and gained a reputation with his operatic vocals and harmonies as one of the world's best rock vocalists and frontmen.

2005 - Chris Curtis, drummer with The Searchers died aged 63 after a long illness. The searchers scored the 1964 No.1 single 'Needles And Pins'.

2008 - Drummer Buddy Miles, who played with Jimi Hendrix in his last regular group, Band of Gypsys, died aged 60 at his home in Austin, Texas after struggling with a long-term illness. Born George Allen Miles in Omaha, Nebraska, Buddy's nickname was a tribute to his idol, jazz drummer Buddy Rich. Rich also played with The Delfonics, The Ink Spots, Wilson Pickett, Electric Flag, Stevie Wonder, David Bowie, Muddy Waters and Barry White. In the 1980s, he achieved a certain amount of notoriety in the US as the vocalist on the celebrated claymation California Raisins commercials.

1967 - Pink Floyd continued working on their debut album The Piper At The Gates Of Dawn at Abbey Road Studios, London. With the exception of two group-composed instrumentals and one Roger Waters song, the album was written entirely by Syd Barrett.

1968 - 25 year old Frankie Lymon, lead singer of The Teenagers, died of a heroin overdose in his grandmother's New York home. Lymon was on leave from a Georgia Army post at the time and was scheduled to record for Roulette Records the next day. He first hit the national charts in 1956 when he was just 13 with 'Why Do Fools Fall in Love'.

1971 - Five months after her death, Janis Joplin started a nine-week run at No.1 on the US album chart with her second and final solo studio album Pearl. Joplin sang on all tracks except 'Buried Alive in the Blues', which remained a Full Tilt Boogie instrumental because she died before adding her vocals.

1972 - Led Zeppelin appeared at Sydney Showgrounds, Sydney in Australia, over 25,000 fans attending the show. Jimmy Page appeared clean shaven having shaved off the beard he had grown since the summer of 1970.

2019 - English drummer Doug Sandom died one day after his 89th birthday. He was the original drummer for The Who. No recordings with Sandom playing with the band were ever released.

1965 - Jimmy Page released a solo single called 'She Just Satisfies' in the UK. Page played all the instruments on it except for the drums, and produced the track, as well as singing lead vocals.

1969 - Peter Sarstedt started a four week run at No.1 on the singles chart with 'Where Do You Go To My Lovely?' Some say the song was written about the Italian star Sophia Loren, but Peter Sarstedt has stated he wrote the song about a girl he fell madly in love with in Vienna in 1965, who later died in a hotel fire.

1979 - During a court case between the Sex Pistols and their manager Malcolm McLaren it was revealed that only £30,000 was left of the £800,000 the band had earned.

1997 - American songwriter Ben Raleigh died in a fire in his kitchen after setting fire to his bathrobe while cooking. He co-wrote 'Scooby Doo Where Are You' and 'Tell Laura I Love Her.'

The Beatles 'Revolution 1' was leaked onto the internet, giving fans a never-before-heard listen of what The White Album sessions must have been like. Only two copies of the take were made when the song was completed on June 4th, 1968. One copy left the studio with Lennon that day and the other remained behind. It was unclear which copy appeared on the bootleg, nor how anyone acquired it.

2014 - Tim Lambesis, the singer for US metal band As I Lay Dying, pleaded guilty to attempting to hire an undercover agent to murder his estranged wife. He was arrested in May 2013 after prosecutors said he met a sheriff's deputy posing as a hit man, called Red, and handed over $1,000 (£600) along with his wife's address and front door security code.

2019 - English drummer Andy Anderson died of cancer aged 68. He is best known for his work with The Cure playing on the singles 'Love Cats' and 'The Caterpillar'. He also worked with many other artists including Steve Hillage, Edwyn Collins, Mike Oldfield, The Gun Club and Peter Gabriel.

1957 - Buddy Holly recorded a new version of 'That'll Be The Day', at Norman Petty Recording Studio in Clovis, New Mexico. The title being taken from a phrase used by John Wayne in the film 'The Searchers.'

1972 - Led Zeppelin appeared in front of over 25,000 fans at the Western Springs Stadium, Auckland, New Zealand, the group's first ever gig in New Zealand (and the largest crowd ever to attend a concert on the island). A special train was chartered from Wellington to bring fans to the concert. News reviews the next day reported the band could be heard over five miles from the Stadium.

1977 - The Jam signed to Polydor Records UK for £6,000. They went on to have 18 consecutive Top 40 singles, from their debut in 1977 to their break-up in December 1982, including four No.1 hits. As of 2007, 'That's Entertainment' and 'Just Who Is the 5 O'Clock Hero?' remained the best-selling import singles of all time in the UK.

1989 - Simple Minds were at No.1 on the singles chart with 'Belfast Child.' At 6 minutes 39 seconds it became the second-longest running No.1 after The Beatles 'Hey Jude'.

2011 - Susan 'Suze' Rotolo died from lung cancer. She was the one time girlfriend of Bob Dylan, and the inspiration of some of his early songs. Susan appeared in one of the decade's signature images, walking with Dylan arm-in-arm for the cover photo of his breakthrough album Freewheelin Bob Dylan.

2019 - British publicist and talent manager Kenneth Pitt died age 96. He managed the career of musicians including David Bowie in the late 1960s (Pitt managed Bowie at the time of his first hit, 'Space Oddity' in 1969), and was responsible for publicising American musicians and bands touring the UK, including Frank Sinatra, Duke Ellington and Jerry Lee Lewis.

1963 - The Rolling Stones started a Sunday night residency at The Station Hotel, Richmond, Surrey. The Stones were paid £24 for the gig and played on the first night to a total of 66 people. £24 from 1963 would be worth £392, adjusted for inflation.

1975 - Led Zeppelin released their sixth album Physical Graffiti. Recording sessions had been disrupted when bassist and keyboard player John Paul Jones had proposed quitting the band. The group decided on a double album so they could feature songs left over from their previous albums Led Zeppelin III, Led Zeppelin IV and Houses Of The Holy.

1982 - The Police won best British group at the first annual Brit Awards held in London, Adam And The Ants won best album for 'Kings Of The Wild Frontier', Cliff Richard won British Male Solo Artist, Randy Crawford won British Female Solo Artist, British Breakthrough Act went to The Human League, British Producer was Martin Rushent and Outstanding Contribution went to John Lennon.

Ramones manager Linda Stein was convicted in a New York court of bludgeoning her boss to death at her Manhattan apartment on 30 October 2007. Prosecutors said Natavia Lowery, 28, stole more than $30,000 from Stein, then clubbed her with a piece of exercise equipment. Jurors spent less than a day reaching a second-degree murder verdict.

Week Commencing February 17
1940 - Woody Guthrie wrote the lyrics to 'This Land Is Your Land' in his room at the Hanover House Hotel in New York City. The song was brought back to life in the 1960s, when several artists of the new folk movement, including Bob Dylan, The Kingston Trio, Trini Lopez, Jay and the Americans, and The New Christy Minstrels all recorded versions, inspired by its political message.

1972 - After nearly five years of marriage, Priscilla Presley moved out of Elvis Presley's California home and into a two bedroom apartment near the Pacific Ocean. Their divorce would be finalized on October 9, 1973, with Priscilla being awarded an outright cash payment of $725,000 as well as spousal support, child support, 5% of Elvis' new publishing companies and half the income from the sale of their Beverly Hills home.

1974 - 'Rebel Rebel' by David Bowie entered the chart, the single reached No.5 the following month. Originally written for an aborted Ziggy Stardust musical in late 1973, 'Rebel Rebel' was Bowie's last single in the glam rock style that had been his trademark. It was also his first hit since 1969 not to feature lead guitarist Mick Ronson; Bowie himself played guitar on this track.

1974 - Suzi Quatro was at No.1 on the singles chart with 'Devil Gate Drive', the singers second No.1 and fourth No.1 for the songs writers Chinn & Chapman.

AC/DC shot the video clip for "It's A Long Way To The Top (If You Wanna Rock 'n' Roll)" for the Australian music television program Countdown. It featured the band's then-current lineup, along with members of the Rats of Tobruk Pipe Band, on the back of a flat-bed truck travelling on Swanston Street in Melbourne. In May 2001, Australasian Performing Rights Association celebrated its 75th anniversary by naming the Best Australian Songs of all time, as decided by a 100-member industry panel. "It's a Long Way to the Top (If You Wanna Rock 'n' Roll)" was ranked as the ninth song on the list. In honour of Bon Scott, after his tragic death in 1980, AC/DC vowed never to play the track again. ""My Neighbors Loved This Song So Much They Threw A Brick Through My Window So They Could Hear It Better".

1980 - U2 appeared at The Moonlight Club, at The Railway Hotel in London, tickets cost £2.

2003 - Norah Jones cleaned up at the 45th Grammy Awards, held at Madison Square Garden, New York. The singer, songwriter won, Album of the year and Record of the year, with 'Don't Know Why.' Song of the year, Best new artist and Best female pop vocal for 'Don't Know Why'. Other winners included Best male pop vocal, John Mayer, 'Our Body Is A Wonderland'. Best male rock vocal, Bruce Springsteen, 'The Rising', Best female rock vocal, Sheryl Crow, 'Steve McQueen', Best rock performance by group, Coldplay 'In My Place', Best rap album, Eminem, 'The Eminem Show'.

1970 - Appearing at The Roundhouse Spring Festival in Camden, David Bowie and the Hype (their first live performance of the new band), along with Bachdenkel, Groundhog and Caravan.

1975 - Scottish group The Average White Band went to No.1 on the US singles chart with 'Pick Up The Pieces', the bands album AWB also went to No.1 on the US chart.

1975 - Steve Harley and Cockney Rebel had their only No.1 single with 'Make Me Smile (Come Up And See Me)'. Singer Steve Harley said the lyrics were vindictively directed at the former band members, whom he felt had abandoned him.

1978 - The Police appeared in a Wrigley's Chewing Gum commercial for US TV, the band dyed their hair blonde for the appearance.

1981 - One Hit Wonder Joe Dolce was at No.1 on the singles chart with 'Shaddap You Face,' famously keeping the legendary Ultravox song, Vienna, off the No.1 slot. 'Shaddap You Face' was Number 1 in 11 countries with over 35 different foreign language cover versions, selling over 4 million copies.

1987 - Andy Warhol, pop artist and producer died after a gall bladder operation. The founder of the Pop Art movement, produced and managed the Velvet Underground, designed the 1967 Velvet Underground And Nico 'peeled banana' album cover and The Rolling Stones Sticky Fingers album cover.

1989 - A category for Heavy Metal was included at the Grammy Awards for the first time. Metallica performed on stage, but the award went to Jethro Tull. Many audience members booed. Meanwhile, Bobby McFerrin won Record Of The Year and Song Of The Year for 'Don't Worry, Be Happy', Tracy Chapman is named Best New Artist and Tina Turner won Best Female Rock Vocal Performance for 'Tina Live in Europe'.

1992 - The NME printed their writers all time best debut albums; at No.1, Patti Smith, 'Horses', No.2, Joy Division, 'Unknown Pleasures', No.3, MC5, 'Kick Out The Jams, No.4, The Jesus and Mary Chain, 'Psychocandy' and No.5, Television, 'Marquee Moon'.

2004 - The Sex Pistols 'Anarchy in the UK' was named the most influential record of the 1970s in a poll compiled by Q magazine. Queen's 'Bohemian Rhapsody' was voted into second place and Donna Summer's 'I Feel Love' was third, T Rex 'Get It On' was fourth and Special AKA 'Gangsters' came fifth.

2012 - American singer, songwriter, guitarist Billy Strange died aged 81. As a session musician with the famed Wrecking Crew, he appeared on hit songs for Elvis Presley, including 'A Little Less Conversation', Nancy and Frank Sinatra's 'Somethin' Stupid', played guitar on numerous Beach Boys hits, including 'Sloop John B' and the Pet Sounds album and worked with The Ventures, Willie Nelson, The Everly Brothers, Wanda Jackson, Randy Newman, and Nat King Cole, among others.

1961 - The Beatles played three gigs in one day. The first was a lunchtime show at The Cavern Club, then at night they appeared at the Casanova Club, Liverpool and then at Litherland Town Hall, Liverpool.

1964 - New York band The Echoes recruited a new young unknown piano player named Billy Joel.

1964 - Three classic British singles were released today (Friday), The Rolling Stones 'Not Fade Away' (reached No.3), The Hollies 'Just One Look' (No.2), and Billy J Kramer's 'Little Children' (No.1).

1967 - Pink Floyd started their first sessions at the EMI Studios, St. John's Wood, London on their debut album The Piper At The Gates Of Dawn, working on the song 'Matilda Mother'. While Pink Floyd were recording their album with former Beatles engineer Norman Smith, The Beatles themselves were working in the studio next door, recording 'Fixing A Hole' for their Sgt. Pepper album. Micky Dolenz from The Monkees attended the mixing session during the day.

1972 - Led Zeppelin released 'Rock And Roll / Four Sticks' as a 7 inch single in the US, peaking at No.47 on the chart. The song was written as a spontaneous jam session whilst the band were trying to finish 'Four Sticks'. Drummer John Bonham played the introduction to Little Richard's 'You Keep A-Knockin' and Page added a guitar riff; with the tapes rolling the basic song was finished fifteen minutes later.

1976 - Florence Ballard of The Supremes died of cardiac arrest, aged 32. Ballard had left The Supremes in 1967, lost an $8 million (£4.7 million) lawsuit against Motown Records and was living on welfare when she died.

1986 - Metallica released their third album, the highly influential album, Master of Puppets, considered by many in the metal community to be the best metal album of all time. This was the last Metallica album with bassist Cliff Burton who was killed when the group's tour bus over-turned in southern Sweden while touring to promote the album.



2004 - Mud singer Les Gray died aged 57 of a heart attack whilst fighting throat cancer (1974 No.1 single 'Tiger Feet' plus 14 other UK Top 40 singles').

2008 - A US music aficionado sold his collection of more than three million vinyl albums, singles and compact discs to an eBay buyer from Ireland for just over $3 million. An eBay spokeswoman said the sale was one of the highest ever for the online auction site.

2012 - Five members of the Russian feminist punk rock group Pussy Riot staged a performance on the soleas of Moscow's Cathedral of Christ the Savior where their actions were stopped by church security officials. By that evening they had turned the performance into a music video entitled "Punk Prayer - Mother of God, Chase Putin Away!" The women said their protest was directed at the Orthodox Church leader's support for Putin during his election campaign. The following month three of the group members were arrested and charged with hooliganism and were held in custody until their trial began in late July when the three members were convicted of "hooliganism motivated by religious hatred", and each was sentenced to two years imprisonment.

2014 - A statue of a weeping Kurt Cobain was unveiled in Aberdeen, Washington - the hometown of the late Nirvana frontman. The statue, which sees Cobain crying a single tear, is situated in the Aberdeen Museum of History. Kurt Cobain Day would now be celebrated annually in the city of Aberdeen. On the day, Mayor Bill Simpson recently read a proclamation which stated: "Aberdeen residents may justifiably take pride in the role our community played in the life of Kurt Cobain and the international recognition our community has gained from its connections with Kurt Cobain and his artistic achievements."

2014 - A crew member working on a biopic about Gregg Allman died after being hit by a train during filming. Police in south Georgia said the woman was struck after the crew for Midnight Rider placed a bed on the railway tracks in Doctortown. Wayne County Sheriff John Carter said several other people had been injured, two of them seriously.

2019 - American musician Peter Tork died age 77. He was diagnosed with a rare form of tongue cancer in 2009. The Monkees were brought together for an American sitcom TV series in 1966. Best known as the keyboardist and bass guitarist, they had the 1967 No.1 single 'I'm A Believer' plus other hits including 'Last Train to Clarksville', 'Pleasant Valley Sunday', and 'Daydream Believer'.

1959 - 16 year old Jimi Hendrix made his stage debut when he played a show at the Temple De Hirsch Sinai synagogue in Seattle.

1980 - AC/DC singer Bon Scott was pronounced dead on arrival at a London hospital after a heavy night's drinking. Scott was found in the passenger seat of a friend's parked car. The official coroner's report stated that he had "drunk himself to death", after suffocating on his own vomit.

2003 - 100 people died after pyrotechnics ignited a club during a gig by Great White in West Warwick, Rhode Island. Great White guitarist Ty Longley was also killed in the accident. Two brothers who owned the club were charged, along with the former tour manager with involuntary manslaughter. Foam soundproofing material at the edge of the stage set alight and the blaze spread quickly in the one-storey wooden building as fans all tried to escape through the same exit. Great White began a tour in July 2003 to raise money for the survivors and families of victims.

2008 - A 1976 Rolling Stones album bought for £2 at a car boot sale sold for £4,000 at an auction. The 'Black and Blue' LP was signed by John Lennon, Yoko Ono, Paul and Linda McCartney and George Harrison as well as members of the Rolling Stones. The seller obtained the album after haggling the cost down from £3.

1964 - A British company shipped ½ ton of Beatle wigs to the US. An American reporter later asked John Lennon, "How do you feel about teenagers imitating you with Beatle wigs?" John replied "They're not imitating us because we don't wear Beatle wigs."

1972 - Led Zeppelin appeared at the Memorial Drive, Adelaide in Australia. A local paper who reviewed the show printed: Singer Robin Plant (sic) overcame an 'Australian bug' in his throat and broke into his own in 'Black Dog' and 'Stairway To The Stars' (sic).



1977 - Manfred Mann's Earth Band scored a No.1 single in the US with their version of the Bruce Springsteen song 'Blinded By The Light.' The track was the first single from Springsteen's 1973 debut album Greetings from Asbury Park N.J. The Earth Band's version features several changed lyrics. The most prominent change is in the chorus, where Springsteen's "cut loose like a deuce" is replaced with "revved up like a deuce."

1982 - Ozzy Osbourne was arrested in San Antonio, Texas for urinating on the cenotaph at the Alamo, which honors the Alamo defenders. Osbourne was wearing a dress at the time of his arrest (due to his wife Sharon hiding all his clothes so he couldn't go outside). Osbourne was banned from ever playing in San Antonio, Texas again (a ban which was lifted in 1992).

1995 - Motley Crue drummer Tommy Lee married Baywatch actress Pamela Anderson on a Cancun beach, Mexico, the bride wore a white bikini. Anderson and Lee who married only four days after meeting had videotaped their sexual activities while on vacation which was later stolen and released on the Internet. After suing the video company who released the tape, the Lees entered into a confidential settlement agreement. The couple divorced in 1998.

2004 - Johnny Cash's family blocked an attempt by advertisers to use his hit song 'Ring of Fire' to promote haemorrhoid-relief products. The idea is said to have been backed by Merle Kilgore, who co-wrote the song with Cash's wife, June Carter Cash. Cash's daughter Rosanne said the family "would never allow the song to be demeaned like that."

2015 - Iron Maiden frontman Bruce Dickinson was being treated for cancer after a small cancerous tumour was found at the back of his tongue.

1965 - The Kinks were at No.1 on the singles chart with 'Tired Of Waiting For You', the group's second No.1. According to Ray Davies, the music for 'Tired of Waiting for You' was written on the train to the recording studio and the words were written at a coffee shop during a break in the session.

1969 - Three thousand uninvited guests showed up to see Lulu and The Bee Gees Maurice Gibb get married at St. James' Church, Gerrard's Cross. Brother Barry was the best man.

1972 - On their first Australian tour, Led Zeppelin rescheduled to the following night their concert at the Memorial Drive, Adelaide, after heavy rain left the stage and equipment unsafe. Zeppelin had brought to Adelaide the largest PA system seen in Australia to produce what was expected to be the loudest rock show ever heard.

1990 - Freddie Mercury made his final public appearance on stage when he joined the rest of Queen to collect the Brit Award for Outstanding Contribution to Music, held at the Dominion Theatre, London.

2000 - An American court ordered the release of FBI files relating to John Lennon's interests and activities including his support for the Irish Republican cause and the Workers Revolutionary Party. The British Government told the US that it wanted the files to remain secret. MI5 also had files on Lennon, which they had passed on the FBI during the 70s.

Willie C. Jackson from Fifties doo-wop group The Spaniels died aged 79. Their 1954 hit 'Goodnite, Sweetheart, Goodnite' was featured in such films as Three Men and a Baby and American Graffiti. The Spaniels became one of the first artists to sign with Vee-Jay Records, the first large, independent Afro-American owned record label.

1966 - Nancy Sinatra was at No.1 on the singles chart with 'The