The Seaham Silverback.
If you like your rock of the hard and heavy variety check out Conspiracy Theory; a new band making inroads into the north east rock and metal scene. If you're a bit tired of seeing too many rock bands playing the same old stuff, CT's intention is to do the songs that no-one else does. And that doesn't mean obscure material you've never heard of, if you're into rock and metal you'll know everything they do. From Rainbow to Dio, Whitesnake to Purple, Maiden to Priest, Uriah Heep to Rush or the guitar greats such as Schenker or Moore, you won't forget them in a hurry. With stellar musicianship from highly experienced players having cut their teeth in bands such as PowerAge, Ministry of Rock, Black Rose and On The Rocks you're bound to have a night to remember. You can catch them at Trillians, Newcastle on Friday 22nd February, The Penny Gill, Spennymoor Sunday 3rd March, Acklam Steelies Club, Middlesbrough Saturday 9th March or the Big Jug, Durham on Friday 15th March.


If it's Boxing Day, then Rock Solid must be playing in Houghton. In a tradition that started in the old Buffs club in Houghton (now a Wetherspoons) probably 12 years ago or more, the Solids have played to broadly the same crowd of fans of proper Rock in a friendly setting; this year in Houghton Sport & Social club. Originally advertised as a civilised alternative to turkey sandwiches with the in-laws it continues to draw a good crowd and this year was no exception. Kicking off with "Tie your mother down" and running through a compendium of 70s & 80s hard Rock, the band played new stuff by Saxon & Maiden along with perennial favourites by Priest, Rainbow, Ozzy, Purple and AC/DC. Playing as tight as I've heard them, this was no nonsense Rock with well-balanced sound and an easy rapport with their audience. How many times have you gone to listen to a band and they throw something into the set and you think to yourself "Lord, it's years since I heard this" then you go home and dig out the vinyl or raid the Pirate Bay and re-acquaint yourself with the stuff? Saxon's "Frozen Rainbow" did that for me, and Priest's cover of "Diamonds & Rust" was another. How fortunate we are to have such a back catalogue of classic music to listen to, and bands like Rock Solid who dig them out, rehearse them and serve them up for our continued delight. Long may it continue; catch the Solids again on Good Friday, 19th April in Houghton Sports & Social.
Dave
Tickets £15 / 17 from ents24
Paul joins the familiar line up of Norman, Tony, Le Sequel and the Hamster of Doom to make This Machine a 5 piece again. Check out their revamped Facebook and website (featuring blogs, videos and everything else) at
www.thismachinerock.com
Last few gigs of the year are
14th Dec Peterlee Central Club
15th Dec The Turbinia, Newton Aycliffe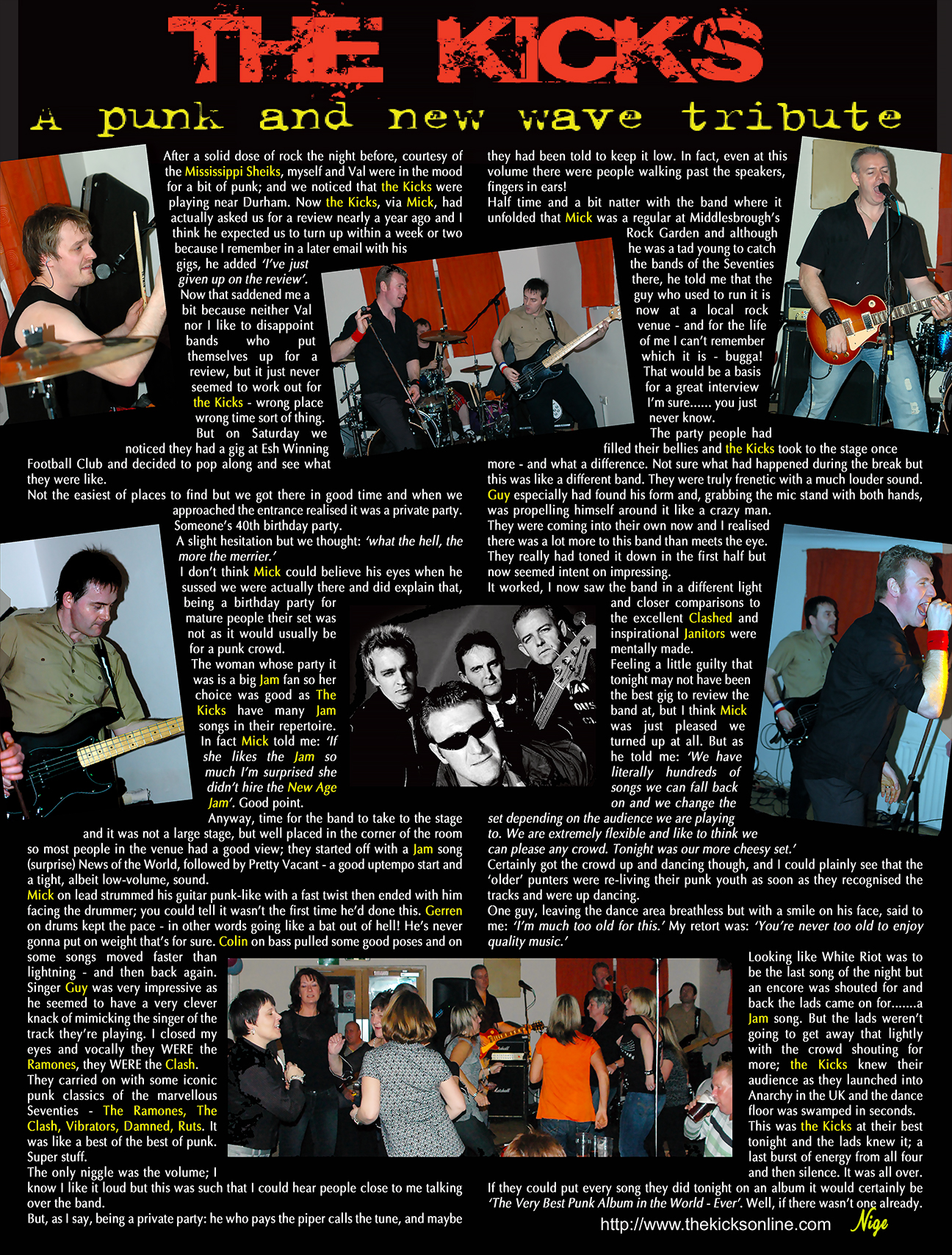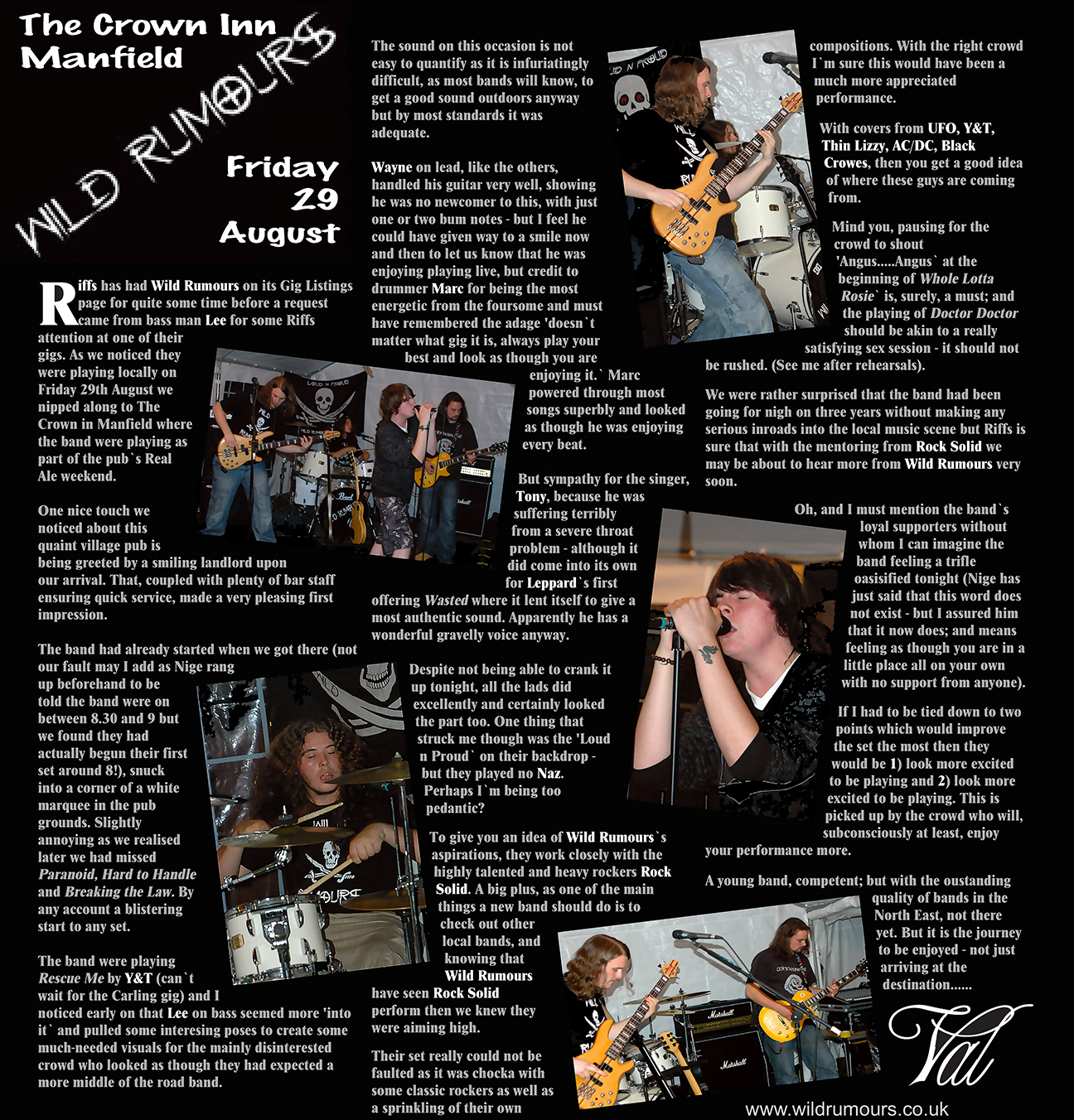 Don't know who these guys are - any idea anyone?
ALICE COOPER'S NIGHTMARE:
Alice in Sunderland The Mad Coopers Tea Party; Sunday November 18th 3.00pm
The Alexandra Grangetown Sunderland, Tickets £10.
A unique opportunity to join the band up close and personal; we will be performing all the Cooper greats with all the usual theatrics and then join us for tea.....err Cooper style :-)

There will be restricted tickets sales available but you can pre book with the band through our FB page and limited tickets available from The Alexandra and St Benedicts.

So please come and join us supporting St Benedicts.

------------------------------------------------------------

.


From Rosalie and The Boys are Back in Town, to Waiting for an Alibi and Emmerald, DIZZY LIZZY bring the iconic twin guitar harmony sound of Thin Lizzy back to life and deliver a performance the great man himself would be proud of.
AC/DC GB, from the North East of England themselves, are highly regarded as one of the most authentic tributes to the legendary Aussie rockers "AC/DC" around. Years of dedication and their meticulous attention to detail have ensured their shows are as close to a real DC gig as it is possible to get.
From the rasping vocals of Jono, to the neck wringing, duck walking energy of Angus; the wall of Marshalls, to the replica cannons..........be prepared for an outstanding night of hard hitting rock!
FOR THOSE ABOUT TO ROCK.......WE SALUTE YOU!!
Tickets £10 on the night. Doors open 19:00hrs. Show 19:45hrs
One day Music festival outside in the car park of The New Plough Dipton on Sunday 26th August from 1pm through until 9.30ish the line up as follows;
White Feathers duo 5.55pm to 6.55pm 60 mins
Here is a link to the New Plough facebook page https://www.facebook.com/TheNewPlough/

This week in . . .
1940, Woody Guthrie wrote the lyrics to 'This Land Is Your Land' in his room at the Hanover House Hotel in New York City. The song was brought back to life in the 1960s, when several artists of the new folk movement, including Bob Dylan, The Kingston Trio, Trini Lopez, Jay and the Americans, and The New Christy Minstrels all recorded versions, inspired by its political message.

1974, Suzi Quatro was at No.1 on the singles chart with 'Devil Gate Drive', the singers second UK No.1 and fourth No.1 for the songs writers Chinn & Chapman.


1976, AC/DC shot the video clip for "It's A Long Way To The Top (If You Wanna Rock 'n' Roll)" for the Australian music television program Countdown. It featured the band's then-current lineup, along with members of the Rats of Tobruk Pipe Band, on the back of a flat-bed truck travelling on Swanston Street in Melbourne. In May 2001, Australasian Performing Rights Association celebrated its 75th anniversary by naming the Best Australian Songs of all time, as decided by a 100-member industry panel. "It's a Long Way to the Top (If You Wanna Rock 'n' Roll)" was ranked as the ninth song on the list.

1995, American singer Melvin Franklin of The Temptations died of a brain seizure aged 52. Had the 1971 US No.1 & UK No.8 single 'Just My Imagination' and re-issued 'My Girl' UK No.2 in 1992. In 1978 Franklin was shot in the hand and the leg when trying to stop a man from stealing his car.

2010, London's Abbey Road Studios was made a listed building, protecting it from plans to radically alter it. Culture Minister Margaret Hodge listed the studios on the advice of English Heritage saying it had "produced some of the very best music in the world". The Beatles used Abbey Road for 90% of their recordings. The studio was origanally named EMI Studios, they changed the name to Abbey Road Studios in 1970 because of The Beatles album.

1967, Pink Floyd continued working on their debut album The Piper At The Gates Of Dawn at Abbey Road Studios, London. The Beatles were also working at Abbey Road, recording the giant piano chord for the end of 'A Day In The Life' for their Sgt. Peppers album.

1970, Appearing at The Roundhouse Spring Festival in Camden, David Bowie and the Hype (their first live performance of the new band), along with Bachdenkel, Groundhog and Caravan.

1975, Steve Harley and Cockney Rebel had their only UK No.1 single with 'Make Me Smile (Come Up And See Me). Singer Steve Harley said the lyrics were vindictively directed at the former band members, whom he felt had abandoned him.

1981, One Hit Wonder Joe Dolce was at No.1 on the UK singles chart with 'Shaddap You Face,' famously keeping the legendary Ultravox song, Vienna, off the UK No.1 slot. 'Shaddap You Face' was Number 1 in 11 countries with over 35 different foreign language cover versions, selling over 4 million copies.

1992, The NME printed their writers' all time best debut albums; at No.1, Patti Smith, 'Horses', No.2, Joy Division, 'Unknown Pleasures', No.3, MC5, 'Kick Out The Jams, No.4, The Jesus and Mary Chain, 'Psychocandy' and No.5, Television, 'Marquee Moon.

2004, The Sex Pistols 'Anarchy in the UK' was named the most influential record of the 1970s in poll compiled by Q magazine. Queen's 'Bohemian Rhapsody' was voted into second place and Donna Summer's 'I Feel Love' was third, T Rex 'Get It On' was fourth and Special AKA's 'Gangsters' came fifth.

1959, 16 year old Jimi Hendrix made his stage debut when he played a show at the Temple De Hirsch Sinai synagogue in Seattle.

Chicory Tip were at No.1 on the singles chart with 'Son Of My Father.' Written by Giorgio Moroder, it was the first UK number one single to prominently feature a synthesizer, in this case a Moog synthesizer.

2003, 100 people died after pyrotechnics ignited a club during a gig by Great White in West Warwick, Rhode Island. Great White guitarist Ty Longley was also killed in the accident. Two brothers who owned the club were charged, along with the former tour manager with involuntary manslaughter. Foam soundproofing material at the edge of the stage set alight and the blaze spread quickly in the one-storey wooden building as fans all tried to escape through the same exit. Great White began a tour in July 2003 to raise money for the survivors and families of victims.

2008, A 1976 Rolling Stones album bought for £2 at a car boot sale sold for £4,000 at an auction. The 'Black and Blue' LP was signed by John Lennon, Yoko Ono, Paul and Linda McCartney and George Harrison as well as members of the Rolling Stones. The seller obtained the album after haggling the cost down from £3.

1968, American blues musician Little Walter (Marion Walter Jacobs) died in his sleep aged 37 from injuries incurred in a fight while taking a break from a performance at a nightclub in Chicago. Joining Muddy Waters' band in 1948, he was the first harmonica player to amplify his harp (on the 1951 'She Moves Me') giving it a distorted echoing sound.

1977, Glen Matlock was fired as bass player from the Sex Pistols, being replaced by Sid Vicious. Matlock rejoined in the 90s when the Pistols reformed.

1981, American guitarist Mike Bloomfield was found dead in his car in San Francisco from an accidental heroin overdose aged 37. He was a member of the Paul Butterfield Band and Electric Flag and had played on Bob Dylan's album Highway 61 Revisited. Bloomfield's Telecaster guitar licks were featured on Dylan's 'Like a Rolling Stone', and he appeared onstage with Dylan at the Newport Folk Festival, where Dylan used Bloomfield and the Butterfield Band which marked Dylan's first use of an electric band in a live performance.

1991, Kelly Emberg the ex-girlfriend of Rod Stewart filed a $25 million (£14.7 million) palimony suit in Los Angeles. The couple lived together from 1985 to 1990. Rod Stewart later said: "Instead of getting married again, I'm going to find a woman I don't like and just give her a house."

2006, Winners at this year's Brit Awards included, James Blunt who won British male solo artist, British female solo artist went to KT Tunstall. Coldplay won Best British album for X&Y and Best British single for 'Speed of Sound.' Kaiser Chiefs won Best British group and Best British Live Act, British urban act went to Lemar, British breakthrough act was Arctic Monkeys, International breakthrough act was won by Jack Johnson. International male solo artist was Kanye West with Madonna winning International female solo artist. Green Day won International group and Best International album with American Idiot and Outstanding contribution to music went to Paul Weller.

1961, The Beatles performed at the Cassanova Club, Liverpool, and at Litherland Town Hall, Liverpool where they played a special Valentine's Day show. Paul McCartney sang Elvis Presley's 'Wooden Heart', wearing a wooden heart pinned to his coat, covered with satin and embroidered with the names "John", "Paul", "George", and "Pete". The heart was raffled off, and the winner also won a kiss from Paul.

1968, Manfred Mann were at No.1 on the UK singles chart with their version of the Bob Dylan song 'The Mighty Quinn' which was also a No.10 hit in the US. Dylan recorded the song in 1967 during the Basement Tapes sessions, but did not release a version for another three years.

1970, The Who appeared at Leeds University. The show was recorded for the bands forthcoming 'Live At Leeds' album. Since its initial reception, Live at Leeds has been cited by several music critics as the best live rock recording of all time. The University of Leeds refectory has now been named a national landmark in the UK, commemorated with a blue plaque.

1989, English keyboardist Vincent Crane died aged 45 from a deliberate overdose of Anadin tablets. He was a member of The Crazy world of Arthur Brown, who had the 1968 UK No.1 and US No.12 single 'Fire' and Atomic Rooster (with drummer Carl Palmer later of Emerson, Lake & Palmer). Atomic Rooster enjoyed success in 1971 with two hit singles, 'Tomorrow Night' and 'Devil's Answer'.

2002, Drummer and singer Mick Tucker with glam rock band Sweet died of leukaemia aged 54. Sweet had the 1973 No.1 single 'Blockbuster', plus 14 other top 40 singles. He was a founding member of the band Sweetshop in January 1968. "Sweetshop" was shortened to "The Sweet" later that same year..

2004, Dave Holland, former drummer with Judas Priest was jailed for eight years for indecent assault and the attempted rape of a 17-year old boy. The youth, who had learning difficulties, had been taking drum lessons from Holland.

2005, Kerrang! magazine announced the results of its readers' poll for the best British rock albums ever. The Top 10 were: No.1, Black Sabbath's Black Sabbath; No.2, Iron Maiden's Number Of The Beast; No.3 Sex Pistols' Never Mind The Bollock's, Here's The Sex Pistols; No. 4, Led Zeppelin IV; No.5, Black Sabbath's Paranoid; No.6, Muse's Absolution; No.7, The Clash's London Calling; No.8, Queen's Sheer Heart Attack; No.9, Iron Maiden's Iron Maiden and No.10, Manic Street Preachers' The Holy Bible.

Doug Fieger died after a long battle with cancer. He was the rhythm guitarist and lead vocalist of The Knack, and co-wrote 'My Sharona', the biggest hit song of 1979 in the USA, and was Capitol Records' fastest gold status debut single since the Beatles' 'I Want to Hold Your Hand' in 1964. When Fieger was 25, he met 17-year-old Sharona Alperin, who he wrote the song for, as well as later becoming Fieger's girlfriend for the next four years.

1940, Born on this day (Thursday), English comic musician Bob Kerr who was a member of the Bonzo Dog Doo-Dah Band. He later joined The New Vaudeville Band, before forming his own Bob Kerr's Whoopee Band.

1945, Born on this day (Thursday), Vic Briggs, guitarist with The Animals, who had the 1964 UK & US No.1 single 'House Of The Rising Sun'.

1946, Born on this day (Thursday), Doug Simril, guitar, piano, with the Steve Miller Band, who had the 1974 US No.1 & 1990 UK No.1 single 'The Joker'. Also worked with Boz Scaggs.

1947, Born on this day (Thursday), Tim Buckley, singer, songwriter who recorded the 1972 album 'Greetings From LA'. His singer, songwriter son Jeff Buckley drowned while swimming in 1997. Tim himself died on June 29th 1975 of a heroin and morphine overdose.

1963, In less than ten hours, The Beatles record ten new songs for their first album plus four other tracks which would be the next two singles. John Lennon's vocal on The Isley Brothers 'Twist & Shout' was recorded in one take to complete the album.

1969, The Monkees set a new record when their second album, 'More Of The Monkees' jumped from No.122 to the top of the US chart. The album then stayed in pole position for eighteen weeks.

1972, Led Zeppelin scored their third US Top 20 hit single with 'Black Dog / Misty Mountain Hop', peaking at No.15, and taken from their fourth album. The song's title is a reference to a nameless black Labrador retriever that wandered around the Headley Grange studios during recording. Robert Plant recorded his vocal for the track in two takes.

1992, Motley Crue fired their singer Vince Neil when he turned up for rehearsals, claiming that he had lost his passion for the band and was now more involved with racing cars.

2012, Whitney Houston was found dead in suite 434 at the Beverly Hilton Hotel, submerged in the bathtub. Beverly Hills paramedics arrived at approximately 3:30 p.m. and found the singer unresponsive and performed CPR. Houston was pronounced dead at 3:55 p.m. Local police said there were "no obvious signs of criminal intent." It was later ruled by the coroner to have been an "accidental drowning"

Queen made UK chart history by becoming the first act to sell six million copies of an individual album. Their first Greatest Hits collection, which includes the hits 'We Will Rock You' and 'Bohemian Rhapsody' had extended its lead after being Britain's highest-selling album for several years. The Official Charts Company said one in three British families now owned a copy of the 1981 compilation.

Week commencing February 11
1968, The Band Of Joy, featuring John Bonham and Robert Plant, made their first London appearance, supporting Edwin Starr at the The Marquee Club.

1975, Bob Dylan went to No.1 on the US chart with his 15th studio album Blood On The Tracks, his second US No.1 album. The album has become one of Dylan's all-time best-selling studio releases, with a double-platinum US certification by the Recording Industry Association of America.

1980, The divorce became final between David Bowie and his wife Angie. He won custody of their son Zowie (now known as Joe), Angie received a £30,000 settlement.

1990, Suffering from depression American singer songwriter Del Shannon died of self inflicted gunshot wounds. He scored the 1961 UK and US No.1 single 'Runaway', plus nine US and 12 other UK Top 40 singles. In 1963, he became the first American to record a cover version of a song by the Beatles: his version of 'From Me to You' charted in the US before The Beatles' version. Shannon had been working with Tom Petty and Jeff Lynne and was rumoured to be replacing Roy Orbison who had recently died, in the Traveling Wilburys supergroup.

2005, American rock drummer, vocalist, and songwriter Keith Knudson from with The Doobie Brothers died of pneumonia aged 56. The Doobie Brothers scored the 1979 US No.1 single 'What A Fool Believes' and 1993 UK No.7 single 'Long Train Runnin.' He founded the band Southern Pacific with fellow Doobie Brother John McFee.

1946, Born on this day (Friday), Mexican drummer Adolpho De La Para with American band Canned Heat who had the 1970 UK No.2 & US No.26 single 'Let's Work Together'. He has also played with some of the greatest blues singers of our time including Big Joe Turner, T-Bone Walker, Albert Collins and John Lee Hooker.

Gary Puckett and the Union Gap, who had the 1968 UK No.1 & UK No.2 single 'Young Girl' as well as the hits 'Woman, Woman', 'Over You' and 'Lady Willpower.'

1959, Buddy Holly was buried in Lubbock, Texas. His tombstone reads "Holley", the correct spelling of his given surname and includes pictures of a guitar. On Feb 3rd 1959, after a show in Clear Lake, Iowa, Holly chartered an airplane to travel to his next show in Moorhead, Minnesota. Soon after takeoff, the plane crashed, killing Holly, Ritchie Valens, the Big Bopper and the pilot, an infamous milestone in rock history known as The Day the Music Died.

1959, New Orleans blues guitarist Guitar Slim died of pneumonia aged 32. Born Eddie Jones he is best known for the million-selling song 'The Things That I Used to Do'. Slim had a major impact on rock and roll and experimented with distorted overtones on the electric guitar a full decade before Jimi Hendrix. He became known for his wild stage act and had an assistant who followed him around the audience with up to 350 feet of cord between his guitar and his amplifier, and occasionally rode on his assistant's shoulders or even took his guitar outside the club, bringing traffic to a stop. A full fifteen years before Angus and Bon.

1973, The Stooges released their third studio album Raw Power. The album gained a cult following in the years following its release and, like its predecessor (1970s Fun House), is generally considered an influential forerunner of punk rock. Kurt Cobain said on numerous times that Raw Power was his favorite album of all time.

Dave Peverett died from kidney cancer aged 56. He had been a member of the English blues rock band Savoy Brown and Foghat who had the Seventies hit singles 'My Babe', and 'Slow Ride'.

2013, Music venues and fans criticised "heartless" touts and agencies selling tickets for guitarist Wilko Johnson's farewell tour at inflated prices. The former Dr Feelgood guitarist was suffering from terminal cancer and was playing a series of farewell dates in February and March. Originally tickets sold for £20, but were now being offered online at prices of £225.

1967, The Beatles filmed part of the promo clip for 'Penny Lane' around the Royal Theatre, Stratford, and walking up and down Angel Lane in London. Together with the video for 'Strawberry Fields Forever', this was one of the first examples of what later became known as a music video.

1967, The News Of The World reported that Mick Jagger had taken LSD at the Moody Blues' home in the UK. Jagger sued the paper for libel in an on-going feud between the News Of The World and The Stones.

1969, The Move were at No.1 on the UK singles chart with 'Blackberry Way', the group's only UK No.1 and the band's most successful single.

1970, David Bowie recorded four songs at the BBC Paris Cinema, London, for the John Peel Sunday Concert radio show. This was guitarists Mick Ronson's first appearance with Bowie who went on to work with Bowie as one of the Spiders from Mars.

1971, Black Sabbath started recording what would be their third album, 'Master Of Reality' at Island Studios in London. Released in July of this year, it is sometimes noted as the first stoner rock album. Guitarist Tony Iommi decided to down tune his guitar down three semi-tones, Geezer Butler also down tuned his bass guitar to match Iommi. The result was a noticeably 'darker' sound that almost two decades later would prove hugely influential on at least three of the biggest grunge acts, namely Smashing Pumpkins, Soundgarden, and Nirvana.

1972, T Rex were at No.1 on the singles chart with 'Telegram Sam', the group's third No.1 which was taken from their album The Slider. The song is also known for bringing the term "main man" into popular culture.

1976, American saxophonist Rudy Pompilli died of lung cancer aged 52. Although not a smoker himself, it is believed he contracted the disease through second hand smoke. With Bill Haley and his Comets, he had the 1955 UK & US No.1 single with 'Rock Around the Clock'. Pompilli released one solo album, Rudy's Rock: The Sax That Changed the World.

1998, American guitarist Tim Kelly from Slaughter was involved in a fatal car accident while traveling on Highway 96 in Arizona. Kelly's vehicle was hit head on when an 18 wheeler crossed the middle line. Kelly released four studio albums with Slaughter and two live albums.

2006, The Rolling Stones played three songs during the half-time show of The Super Bowl in Detroit. After the event, the Stones expressed their displeasure over having Mick Jagger's microphone turned down during the song "Start Me Up". The line "you make a dead man come" was cut short and a barnyard reference to "cocks" in the new song "Rough Justice" also disappeared.

Week commencing January 28
1959, 22 year old Buddy Holly, The Big Bopper and Ritchie Valens, aged 17, died in a crash shortly after take-off from Clear Lake, Iowa; the pilot of the single-engined Beechcraft Bonanza plane was also killed. Holly hired the plane after heating problems developed on his tour bus. All three were travelling to Fargo, North Dakota, for the next show on their Winter Dance Party Tour which Holly had set - covering 24 cities in three weeks, to make money after the break-up of his band, The Crickets, last year.

1967, Producer Joe Meek shot his landlady Violet Shenton and then shot himself at his flat in London, Meek produced The Tornadoes hit 'Telstar', the first No.1 in the US by a British group. Meek was interested in spirituality and often attended séances.

The Lemon Pipers went to No.7 on the singles chart with 'Green Tambourine'. The song has been credited as being one of the first bubblegum pop chart-toppers.

1970, Led Zeppelin II was in the Top 20 on both the UK & US album charts after peaking at No.1. The album went on to spend 138 weeks on the UK chart. The album is now recognised by writers and music critics as one of the greatest and most influential rock albums ever recorded.

1992, On their first Europe tour Pearl Jam played at The Esplanade Club in Southend to 300 people, the band's first ever UK show. The tour also took Pearl Jam to Norway, Sweden, Holland, France, Spain and Italy.

2010, AC/DC singer Brian Johnson joined a growing group of critics of Bob Geldof and U2 singer Bono over their very public charity work, saying they should stop lecturing audiences about charity work and instead do their good deeds in private. Johnson said "When I was a working man I didn't want to go to a concert for some bastard to talk down to me that I should be thinking of some kid in Africa. I'm sorry mate, do it yourself, spend some of your own money and get it done. It just makes me angry."

1935, Born on this day (Sunday), Johnny 'guitar' Watson, American blues guitarist, singer. His ferocious 'Space Guitar' single of 1954 pioneered guitar feedback and reverb. Watson died on 17th May 1996 while on tour in Yokohama, Japan. According to eyewitness reports, he collapsed mid-guitar solo. His last words were "ain't that a bitch".

1965, At the Arthur Smith Studios in Charlotte, North Carolina, James Brown recorded 'Papa's Got A Brand New Bag', which will reach No.8 on the Billboard Pop chart and No.1 on the R&B chart the following August and later win a Grammy Award for Best Rhythm and Blues Recording.

1967, Pink Floyd spent the day recording parts for the Syd Barrett songs 'Arnold Layne' and 'Candy And A Current Bun' at Sound Techniques Studios, Chelsea. Floyd also turned professional on this day after signing a deal with EMI Records.

1979, Sex Pistols bassist Sid Vicious was released on bail after attacking Todd Smith, singer Patti Smith's brother, at a Skafish concert. John Lydon has since stated that Mick Jagger stepped in and paid for the lawyers for Vicious.

1986, Music publisher Dick James died of a heart attack aged 65. Worked with many UK 60s acts including The Beatles. James signed Elton John and his lyricist Bernie Taupin as unknown artists in 1967 and was the founder of the DJM record label.

Don Everly, from The Everly Brothers who had the 1958 UK & US No.1 single 'All I Have To Do Is Dream'. Other hits include: 'Wake Up Little Susie,' 'Bird Dog,' 'Cathy's Clown,' 'Walk Right Back' and 'Crying in the Rain'. The music of the Everly Brothers influenced The Beatles who based the vocal arrangement of 'Please Please Me' on 'Cathy's Clown'.

1957, Decca Records announced that Bill Haley & His Comets 'Rock Around the Clock' had sold over a million copies in the UK, mostly on 10inch 78s. The version of 'Rock Around the Clock' that was used in the movie Blackboard Jungle differs from the hit single version. The difference is in the two solo breaks.

1967, The Beatles spent a second day at Knole Park, Sevenoaks, to complete filming for the 'Strawberry Fields Forever' promotional video. The film was shot in colour, for the benefit of the US market, since UK television was still broadcasting only in black and white. Taking time out from filming, John Lennon bought an 1843 poster from an antiques shop in Surrey which provided him with most the lyrics for the song 'Being For The Benefit Of Mr Kite'.

1969, Led Zeppelin played the first of two nights at The Fillmore East, New York City during the band's first North American tour. Porter's Popular Preachers opened the night, then Zeppelin took the stage. It is alleged that Zeppelin's show was so powerful and got such an enthusiastic audience that headliners Iron Butterfly refused to follow them.

Slim Harpo died of a heart attack while recording in London aged 46. His most successful and influential recordings included 'I'm a King Bee' (1957), 'Rainin' In My Heart' (1961), and 'Baby Scratch My Back' (1966). A master of the blues harmonica, his stage name was derived from the popular nickname for that instrument, the "harp". The Rolling Stones, Pretty Things, Yardbirds and Them all covered his songs.

2017, Singer, bassist, and songwriter John Wetton died in his sleep at his home in Bournemouth, from colon cancer. He rose to fame with bands Mogul Thrash, Family, King Crimson, Roxy Music, Uriah Heep and Wishbone Ash. After his period with King Crimson, Wetton formed UK, and later he was the frontman and principal songwriter of the supergroup Asia. Their biggest hit 'Heat of the Moment', reached No. 4 in the US in 1982.

1961, The Shirelles became the first girl group to have the number one song on the US chart when 'Will You Love Me Tomorrow?' reached the top. The song peaked at No.4 in the UK.

1970, Edison Lighthouse were at No.1 on the UK singles chart with 'Love Grows (Where My Rosemary Goes).' The group's only Top 40 hit spent five weeks at the top of the charts. In February 1970, Tony Burrows became the first (and still the only) person to appear on Top Of The Pops fronting three different acts in one show: Edison Lighthouse (who were number one that week), White Plains, and Brotherhood of Man.

1973, After recently changing their name from Wicked Lester, Gene Simmons, Paul Stanley, Ace Frehley and Peter Criss made their first appearance as KISS at the Popcorn Club in Queens, New York.

1976, UK Music weekly Sounds readers Poll Winners included; best album 'A Night At The Opera', by Queen, best single 'Bohemian Rhapsody', by Queen, best band went to Queen, musician Mike Oldfield, female singer Maddy Prior, Steeleye, Span, new band Rainbow, bore of the year The Bay City Rollers.

1988, During a court case involving Holly Johnson and ZTT Records it was revealed that Frankie Goes To Hollywood had not played on their hits 'Relax' and 'Two Tribes'. The court was told that top session musicians were used to make the records.

1990, Unhappy with the re-issue of the bands early single 'Sally Cinnaman' The Stone Roses trashed their former record company Revolver FM's offices and threw paint over cars. The band were arrested and charged with criminal damage.

Mick Jagger was named the most stylish rock star of all time by lifestyle website Complex. Jagger lead their top 50 list ahead of Prince, David Bowie, Kurt Cobain, Sid Vicious and Keith Richards. Complex stated "Even today, he wears silk scarves and suits with more rakish appeal than most men – and he's pushing 70."

2016, David Bowie left an estate valued at about $100m (£70m), according to his will which was filed in New York. Half would go to his widow, Iman, along with the home they shared in New York. The rest was shared between his son and daughter. Bowie's personal assistant, Corinne Schwab, was left $2m and another $1m went to a former nanny, Marion Skene.

Week commencing January 21
1956, Elvis Presley's single, 'Heartbreak Hotel' was released by RCA Records, who had just purchased Presley's contract from Sun Records for $35,000. The song sold 300,000 copies in its first week and would eventually sell over a million, becoming Elvis' first Gold record.

1962, The Beatles appeared at Aintree Institute in Aintree, Liverpool. The group had played here many times before but this was their last performance at the venue. Brian Epstein became infuriated when the promoter paid The Beatles' fee (£15 pounds) with handfuls of loose change. Epstein took this as an insult to the group, and made sure that The Beatles never played for that promoter (Brian Kelly) again.

1970, John Lennon wrote, recorded and mixed his new single 'Instant Karma!' all in one day. It ranks as one of the fastest-released songs in pop music history, recorded at London's Abbey Road Studios and arriving in stores only ten days later.

1973, 'Superstition' the lead single from Stevie Wonder's Talking Book album became his second No.1 single in the US, 10 years after his first No.1 hit. Jeff Beck created the original drum beat while in the studio with Wonder. After writing the song, Wonder offered it to Beck to record, but at the insistence of Berry Gordy, Wonder himself recorded it first. Beck was instead offered 'Cause We've Ended As Lovers', which he recorded on his Blow by Blow album in 1975.



1977, The Clash signed to CBS Records in the UK for £100,000.

, Ian Dury And The Blockheads were at No.1 on the UK singles chart with 'Hit Me With Your Rhythm Stick', their only UK chart topper. (spot the famous name interloper in the pic?)

1996, Babylon Zoo started a five-week run at No.1 on the singles chart with 'Spaceman', the fastest selling single by a debut artist in the UK (420,000 copies in 6 days). The song was used for a Levi Jeans TV commercial. The single also went to Number 1 in twenty-three other countries.

1953, Eddie Fisher was at No.1 on the UK singles chart with 'Outside Is Heaven'. The American singer and entertainer divorced his first wife, Debbie Reynolds to marry his best friend's widow, Elizabeth Taylor, which gave him too much unwelcome publicity at the time. Eddie is father of actress Carrie Fisher who died in 2016.

1967, Pink Floyd spent the second of three days recording the Syd Barrett songs 'Arnold Layne' and 'Candy And A Current Bun' at Sound Techniques Studios, Chelsea. 'Candy And A Current Bun' was first known as 'Let's Roll Another One' and contained the line 'I'm high - Don't try to spoil my fun', but it was decided that Syd Barrett should rewrite it without the drug references.

1970, James Sheppard, the lead singer from the Heartbeats and Shep and the Limelites, was found murdered in his car on the Long Island Expressway. The US singer had been beaten and robbed. The Limelites reached No.2 in the US in 1961 with 'Daddy's Home'.

1970, Led Zeppelin appeared at Leeds University. It was at this show when Zeppelin had a meeting with fine arts lecturer Zacron to discuss their ideas for the album sleeve of the band's next album, Led Zeppelin III. Zacron, born Richard Drew, had studied at Kingston College of Art with members of the Yardbirds.

1977, The Buzzcocks appeared at the Roxy, in London, supported by Chelsea. Also appearing at the venue over the last week; The Damned, The Boys, The Adverts, Slaughter And The Dogs and Squeeze.

2017, American drummer Butch Trucks from The Allman Brothers Band died of a self-inflicted gunshot wound to the head in West Palm Beach, Florida, at the age of 69. He played in various groups before forming the 31st of February while at Florida State University in the mid 1960s. He joined the Allman Brothers Band in 1969. Their 1971 live release, At Fillmore East, represented an artistic and commercial breakthrough.

1966, George Harrison married Patti Boyd at Leatherhead Register Office in Surrey with Paul McCartney as Best man. George had first met Patti on the set of The Beatles movie 'A Hard Day's Night'. She left Harrison in the mid-'70s and started an affair with Harrison's friend Eric Clapton, who wrote the song "Layla" about her. The two married in May 1979, but split in 1988.

1968, Jimi Hendrix recorded his version of the Bob Dylan song 'All Along the Watchtower' at Olympic Studios in London. Rolling Stone Brian Jones (percussion) and Dave Mason from Traffic (twelve-string guitar) both played on the session. The track was released in the US as a single in 1968, peaking at No.20.

1972, Pink Floyd appeared at The Guildhall, Portsmouth. This was the first time that they were able to perform the whole of what became the The Dark Side of The Moon album in its entirety, the previous night's performance in Brighton having been halted for technical reasons.

1983, The Allman Brothers Band bassist Lamar Williams died of lung cancer age 34. He joined the band in 1972 after the death of original bassist Berry Oakley. His doctors believed that the disease was derived from exposure to Agent Orange during his Vietnam service. Opposed to the war and to killing in general, Williams went AWOL frequently and wandered around the jungles of South Vietnam, occasionally returning to various units. He was given an honorable discharge in 1970.

1984, Soul singer Jackie Wilson died aged 49. Wilson suffered a massive heart attack while playing a Dick Clark show at the Latin Casino in New Jersey on September 29, 1975, falling head-first to the stage while singing 'Lonely Teardrops', and had remained in a coma until his death 8 years later. His 1957 single Reet Petite became a posthumous No.1 when re-issued in 1987 due in part to a new animated video made for the song, featuring a clay model of Wilson. Van Morrison wrote 'Jackie Wilson Said' which was covered by Dexy's Midnight Runners.

1997, American songwriter Irwin Levine died of kidney failure aged 58. He co-wrote, 'Knock Three Times' and 'Tie A Yellow Ribbon' both US & UK No.1s for Tony Orlando and Dawn in the early Seventies.

David Palmer, former keyboard player for Jethro Tull changed his name to Dee Palmer after a successful sex change operation. Palmer was the keyboard player for Jethro Tull between 1969 and 1980. He played on all the Tull classics including 'Thick As A Brick' and 'Aqualung.'

Week commencing January 14
1957, The Cavern Club opened in Liverpool. It became the home of many Liverpool bands including The Beatles who appeared at the club 292 times. Over the years a wide variety of popular acts appeared at the club, including The Rolling Stones, The Yardbirds, The Hollies, The Kinks, Elton John, Black Sabbath, Queen, The Who and John Lee Hooker.

1964, The Beatles played two shows at the Olympia Theatre, Paris, France, the first of an 18-night engagement. This first show was attended mostly by Paris' 'top society' members (all dressed in formal evening attire). The French press had little good to say about The Beatles in the next day's papers, but The Beatles didn't care, because they'd just received news that their single 'I Want to Hold Your Hand' had hit No.1 in the US, selling 10,000 copies an hour in New York City alone.

1985, David Bowie's schizophrenic half-brother Terry Burnes killed himself aged 47 after laying down on the railway lines at Coulsdon South station, London. He was killed instantly by a passing train. Bowie refers to his half-brother in the line 'a crack in the sky and a hand pointing down at me' in his song 'Oh, You Pretty Things'.

1987, TV presenter Jools Holland was suspended from Channel 4's music show The Tube for 6 weeks, after using the phrase 'groovy fuckers' during a live trailer broadcast in children's hour.

2000, It was reported that Mick Jagger had lost the chance of a knighthood because of his errant ways, British Prime Minister Tony Blair having doubts about the message it would give about family values. This decision was changed and on 12 December 2003, Mick Jagger was made a Knight Bachelor by The Prince of Wales for services to music, as Sir Michael Jagger.

2013, It was announced that Joe Strummer was to have a city square named after him in Spain following a Facebook campaign. More than 2,000 residents of Granada, where The Clash frontman became a frequent visitor, signed a petition calling for him to be honoured. City hall officials agreed to the proposals and a square in the area was set to be renamed Plaza de Joe Strummer.

Week commencing January 7
1963, Charlie Watts made his live debut with The Rolling Stones at The Flamingo Jazz Club, Soho, London. Before joining the Stones, Watts played regularly with Blues Incorporated.

1966, David Jones changed his name to David Bowie to avoid confusion with Davy Jones from The Monkees, just in time for the release of his single, 'Can't Help Thinking About Me'.

1967, Over 25,000 people attend The Human Be-In-A Gathering Of The Tribes at San Francisco's Golden Gate Park. The event was a forerunner of major, outdoor rock concerts and featured The Grateful Dead, Jefferson Airplane, Quicksilver Messenger Service and Big Brother And The Holding Company.

1978, The Sex Pistols played their last show at the Winterland Ballroom in San Francisco where Johnny Rotten yelled to the crowd at the outset "Ever get the feeling you've been cheated." It was the last time the band played with bassist Sid Vicious.

1992, American rock drummer, Jerry Nolan from The New York Dolls died from a fatal stroke aged 45. The influential American band formed in 1972 and made just two albums, the 1973 New York Dolls and 1974 Too Much Too Soon. Nolan joined the New York Dolls in the autumn of 1972 to replace Billy Murcia, who had died of asphyxiation as a result of a failed attempt to revive him from a drug overdose while on tour in England, early in the band's career. Nolan left the Dolls together with Johnny Thunders in the spring of 1975. The two then placed a call to bassist Richard Hell, formerly of the Neon Boys and Television, to form The Heartbreakers.

Johnny Ramone was unveiled by his widow Linda at the Hollywood Forever Cemetery. Johnny died from prostate cancer in September 2004 at the age of 55. Hundreds turned out for the ceremony, including Tommy Ramone the only surviving band member. Dee Dee Ramone died of a drugs overdose in 2002 and Joey died in 2001 of lymphatic cancer.

2012, English drummer, producer, journalist, music educator, and broadcaster Robbie France died aged 52. Born in Sheffield, France moved to Australia where he formed the jazz-fusion group, Carnival. He also worked with Stevie Wright of the Easybeats, Marty Rhone, Tim Gaze, and other major Australian artists as well as Skunk Anansie and Diamond Head in the UK. He amassed over 1,000 television, radio and advertising credits, including eight documentaries and four film scores, including Band on the Run, one of the most successful surfing films ever made.

1965, The first day of recording sessions for Bob Dylan's Bringing It All Back Home album were held at Studio A, Columbia Recording Studios in New York City. Dylan recorded Subterranean Homesick Blues and 'It's All Over Now, Baby Blue'.

1968, Johnny Cash played a show, which was recorded, for his forthcoming live album at Folsom Prison, near Sacramento, California in front of 2,000 inmates. When released, the lead single, 'Folsom Prison Blues' (an update of his 1956 hit) became one of the most famous recordings of his career.

1973, Eric Clapton made his stage comeback at the Rainbow Theatre, London, with Pete Townsend, Ronnie Wood, Stevie Winwood, Rebop, Jim Capaldi and support from The Average White Band. The night's two shows were recorded for the 'Rainbow Concert' album. Pete Townshend from The Who had organised the concert to help Clapton kick his heroin addiction.

1978, With a budget of only £1,500 borrowed from Stewart Copeland's brother Miles Copeland III, The Police started recording their debut album at Surrey Sound Studios, Surrey, with producer Nigel Gray. The album 'Outlandos d'Amour' which was released in November of this year featured the hits 'So Lonely', 'Roxanne' and 'Can't Stand Losing You'.

1986, Sex Pistols members John Lydon, Steve Jones and Paul Cook, as well as the mother of Sid Vicious, sued former manager Malcom McClaren for £1 million. They later settled out of court.

2017, Magic Alex (Alexis Mardas) a Greek electronics engineer died aged 74. He is best known for his close association with the Beatles. His nickname was given to him by John Lennon when he was involved with the group between 1965 and 1969, during which time he became head of Apple Electronics. Mardas often said that the Abbey Road studio was "no good", much to producer George Martin's annoyance. He allegedly said that he could build a 72-track tape machine and was then given the job of designing the new Apple Studio in Savile Row, London. His schemes lost Apple at least £300,000 (£3 million in 2017.)

1962, Cliff Richard was at No.1 on the singles chart with 'The Young Ones'. It stayed at the top of the charts for six weeks and made Cliff the first UK artist to enter the chart at No.1.

1964, 'Louie Louie' by The Kingsmen was the No.1 song on the US Cash Box music chart. For a while, the record was banned by a handful of US radio stations because of its indecipherable lyrics, which were rumored to contain some naughty words. Even the F.B.I. investigated the song, but finally concluded that they could find nothing wrong.

1967, The Jimi Hendrix Experience recorded 'Purple Haze' at De Lane Lea studios in London. Hendrix later stated 'The Purple Haze,' was about a dream he had and that he was walking under the sea. In concert, Hendrix sometimes substituted lyrics for comic effect; "scuse me while I kiss the sky" was rendered "scuse me while I kiss this guy" (while gesturing towards his drummer Mitch Mitchell).

1975, The Alan Freeman BBC Radio 1 show broadcast a Pink Floyd show recorded at the Empire Pool, Wembley, on 16th Nov 1974. The band had played four nights at Wembley on their The Dark Side of The Moon tour and tapes from these shows had been remixed.

1985, A Brazilian rock Festival, held in Rio, claimed to be the biggest ever staged. The festival featured; Queen, Rod Stewart, AC/DC, Whitesnake, Yes and Iron Maiden.

2002, Mickey Finn percussionist and sideman to Marc Bolan in Tyrannosaurus Rex died of kidney and liver problems aged 55 (1971 UK No.1 single 'Hot Love', plus over 20 other UK Top 40 singles).

2005, Former Bread guitarist and Academy Award-winning songwriter James Griffin died at his home in Nashville at the age of 61 after suffering from cancer. Bread had the 1970s hits 'Make It With You', 'Baby I'm-a Want You', and 'Everything I Own.'

2017, Rockabilly guitarist Tommy Allsup, who narrowly avoided boarding the plane that killed Buddy Holly and the Big Bopper, died aged 85. The musician famously lost a coin toss for a seat on the plane. His place was taken by teen star Ritchie Valens, who also perished when the plane crashed. Allsup went on to become a Grammy-winning musician who played with Merle Haggard, Roy Orbison and Willie Nelson.

Week commencing

December 31311

31

. . .
Week commencing December 24 . . .Week commencing December 24 . . .1955, Rosemary Clooney was at No.1 on the singles chart with 'Mambo Italiano' the singers second No.1. The song was banned by all ABC owned stations in the US because it "did not reach standards of good taste".

1970, During a UK tour Led Zeppelin appeared at The Royal Albert Hall, London, the night of Jimmy Page's 26th birthday (John Lennon, Eric Clapton and Jeff Beck were all in the audience). The two and a quarter hour set was recorded and filmed but shelved for several decades, eventually seeing a release on a 2003 official DVD.

1976, Queen were at No.1 on the singles chart with 'Bohemian Rhapsody'. The single enjoyed a nine week run on the chart selling more than a million copies by the end of the month. It reached No.1 again in 1991 for five weeks following Mercury's death, eventually becoming the UK's third best selling single of all time.

2002, Irish singer, songwriter David McWilliams died of a heart attack at his home in Ballycastle, County Antrim aged of 56. Released over 10 solo albums and wrote 'The Days Of Pearly Spencer.'

2009, Dave Dee died at the age of 65, following a three-year battle with cancer. The UK singer had eight top 10 hits, with Dave Dee, Dozy, Beaky, Mick and Tich including a UK number one single in 1968 with 'The Legend of Xanadu', in which Dee famously cracked a whip. The singer, whose real name was David Harman, was originally a police officer and as a police cadet was called to the scene of the car crash that killed Eddie Cochrane during a UK tour in 1960.

Motorhead frontman Lemmy at his funeral at Forest Lawn Memorial Cemetery. Motorhead drummer Mikkey Dee, Foo Fighters' Dave Grohl, Slash from Guns N' Roses, Robert Trujillo and Lars Ulrich from Metallica, Judas Priest singer Rob Halford and Anthrax frontman Scott Ian all spoke at the service. Lemmy's bass guitar was plugged in to a stack of amplifiers and the volume turned up, with the congregation applauding as feedback from the speakers filled the chapel.

1967, Pink Floyd and Eyes of Blue appeared at The Marquee Club London. A review in Queen magazine said of Pink Floyd: 'The two guitarists looked moody, the drummer thrashed wildly about and the lights kept flashing. After about twenty minutes it became very boring and after half an hour I left.'

1968, Jimi Hendrix was jailed for one day in Stockholm, Sweden on drink charges after going berserk and destroying everything in his room at the Goteberg Hotel.

1976, Former Beatles roadie Mal Evans was shot dead by police at his Los Angeles apartment. His girlfriend called police when she found Evans upset with a rifle in his hand; he pointed the gun at the police who opened fire. Friends later said that Evans was depressed about his separation from his wife Lil Evans — who had asked for a divorce before Christmas.

1991, Iron Maiden went to No.1 on the singles chart with 'Bring Your Daughter To The Slaughter.' This, the second single from their album No Prayer for the Dying, became the lowest selling No.1 since 1960, with just over 42,000 copies sold. The song was originally recorded and released by Bruce Dickinson for the soundtrack to 'A Nightmare on Elm Street 5: The Dream Child', but Iron Maiden bassist Steve Harris liked it so much Iron Maiden re-recorded it.

1998, American singer, producer, and politician Sonny Bono was killed in a skiing accident at a resort near Lake Tahoe, aged 62. Bono who was one half on Sonny and Cher scored the 1965 UK & US No.1 single 'I Got You Babe' and had become a US Congressman. The United States Sonny Bono Copyright Term Extension Act of 1998, which extended the term of copyright by 20 years, was named in honor of Bono when it was passed by Congress nine months after his death.

2001, Kirsty MacColl was laid to rest at a private funeral ceremony, ahead of a public memorial to pay tribute to her life. The singer songwriter was killed in a boating accident on 18th Dec 2000.

2004, Kinks singer Ray Davies was shot in the leg while on holiday in New Orleans. The 59-year-old singer-songwriter was shot when running after two men who stole his girlfriend's purse at gunpoint. Davies was admitted to the Medical Centre of Louisiana but his injuries were not considered serious. New Orleans police said one person had been arrested, and police were still searching for the second.

2016, Donald Fagen, lead singer and founder of Steely Dan, was arrested by New York police and charged with assaulting his wife at their home. Fagen was accused of pushing Libby Titus into a marble window frame, knocking her to the ground, at their Manhattan apartment.

1967, The Jimi Hendrix Experience played the first of what would be over 240 gigs in this year when they appeared at the Bromel Club, Bromley. (Many of the concerts were two shows per night).

1967, The Doors released their self-titled debut album The Doors. The album features their breakthrough single 'Light My Fire' and the lengthy song 'The End' with its Oedipal spoken word section. The album was recorded at Sunset Sound Studios in Hollywood, California over six days and unique packaging of the album included each band members bio.

1970, Chauffeur Neil Boland was accidentally killed when The Who's drummer Keith Moon ran over him in his Bentley. Moon was trying to escape from a gang of skinheads after a fight broke out at a pub in Hatfield. Boland got out to try to protect the car, but left it in gear. He fell under the car and it started moving with Moon at the wheel as he tried to escape the fight. The drummer had never passed his driving test.

Phil Lynott of Thin Lizzy died of heart failure and pneumonia after being in a coma for eight days following a drug overdose. With Thin Lizzy he had the 1973 hit 'Whiskey in the Jar' (their version of the traditional Irish song) and hits with 'The Boys Are Back in Town', 'Jailbreak' and 'Waiting for an Alibi'. The group's 1978 album 'Live and Dangerous' spent 62 weeks on the chart. Lynott fronted several bands as a lead vocalist, including Skid Row alongside Gary Moore. A life-size bronze statue of Phil Lynott was unveiled on Harry Street in Dublin Ireland in 2005.

2009, Led Zeppelin singer Robert Plant was voted the Greatest Voice In Rock by listeners of radio station Planet Rock. Plant beat Queen's Freddie Mercury, Free's Paul Rodgers and Deep Purple's Ian Gillan to the top spot in the UK poll.

1953, American singer-songwriter and musician singer Hank Williams died of a heart attack aged 29 brought on by a lethal cocktail of pills and alcohol. Williams is regarded as one of the most important country music artists of all time. 35 of his singles (five released posthumously) were placed in the Top 10 of the Billboard Country & Western Best Sellers chart, 11 of which ranked at No.1, including 'Cold, Cold Heart,' 'Hey, Good Lookin', 'I'll Never Get Out of This World Alive,' and 'Your Cheatin' Heart.' During his last years Williams's consumption of alcohol, morphine and painkillers severely compromised his professional life.

1956, Bill Haley's 'Rock Around the Clock' went to No.1 on the singles chart for the second time. The single is often cited as the biggest-selling vinyl rock and roll single of all time with sales over 25m.

1957, BBC Television aired its new rock & roll show 'Cool For Cats' for the first time. With a miniscule budget, the program was forced to rely on artists miming and the talents of a resident dance group (led by Douglas Squires). Ker Robertson, the first host, was succeeded after a few weeks by Kent Walton, later better known for his ITV wrestling commentaries

1962, The Beatles auditioned for Decca Records in West Hampstead, London. A&R boss at Decca Dick Rowe turned them down in what is considered one of the biggest mistakes in music industry history, Decca decided to reject the band, selecting instead Brian Poole and the Tremeloes.

1964, The first edition of Top Of The Pops was transmitted from an old church hall in Manchester. Acts miming to their latest releases included The Rolling Stones (I Wanna Be Your Man), The Dave Clark Five (Glad All Over), The Hollies (Stay), and The Swinging Blue Jeans (Hippy Hippy Shake). The first song played was Dusty Springfield's 'I Only Want To Be With You'. Also featured on disc and film, The Beatles (I Want to Hold Your Hand), Freddie & the Dreamers, Cliff Richard and the Shadows and Gene Pitney.

1977, Genesis played the first of three nights at the new-look Rainbow Theatre, London, tickets cost £2.50. The theatre had been completely renovated at a cost of £80,000.

1977, The Clash played the opening night at punk's first real venue, The Roxy Club in London.

1984, Alexis Korner died of lung cancer aged 55. Know as "the Founding Father of British Blues", he was a major force behind the UK early 60s R&B scene. Formed Blues Incorporated; members at various times included Jack Bruce, Ginger Baker, Long John Baldry, Graham Bond and Charlie Watts. Had hits with CCS, including a version of Led Zeppelin's 'Whole Lotta Love' which was used as the theme for Top Of The Pops for several years. He became a radio presenter in the Seventies.

2005, In most of Europe, copyright expired on a number of classic pop and rock-and-roll songs recorded in 1954 and earlier, including Bill Haley's 'Rock Around the Clock', and 'Only You' by The Platters.

2007, Queen beat The Beatles to be crowned greatest British band of all time by BBC Radio 2 listeners in the UK. They pipped the Fab Four in a live contest, trouncing other finalists The Rolling Stones, Oasis and Take That. The bands were judged on song-writing, lyrics, live performances, originality and showmanship. More than 20,000 listeners voted by email, text and phone.

2013, Ultravox's 1981 hit 'Vienna' was voted the UK's favourite number two single. The song topped a poll by BBC Radio 2 and the Official Charts Company to find the greatest track to miss out on the number one spot. Vienna was held off by novelty track 'Shaddup You Face' by Joe Dolce. 'Fairytale of New York' by The Pogues and Kirsty MacColl was voted into second place. Other songs to feature included The Beatles 'Penny Lane/Strawberry Fields Forever', The Who's 'My Generation' and Don McLean's 'American Pie'.

1950, Born on this day (Tuesday), English musician Morgan Fisher, keyboards from Mott The Hoople, 1972 UK No.3 & US No.37 single 'All The Young Dudes', a song David Bowie offered the band on hearing they were about to split up.