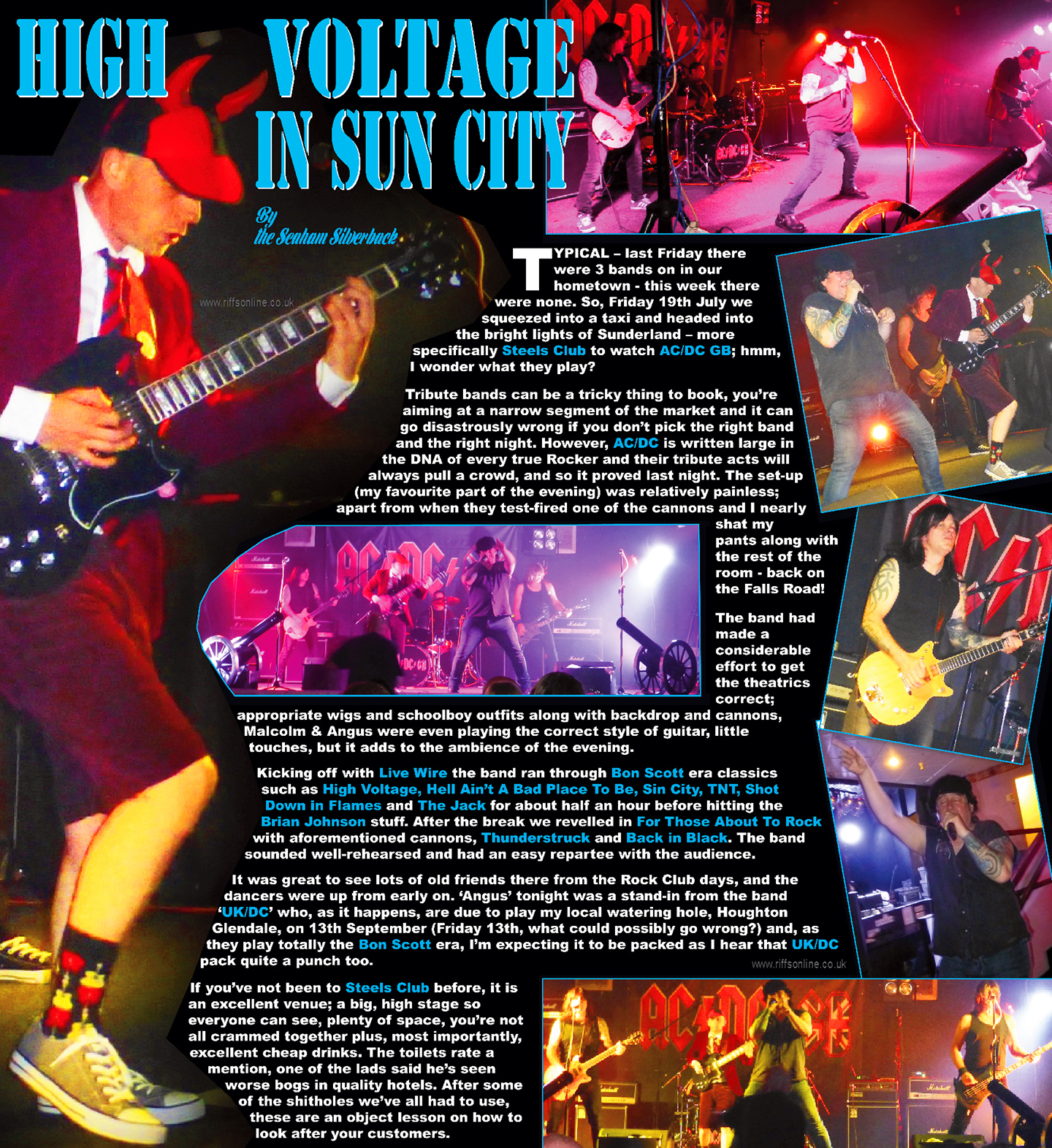 The band's website:
https://www.acdcgb.co.uk/
For a taste of the band: https://youtu.be/QRCIfpYXSC8


https://youtu.be/jhUhw_J5ItE
https://youtu.be/DkWRCv5HDjk
The NE Street Band, playing iconic songs from Bruce Springsteen and The E Street Band debuted at The Old Fox in Felling just recently and we have added a link to some footage here (only phone footage).
The band's website: https://www.nestreetband.co.uk
They are at the Amphitheatre in South Shields on Thursday 6th June, 7pm-9pm for an evening of Bruce Springsteen sounds, as part of the Summer Festival.

---------------------------------------------------------------

Over 2000 pies, 100 varieties including Veggie and Vegan options all served with creamy mash, mushy peas and special house gravy £3.50.
CROOKFEST 2019 - MAY 5
If you like your rock of the hard and heavy variety check out Conspiracy Theory; a new band making inroads into the north east rock and metal scene. If you're a bit tired of seeing too many rock bands playing the same old stuff, CT's intention is to do the songs that no-one else does. And that doesn't mean obscure material you've never heard of, if you're into rock and metal you'll know everything they do. From Rainbow to Dio, Whitesnake to Purple, Maiden to Priest, Uriah Heep to Rush or the guitar greats such as Schenker or Moore, you won't forget them in a hurry. With stellar musicianship from highly experienced players having cut their teeth in bands such as PowerAge, Ministry of Rock, Black Rose and On The Rocks you're bound to have a night to remember. You can catch them at Trillians, Newcastle on Friday 22nd February, The Penny Gill, Spennymoor Sunday 3rd March, Acklam Steelies Club, Middlesbrough Saturday 9th March or the Big Jug, Durham on Friday 15th March.


If it's Boxing Day, then Rock Solid must be playing in Houghton. In a tradition that started in the old Buffs club in Houghton (now a Wetherspoons) probably 12 years ago or more, the Solids have played to broadly the same crowd of fans of proper Rock in a friendly setting; this year in Houghton Sport & Social club. Originally advertised as a civilised alternative to turkey sandwiches with the in-laws it continues to draw a good crowd and this year was no exception. Kicking off with "Tie your mother down" and running through a compendium of 70s & 80s hard Rock, the band played new stuff by Saxon & Maiden along with perennial favourites by Priest, Rainbow, Ozzy, Purple and AC/DC. Playing as tight as I've heard them, this was no nonsense Rock with well-balanced sound and an easy rapport with their audience. How many times have you gone to listen to a band and they throw something into the set and you think to yourself "Lord, it's years since I heard this" then you go home and dig out the vinyl or raid the Pirate Bay and re-acquaint yourself with the stuff? Saxon's "Frozen Rainbow" did that for me, and Priest's cover of "Diamonds & Rust" was another. How fortunate we are to have such a back catalogue of classic music to listen to, and bands like Rock Solid who dig them out, rehearse them and serve them up for our continued delight. Long may it continue; catch the Solids again on Good Friday, 19th April in Houghton Sports & Social.
Dave
Tickets £15 / 17 from ents24
Paul joins the familiar line up of Norman, Tony, Le Sequel and the Hamster of Doom to make This Machine a 5 piece again. Check out their revamped Facebook and website (featuring blogs, videos and everything else) at
www.thismachinerock.com
Last few gigs of the year are
14th Dec Peterlee Central Club
15th Dec The Turbinia, Newton Aycliffe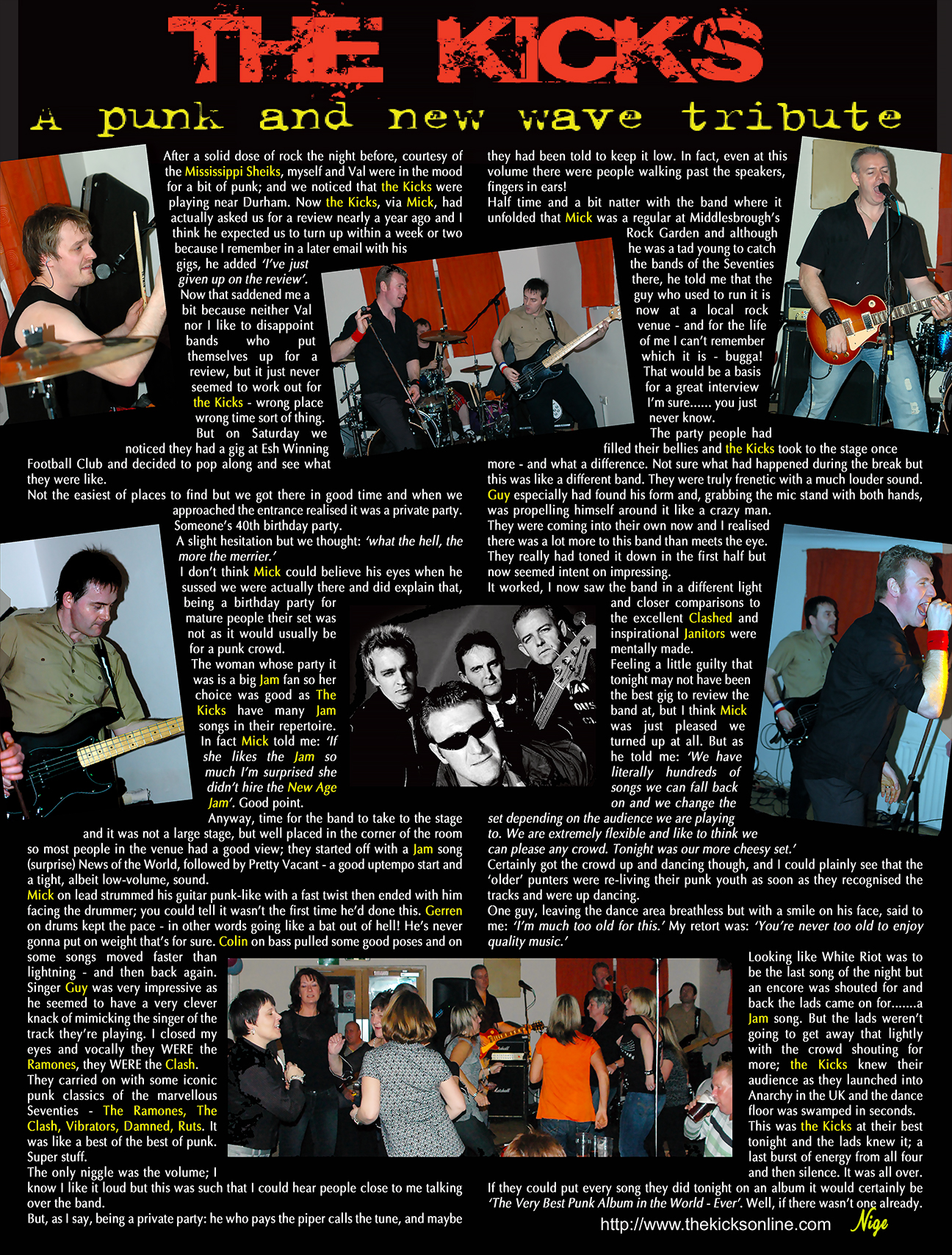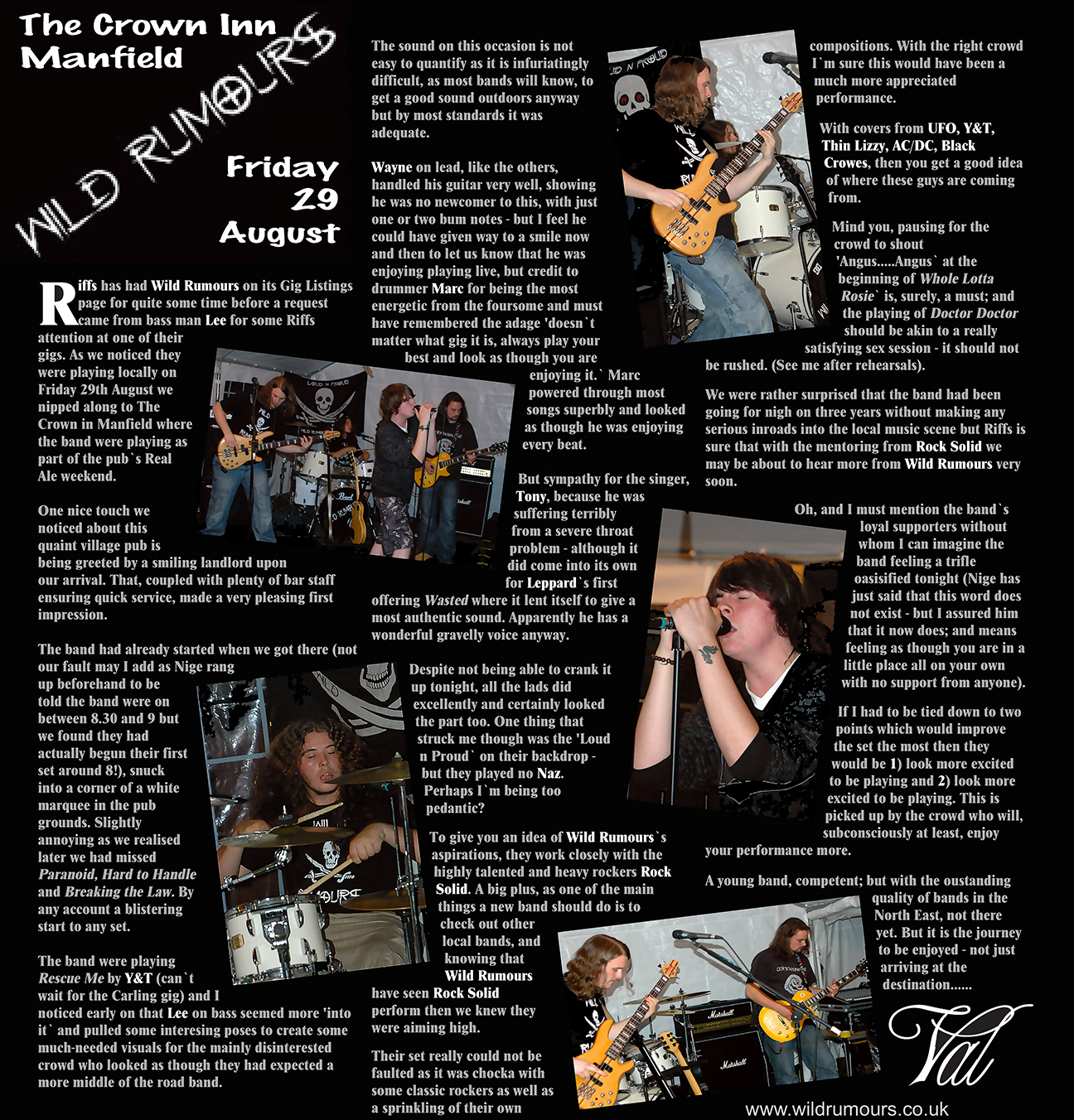 Don't know who these guys are - any idea anyone?
ALICE COOPER'S NIGHTMARE:
Alice in Sunderland The Mad Coopers Tea Party; Sunday November 18th 3.00pm
The Alexandra Grangetown Sunderland, Tickets £10.
A unique opportunity to join the band up close and personal; we will be performing all the Cooper greats with all the usual theatrics and then join us for tea.....err Cooper style :-)

There will be restricted tickets sales available but you can pre book with the band through our FB page and limited tickets available from The Alexandra and St Benedicts.

So please come and join us supporting St Benedicts.

------------------------------------------------------------

CELEBRATING THE SEVENTIES:


"Kinnel Tommy"

CELEBRATING NWOBHM:




FACTOID: Bill Haley and his Comets actually began their careers as Bill Haley's Saddle Pals - a country music act.

This week in . . .
1967 - Brian Wilson returned to performing live with The Beach Boys in Honolulu after a 2 year hiatus. The group had just released 'Heroes and Villains' in the US.

1995 - Bassist and singer Doug Stegmeyer shot himself dead. He'd worked with many artists including Billy Joel, Hall and Oates and The Carpenters.

2000 - Academy Award-winning film score composer and record producer Jack Nitzsche died of a heart attack. He produced The Rolling Stones, Neil Young, Buffalo Springfield and The Walker Brothers. Musical scores including The Exorcist, One Flew Over the Cuckoo's Nest, co-wrote 'Up Where We Belong' with Buffy Sainte-Marie from 1982 film An Officer and a Gentleman.

2005 - Two former members of Guns N' Roses were suing singer Axl Rose for allegedly naming himself sole administrator of the US rock band's copyrights. Slash and Duff - otherwise known as Saul Hudson and Michael McKagan, accused Rose of "arrogance and ego". The legal action claimed the singer "was no longer willing to acknowledge the contributions of his former partners".

2009 - Bob Dylan revealed during his weekly radio show broadcast on 6 Music, that he was speaking to a number of car companies about becoming the voice of their satellite navigation systems. The 68 year-old said he thought it be would be good for drivers to hear him saying things such as: "Take a left at the next street. No, a right. You know what, just go straight".

1968 - The Incredible String Band, Traffic, Bonzo Dog Band, Family, Fairport Convention, Blossom Toes, Pretty things, Deviants, Blonde On Blonde and Free all appeared over two nights at The Roundhouse in London.

1975 - Queen started recording 'Bohemian Rhapsody' at Rockfield studios in Monmouth (the song was recorded over three weeks). Freddie Mercury had mentally prepared the song beforehand and directed the band throughout the sessions. May, Mercury and Taylor sang their vocal parts continually for ten to twelve hours a day, resulting in 180 separate overdubs.

1990 - Judas Priest successfully defended themselves against a lawsuit, after two fans attempted suicide while listening to the Stained Class album. Both fans eventually died, one immediately from a shotgun blast, and the other on a second attempt three years later by a methadone overdose. The prosecution claimed that there were subliminal messages in the group's music that caused the two seventeen year olds to carry out the suicide pact in 1985.

1965 - Security guards at a Manchester TV studio hosed down 200 Rolling Stones fans after they broke down barriers while waiting for the band to arrive for a performance.

1968 - During a North American tour The Jimi Hendrix Experience appeared at Singer Bowl, Flushing Meadow Park, New York. Also on the bill was Soft Machine and Big Brother and the Holding Company.

Ibex, featuring vocalist Freddie Bulsara (later known as Freddie Mercury) played a gig at the Octagon Theatre, Bolton.

1970 - Lou Reed and the Velvet Underground performed together for the last time at the New York Club 'Max's Kansas City'. Reed worked as a typist for his father for the next two years, at $40 per week.

1975 - Joy Division singer Ian Curtis married Deborah Woodruff, whom he met while still at school, when he was 19 and she was 18. They remained married until his death when he hanged himself in the kitchen of his house in Macclesfield, at the age of 23.

1980 - David Bowie was at No.1 on the singles chart with 'Ashes To Ashes' his second No.1. Taken from the Scary Monsters (and Super Creeps) album, the song continued the story of Major Tom from Bowie's 'Space Oddity'. The video for 'Ashes to Ashes' was one of the most iconic of the 1980s and costing £250,000, it was at the time the most expensive music video ever made.

1980 - The Heatwave Festival in Toronto, Canada took place with Talking Heads, Elvis Costello, The B-52s, The Pretenders, Rockpile and The Rumour. Tickets cost $30. With only 50,000 people attending, the festival lost over $1 million.

1986 - Sigue Sigue Sputnik came up with an idea to sell advertising space between the tracks on their forthcoming new album. It was a non-starter.

1963 - Billy J Kramer And The Dakotas were at No.1 on the singles chart with 'Bad To Me.' A song John Lennon wrote for them while on holiday in Spain with Brian Epstein. The track later became the first Lennon–McCartney composition to reach the US Top 40 for an artist other than The Beatles.

1964 - The Supremes started a two week run at No.1 on the US singles chart with 'Where Did Our Love Go' the girl group's first No.1. Holland–Dozier–Holland had originally composed the song for The Marvelettes to record it who rejected the song.

1967 - The Jimi Hendrix Experience appeared on the Simon Dee Show. Kiki Dee and Cat Stevens were also guests on the show.

1968 - Ringo Starr quit The Beatles during The White Album sessions when the constant bickering and tension became too much for him. The news of Ringo's departure was kept secret, and he rejoined the sessions on September 3rd. After Ringo walked out, the remaining Beatles recorded 'Back In the USSR', with Paul on drums and John playing bass.

1978 - Sex Pistol Sid Vicious made his last live stage appearance when he appeared with Rat Scabies from The Damned, former Sex Pistol Glen Matlock and Nancy Spungen at London's Electric Ballroom. In the audience: Elvis Costello, Debbie Harry, Joan Jett, The Slits and Captain Sensible.

2014 - John Lennon's killer, 59-year-old Mark David Chapman, was denied parole by New York State officials for the eighth time. In handing down their decision, the parole board said, "Your release would be incompatible with the welfare of society and would so deprecate the serious nature of the crime as to undermine respect for the law."

Ed King died in his Nashville, Tennessee, home at 68 years of age. He was a guitarist for the psychedelic rock band Strawberry Alarm Clock and guitarist and bassist for the Southern rock band Lynyrd Skynyrd from 1972 to 1975 and again from 1987 to 1996.

1961 - Tamla Records released the Marvelettes first single, 'Please Mr. Postman'. The song went on to sell over a million copies and become the group's biggest hit, reaching the top of both the Billboard Pop and R&B charts. The song is notable as the first Motown song to reach the No.1 position on the Billboard Hot 100 pop singles chart.

1961 - Patsy Cline recorded the classic Willie Nelson song, 'Crazy'. Cline was still on crutches after going through a car windshield in a head-on collision two months earlier and had difficulty reaching the high notes of the song at first due to her broken ribs. 'Crazy' spent 21 weeks on the chart and eventually became one of her signature tunes.

1971 - Arthur Brown's Kingdom Come, Hawkwind, Duster Bennett, Brewers Droop, Indian Summer, Graphite and (second from the bottom on the bill) Queen all appeared at the Tregye Festival, Truro, Cornwall.

The Rolling Stones, 10CC, Lynyrd Skynyrd, Todd Rundgren's Utopia and Hot Tuna all appeared at The Knebworth Festival, tickets £4.50.

1983 - Ramones guitarist Johnny Ramone had a four-hour brain surgery operation, after being found unconscious in a New York Street where he had been involved in a fight.

1997 - Former Stone Roses drummer Alan Wren was jailed for seven days after being rude to a top Manchester Magistrate. He was before the court due to having no car insurance and lost his temper after being quizzed about his earnings.

2006 - A man surfing the Internet in America foiled three men who broke into a Liverpool shop in Liverpool, England. The man who had logged onto a site streaming live footage of Mathew Street and a forthcoming Beatles festival saw the men smashing a window of a shop and climb inside. He phoned Merseyside police who arrested the men.

2008 - Paedophile and ex-pop star Gary Glitter returned to Thailand after being refused entry to Hong Kong. Chinese authorities informed the UK Foreign Office they had barred Glitter from entry. He was earlier deported from Vietnam after spending almost three years in jail for sexually abusing two girls. He flew to Hong Kong from Bangkok after refusing to fly to the UK, and had made a plea for medical treatment after saying he was suffering a heart attack.

2016 - The Tragically Hip drew a sell-out crowd to the show in Kingston, Ontario, as their dying singer Gord Downie bid Canada farewell. The show was broadcast live across Canada and was shown at hundreds of public screenings across the country in bars and outdoor venues.

1967 - The Beatles scored their 14th US No.1 single with 'All You Need Is Love'. Mick Jagger, Keith Richards, Eric Clapton, Keith Moon, Graham Nash, Marianne Faithfull and Walker Brother Gary Leeds all sang backing vocals on the track.

1971 - Led Zeppelin kicked off a North American tour at the Pacific Coliseum in Vancouver, Canada. The band played to a sold out crowd of over 17,000 fans, another 3,000 fans outside the venue who didn't have tickets started a battle with local police.

1972 - David Bowie played the first of two nights at the Rainbow Theatre in London on his current 182-date Ziggy Stardust world tour.

1977 - The Sex Pistols started an undercover UK tour as The Spots (an acronym for Sex Pistols on tour secretly).

2005 - 2005 - A life-size bronze statue of Phil Lynott designed by Paul Daly was unveiled on Harry Street in Dublin. The ceremony was attended by his former Thin Lizzy band members Gary Moore, Brian Robertson and Scott Gorham. Lynott who died in 1986 aged 36 had a string of hits including 'Whiskey in the Jar', 'The Boys are Back in Town', 'Jailbreak' and 'Waiting for an Alibi'.

Week commencing August 1212
Week commencing August 51959 - American jazz trumpeter Miles Davis released Kind of Blue which is regarded by many critics as jazz's greatest record, Davis's masterpiece, and one of the best albums of all time. Its influence on music, including jazz, rock, and classical genres, has led writers to also deem it one of the most influential albums ever recorded.

1964 - Glasgow council announced that all boys and men with Beatles styled haircuts would have to wear bathing caps after a committee was told that hair from 'Beatle-cuts' was clogging the pools filters.

1965 - The Byrds were forced to cancel a concert during their UK tour at The Guildhall, Portsmouth when only 250 of the 4,000 tickets had been sold.

1969 - The final day of the 3 day Woodstock Festival took place at Max Yasgur's farm in Bethel, New York. Acts who appeared included Crosby, Stills Nash & Young, The Who, Jimi Hendrix, Ten Years After, John Sebastian, Sha Na Na, Joe Cocker, Country Joe and the Fish, The Band, Ten Years After, Johnny Winter and Paul Butterfield Blues Band. Over 186,000 tickets had been sold but on the first day the flimsy fences and ticket barriers had come down. Organisers announced the concert would be a free event, prompting thousands more to head for the concert.

1973 - Former Temptations singer Paul Williams was found dead in his car, after shooting himself. He owed $80,000 in taxes and his celebrity boutique business had failed.



1991 - Nirvana shot the video for 'Smells Like Teen Spirit' at GMT Studios in Culver City, California, costing less than $50,000, the shoot features real Nirvana fans as the audience. The video won Nirvana the Best New Artist and Best Alternative Group awards at the 1992 MTV Video Music Awards, and in 2000 the Guinness World Records named 'Teen Spirit' the Most Played Video on MTV Europe.

1999 - Led Zeppelin topped a chart of Britain's most bootlegged musicians, compiled by the British Phonographic Industry (BPI), after identifying 384 bootleg titles featuring Led Zeppelin performances. The bootleg chart was complied from the BPI's archive of some 10,000 recordings seized over the past 25 years. The Beatles came in second with 320 entries, other acts listed included The Rolling Stones, Bob Dylan and Pink Floyd.

1999 - Former Bay City Rollers drummer Derek Longmuir appeared at the Edinburgh Sheriff Court accused of child porn and drugs offences. Longmuir, 48, denied the charges but was later sentenced to 300 hours community service.

2012 - Three members of the Russian feminist punk rock protest group Pussy Riot were sentenced to two years imprisonment after they had staged a performance on the soleas of Moscow's Cathedral of Christ the Savior in a protest directed at the Orthodox Church leader's support for President Putin during his election campaign.

1962 - Brian Epstein told Pete Best that the other Beatles wanted him out of the group, and that he was being replaced. Epstein then asked Best to perform with The Beatles that night at the Riverpark Ballroom in Chester. Pete Best does not show up, so drummer Johnny Hutchinson of The Big Three filled in the temporary vacancy.

1969 - Hippie leader Abbie Hoffman was knocked offstage by Pete Townshend while attempting to make a political statement during The Who's set at Woodstock. Later, Townshend said he didn't know it was Hoffman at the time.

1969 - During a North American tour Led Zeppelin appeared at the Convention Hall in Asbury Park with Joe Cocker as support. Zeppelin had been asked to perform at Woodstock but due to this gig commitment were unable to attend. And down the road Bruce Springsteen's band Child played the first of two shows over two days at the Student Prince, Asbury Park. Springsteen was also unable to attend Woodstock due to these gigs.

1970 - The final day of the three day Yorkshire Folk, Blues & Jazz Festival at Krumlin, took place featuring The Kinks, Mungo Jerry, Yes, Ginger Baker's Air Force and Edgar Winter. Weekend tickets, £3.

1977 - Elvis Presley was found dead lying on the floor in his bathroom by his girlfriend Ginger Alden, he had been seated on the toilet reading 'The Scientific Search For Jesus'. He died of heart failure at the age of 42. His first record for RCA, 'Heartbreak Hotel' was also his first US No.1. He starred in 31 films. Elvis holds the record for the most entries on the US Hot 100 chart with 154. Elvis became the first rock 'n' roll artist to be honoured by the US Postal Service with a stamp.



1979 - The biggest single of the summer, The Knack's 'My Sharona' was awarded a Gold record for selling one million copies. The Knack's Doug Fieger wrote the song for his girlfriend, Sharona Alperin, whose picture appeared on the single's cover. Their debut album took just 11 days to complete and was produced by Mike Chapman.

1988 - Kiss played at The Marquee Club in London on their current 129-date Crazy Nights world tour.

1997 - Blur, Prodigy, Beck, Kula Shaker, Dodgy, Foo Fighters, Placebo, James, Ash, Dodgy and Gene all appeared at the two day V97 UK festival in Chelmsford and Leeds, weekend tickets, £50.



1969 - Woodstock Festival was held on Max Yasgur's 600 acre farm in Bethel outside New York. Attended by over 400,000 people, the event featured Jimi Hendrix, Crosby Stills Nash & Young, Santana, The Who, Creedence Clearwater Revival, Grateful Dead, Janis Joplin, The Band, Canned Heat, Joan Baez, Melanie, Ten Years After, Sly and the Family Stone, Johnny Winter, Jefferson Airplane, Ravi Shanker, Country Joe and the Fish, Blood Sweat and Tears, Arlo Guthrie and Joe Cocker. During the three days there were three deaths, two births and four miscarriages.

1969 - During a North American tour Led Zeppelin appeared at the Hemisfair Arena in San Antonio. Jethro Tull and Sweet Smoke were also on the bill. During the show Zeppelin received abuse from locals due to the length of their hair.

1979 - The futuristic satire film 'Americathon' premiered in Los Angeles featuring Meat Loaf. The soundtrack included songs by The Beach Boys, Nick Lowe and Elvis Costello.

1995 - Vince Neil's daughter, Skylar Neil, died of cancer at the age of 4. The Motley Crue singer later founded the Skylar Neil Memorial Fund in her honor. Since that time, Neil and the foundation have raised awareness and funding for various children's illnesses and has donated millions of dollars to The T.J. Martell Foundation, and it sponsors an annual golf tournament to raise money for children with cancer.

2004 - Rolling Stones drummer Charlie Watts was being treated for throat cancer after being diagnosed with the disease in June.

2012 - American musician Bob Birch died from an self-inflicted gunshot wound in his Los Angeles home, aged 56. Birch was badly injured in a car accident in 1995 and since then struggled with constant headaches, dizziness, vertigo, and severe pain throughout his body. He worked with Doobie Brothers, Bryan Adams, Lionel Richie, George Michael, Eric Clapton, B.B. King, Phil Collins, Keith Emerson, Barry Manilow and Elton John.

1962 - Unhappy with drummer Pete Best's role in The Beatles, Brian Epstein and the other three members decided to sack him. Best played his last gig the following night at The Cavern, Liverpool. Ringo Starr who was nearing the end of a three-month engagement with Rory Storm & the Hurricanes at a Butlin's holiday camp received a telephone call from John Lennon, asking him to join The Beatles. Ringo gave Rory Storm three days notice and on August 18, appeared as a member of The Beatles for the first time.

1967 - All UK offshore pirate radio stations were closed down when the marine broadcasting act came into force. Radio Caroline continued to broadcast until March '68.

1970 - The first day of the three day Yorkshire Folk, Blues & Jazz Festival at Krumlin, Yorkshire took place featuring Atomic Rooster, Pink Floyd (who didn't appear after being fog bound at Paris Airport), The Kinks, Elton John, Mungo Jerry, Yes, Alan Price, Georgie Fame, Juicy Lucy, Pretty Things and The Groundhogs. Weekend tickets; £3.

1971 - The Who released their fifth studio album Who's Next which featured the classic song 'Won't Get Fooled Again' and has since been viewed by critics as the Who's best record and one of the greatest rock albums of all time. The cover artwork shows a photo of the band apparently having just urinated on a large concrete piling, but according to photographer Ethan Russell, most of the band members were unable to urinate, so rainwater was tipped from an empty film canister to achieve the desired effect.

Nick Lowe became the first record released on Stiff Records. The label's marketing and advertising was often provocative and witty billing itself as "The World's Most Flexible Record Label". Other slogans were "We came. We saw. We left", and "If It Ain't Stiff, It Ain't Worth a Fuck".

1988 - Lead singer, poet and frontman of Hawkwind, Robert Calvert died of a heart attack. He was a member of Hawkwind from 1972-1979 during which time he co-wrote their hit single 'Silver Machine' and directed their Space Ritual Tour.

2002 - Dave Williams lead singer of US heavy rock band Drowning Pool was found dead on the band's tour bus during Ozzy Osbourne's Ozzfest tour in Manassas, Virginia. The autopsy concluded that he suffered from a form of heart disease. The bands debut album, Sinner, had sold over 1 million copies in the US since its release in June 2001.

2018 - American singer Jill Janus committed suicide age 42. She had been the lead singer of American heavy metal bands Huntress, The Starbreakers and Chelsea Girls.

1964 - The Beatles first film A Hard Day's Night opened in 500 American cinemas to rave reviews. The film was a financial and critical success. Time magazine rated it as one of the all-time great 100 films.

1968 - Jimmy Page, Robert Plant, John Paul Jones and John Bonham played together for the first time when they rehearsed at a studio in Gerrard Street in London's West End. The first song they played was a version of 'The Train Kept A-Rollin.' They also played 'Smokestack Lightning' and a version of 'I'm Confused' (soon to become 'Dazed And Confused'). The first live dates they played were as The Yardbirds, and it was not until the following month when they started to use the name Led Zeppelin.

Alice Cooper was at No.1 on the singles chart with 'School's Out'. The band's only No.1. Cooper has said he was inspired to write the song when answering the question, "What's the greatest three minutes of your life?". Cooper said: "There's two times during the year. One is Christmas morning, the next one is the last three minutes of the last day of school."

1989 - The two day Moscow Music Peace Festival was held at The Lenin Stadium in Moscow. Western Acts who appeared included Motley Crue, Ozzy Osbourne, Bon Jovi, Skid Row and Scorpions. This was the first time that an audience had been allowed to stand up and dance at a stadium rock concert in the Soviet Union. Previous to this, all concerts had to be seated.

2010 - Richie Hayward, drummer and co-founder of Little Feat, passed away at the age of 64 after contracting pneumonia as he battled liver cancer.

Week commencing August 5
Week commencing July 291959 - Four members of The Platters were arrested after a gig in Cincinnati after being found with four 19 year old women (3 of them white), in various stages of undress. The scandal resulted in radio stations across the US removing Platters records from their playlists.

Acker Bilk, Chris Barber, Ronnie Ross, Cyril Davies, Long John Baldry and The Rolling Stones all appeared at the third Richmond Jazz Festival held over two days in Richmond, Surrey. A weekend ticket cost 20 shillings.

1985 - 'Money for Nothing' by Dire Straits peaked at No.4 on the singles chart. Notable for its groundbreaking music video and a cameo appearance by Sting singing the song's falsetto introduction and backing chorus, "I want my MTV" who also co-wrote the song with Mark Knopfler. The video was also the first to be aired on MTV Europe when the network started on 1 August 1987.

2007 - Anthony Wilson the music mogul behind some of Manchester's most successful bands died aged 57 after suffering from kidney cancer. The TV presenter and entrepreneur founded Factory records, the label behind New Order and the Happy Mondays was also famous for setting up the Hacienda nightclub in Manchester.

2008 - Singer-songwriter Isaac Hayes died at his home in Memphis, Tennessee, at the age of 65. Police were called to his home after his wife found him unconscious. He was taken to hospital where he was pronounced dead. Hayes won an Oscar for the 1971 hit Theme From Shaft as was also known as the voice of Chef from the hit cartoon show, South Park. He was married four times and had 12 children.

1963 - The first ever edition of 'Ready Steady Go! was shown on UK TV. Introduced by Keith Fordyce and 19 year-old Cathy McGowan. The first show featured The Searchers, Jet Harris, Pat Boone, Billy Fury and Brian Poole and The Tremeloes. The final show was in Dec 1966 after 175 episodes. Originally 30 minutes long, it expanded to 50 minutes the following year, and soon attracted the most popular artists, including The Beatles, The Lovin' Spoonful, The Rolling Stones, The Four Tops, The Kinks and many others.

1967 - The Small Faces entered the singles chart with 'Itchycoo Park', the single peaked at No.3 in the chart. The song was one of the first pop singles to use flanging, an effect that can be heard in the bridge section after each chorus. Most sources credit the use of the effect to Olympic Studios engineer George Chkiantz who showed it to the Small Faces regular engineer Glyn Johns.



1968 - Deep Purple, Tyrannosaurus Rex, Ten Years After, The Nice, Ginger Baker, Traffic, John Mayall, Spencer Davis, Taste, Jerry Lee Lewis and Arthur Brown all appeared at the 3 day National Jazz & Blues Festival, Kempton Park Racecourse, Sunbury On Thames.

1980 - AC/DC scored their first No.1 album with Back In Black. It was the first AC/DC album recorded without former lead singer Bon Scott (who died on 19 February 1980 at the age of 33), and was dedicated to him. The album has sold an estimated 49 million copies worldwide to date, making it the second highest selling album of all time, and the best selling hard rock or heavy metal album, as well as the best selling album ever released by a band.

1986 - Queen ended their Magic European tour at Knebworth Park, Stevenage, with over 120,000 fans witnessing what would be Queen's last ever live performance. On this, their final tour, Queen played to legions of established fans, plus many new ones gained as a result of their show-stealing performance at Live Aid the previous year. The support acts were Belouis Some, Big Country and Status Quo.

1995 - Jerry Garcia guitarist and singer from The Grateful Dead died from a heart attack at the Serenity Knolls rehabilitation clinic in San Francisco aged 53. Garcia co-founded the New Riders of the Purple Sage and also released several solo albums. He was well known for his distinctive guitar playing and was ranked 13th in Rolling Stone's "100 Greatest Guitarists of All Time".

1960 - 16-year old Brian Hyland went to No.8 with 'Itsy Bitsy Teeny Weeny Yellow Polka Dot Bikini'. A No.1 for Bombalurina featuring TV presenter Timmy Mallett in 1990.

1960 - Decca Records scrapped 25,000 copies of Ray Peterson's 'Tell Laura I Lover Her' because they felt the song, which recounts the last thoughts of a teenager dying from a car accident, was "too tasteless and vulgar". A cover version by Ricky Valance went to No.1 just a month later.

Janis Joplin bought a headstone for the grave of her greatest influence Bessie Smith at the Mont Lawn Cemetery in Philadelphia. Blues singer Smith died in 1937 after being refused admission to a whites only hospital.

1980 - The Greater London Council banned The Plasmatics from blowing a car up on stage during their live debut at London's Hammersmith Odeon.

1992 - A riot broke out during a Guns N' Roses and Metallica gig at Montreal stadium when Metallica's show was cut short after singer James Hetfield was injured by pyrotechnics. Guns N' Roses took the stage but frontman Axl Rose claimed that his throat hurt, causing the band to leave the stage early. The cancellation led to a riot by the audience who overturned cars, smashed windows, looted local stores and set fires.

2016 - The judge overseeing Led Zeppelin's 'Stairway To Heaven' trial ruled against the band and their publishing company's attempts to recoup nearly $800,000 in legal fees. While a federal jury determined that Led Zeppelin were not guilty of plagiarizing Spirit's 'Taurus' in a copyright infringement trial, judge R. Gary Klausner ruled that, since the lawsuit itself was not frivolous and meritless, the estate of Spirit guitarist Randy (California) Wolfe and their attorney Francis Malofiy were not obligated to repay the defendants' legal fees.

1957 - The Quarry Men played at The Cavern Club in Liverpool (without Paul McCartney who was away at Boy Scout summer camp). The Cavern was still a jazz club, but skiffle was tolerated, but when John Lennon dared to play 'Hound Dog' and 'Blue Suede Shoes', the club owner sent a note to the stage saying, "Cut out the bloody rock!"

1964 - The Rolling Stones, Ronnie Scott, Tuby Hayes, Manfred Mann, Yardbirds and Mose Allison all appeared at the fourth Richmond Jazz Festival held over three days in Richmond, Surrey.

1970 - The Goose Lake International Music Festival was held in Leoni, Michigan. Over 200,000 fans attended the three day festival. Acts who appeared included Jethro Tull, 10 Years After, Mountain, Chicago, Bob Seger, John Sebastian, James Gang, Stooges with Iggy Pop, Brownsville Station, MC5, Rod Stewart and Flying Burrito Brothers.

1963 - In the evening at Studio A of the Columbia Recording Studio, New York City, Bob Dylan recorded the first session produced by Tom Wilson for the album The Times They Are A-Changin'. Dylan's third studio album was the first collection to feature only original compositions, the title track being one of Dylan's most famous. The album consists mostly of stark, sparsely-arranged story songs concerning issues such as racism, poverty, and social change.

1965 - Decca records released the Small Faces debut single 'Whatcha Gonna Do About It.' It peaked at No.14 on the chart.

1970 - Steppenwolf, Janis Joplin, Paul Simon, Poco and Johnny Winter all appeared at the Concert For Peace at New York's Shea Stadium. The concert date coincided with the 25th anniversary of dropping an atomic bomb on Hiroshima, Japan.



1970 - The 10th National Jazz, Blues and Pop four day Festival was held at Plumpton Racecourse in Sussex. It Featured Family, Groundhogs, Cat Stevens, Deep Purple, Fat Mattress, Yes, Caravan, The Strawbs, Black Sabbath, Wild Angels, Wishbone Ash and Daddy Longlegs.

1977 - The Police appeared at The Red Cow, Hammersmith Road in London, admission was 60p.

1983 - Avant-garde musician and former backing singer with David Bowie Klaus Nomi died at the age of 39 of Aids in New York City aged 38. Nomi was one of the first celebrities to contract AIDS.

1999 - Dick Latvala died aged 56 after being in a coma caused by a heart attack. Latvala worked with The Grateful Dead since the early 80s looking after their archives of live performances which became a series of 'Dick's Picks' albums.

2009 - Willy DeVille died at the age of 58 following a battle with pancreatic cancer. The band he formed, Mink Deville, appeared at the legendary CBGB club in New York in the 1970s and scored the 1977 hit 'Spanish Stroll.' Doctors discovered he had cancer earlier this year as he was preparing to undergo treatment for hepatitis C.

1965 - Jan Berry of Jan and Dean was accidentally knocked off a camera car and broke his leg on the first day of filming a new film Easy Come, Easy Go. Several other people were also hurt, causing Paramount to cancel the movie entirely.

1972 - Aerosmith signed to CBS Records for $125,000 after record company boss Clive Davis saw them play at Max's Kansas City Club, New York.

1975 - Drummer Sandy West and guitarist Joan Jett formed the first ever all female heavy rock band after being introduced by producer Kim Fowley. The Runaways released four studio albums, among its best known songs: 'Cherry Bomb', 'Queen's of Noise' and a cover of the Velvet Underground's 'Rock n Roll'.

Jeff Porcaro drummer from Toto died age 38. His death has been the subject of controversy: some say the attack was caused by an allergic reaction to garden pesticide, while others say Porcaro's heart was weakened by smoking and cocaine use. Porcaro also worked with many other acts including Sonny and Cher, Roger Waters, Eric Clapton, Paul McCartney, Steely Dan, Paul Simon and Boz Scaggs.

1993 - Randy Hobbs, bass player with The McCoys, Edgar Winter Group and Montrose was found dead in his hotel room in Dayton Ohio from a drug overdose aged 45.

1996 - Top Of The Pops suffered its lowest audience ever - only two and a half million viewers. In its heyday the show attracted over 17 million viewers.

2007 - Beatles fans feared the misuse of the Fab Four's music had hit rock bottom following the decision to license 'All You Need Is Love' for use in a nappy advert. Procter & Gamble had purchased the rights to use the song from Sony/ATV Music Publishing, which now owned Northern Songs, the Beatles' catalogue. The ad featured a baby jumping on a teddy bear in a disposable nappy which offered 'ultimate leak protection.'

2007 - DNA testing on about a dozen people who claimed late soul star James Brown was their father revealed that at least two of them were telling the truth. A former adviser for the singer, Buddy Dallas, said he could not confirm exact figures, as further test results were forthcoming. His will, which was being disputed in court, named six children.

2009 - Steven Tyler was airlifted to hospital after falling off stage during a gig at the Sturgis Motorcycle Rally in South Dakota. The 61-year-old Aerosmith singer fell from a catwalk onto a couple of fans, he suffered neck and shoulder injuries. About 30 minutes after the accident, guitarist Joe Perry came out to tell the crowd that the remainder of the show had been cancelled.

Week commencing July 299
Week commencing July 221963 - The Beatles appeared at the Queen's Theatre in Blackpool. So many fans crowded around the theatre, blocking every entrance, that The Beatles had to go through a construction area, up and across some scaffolding to the roof of the theatre from where they were lowered through a trap door.

1966 - The Troggs were at No.1 on the singles chart with 'With A Girl Like You', the group's only No.1 single.

1967 - A female Monkees fan stowed away on the bands plane between shows in Minneapolis and St Louis. The girl's father threatened to bring charges for transporting a minor across state lines.

1967 - Pink Floyd released their debut album The Piper At the Gates of Dawn on which most songs were penned by Syd Barrett. In subsequent years, the record has been recognised as one of the seminal psychedelic rock albums of the 1960s. When reviewed, Record Mirror and NME both gave the album four stars out of five. The album, which was recorded at Abbey Road studios, London during the same time that The Beatles were recording Sgt. Pepper peaked at No.6 on the album chart but failed to chart in the US.

1968 - The second day of the two day Newport Pop Festival took place in Costa Mesa, California with Blue Cheer, Eric Burdon & The Animals, Grateful Dead, Illinois Speed Press, Iron Butterfly, Jefferson Airplane, Quicksilver Messenger Service and The Byrds. Over 100,000 fans attended the festival.

1975 - Led Zeppelin singer Robert Plant and his wife were both badly injured when the hire car he was driving spun off the road and crashed on the Greek island of Rhodes. Plant smashed his ankle and his elbow, and was not fully fit for the best part of two years. A forthcoming North American tour had to be cancelled.

2010 - Don Henley reached an out-of-court settlement with Republican Senatorial candidate Chuck DeVore who used parodies of two Eagles' hits for an election campaign without permission. 'All She Wants To Do Is Dance' and 'The Boys of Summer' were used in campaign videos on YouTube as 'All She Wants To Do Is Tax' and 'Hope Of November'.

1963 - The Beatles played their last ever performance at The Cavern Club in Liverpool. During their set a power cut silenced their instruments and plunged the Cavern into temporary darkness. Lennon and McCartney performed an acoustic version of 'When I'm Sixty-Four', a song they wouldn't release until 1967. The Beatles, whose fee for their first performance at the Cavern had been £5, received a fee of £300 for this performance.



1968 - The two day Newport Pop Festival took place in Costa Mesa, California with Alice Cooper, Canned Heat, Chambers Brothers, Charles Lloyd Quartet, Country Joe and the Fish, Electric Flag, James Cotton Blues Band, Paul Butterfield Blues Band, Sonny & Cher, Steppenwolf and Tiny Tim. Over 100,000 fans attended the festival.

1985 - 'Drive' by The Cars was re-released following its dramatic use on TV during the Live Aid concert. All the royalties from the record went to the Band Aid trust.

1986 - The News Of The World printed an exclusive interview with 16 year old model Mandy Smith, who revealed she has been having an affair with Rolling Stone Bill Wyman for the past 2 and a half years.

2002 - After an absence of 37 years, Bob Dylan returned to the Newport Folk Festival (now known as the Apple and Eve Newport Folk Festival) where he performed a 2 hour show of 19 songs, wearing a false beard and a wig. Songs played included: Subterranean Homesick Blues, 'Desolation Row', 'Positively 4th Street', 'The Wicked Messenger', 'Like A Rolling Stone' and 'Mr. Tambourine Man'.

2008 - Kid Rock was at No.1 on the singles chart with 'All Summer Long'. The song is based on Warren Zevon's 'Werewolves of London' and Lynyrd Skynyrd's 'Sweet Home Alabama'.

2015 - Former AC/DC drummer Phil Rudd pleaded not guilty to breaching the conditions of his current home detention by drinking alcohol. Rudd had been under house detention since being sentenced for drug possession and making threats to kill in July of this year. The 61-year-old could face further sanctions, including jail time, if the judge decided he did violate his conditions.

1957 - Touring with Clyde McPhatter, The Cadillacs, Edna McGriff, Otis Rush, Lee Andrews & The Hearts, Oscar & Oscar, The G-Clefs, Buddy Holly and the Crickets appeared at the Howard Theater, Washington, DC. With "That'll Be The Day" sitting at No. 2 on the US charts, this was Buddy's first major tour.

1964 - The Beatles appeared at the Gaumont Cinema in Bournemouth. One of the supporting acts, billed as a 'new and unknown London group', was The Kinks.

1967 - The Jimi Hendrix Experience played the first of five nights at the Salvation Club in New York City. During this period a typical set list included: Foxy Lady, Hey Joe, The Wind Cries Mary, Purple Haze and Burning Of The Midnight Amp.

1968 - The Doors started a two week run at No.1 on the US singles chart with 'Hello I Love You', the group's second US No.1. The Doors scored 8 top 40 US hits from 67-71.

1976 - Peter "Puddy" Watts, road manager with Pink Floyd died of a heroin overdose. Watts supplied the crazed laughter on the groups The Dark Side of The Moon album.



1980 - The Clash released their single 'Bank Robber' after it been available as an import only. The band's record company CBS didn't want to release the record saying it was not commercial enough.

2004 - Eric Clapton bought a 50% share in Cordings to save the historic gentleman's outfitters from closure. The store, based in London since 1839 had run into financial difficulties. The guitarist said he had been fond of the shop since a window display caught his eye when he was 16, and had become a regular shopper there. Cordings was the originator of the Covert coat and the Tattersall shirt and made riding boots for the Queen Mother, the Duke of Windsor and Mrs Simpson.

1964 - The Beatles scored their fifth US No.1 single in seven months when 'A Hard Day's Night' went to the top of the charts. The group had now spent seventeen weeks at the No.1 position in this year.

1965 - During a UK tour, The Rolling Stones appeared at the London Palladium supported by The Walker Brothers, The Fourmost, Steampacket featuring Rod Stewart and Sugar Pie Desanto with The Shevelles.



1969 - The three day US Atlantic City Pop Festival took place at the Atlantic City race track with B.B. King, Janis Joplin, Santana, Three Dog Night, Dr John, Procol Harum, Arthur Brown, Iron Butterfly, Creedence Clearwater Revival, Little Richard, Tim Buckley, The Byrds, Jefferson Airplane, The Mothers Of Invention and Canned Heat. Joni Mitchell started to cry and ran off stage in the middle of her third song because the crowd was not paying attention to her performance.

1971 - The Concert For Bangladesh organised by George Harrison to aid victims of famine and war in Bangladesh took place at New York's Madison Sq Garden. Featuring Bob Dylan, Ringo Starr, Billy Preston, Eric Clapton, Ravi Shankar and members from Badfinger. Harrison had to shell out his own money to maintain the fund after legal problems froze all proceeds. The triple album release (the second in a row by Harrison), hit No.1 in the UK and No.2 in the US and received the Grammy Award for Album of the Year.

1987 - Bob Seger scored his first US No.1 single with the Harold Faltermeyer penned 'Shakedown', which was taken from the film 'Beverly Hills Cop II'. The song was nominated for both the Academy Award for Best Original Song and Golden Globe Award for Best Original Song, but it lost both awards to Dirty Dancing's '(I've Had) The Time of My Life'.

1990 - UB40 were deported from the Seychelles after police discovered marijuana in their hotel rooms.

2000 - AC/DC kicked off their 140 date Stiff Upper World Lip Tour at the Van Andel Arena, Grand Rapids, Michigan.

2007 - The Police played the first of two sold out nights at Madison Square Garden, New York City on their Reunion Tour.

2007 - John Lennon's "granny" sunglasses were snapped up by a British collector at auction. The sunglasses, from one of the last Beatles concerts, were expected to fetch around £1m, but auction bosses refused to say what the actual figure was. Lennon gave the gold-rimmed glasses to his Japanese interpreter in Tokyo in 1966, and the translator removed the lenses when Lennon died.

1955 - Elvis Presley performed 3 shows at Fort Homer Hesterly Armory in Tampa, Florida (2 matinee and 1 evening). A riot broke out after the show when Elvis announced to the 14,000 strong crowd, "Girls, I'll see you backstage." Fans chased Elvis into the dressing room, tearing off his clothes and shoes.

1963 - The Rolling Stones performed at Eel Pie Island in Twickenham, Middlesex. The island was the site of the Eel Pie Hotel on the River Thames, where many up and coming acts appeared including The Who, The Yardbirds, Pink Floyd, John Mayall's Bluesbreakers, and David Bowie.

1964 - Country singer Jim Reeves was killed in a plane crash when the single engine aircraft flying from Arkansas to Nashville crashed in thick fog. 40 year-old Reeves was one of the first country singers to cross-over into the pop market with his 1966 No.1 single 'Distant Drums'.

1968 - Tommy James and The Shondells were at No.1 on the singles chart with 'Mony Mony'. Also a hit for Billy Idol in 1987.

1971 - A security guard was stabbed to death during a concert by The Who at New York's Forest Hill Stadium.

1980 - During an Eagles concert at Long Beach, California, tempers boiled over between Glen Frey and Don Felder, who spent the entire show describing to each other the beating each planned to administer backstage. "Only three more songs until I kick your ass, pal," Frey told Felder. The group's next album was mixed by Frey and Felder on opposite coasts after the two decided they couldn't bear to be in the same state, let alone the same studio.

John Walters died aged 63. Walters produced and worked with John Peel, who teamed up with Walters to broadcast some of the most groundbreaking music of an era. He joined the BBC in 1967, and became producer on John Peel's Top Gear show two years later. As a producer for Peel, he turned down the Sex Pistols for a "Peel session"; he reportedly regretted this decision later. Walters died suddenly on 30 July 2001, from a heart attack.

1954 - Slim Whitman, Billy Walker, Sugarfoot Collins, Sonny Harvelle, Tinker Fry, Curly Harris and a young Elvis Presley, all appeared at the Hillbilly Hoedown, Overton Park Shell, in Memphis Tennessee. Elvis was so nervous he stood up on the balls of his feet and shook his leg in time with the music, when he came offstage he asked why people were yelling at him. Someone told him it was because he was shaking his leg, which with the baggy pleated pants created a wild gyrating effect in time with the music.

The Troggs started a two week run at No.1 on the US singles chart with 'Wild Thing'. Because of a distribution dispute, The Troggs' single was available on two competing labels: Atco and Fontana. Because both pressings were taken from the identical master recording, Billboard combined the sales for both releases, making it the only single to simultaneously reach No. 1 for two companies.

1987 - David Bowie kicked of the North American leg of The Glass Spider Tour at the Veterans Stadium in Philadelphia, Pennsylvania. The tour's set, described at the time as "the largest touring set ever," was designed to look like a giant spider. It was 60 feet (18.3m) high, 64 feet (19.5m) wide. A single set took 43 trucks to move from each city.

1993 - Founder member and original bassist for The Wonder Stuff, Rob Jones died in New York aged 29. Vic Reeves and The Wonder Stuff had the 1991 No.1 with 'Dizzy' (a No.1 for Tommy Roe in 1969).

2003 - The Rolling Stones, AC/DC, Rush, The Guess Who, Justin Timberlake, The Flaming Lips, Sass Jordan and The Isley Brothers played a benefit concert in Toronto, Ontario, to prove that the city is safe from SARS. With 450,000 spectators, it was the largest concert in Canadian history.

2005 - A new book published to mark the 35th anniversary of the death of Jimi Hendrix claimed the guitarist pretended to be gay so he would be discharged from the army. 'Room Full of Mirrors' by Charles Cross said army records showed Hendrix was discharged from the 101st Airborne Division aged 19 in 1962 for "homosexual tendencies."

2009 - Procol Harum organist Matthew Fisher eventually won his long battle to be recognised as co-writer of the band's hit 'A Whiter Shade Of Pale'. Law Lords ruled that Fisher, who claimed he wrote the song's organ melody, was entitled to a share of future royalties. In 2006, the High Court ruled he was entitled to 40% of the copyright, but the Court Of Appeal overturned the ruling in 2008 saying he waited too long, 38 years, to bring the case to court.

1963 - Elvis Presley was at No.1 on the singles chart with '(You're The) Devil In Disguise'. His 14th No.1. In 1963, when the song was debuted to a British audience on Juke Box Jury, John Lennon voted the song "a miss" stating on the new song that Elvis Presley was "like Bing Crosby now."

1966 - Eric Clapton, Jack Bruce and Ginger Baker made their live debut as Cream at The Twisted Wheel, Manchester. The group's third album, Wheels of Fire, was the world's first platinum-selling double album.

1966 - Bob Dylan was riding his Triumph 55 motorcycle to a garage near his home in Woodstock, New York for repairs when the rear wheel locked. Dylan lost control and was thrown over the handlebars, suffering a broken neck vertebra. His recuperation led to a period of reclusive inactivity.

1967 - The International Love-In Festival took place at Alexandra Palace London with Pink Floyd, Julie Driscoll and the Brian Auger Trinity, The Animals, Crazy World Of Arthur Brown, Tomorrow, Blossom Toes, Creation, The Nervous System and Apostolic Intervention.

1968 - Gram Parsons left The Byrds on the eve of a tour of South Africa, refusing to play to segregated audiences.

1974 - Mamas & the Papas singer Cass Elliot died in her sleep from a heart attack after playing a sold out show in London. She was staying at Harry Nilsson's London flat when she died. Her solo hits included 'Dream a Little Dream of Me,' which also featured the rest of The Mamas & the Papas and 'It's Getting Better'. Had also been a member of The Mugwumps.

1988 - American record producer and pedal steel guitar player Pete Drake died of lung disease. Worked with Elvis Presley, George Harrison and Ringo Starr. Played on such hits as Lynn Anderson's 'Rose Garden', Charlie Rich's 'Behind Closed Doors', Bob Dylan's 'Lay Lady Lay' and Tammy Wynette's 'Stand by Your Man'.

2007 - Heart problems forced Kiss singer and guitarist Paul Stanley to abandon a show in California. Paramedics stopped and restarted his heart to give it a regular rhythm after his heart spontaneously jumped to 190 plus beats per minute.

Leonard Cohen's song 'So Long, Marianne', died age 81. Before her death, Cohen had sent her a letter that read, in part, "Know that I am so close behind you that if you stretch out your hand, I think you can reach mine." Cohen joined her in death four months later on November 7.

Week commencing July 2222
Week commencing July 151966 - Chris Farlowe and the Thunderbirds were at No.1 on the singles chart with the Mick Jagger and Keith Richards song 'Out Of Time'.

1969 - Police in Moscow reported that thousands of public phone booths had been vandalised after thieves were stealing parts of the phones to convert their acoustic guitars to electric. A feature in a Russian youth magazine had shown details on how to do this.

1973 - The Watkins Glen outdoor summer jam was held outside of Watkins Glen, New York with The Allman Brothers Band, The Grateful Dead and The Band. Over 600,000 rock fans attended. Many historians claimed the event was the largest gathering of people in the history of the United States. 150,000 tickets were sold for $10 each, but for all the other people it was a free concert. The crowd was so huge that a large part of the audience was not able to see the stage.

1979 - 'I Don't Like Mondays' gave The Boomtown Rats their second No.1 single. Bob Geldof wrote the song after reading a report on the shooting spree of 16-year-old Brenda Ann Spencer, who fired at children playing in a school playground across the street from her home in San Diego, California. She killed two adults and injured eight children and one police officer. Spencer showed no remorse for her crime, and her full explanation for her actions was "I don't like Mondays, this livens up the day."



1996 - Marge Ganser from The Shangri-Las died of breast cancer. The group scored over ten hits during the 60s including the 1964 US No.1 'Leader Of The Pack.'

1958 - Fans of rock & roll music were warned that tuning into music on the car radio could cost you more money. Researchers from the Esso gas company said the rhythm of rock & roll could cause the driver to be foot heavy on the pedal, making them waste fuel.

1986 - Queen became the first western act since Louis Armstrong in 1964 to perform in Easten Europe when they played at Budapest's Nepstadion, Hungary, the gig was filmed and released as 'Queen Magic in Budapest'.

2001 - Leon Wilkeson bass player with Lynyrd Skynyrd was found dead in a hotel room in Florida aged 49. Skynyrd scored the 1974 US No. 8 single, 'Sweet Home Alabama' and the 1982 UK No.21 single 'Freebird'. He was also a member of the Rossington-Collins Band.

1969 - Johnny Cash released the single, 'A Boy Named Sue', written by Shel Silverstein. Cash was at the height of his popularity when he recorded the song live at California's San Quentin State Prison at a concert on February 24, 1969. The song tells the tale of a young man's quest for revenge on a father who abandoned him at 3 years of age and whose only contribution to his entire life was naming him Sue.

1977 - Led Zeppelin cut short their 11th North American tour after Robert Plant's five-year-old-son Karac died unexpectedly of a virus at their home in England.

1986 - Peter Gabriel went to No.4 with 'Sledgehammer'. The song's music video has won a number of awards, including a record nine MTV Awards at the 1987 MTV Video Music Awards, and Best British Video at the 1987 Brit Awards. Gabriel was also nominated for three Grammy Awards. As of 2011, 'Sledgehammer' is the most played music video in the history of MTV.

1990 - American keyboardist and vocalist Brent Mydland from the Grateful Dead was found dead on the floor of his home aged 38 from a drug overdose. His eleven-year tenure was longer than that of any other keyboardist in the band.

1992 - American singer and Motown artist Mary Wells, referred to as The First Lady of Motown and who had a 1964 UK No. 5 single 'My Guy', died aged 49 of laryngeal cancer. Wells was forced to give up her career and with no health insurance, was forced to sell her home. Wells' old Motown friends including Diana Ross, Mary Wilson, The Temptations and Martha Reeves, along with Dionne Warwick, Rod Stewart, Bruce Springsteen, Aretha Franklin and Bonnie Raitt, personally pledged donations in support.

2006 - The final edition of Top Of The Pops was recorded at BBC Television Centre in London. Just under 200 members of the public were in the audience for the show which was co-hosted by veteran and disgraced disc jockey Sir Jimmy Savile, its very first presenter. Classic performances from the Spice Girls, Wham!, Madonna, Beyonce Knowles and Robbie Williams featured in the show alongside The Rolling Stones who were the very first band to appear on Top of the Pops on New Year's Day in 1964.

2009 - AC/DC singer Brian Johnson appeared as the Star in a Reasonably Priced Car on Top Gear. His time of 1:45.9 tied him with Simon Cowell for the second fastest time. He was introduced by host Jeremy Clarkson as "a man who has sold more albums than The Beatles and I bet almost none of [the audience] have ever heard of him."

1960 - Roy Orbison reached No.2 on the US singles chart with 'Only the Lonely,' his first hit. The song was turned down by The Everly Brothers and Elvis Presley, so Orbison decided to record the song himself.

1963 - Cilla Black made a recording test for EMI Records after George Martin had spotted her while at a Gerry And The Pacemakers gig in Liverpool.

Chuck Berry, Tim Buckley, The Byrds, Chicago Transit Authority, Albert Collins, Bo Diddley, The Doors, The Flock, The Flying Burrito Brothers, Guess Who, It's A Beautiful Day, Led Zeppelin, Santana, Spirit, Ten Years After, Ike & Tina Turner, Vanilla Fudge, Alice Cooper and The Youngbloods.

1971 - T Rex were at No.1 on the singles chart with 'Get It On', the group's second No.1 which spent four weeks at the top of the charts. Power Station had a UK & US hit with their version of the song in 1985.

1980 - AC/DC released their sixth internationally released studio album Back In Black, the first AC/DC album recorded without former lead singer Bon Scott who died on 19 February 1980 at the age of 33. The album has sold an estimated 49 million copies worldwide to date, making it the second highest-selling album of all time, and the best-selling hard rock or heavy metal album.

1999 - This years Woodstock Festival ended with riots resulting in 120 people being arrested. Three people died during the 3-day festival in separate incidents and many were hospitalised after drinking polluted water.

2003 - Erik Braunn from American psychedelic rock band Iron Butterfly died of cardiac failure at the age of 52. Braunn was just 16 years old when he joined Iron Butterfly who had the single 'In-A- Gadda-Da-Vida'.

1964 - A riot broke out during a Rolling Stones gig at The Empress Ballroom in Blackpool, after Keith Richards kicked a yob in the mouth who was spitting at the group. Two policemen and 30 fans were injured and the damage was estimated at over £4,000. The Rolling Stones were then banned from playing in Blackpool for forty-four years.

1969 - Paul McCartney recorded a demo of his new song 'Come and Get It' at Abbey Road studios in London. McCartney gave the song to The Iveys (soon to become Badfinger). The song was later used as the theme for the movie The Magic Christian. The Beatles also recorded 'Sun King/Mean Mr. Mustard' for their forthcoming Abbey Road album.

Bobby Ramirez drummer with Edgar Winters White Trash was killed after becoming involved in a brawl in a Chicago bar. The fight started after comments were made about the length of his hair.

1978 - The Robert Stigwood film 'Sgt Pepper's Lonely Hearts Club Band' was released, featuring The Bee Gees and Peter Frampton. The film received extremely negative reviews from most critics and barely broke even at the box office.

2002 - A garden centre was sued over claims it killed a collection of the late singer Freddie Mercury's prized koi fish. Mercury's former partner, Mary Austin who inherited the Japanese koi collection claimed 84 fish died when the electricity powering a temporary pond was accidentally turned off by a worker from Clifton Nurseries, of Maida Vale. At the time of Mercury's death he had amassed one of the best collections of the fish in the UK. One koi can be worth £250,000.

2003 - Johnny Cash picked up six nominations in the MTV Video Music Awards for his remake of Nine Inch Nails' 'Hurt' from his album, American IV: The Man Comes Around. The video, featuring images from Cash's life and directed by Mark Romanek, was also named the best video of the year by the Grammy Awards and CMA Awards, and the 'best video of all time' by the NME.

1955 - Slim Whitman was at No.1 on the singles chart with 'Rose Marie.' The single stayed at the top of the charts for eleven weeks. Whitman held the record for the most consecutive weeks at No.1 (11 weeks), until 1991.

1977 - Led Zeppelin drummer John Bonham was charged with assault after a concert at the Oakland Coliseum in California. Bonham and band manager Peter Grant had the help of their bodyguard in roughing up a security employee at the venue. After pleading guilty to misdemeanors, the accused settle out of court for two million dollars. The tour would eventually be cancelled after Robert Plant's son died a few days later.

1979 - Keyboard player with The Grateful Dead Keith Godchaux died after being involved in a car accident aged 32. He co-wrote songs with Lowell George (of Little Feat) and was a member of The New Riders of the Purple Sage.

1989 - Ringo Starr kicked off his first tour since the break-up of the Beatles with a show in Dallas. His backup band included guitarist Joe Walsh, organist Billy Preston and Bruce Springsteen's sax man Clarence Clemons.

1994 - The International Astronomical Union named an asteroid orbiting between Mars and Jupiter after Frank Zappa who had died the previous December.

1995 - Two R.E.M. fans died at Dublin's Slane Castle gig, one drowned in the River Boyne and the other was allegedly pushed from a bridge.

1996 - Rob Collins, keyboard player with The Charlatans died in a car crash, aged 29. Collins had been recording keyboard parts for the Charlatans 5th album 'Tellin' Stories' at a studio in Wales. An investigation into the accident showed that Collins had consumed a sizable amount of alcohol and was not wearing a seatbelt. He died from head injuries on the roadside shortly after the accident having been thrown through the windscreen.



2005 - Queen's 1985 Live Aid performance was voted the best rock concert ever by over 7,000 UK Sony Ericsson music fans. Radiohead were voted the best festival act for their 1997 Glastonbury performance and Bob Dylan's 1966 Manchester Free Trade Hall gig won the best ever solo gig.

2009 - On the afternoon of tonight's Bob Dylan concert at First Energy Park, Lakewood, New Jersey, Dylan was picked up by a young policewoman for 'acting suspiciously'. The police officer drove up to Dylan, who was wearing a blue jacket, and asked him his name, but she did not recognise him. He was later released to gig with Willie Nelson and John Mellencamp that evening.

2011 - A yellow Ferrari previously owned by Eric Clapton sold for £66,500 at auction. The rare 2003 Ferrari 575 Maranello, which had only 10,000 miles on the clock, was snapped up by a private buyer at a sale at the Classic Car Sale at Silverstone, Northamptonshire. The yellow Maranello was bought new by Mr Clapton, who signed its service book, and later sold to BBC radio presenter Chris Evans.

1963 - The Beatles first US album, Introducing The Beatles, was pressed by Vee-Jay Records, who thought they had obtained the legal rights from EMI affiliate, Trans-Global Records. When it was finally released in January, 1964, Capitol Records would hit Vee Jay with an injunction against manufacturing, distributing, advertising, or otherwise disposing of records by the Beatles. After a trial, Vee-Jay was allowed to release any Beatles records that they had masters of in any form until October 15th, 1964. After that time, they no longer had the right to issue any Beatles product.

1967 - Pink Floyd appeared at The Beach Ballroom, Aberdeen. The venue is home to one of Scotland's finest dance floors - famous for its bounce - which floats on fixed steel springs. During the 1960s The Beatles (in 1963), Small Faces and Cream all appeared at the Beach.

1973 - David Bowie released the single 'Life On Mars', which peaked at No.3 on the chart. The track which was first released in 1971 on the album Hunky Dory, features guest piano work by Yes keyboardist Rick Wakeman. The line "Look at those cavemen go" is a reference to the song "Alley Oop," a one-off hit in 1960 for American doo-wop band The Hollywood Argyles.

1977 - Stiff Records released 'My Aim Is True' the debut album from Elvis Costello. The musicians who were featured on the album were uncredited on the original release (due to contractual difficulties), although the backing band was made up of members of the band Clover.

The Chi-lites, Eugene Record died of cancer. Had the 1972 US No.1 single 'Oh Girl' and 1972 UK No.3 single 'Have You Seen Her.' He also released three solo albums.

Week commencing July 1515
Week commencing July 81966 - Georgie Fame was at No.1 on the singles chart with 'Get Away'. The song started life as a TV jingle for a petrol advert.

1967 - The Jimi Hendrix Experience played the first of three nights at the Cafe-a-Go-Go in New York City.

1973 - Jim Croce started a two week run at No.1 on the US singles chart with 'Bad, Bad Leroy Brown'. Croce was killed in a plane crash three months later.

1973 - Canned Heat, Nazareth, Edgar Broughton Band, Groundhogs, Sensational Alex Harvey Band, Medicine Head, all appeared at Buxton Festival in Derbyshire. Hell's Angels arrived in force and proceeded to drink the site dry. Initially they paid for the booze but when the money ran out a deputation was sent into the audience to collect donations of 10p per person. About 20 minutes into his set Chuck Berry was showing one of the Angels how to do his duck-walk properly. He did one from one end of the stage to the other and disappeared into the wings. The band played on, the Angels bopped, and Chuck legged it to his car and drove off at high speed, never to return.

1977 - Despite protests, The Sex Pistols made their first appearance on Top Of The Pops, where they lip-synched to their third single, 'Pretty Vacant'. The performance helped push the song up the charts to No.7.

Tubeway Army scored their first No.1 album with 'Replicas'. The band led by lead singer Gary Numan were the first band of the post-punk era to have a synthesizer-based hit, with their single 'Are 'Friends' Electric?'

1987 - Guns N' Roses released their debut album on Geffen Records: Appetite For Destruction featured the singles 'Welcome to the Jungle', 'Sweet Child o' Mine', and 'Paradise City'. The album now has worldwide sales in excess of 28 million, 18 million of which are in the US, making it the best-selling debut album of all time there.

1990 - Roger Waters' The Wall took place at the Berlin Wall in Potzdamer Platz, to commemorate the fall of the Berlin Wall eight months earlier. Over 350,000 people attended and the event was broadcast live throughout the world. Van Morrison, Bryan Adams, Joni Mitchell, Scorpions, Cyndi Lauper, Sinead O'Connor and others took part.

2002 - Producer Gus Dudgeon, who worked with artists including Elton John, David Bowie, The Beach Boys, Kiki Dee, The Bonzo Dog Doo-Dah Band, The Strawbs, XTC, and Joan Armatrading, was killed aged 59 in a car accident near Reading, together with his wife Sheila. They had been driving along the M4 motorway on their way home from a party when Gus fell asleep at the wheel of the Jaguar XK8 convertible, crashing down an embankment at speed and ending up in a ditch.

2005 - Singer Long John Baldry died of a chest infection. He was one of the founding fathers of British Rock 'n' Roll in the 1960s performing with Blues Incorporated and Cyril Davies' R&B All Stars. He later fronted the Hoochie Coochie Men, with Rod Stewart and then Steam Packet with Brian Auger and Julie Driscoll. Also a member of Bluesology with Elton John. He also narrated on Winnie The Pooh recordings for Disney and was the voice for Robotnik on the Sonic The Hedgehog computer game.

2007 - Sharon Osbourne's music mogul father Don Arden died in a Los Angeles nursing home at the age of 81. Dubbed the Al Capone of Pop for his uncompromising business practices, he steered Small Faces, Black Sabbath and ELO to stardom.

1954 - The Blue Moon Boys made their live debut appearing on the back of a flatbed truck outside a new drug store for its grand opening in Memphis. The band line up was Elvis Presley Scotty Moore and Bill Black. The name was taken from a song they had recorded just two weeks previously, 'Blue Moon of Kentucky.'

1963 - Jan and Dean started a two week run at No.1 on the US singles chart with 'Surf City', written by Brian Wilson, with the Beach Boys on backing vocals. The single peaked at No.26 in the UK.

1968 - Iron Butterfly's second album, 'In-A-Gadda-Da-Vida', contained the 17-minute title track that filled the second side of the LP which went on sell over four million copies in the US alone.

Buzzcocks made their live debut supporting the Sex Pistols and Slaughter & The Dogs at The Lesser Free Trade Hall, Manchester. In the audience was, Morrissey, Bernard Sumner, Peter Hook (soon to form Joy Division) and Mark E Smith (The Fall) and Mick Hucknall. Tickets cost £1.

2003 - A tooth said to have been pulled out of Elvis Presley's mouth after an injury failed to sell on the auction site eBay . The tooth had been put on a 10-day sale with a reserve price of $100,000 (£64,100). Bids had pushed the price up to $2m (£1.28m) but they were later found out to be fraudulent.

2008 - John Lydon denied claims by Kele Okereke from Bloc Party that he was racially abused and attacked by a member of the Sex Pistols' entourage at a music festival in Barcelona. Okereke claimed he had been attacked by several men after approaching Lydon backstage at the Summercase festival. He said the 'unprovoked' attack left him with a split lip and bruises. Lydon said: 'I feel very sorry for a man that needs to lie about what was a perfect evening.'

2017 - Linkin Park lead singer Chester Bennington died aged 41. His body was found at a private home where Bennington apparently hanged himself. The singer was said to be close to Soundgarden vocalist Chris Cornell, who took his own life in May of this year. Formed in 1996, Linkin Park had sold more than 70 million albums worldwide and won two Grammy Awards.

1954 - Sun Records released the first Elvis Presley single, 'That's All Right', a cover of Arthur Crudup's 1946 tune 'That's All Right, Mama'. Only about 7,000 original copies were pressed, but the disc became a local hit in Memphis.

1974 - The Ozark Music Festival was held over three days on the Missouri State Fairgrounds in Sedalia. One of the largest music festivals ever held, some estimates have put the crowd count at 350,000 people. Acts who appeared included Bachman–Turner Overdrive, Blue Öyster Cult, the Eagles, America, Marshall Tucker Band, The Nitty Gritty Dirt Band, Boz Scaggs, Ted Nugent, Lynyrd Skynyrd, Electric Flag, Joe Walsh, Aerosmith and Spirit.

1975 - On his Natty Dread tour, Bob Marley & the Wailers appeared at the Lyceum Theatre in London. The show was recorded and the live single 'No Woman, No Cry' was later released.

Deep Purple split up at the end of a UK tour. David Coverdale went on to form Whitesnake, Jon Lord and Ian Paice formed a band with Tony Ashton - Paice, Ashton, Lord.. The classic line up of Blackmore, Gillan, Glover, Lord & Paice reformed in 1984. Glenn Hughes returned to Trapeze and Tommy Bolin put together his own band (but would die before the end of the year).

1986 - Genesis went to No.1 on the US singles chart with 'Invisible Touch'. The bands former lead singer Peter Gabriel was at No.2 with 'Sledgehammer'.

1991 - Steven Adler, ex drummer with Guns N' Roses, filed a suit in Los Angeles county court alleging that he was fraudulently removed from the group and that the band introduced him to hard drugs.

1999 - A gunman who sprayed bullets at Westwood's car in Kensington, London, shot Radio 1 DJ Tim Westwood. A statement the following day said he was recovering in a London Hospital.

2010 - Ozzy Osbourne and his former Black Sabbath bandmate Tony Iommi settled a long-running legal dispute over the use of the group's name. Ozzy had filed suit against the guitarist in May of last year, accusing Iommi of falsely proclaiming to be the sole owner of the Black Sabbath name by lodging an application with the US Patent and Trademark Office. The pair released a joint statement confirming they have settled the dispute "amicably".

1962 - Brenda Lee went to No.12 in the charts. Seeking publicity the 4' 11 tall singer was once billed as a 32-year- old midget and had the nickname Little Miss Dynamite.

1964 - The Four Seasons were at No.2 on the chart with 'Rag Doll'. Co-writer Bob Gaudio said that he got the inspiration for the song from a young girl in tattered clothes that cleaned his car windows at a stop light.

1966 - Bobby Fuller leader of The Bobby Fuller Four was found dead in his car in Los Angeles aged 23. Fuller died mysteriously from gasoline asphyxiation, while parked outside his apartment. Police labelled it a suicide, but the possibility of foul play has always been mentioned. Had the 1966 US No.9 single 'I Fought The Law' written by Sonny Curtis of Buddy Holly's Crickets and covered by The Clash.

1968 - Working at Abbey Road studios The Beatles recorded 'Cry Baby Cry' and 'Helter Skelter'. One take of 'Helter Skelter' lasted 27min 11sec; the longest Beatle recording ever.

1970 - Pink Floyd, Roy Harper, Kevin Ayers, and the Edgar Broughton Band, all appeared at a free concert held in Hyde Park, London.

1970 - DJ Kenny Everett was sacked from Radio 1 after he joked on air that the wife of the conservative transport minister Mary Peyton had 'crammed a fiver into the examiner's hand', when taking her driving test.

1974 - The US Justice Department ordered John Lennon out of the country by September 10th. The Immigration and Naturalization Service denied him an extension of his non-immigrant visa because of his guilty plea in England to a 1968 marijuana possession charge. The US Court of Appeal would overturn the deportation order in 1975 and Lennon was granted permanent resident status the following year.

Nico died after suffering a minor heart attack while riding a bicycle on holiday with her son in Ibiza. The German born singer-songwriter and keyboard player with Velvet Underground had also worked as a fashion model and actress.

1991 - Tonight (Thursday) was the first night of the 'Lollapalooza' tour at The Compton Terrace, Phoenix, featuring Living Colour, Siouxsie and the Banshees, Jane's Addiction, Nine Inch Nails, Henry Rollins Band and The Butthole Surfers.

1998 - The Beastie Boys went to No.1 on the album chart with 'Hello Nasty', only the second rap album to make No.1, the first being Wu-Tang Clan.

2001 - KISS added another product to their ever-growing merchandising universe: the "Kiss Kasket." The coffin featured the faces of the four founding members of the band, the Kiss logo and the words "Kiss Forever." Pantera guitarist Dimebag Darrell was buried in one after he was shot and killed on-stage in Dec 2004.

2002 - The Rolling Stones crew chief, 54-year-old Royden Magee, who had worked with the band for 30 years, died during a rehearsal in Toronto. A spokesman for the band said Magee had said that he wasn't feeling well and went to another room to take a nap. The Stones had just finished dinner and resumed rehearsing when they got word that Magee had collapsed and stopped breathing. He was taken by ambulance to nearby Sunnybrook Hospital where he was pronounced dead on arrival. The members of the band said they were devastated by his death.

2007 - Sting and his wife, Trudie Styler were ordered to pay their former chef compensation after losing a sexual discrimination case. Jane Martin, 41, was awarded £24,944 at an employment tribunal in Southampton, after she was sacked by Miss Styler from the couple's estate in Wiltshire because she became pregnant.

2008 - Rolling Stone guitarist Ronnie Wood was 'seeking help' with his battle with alcohol in a rehabilitation centre. The move followed tabloid speculation over the state of his 23-year marriage to former model Jo Wood. 'Following Ronnie's continued battle with alcohol he has entered a period of rehab,' his spokeswoman said.
8ly 15
1959 - Billie Holiday died in a New York City hospital from cirrhosis of the liver after years of alcohol abuse, aged 43 (while under arrest for heroin possession, with Police officers stationed at the door to her room.) In the final years of her life, she had been progressively swindled out of her earnings, and she died with $0.70 in the bank.

James Brown, which went on to sell over 2 million copies and receive the Grammy Award for best for Best Rhythm & Blues Recording. 'Papa's Got a Brand New Bag' is considered seminal in the emergence of funk music as a distinct style.

1972 - A bomb exploded under The Rolling Stones equipment van in Montreal, believed to be the work of French separatists. Angry fans rioted throwing bottles and rocks after 3,000 tickets for the show turned out to be fake.

1979 - Gary Moore left Thin Lizzy during a US tour and was replaced by ex Slick & Rich Kids guitarist Midge Ure.

1993 - Guns N' Roses appeared at River Plate Stadium in Buenos Aires, in front of 80,000 people; the final show on their Use Your Illusion Tour. A highlight of the night was English drummer Cozy Powell playing drums with Matt Sorum, dressed as a Domino's Pizza delivery boy.

1996 - Chas Chandler died aged 57 at Newcastle General Hospital, where he was undergoing tests related to an aortic aneurysm. He had been the bass player with The Animals and manager of Slade, Nick Drake and Jimi Hendrix.

1999 - Kevin Wilkinson, drummer with Howard Jones, hung himself at home aged 41. He had also worked with China Crisis, Holly and the Italians, Squeeze and The Waterboys.

2004 - Half of the 4,500 people in the audience walked out of Linda Ronstadt's show at the Aladdin Resort and Casino in Las Vegas after the singer dedicated an encore of 'Desperado' to filmmaker Michael Moore and urged the crowd to see his film Fahrenheit 9/11. [Well, I've just watched it and it's an honest, factual documentary about pollution, greed and corruption, that people should watch. But I can see how it would upset some - the truth can be very annoying; look how we treat whistleblowers!]

Week commencing July 1515
Week commencing July 81962 - The Beach Boys signed to Capitol Records in the US, their first hit was in Sept this year with 'Surfin' Safari.'

1966 - Jack Bruce, Ginger Baker and Eric Clapton formed Cream. The three piece group lasted only two years, leaving behind some classic recordings including 'Sunshine of Your Love,' 'Badge,' 'Strange Brew,' and 'White Room.'

1970 - Pink Floyd recorded a show at the BBC Paris Cinema in London for broadcast on the John Peel Sunday Concert on Radio 1 (broadcast 19 July of this year).

1981 - US singer-songwriter Harry Chapin, who had success in the 70s with 'Taxi', 'W-O-L-D' and a No. 1 'Cat's In The Cradle', was killed aged 38 while driving on a New York expressway. His car was hit from behind by a tractor-trailer, causing the gas tank to explode.

1993 - The first of the three day Phoenix festival on

Marston Airfield near Stratford-upon-Avon

started, featuring Sonic Youth, Faith No More, The Black Crowes, Julian Cope, Pop Will Eat Itself, Radiohead, Living Colour, Manic Street Preachers, Pulp, tickets £49.

Jon Lord, the former keyboard player with Deep Purple, died aged 71. Lord was a co-founder of Deep Purple in 1968 and co-wrote many of the group's songs including Smoke On The Water. He also played with bands including Whitesnake. He had been receiving treatment for pancreatic cancer since last August.

2012 - Hungarian-American bassist Bob Babbitt died aged 74, from brain cancer. He is most famous for his work as a member of Motown Records' studio band, the Funk Brothers, from 1966 to 1972. Babbitt's most notable bass performances include 'Signed, Sealed, Delivered I'm Yours' by Stevie Wonder, 'War' by Edwin Starr, 'The Tears of a Clown' by Smokey Robinson & the Miracles, 'Mercy Mercy Me (The Ecology)' and 'Inner City Blues' by Marvin Gaye, 'Band Of Gold' by Freda Payne, 'Ball of Confusion (That's What the World Is Today)', and 'Just My Imagination (Running Away With Me)' by The Temptations.

2014 - Blues guitarist Johnny Winter died at the age of 70 in Zurich, just days after playing at the Lovely Days Festival in Austria. Winter, who was instantly recognisable by his long white hair, worked with some of the greatest bluesmen, producing several albums for his childhood hero Muddy Waters - with whom he won a number of Grammys.

Week commencing July 8July 8
1956 - The Teenagers featuring Frankie Lymon were at No.1 on the singles chart with 'Why Do Fools Fall In Love'. At 13, Lymon was the youngest performer to make No.1.

1958 - John Lennon's mother Julia was killed by a car driven by an off-duty drunken police officer named Eric Clague (Clague was later acquitted of the offence). John Lennon was 17 years old at the time.

- The Edgar Winter Group, Sly & The Family Stone, Canned Heat, Lindisfarne and The Kinks all appeared at The Great Western Express festival at White City, West London. With his wife having recently walked out of their marriage, taking their young children with her, Ray Davies of The Kinks announces from the stage that he is sick of the whole thing and is retiring. He then walks into a local hospital and collapses from an overdose of tranquillizers.

1978 - Bob Dylan with special guest Eric Clapton, Joan Armatrading and Graham Parker all appeared at Blackbushe Aerodrome, Surrey. Reputedly this was the biggest ever UK audience for Bob Dylan, with over 200,000 fans attending.

1978 - The Rolling Stones started a two-week run at No.1 on the album chart with Some Girls the group's seventh No.1 album. The cover designed by Peter Corriston, featured The Rolling Stones in garish drag alongside select female celebrities and lingerie ads. The cover immediately ran into trouble when Lucille Ball, Farrah Fawcett, Liza Minnelli (representing her mother Judy Garland), Raquel Welch, and the estate of Marilyn Monroe who all threatened legal action.

1989 - Pink Floyd appeared in Canal di San Marco, Piazza San Marco, Venice, on a floating stage. Over 200,000 people attended the gig (almost double the number authorities had planned for) causing damage to buildings and bridges. The cleaning of the area after the concert was said to be around £25,000 and the concert was broadcast live on TV to over 20 countries with an estimated audience of almost 100 million. Two Venice councillors were later ordered to stand trial for the costs incurred by the concert.

2000 - Sad Cafe singer Paul Young died of a heart attack at his Manchester home aged 53. 'Run Home Girl' was a hit for Sad Cafe, 'Everyday Hurts' was a No.3 hit in 1979. Joined Mike Rutherford and Paul Carrack in Mike and the Mechanics and had the hits 'The Living Years' and 'Silent Running'.

2012 - Queen were crowned top of the patriotic pops in a survey of 100,000 music fans. The band's anthem We Are The Champions was named number one by fans who were asked what song made them proud to be British. The track, which got to number two in 1977, picked up 13,000 votes in the survey carried out among users of the Lucky Voice website. It was followed by the Oasis hit Wonderwall which was nominated by 11,000 karaoke singers; and then Let It Be by The Beatles which got 10,000 votes. Elton John's Candle In The Wind and London Calling by The Clash rounded off the top five.
ly 8 The Quarrymen, featuring John Lennon, Paul McCartney, George Harrison, John "Duff" Lowe on piano and Colin Hanton on drums, recorded a vanity disc at a small studio in an electronics shop owned by a man named Percy Phillips. The band recorded 'That'll Be The Day' and 'In Spite Of Danger' in one take each. With the names of the tunes and the song's writers hand written on the label, each band member was to keep the 10-inch 78 rpm disc for a week before passing it on. Both recordings eventually ended up on Anthology 1.

1967 - The Who began their first full North American tour at the Memorial Coliseum, Portland, Oregon, appearing as support to Herman's Hermits on 55 dates.

1967 - David Bowie released the single 'Love You Till Tuesday' which failed to reach the charts. Bowie's 1969 showpiece film Love You till Tuesday took its name from the song, which also featured over the opening credits.

1973 - During a concert at the John Wayne Theatre in Hollywood, California, Phil Everly smashed his guitar and stormed of stage, Don finished the set by himself and announced that The Everly Brothers had split. This was the last that the duo performed together for nearly ten years.

1973 - A drunk driver killed Clarence White of The Byrds while he was loading equipment after a gig in Palmdale, California. White joined The Byrds in 1968, after the group had recorded 'Mr. Tambourine Man,' 'Turn! Turn! Turn!' and 'Eight Miles High'.

1977 - Elvis Costello and The Attractions made their live debut supporting Wayne County at The Garden, Penzance.

1982 - The movie premier for Pink Floyd's The Wall was held at The Empire, Leicester Square. The film, which centers around a confined rocker named Floyd "Pink" Pinkerton, earned £22 million in its first year and won two British Academy Awards.

2015 - Arthur Cave the 15-year-old son of musician Nick Cave died after a fall from a cliff in Brighton.

2015 - The Las Vegas coroner's office confirmed that B.B. King died of natural causes primarily stemming from Alzheimer's disease and was not murdered. Two of his daughters had alleged King was poisoned by long-time associates.

1963 - The Rolling Stones played their first ever gig outside London when they appeared at The Alcove Club, Middlesbrough, supporting The Hollies.

1964 - The Animals went to No.1 on the singles chart with 'The House Of The Rising Sun.' Recorded in one take, this was the first No.1 to have a playing time of more than four minutes.

1967 - Pink Floyd made their second appearance on Top Of The Pops to promote their new single 'See Emily Play' which was hosted by Pete Murray. The single went on to peak at No.6 on the chart.

1968 - Black Sabbath played their first gig at a small backstreet Blues club in Birmingham.

1969 - Over 100 US radio stations banned The Beatles new single 'The Ballad Of John and Yoko' due to the line 'Christ, you know it ain't easy', calling it offensive.

1978 - The BBC announced a ban on The Sex Pistols latest single 'No One Is Innocent', which featured vocals by Ronnie Biggs, the British criminal notorious for his part in the Great Train Robbery of 1963. At the time of the recording, Biggs was living in Brazil, and was still wanted by the British authorities, but immune from extradition.

1985 - At 12.01 Status Quo started the Live Aid extravaganza, held between Wembley Stadium, London and The JFK Stadium, Philadelphia. The cream of the world's biggest rock stars took part in the worldwide event, raising over £40million. TV pictures beamed to over 1.5bn people in 160 countries made it the biggest live broadcast ever known. Artists who appeared included Paul McCartney, Phil Collins, The Who, U2, David Bowie and Mick Jagger, Queen, Tina Turner, The Cars, Neil Young, Tom Petty, Bob Dylan, Bryan Adams, Hall and Oates, Lionel Richie and Led Zeppelin.

The Prodigy started a five-week run at No.1 on the album chart with their third album The Fat Of The Land. The album has now sold over 10 million copies worldwide.

2004 - Arthur 'Killer' Kane, bass player with The New York Dolls, died aged 55 after checking himself in to a Los Angeles emergency room, complaining of fatigue. He was quickly diagnosed with leukaemia, and died within two hours. The influential American band formed in 1972 and made just two albums, the 1973 'New York Dolls' and 1974 'Too Much Too Soon'. His estranged wife wanted to honour her late husband's wishes and bury him next to former Dolls stars Johnny Thunders and Jerry Nolan in Mount St Mary's cemetery in Brooklyn, New York, but officials at the morgue refused to release his body for burial because his remains were so decomposed. (His body had laid in a morgue for over a month).

1
Week commencing July 81962 - The Rolling Stones made their live debut at the Marquee Jazz Club, London, with Dick Taylor on bass (later of The Pretty Things) and Mick Avory on drums (later of The Kinks). Billed as The Rollin' Stones, they were paid £20 for the gig, the equivalent of £330 in 2010.

1964 - The Beatles appeared at the Hippodrome Theatre in Brighton with The Fourmost and the Shubdubs (whose drummer, Jimmy Nicol, would later fill in for an ill Ringo Starr on The Beatles' world tour). On the way to tonight's gig George Harrison was involved in a minor crash in his brand new E-Type Jaguar in Kings Road, Fulham. Passing pedestrians collected bits of broken glass as souvenirs.

1968 - Mickey Dolenz from The Monkees married Samantha Juste who he met when working on Top Of The Pops.

Zager and Evans started a six week run at No.1 on the singles chart with 'In The Year 2525 (Exordium And Terminus)'. The song was also No.1 in the US, making them the only one hit wonders ever in both the US and UK singles charts.

1979 - American singer songwriter Minnie Riperton died of cancer aged 31. The Stevie Wonder produced 'Loving You' gave Minnie a US No.1 single in 1975. She worked at Chess records singing backup for various artists such as Etta James, Fontella Bass, Bo Diddley, Chuck Berry and Muddy Waters. She also sang lead for the experimental rock/soul group Rotary Connection, from 1967 to 1971. Also a member of Wonderlove in 1973, a backup group for Stevie Wonder.

2008 - Rolling Stone Ronnie Wood left his wife of 23 years and moved in with an 18-year-old Russian cocktail waitress. The 61 year-old dad-of-four had met the teenager while out drinking and had taken her away to his luxury pad in Ireland.

2012 - Pollstar magazine announced that former Pink Floyd bassist Roger Waters had grossed up $158.1 million in concert ticket sales worldwide so far this year with The Wall Live show. Bruce Springsteen came in second place with $79.9 million.

8
Week commencing July 1
Week commencing July 1Week commencing July 1Week commencing July 1969 - 'Space Oddity' by David Bowie was released for the first time. It was timed to coincide with the Apollo moon landing but had to be re-released before it became a hit, later in the year. Bowie would later revisit his Major Tom character in the songs 'Ashes to Ashes', 'Hallo Spaceboy' and possibly the music video for 'Blackstar'.

1970 - Three Dog Night started a two-week run at No.3 with their version of the Randy Newman song 'Mama Told Me Not To Come'. The song was first covered by Eric Burdon on his first solo album in 1966 and gave Tom Jones & Stereophonics a No.4 hit in 2000.

1971 - The Bruce Springsteen Band opened for Humble Pie at the Sunshine Inn, Asbury Park in New Jersey. After the show an impressed Peter Frampton from Humble Pie tells Springsteen and the band he'd like to have them open for them on a national basis. Frampton also said he would be happy to get the band an audition with his record label, A&M Records. For no logical reason Springsteen's manager, Tinker West, declined both offers on the spot.

1977 - Thursday of this week saw the opening night of a new punk venue, The Vortex Club, on Wardour Street, London with Siouxise, Adam And The Ants, The Slits and Sham 69.

1982 - Phil Collen, former guitarist with the glam rock band Girl, replaced Pete Willis in Def Leppard who was fired due to excessive alcohol consumption.

1992 - A range of eight 'ties', designed by Jerry Garcia of The Grateful Dead went on sale in the US. President Bill Clinton bought a set. The collection grossed millions by the end of the year.

1996 - Jonathan Melvoin keyboard player with the Smashing Pumpkins died from a drug overdose in New York City aged 34. Smashing Pumpkins drummer Jimmy Chamberlin who was with Melvoin tried but failed to revive him after Chamberlin was allegedly advised by 911 operators to put Melvoin's head in the shower. Several songs were inspired by his death, including Sarah McLachlan's hit single 'Angel.' He was the brother of Susannah and Wendy Melvoin of Prince and the Revolution. Melvoin had also been a member of The Dickies.

2004 - The Darkness replaced David Bowie at this year's T In The Park Scottish festival following his heart operation. Other acts appearing included Muse, Franz Ferdinard, Faithless, Scissor Sisters, Black Eyed Peas and Pink.

2011 - Rob Grill, lead singer and bassist for the 1960s rock band The Grass Roots, whose hits included 'Midnight Confessions', 'Temptation Eyes' and 'Let's Live for Today', died after suffering a head injury from a fall caused by a stroke. He was 67.

Tommy Ramone (Thomas Erdelyi), from the influential punk rock band the Ramones died aged 65 following unsuccessful treatment for bile duct cancer. He was the last surviving original member of the Ramones. Erdelyi was also an assistant engineer for the production of the Jimi Hendrix album Band of Gypsys.

1961 - Bobby Lewis started a seven week run at No.1 on the US singles chart with 'Tossin' and Turnin', the longest running No.1 single of 1961, spending seven weeks at the top of the chart.

1964 - 200,000 Liverpudlians took to the streets to celebrate The Beatles return to Liverpool for the northern premiere of the group's first film 'A Hard Day's Night.' The group were honored in a public ceremony in front of Liverpool Town Hall and as The Beatles stood on a balcony looking at the large crowd gathered below, John Lennon gave a few Nazi "Sieg Heil" salutes. Not everyone appreciated his sense of humor.

1968 - Eric Clapton announced that Cream would break-up after their current tour. The group's third album, Wheels of Fire, was the world's first platinum-selling double album and Cream are widely regarded as being the world's first successful supergroup.

1968 - The Nice were banned from appearing at London's Royal Albert Hall after burning an American flag on stage. Two years later, Keith Emerson, leader of the Nice, joined Greg Lake and Carl Palmer in Emerson, Lake and Palmer.

1969 - The funeral of Rolling Stone Brian Jones took place in his home town at Hatherley Road Parish Church, Cheltenham. Canon Hugh Evan Hopkins read Jones' own epitaph, 'Please don't judge me too harshly'. Bill Wyman, Keith Richards and Charlie Watts from The Stones attended the funeral.

1974 - David Bowie played the first of five dates at The Tower Theatre in Upper Darby, Pennsylvania, the recordings of which made up the David Live album released later that year. The album catches Bowie in transition from the Ziggy Stardust/Aladdin Sane glam-rock era of his career to the 'plastic soul' of Young Americans.

1986 - Jerry Garcia of The Grateful Dead went into a five day diabetic coma, resulting in the band withdrawing from their current tour.

2005 - The four members of Led Zeppelin were voted the ideal supergroup after 3,500 music fans were asked to create their fantasy band for Planet Rock Radio. Jimmy Page won best guitarist, followed by Guns N' Roses' Slash and Deep Purple's Ritchie Blackmore. John Paul Jones was named top bassist, with John Bonham, who died in 1980, winning best drummer and Robert Plant beat the late Freddie Mercury to best singer.

2008 - The drum skin used on the cover of The Beatles' Sgt. Pepper album sold for £541,250 at Christie's Memorabilia auction in London. Other items sold included John Lennon's lyrics for 'Give Peace a Chance' which sold for £421,250 and a pair of tinted prescription sunglasses belonging to Lennon, which he wore for the cover of the single 'Mind Games', sold for £39,650. A rare 1/4 inch reel to-reel master tape recording of the Jimi Hendrix Experience performing at the Woburn Music Festival in 1968 went for £48,050, a Marshall amplifier used by Hendrix in concert fetched £25,000.

2011 - A pub in Dundee, Scotland called Lennon's Bar was forced to change the name of the venue and remove all Beatles memorabilia the former Beatles wife Yoko Ono threatened legal action for copyright infringement.

2015 - John Fogerty filed a countersuit alleging that his former bandmates in Creedance Clearwater Revival had breached their contract in which he allowed them to use the name Creedence Clearwater Revisited while touring and playing the music they recorded together four decades ago.Fogerty's action, claimed that Creedence bassist Stu Cook and drummer Doug Clifford had not paid him in more than three years under terms of the agreement they set up more than a decade ago.

1956 - After the June 30th trouble at Asbury Park, Bill Haley and His Comets were denied permission to play at the Roosevelt Stadium in Jersey City. A city ordnance was passed that read: "Rock and roll music encouraged juvenile delinquency and inspired young females in lewd bathing suits to perform obscene dances on the city's beaches."

David Bowie started recording sessions at Trident Studios in London, for what would become the concept album The Rise and Fall of Ziggy Stardust and the Spiders From Mars. The character of Ziggy was initially inspired by British rock 'n' roll singer Vince Taylor, who Bowie met after Taylor had had a breakdown and believed himself to be a cross between a god and an alien.

1976 - The Pretty Things, Supercharge and the Sex Pistols all appeared at The Lyceum, London, tickets £1.75.

1983 - The Police started an eight week run at No.1 on the UK singles chart with 'Every Breath You Take' also No.1 in the US. Taken from the bands album Synchronicity, Sting won Song of the Year and The Police won Best Pop Performance for the song at the 1984 Grammy Awards.

1995 - The Grateful Dead gave their last concert with leader Jerry Garcia at Chicago's Soldier Field. Jerry would die of a heart attack a month later while in drug rehab.

2004 - David Bowie was forced to cancel a string of European shows after emergency heart surgery. The 57 year-old singer had an operation last month in Germany, where he was on tour, to treat "an acutely blocked artery". The star's cancellation last month of 11 European dates was originally attributed to a shoulder injury.

2011 - Former Led Zeppelin frontman Robert Plant joined three local musicians at a fundraising charity show in Monmouth, Wales, where tickets cost £3. The event was a tribute to his friend, former Led Zeppelin producer Pat Moran, who died of dementia in January. Plant delighted the small crowd in the Monmouthshire town with songs from his Zeppelin days as well as tunes from his solo career.

2015 - Phil Rudd, drummer with AC/DC, was sentenced in New Zealand to eight months house detention for drug possession and making threats to kill. The court heard how Rudd had fired several employees after the failure of his solo album, Head Job, in August last year, Rudd had also called one victim saying: "I'm going to come over and kill you." His sentence would be served at his beachfront home in Tauranga, with Judge Thomas Ingram warning he would face jail if he breached the conditions.

2015 - Transport for London, the government body that runs the metro rail system, banned posters promoting The Rolling Stones' forthcoming exhibition, 'Exhibitionism', at London's Saatchi gallery, because of its artwork. The neon advert showed the Rolling Stones iconic tongue and lips design plastered over a woman's bikini bottoms.


Week commencing July 1
July 11954 - Producer Sam Phillips took an acetate recording of Elvis Presley singing 'That's All Right' to DJ Dewey Phillips at Memphis radio station WHBQ. He played the song just after 9.30 that evening, the phone lines lit up asking the DJ to play the song again.

1965 - The Dave Clark Five had their movie Catch Us If You Can premiere in London. The film was renamed to Having a Wild Weekend for its US release. Songs featured by the group in the movie included 'Catch Us If You Can,' 'Having a Wild Weekend' and 'I Can't Stand It.'

1967 - The Monkees began a 29-date tour with The Jimi Hendrix Experience as support act. Hendrix was dropped after six shows after being told his act was not suitable for their teenybopper audience.

1969 - Marianne Faithfull collapsed on the set of 'Ned Kelly' after taking a drug overdose. She was admitted to a Sydney Hospital (she was later dropped from the movie).

Mott The Hoople gig at the Royal Albert Hall, London, caused some injuries and two damaged boxes, prompting a temporary ban on rock gigs at the venue. The group paid £1,467 for damages to property.

1973 - Led Zeppelin's fifth album Houses Of The Holy was on both the US and UK album charts. The album spent a total of 39 weeks on the US chart, the covef of which was inspired by the ending of Arthur C. Clarke's novel Childhood's End. It is a collage of several photographs which were taken at the Giant's Causeway, Northern Ireland, by Aubrey Powell of Hipgnosis.

1984 - Bob Dylan's current European tour came to an end at Slane Castle, County Meath in Ireland. Dylan was joined on stage by Van Morrison and they duetted on It's All Over Now Baby Blue. U2's Bono, who was sent to interview Dylan for the Irish rock magazine Hot Press, ended up duetting with Dylan on Blowin' In The Wind and Leopard Skin Pillbox Hat. Carlos Santana also joined Dylan on stage and played guitar on the last seven songs of the set.

Week commencing July 11966 - The Kinks were at No.1 on the singles chart with 'Sunny Afternoon', the group's third and last No.1.

1980 - Led Zeppelin played their last-ever concert with drummer John Bonham when they appeared at Eissporthalle, West Berlin at the end of a European tour. The set included: 'Black Dog', 'The Rain Song', 'Hot Dog', 'All My Love', 'Trampled Under Foot', 'Since I've Been Loving You', 'Kashmir', 'Stairway To Heaven' and 'Rock And Roll'. They finished the show with a 17-minute version of 'Whole Lotta Love'.



2003 - The Darkness released their debut studio album Permission To Land which topped the UK chart for four weeks. Five singles were released from the album including 'I Believe in a Thing Called Love', the most successful, reaching No.2 on the UK Singles Chart. The band won three BRIT Awards in 2004 in response to the album, Best Group, Best Rock Group and Best Album. They also won two Kerrang! awards in 2004 for Best Live Act and Best British Band.

2005 - Members of The Hollies asked High Court judge to jail one of their founder members claiming bass player Eric Haydock had flouted a court order made in 1998 not to play under their name. Haydock formed the group in Manchester in the early 1960s with Allan Clarke and Graham Nash (who left in 1966). Haydock was working in a group calling itself Eric Haydock's Hollies.

2006 - Syd Barrett died from complications arising from diabetes aged 60. The singer, songwriter, guitarist was one of the founding members of Pink Floyd, active as a rock musician for only about seven years before he went into seclusion. He joined Pink Floyd in 1965 but left three years later after one album. Barrett released two solo albums before going into self-imposed seclusion lasting more than thirty years, with his mental deterioration blamed on drugs.

1957 - John Lennon and Paul McCartney met for the first time at The Woolton Church Parish Fete where The Quarry Men were appearing. As The Quarry Men were setting up for their evening performance, McCartney - eager to impress Lennon - picked up a guitar and played 'Twenty Flight Rock' (Eddie Cochran) and 'Be-Bop-A-Lula' (Gene Vincent). Lennon was impressed, and even more so when McCartney showed Lennon and Eric Griffiths how to tune their guitars, something they'd been paying someone else to do for them.



1967 - Pink Floyd made their first appearance on Top Of The Pops to promote their new single 'See Emily Play'. A badly damaged home video recording recovered by the British Film Institute of this show was given a public screening in London on 9th January 2010 at an event called "Missing Believed Wiped" devoted to recovered TV shows. It was the first time any footage was seen of the performance since its original broadcast.

1968 - The Rolling Stones scored their fifth US No.1 single when 'Jumpin Jack Flash' hit the top of the charts. Keith Richards has stated that he and Jagger wrote the lyrics while staying at Richards' country house, where they were awoken one morning by the sound of gardener Jack Dyer walking past the window. When Jagger asked what the noise was, Richards responded: "Oh, that's Jack – that's jumpin' Jack."

1968 - Woburn Music Festival, Woburn Abbey, took place. A two-day affair featuring Donovan, Fleetwood Mac, Pentangle, The Jimi Hendrix Experience, Alexis Korner, Family, Taste, Tim Rose, John Mayall's Bluesbreakers, Duster Bennett and Tyrannosaurus Rex; two-day tickets were priced at £2.

1971 - American jazz trumpeter, singer and bandleader, Louis Armstrong died. Had many hits including the 1964 No.1 'Hello Dolly!', 1968 No.1 'What A Wonderful World' plus 'When The Saints Go Marching In', 'Ain't Misbehavin', and 'We Have All the Time in the World.' He made frequent use of laxatives as a means of controlling his weight, resulting in Armstrong appearing in humorous, advertisements for laxative product Swiss Kriss; the ads bore a picture of him sitting on a toilet, as viewed through a keyhole, with the slogan "Satch says, 'Leave it all behind ya!"

1972 - David Bowie appeared on Top Of The Pops playing his new single 'Starman', his first hit since 1969's 'Space Oddity' three years before. The single peaked at No.10 and stayed on the charts for 11 weeks.

1973 - Queen released their debut single 'Keep Yourself Alive'. The track didn't chart.

2002 - George Harrison's widow Olivia put the couple's home up for sale for £20m saying she couldn't bear to live with the memories of the attack by schizophrenic Michael Abram who broke into the house in 1999.

2003 - Skip Battin bassist and songwriter with The Byrds died of complications from Alzheimer's disease. (1965 No.1 single 'Mr Tambourine Man'). Also played with New Riders Of The Purple Sage and The Flying Burrito Brothers.

Week commencing June 241965 - Marty Balin and Paul Kantner formed a Folk-Rock group that would evolve into the Jefferson Airplane, the premier San Francisco psychedelic band of the late '60s. The Airplane made its debut the following month at a Haight-Ashbury club, and was signed to RCA later in the year.

1966 - On the recommendation of Rolling Stone Keith Richards' girlfriend, Chas Chandler from The Animals went to see Jimi Hendrix play at The Cafe Wha in New York City. Chandler suggests that Hendrix should come to England, which he does and Chandler became his manager.

1969 - The Rolling Stones gave a free concert in London's Hyde Park before an audience of 250,000, as a tribute to Brian Jones who had died two days earlier. Mick Jagger read an extract from Percy Bysshe Shelley's 'Adonais' and released 3,500 butterflies; it was also guitarist's Mick Taylor's debut with the Stones. King Crimson, Family, The Third Ear Band, Screw and Alexis Korner's New Church also appeared on the day.

1975 - Pink Floyd, Captain Beefheart, Steve Miller and Roy Harper all appeared at The Knebworth Festival, tickets cost £3.50. Pink Floyd premiered their new album Wish You Were Here with the help of Spitfires, pyrotechnics and an exploding plane which flies into the stage.

Grateful Dead fans were hurt when a wooden deck collapsed at a campground lodge in Wentzville, Missouri. Hundreds of people were on or under the deck sheltering from heavy rain. More than 4,000 Deadheads were staying at the campground while attending Grateful Dead concerts in the St. Louis suburb.

1999 - The Eurythmics announced their first world tour for more than 10 years and that all profits would be given to charity. The duo made the announcement from the Greenpeace boat 'Rainbow Warrior' moored on the River Thames in London.

2003 - The Daily Star ran a front-page story claiming that the body of Manic Street Preachers guitarist Richey Edwards had been found. Fishermen in an angling contest discovered bones half buried in mud on the riverbank near Avonmouth. Edwards disappeared in Feb 1995, his car was found at a service station at the Seven Bridge a well-known suicide spot.

2005 - Pink Floyd's David Gilmour said artists who had seen album sales soar after the Live 8 concerts should donate their profits to charity, saying: "This is money that should be used to save lives." UK sales figures released two days after the London concert showed Pink Floyd's Echoes: The Best of Pink Floyd had risen by 1343%, The Who - Then and Now by 863% and Annie Lennox - Eurythmics Greatest Hits by 500%.

2012 - For the second year in a row, Rolling Stones guitarist Ronnie Wood was honoured in two categories at the annual Arqiva Commercial Radio Awards. The 65-year-old won the specialist programme of the year award for his Absolute Radio show, and saw his weekly guest slot named best feature. Absolute also took the station of the year award.

2014 - The four surviving members of The Grateful Dead gave what they said would be their final performance, playing to over 70,000 fans at Chicago's Soldier Field. The shows came 20 years after the death of lead guitarist Jerry Garcia, who played his last show in the nation's third-largest city in 1995.

1958 - The Everly Brothers held the No.1 position with 'All I Have To Do Is Dream.' The Duo's first No.1 single was recorded in just two takes and features Chet Atkins on guitar. The song was written by the husband and wife songwriting team Felice and Boudleaux Bryant.

1966 - The Beatles played two shows at Rizal Memorial Football Stadium, Manila, in the Philippines to over 80,000 fans. The Beatles failed to appear at a palace reception hosted by President Marcos' family, who were not informed that the Beatles had declined their invitation. The Philippine media misrepresent this as a deliberate snub and when Brian Epstein tries to make a televised statement, his comments are disrupted by static. The next day, as The Beatles make their way to the airport, they were greeted by angry mobs, the Philippine government had retaliated by refusing police protection for The Beatles.

Janis Joplin, Led Zeppelin, Johnny Winter, Delaney and Bonnie, Creedence Clearwater Revival, Canned Heat, Joe Cocker, Blood Sweat & Tears, Chuck Berry, Spirit, Chicago and Paul Butterfield all appeared at the two-day Atlanta Pop Festival, Byron, Georgia.

1971 - Donald McPherson, lead singer of US soul group Main Ingredient, died of leukaemia aged 30. Had the 1972 hit song, 'Everybody Plays the Fool'.

1973 - Slade drummer Don Powell was badly injured in a car crash in which his girlfriend was killed.

1976 - The Clash made their live debut supporting the Sex Pistols at the Black Swan, Sheffield.

1990 - Paul Stanley from KISS sustained neck and back injuries when he was involved in a car crash in New Jersey.

2000 - A man fell 80 feet to his death during a Metallica concert at Raven Stadium, Baltimore.

1967 - A private party was held at the Speakeasy Club in London for The Monkees. Guests included John Lennon, George Harrison, Paul McCartney, Dusty Springfield, Eric Clapton, Lulu and all the members from Manfred Mann, The Who and Procol Harum.

1968 - At an impromptu gathering at Joni Mitchell's house in Lookout Mountain, Laurel Canyon, Los Angeles, David Crosby, Stephen Stills and Graham Nash played together for the very first time. The trio went on to form Crosby, Stills and Nash.



1968 - The Equals were at No.1 on the singles chart with 'Baby Come Back'. The group's only No.1. The song was first released in 1966 but did not chart. The song was covered by and became a No.1 hit for Pato Banton in 1994 (with Robin and Ali Campbell of UB40).

1967 - Brian Jones drowned while under the influence of drugs and alcohol after taking a midnight swim in his pool, aged 27. His body was found at the bottom of the pool by his Swedish girlfriend Anna Wohlin. The coroner's report stated "Death by misadventure", and noted his liver and heart were heavily enlarged by drug and alcohol abuse. Jones was one of the founding members of The Rolling Stones and in the early 60s used the name "Elmo Lewis."

1971 - American singer, songwriter and poet, Jim Morrison of The Doors was found dead in a bathtub in Paris, France, the cause of death was given as a heart attack. He co-wrote some of the group's biggest hits, including 'Light My Fire', 'Love Me Two Times', and 'Love Her Madly.' On the 25th anniversary of his death an estimated 15,000 fans gathered at Pere Lachaise Cemetery to pay their respects.

1973 - Laurens Hammond, the inventor of the Hammond organ, died aged 73. Many rock artists including Procol Harum, Keith Emerson, Led Zeppelin, The Doors, The Allman Brothers Band and the Faces featured the sound of the Hammond. He also invented a silent spring-driven clock and during the second world war he helped design guided missile systems.

1982 - After a record breaking jump from No.33 on the singles charts, The Damned's guitarist Captain Sensible started a two week run at No.1 with his version of the Rodgers and Hammerstein song 'Happy Talk' from the 1949 musical South Pacific.

1962 - Jimi Hendrix was honourably discharged from the 101st Airborne Paratroopers, after breaking his ankle during his 26th and final parachute jump.

1966 - David Bowie and The Lower Third appeared at The Lion Hotel in Warrington (they were paid £30 for the gig). Also appearing was The Powerhouse which featured Eric Clapton, Jack Bruce, Steve Winwood and Paul Jones.

1969 - Bassist Noel Redding and drummer Mitch Mitchell quit The Jimi Hendrix Experience after completing the three-day Denver Pop Festival. Hendrix and drummer Mitch Mitchell would later team with bassist Billy Cox to form the short-lived Gypsy Sun and Rainbows, who played at the Woodstock Festival.



1969 - Thunderclap Newman started a three week run at No.1 on the singles chart with the Pete Townshend produced track 'Something In The Air.' Featured on the soundtrack for the movie, 'The Magic Christian'. The band featured guitarist Jimmy McCulloch who went on to work with Wings.

1971 - Queen appeared at Surrey College. This was the group's first gig with the line-up of Freddie Mercury, Brian May, Roger Taylor and John Deacon.

1991 - Axl Rose caused a riot to break out during a Guns N' Roses gig after leaping into the crowd to remove a camera from a fan at the Riverpoint Amphitheatre, Maryland Heights. Over 50 people were injured and 15 fans were arrested.

2008 - The gravestone was stolen of former Joy Division frontman Ian Curtis. Cheshire Police said his memorial stone was taken from where he is buried in Macclesfield Cemetery. Officers were appealing for anyone with information on its whereabouts. Detectives said the stone had the inscription 'Ian Curtis 18 - 5 - 80' and the words 'Love Will Tear Us Apart'.

2018 - Alan Longmuir from Scottish pop band Bay City Rollers died aged 70 after contracting an illness while on holiday in Mexico. The Rollers had the 1975 No.1 single 'Bye Bye Baby', plus 11 other Top 20 singles', and the 1976 US No.1 single 'Saturday Night'.

1963 - The Beatles recorded their next single 'She Loves You' / 'I'll Get You', at EMI Studios, London, completing the two songs in less than four hours. Released in August this year, 'She Loves You' went on to become The Beatles' first million-selling single.

1969 - John Lennon, Yoko Ono and family were involved in a car accident in Golspie, Scotland. Both John and Yoko needed hospital treatment. Lennon later had the car crushed into a cube and exhibited it on his lawn at Tittenhurst Park.

1972 - Slade were at No.1 on the singles chart with 'Take Me Bak 'Ome', the group's second No.1. The song was produced by the bands manager Chas Chandler.

1973 - Slade and The Sensational Alex Harvey Band appeared at Earl's Court London, tickets cost £1.00-£2.00. Special 'Slade' trains were running form Brighton, Bristol, Birmingham and Manchester to take fans to the show.



1981 - Rushton Moreve, bassist with Steppenwolf, was killed in motorcycle accident in Santa Barbara, California, aged 32. He co-wrote their hit 'Magic Carpet Ride' with lead singer John Kay; Steppenwolf also had the 1968 US No.2 single 'Born To Be Wild'. Moreve left the band in late 1968 when he refused to fly back to California at that time, fearing it would sink into the Pacific Ocean after an imminent earthquake.

2001 - Rolling Stone Ronnie Wood was commissioned to paint a group portrait of diners who are regulars at the West End London restaurant The Ivy. Elton John and Pet Shop Boy Neil Tennant were two pop stars to be included in the portrait.

2008 - Whitesnake guitarist Mel Galley died at the age of 60 from cancer of the oesophagus. Galley also played with Trapeze, Glenn Hughes, Cozy Powell and the Blue Jays.

2013 - Boston guitarist Tom Scholz was ordered to pay $132,000 in court fees to the Boston Herald after he unsuccessfully sued the newspaper. The Herald had suggested that Scholz was responsible for the 2007 suicide of Boston lead singer Brad Delp, but a Superior Court judge ruled that the paper could not be held liable for defaming Scholz because it's impossible to know what caused Delp to kill himself.