INTERNATIONAL DATELINE OCTOBER 7 . . .
INTERNATIONAL DATELINE OCTOBER 7 . . . INTE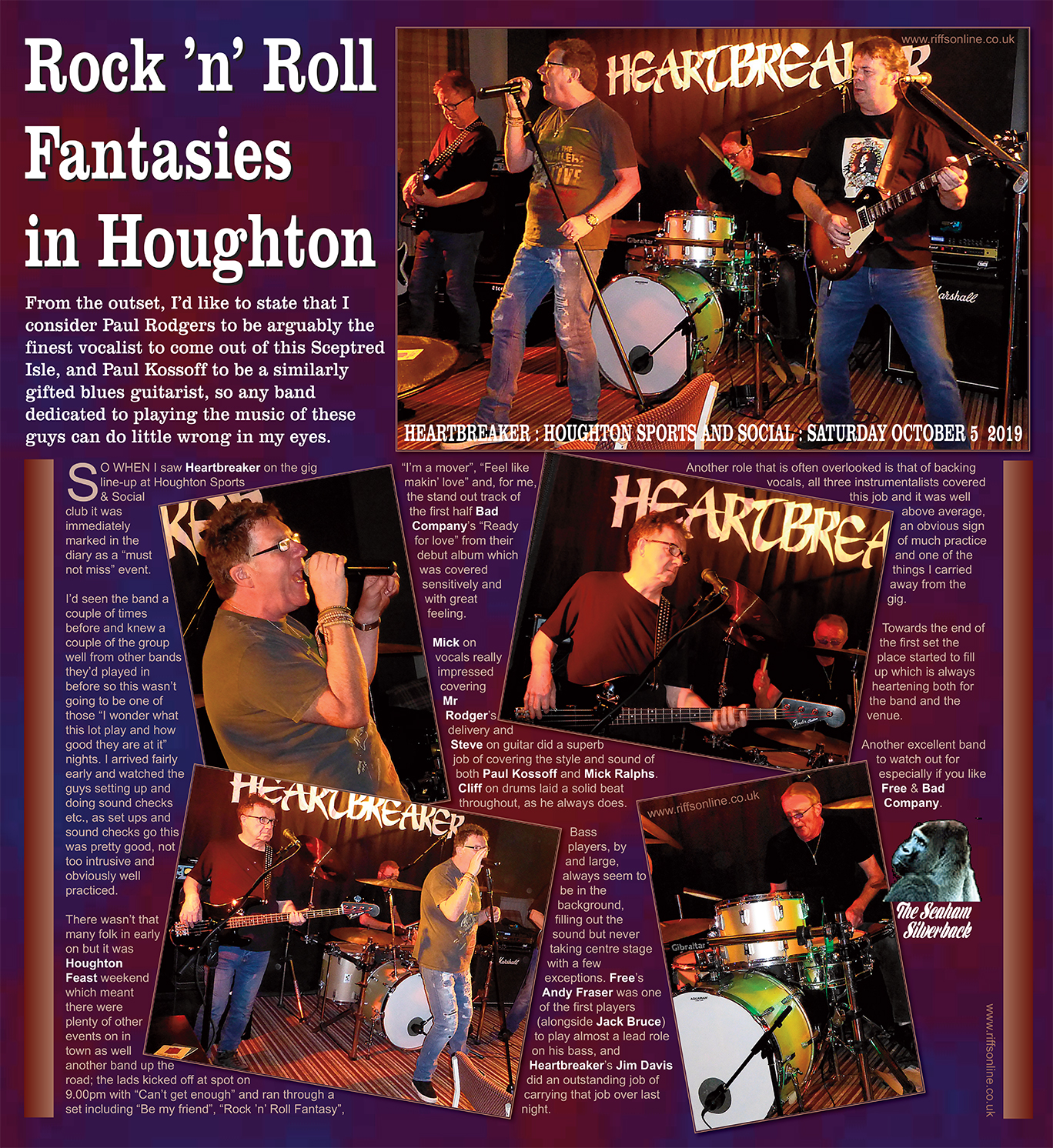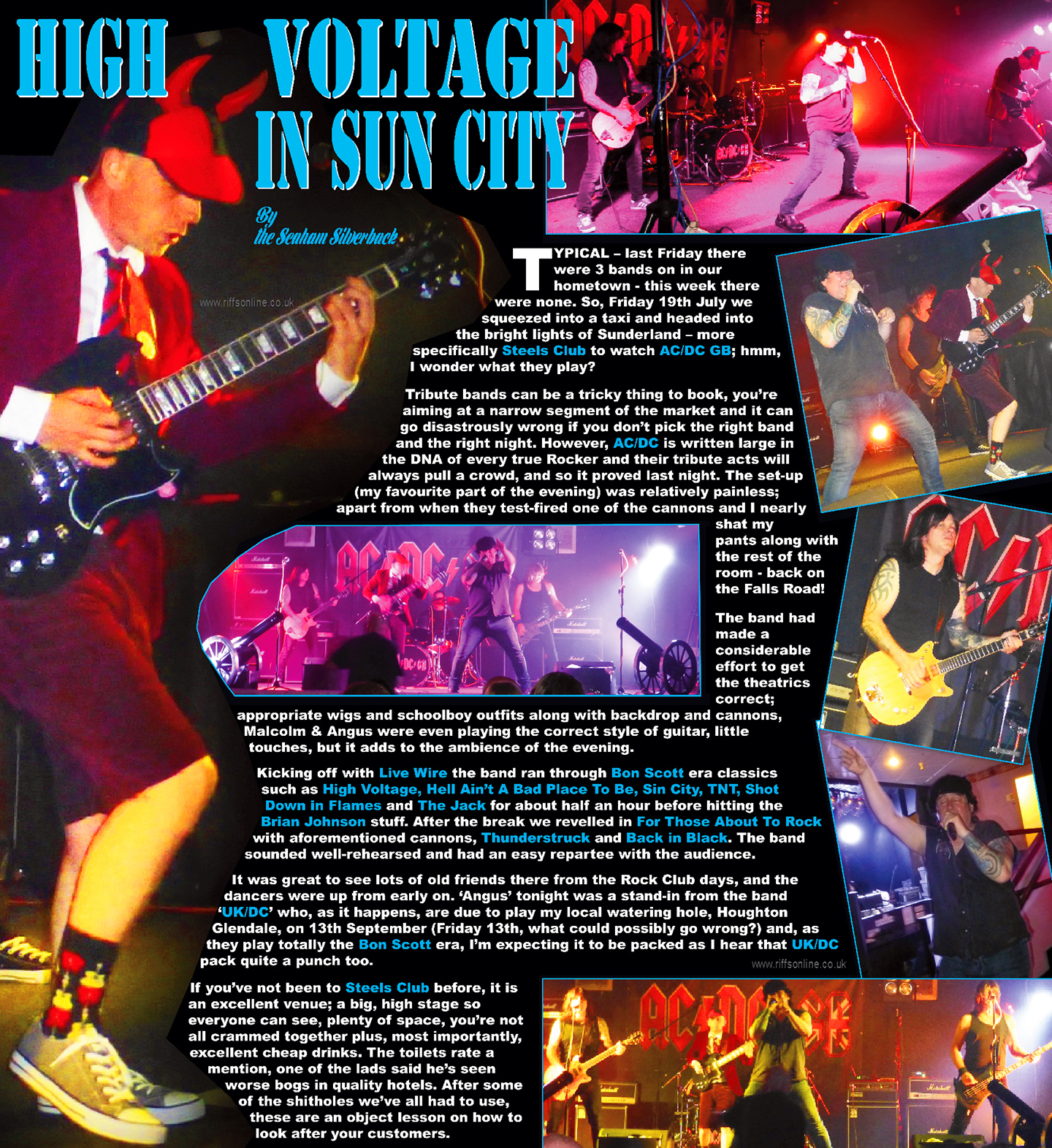 The band's website:
https://www.acdcgb.co.uk/
For a taste of the band: https://youtu.be/QRCIfpYXSC8


https://youtu.be/jhUhw_J5ItE
https://youtu.be/DkWRCv5HDjk
The NE Street Band, playing iconic songs from Bruce Springsteen and The E Street Band debuted at The Old Fox in Felling just recently and we have added a link to some footage here (only phone footage).
The band's website: https://www.nestreetband.co.uk
They are at the Amphitheatre in South Shields on Thursday 6th June, 7pm-9pm for an evening of Bruce Springsteen sounds, as part of the Summer Festival.

---------------------------------------------------------------

Over 2000 pies, 100 varieties including Veggie and Vegan options all served with creamy mash, mushy peas and special house gravy £3.50.
CROOKFEST 2019 - MAY 5
If you like your rock of the hard and heavy variety check out Conspiracy Theory; a new band making inroads into the north east rock and metal scene. If you're a bit tired of seeing too many rock bands playing the same old stuff, CT's intention is to do the songs that no-one else does. And that doesn't mean obscure material you've never heard of, if you're into rock and metal you'll know everything they do. From Rainbow to Dio, Whitesnake to Purple, Maiden to Priest, Uriah Heep to Rush or the guitar greats such as Schenker or Moore, you won't forget them in a hurry. With stellar musicianship from highly experienced players having cut their teeth in bands such as PowerAge, Ministry of Rock, Black Rose and On The Rocks you're bound to have a night to remember. You can catch them at Trillians, Newcastle on Friday 22nd February, The Penny Gill, Spennymoor Sunday 3rd March, Acklam Steelies Club, Middlesbrough Saturday 9th March or the Big Jug, Durham on Friday 15th March.


If it's Boxing Day, then Rock Solid must be playing in Houghton. In a tradition that started in the old Buffs club in Houghton (now a Wetherspoons) probably 12 years ago or more, the Solids have played to broadly the same crowd of fans of proper Rock in a friendly setting; this year in Houghton Sport & Social club. Originally advertised as a civilised alternative to turkey sandwiches with the in-laws it continues to draw a good crowd and this year was no exception. Kicking off with "Tie your mother down" and running through a compendium of 70s & 80s hard Rock, the band played new stuff by Saxon & Maiden along with perennial favourites by Priest, Rainbow, Ozzy, Purple and AC/DC. Playing as tight as I've heard them, this was no nonsense Rock with well-balanced sound and an easy rapport with their audience. How many times have you gone to listen to a band and they throw something into the set and you think to yourself "Lord, it's years since I heard this" then you go home and dig out the vinyl or raid the Pirate Bay and re-acquaint yourself with the stuff? Saxon's "Frozen Rainbow" did that for me, and Priest's cover of "Diamonds & Rust" was another. How fortunate we are to have such a back catalogue of classic music to listen to, and bands like Rock Solid who dig them out, rehearse them and serve them up for our continued delight. Long may it continue; catch the Solids again on Good Friday, 19th April in Houghton Sports & Social.
Dave
Tickets £15 / 17 from ents24
Paul joins the familiar line up of Norman, Tony, Le Sequel and the Hamster of Doom to make This Machine a 5 piece again. Check out their revamped Facebook and website (featuring blogs, videos and everything else) at
www.thismachinerock.com
Last few gigs of the year are
14th Dec Peterlee Central Club
15th Dec The Turbinia, Newton Aycliffe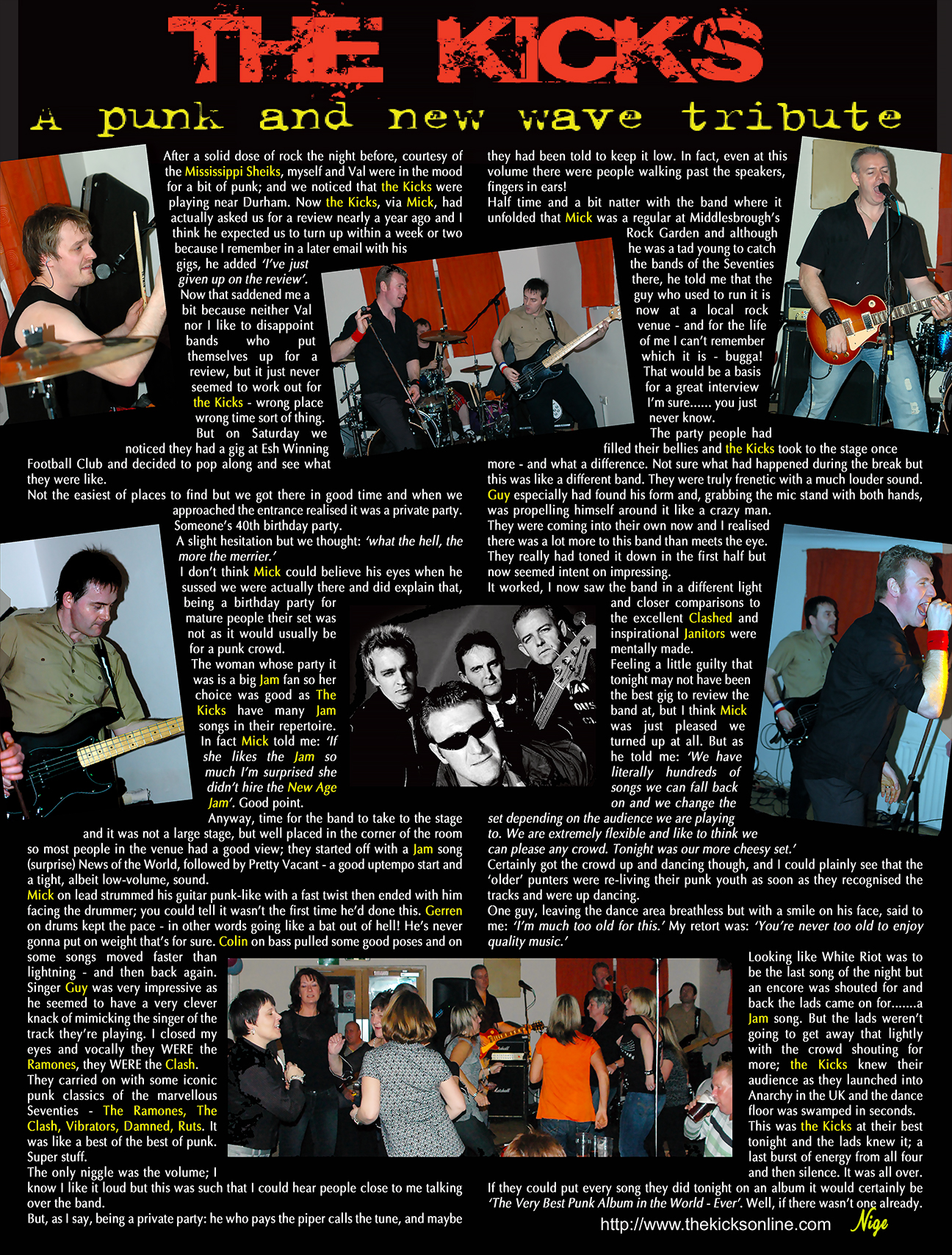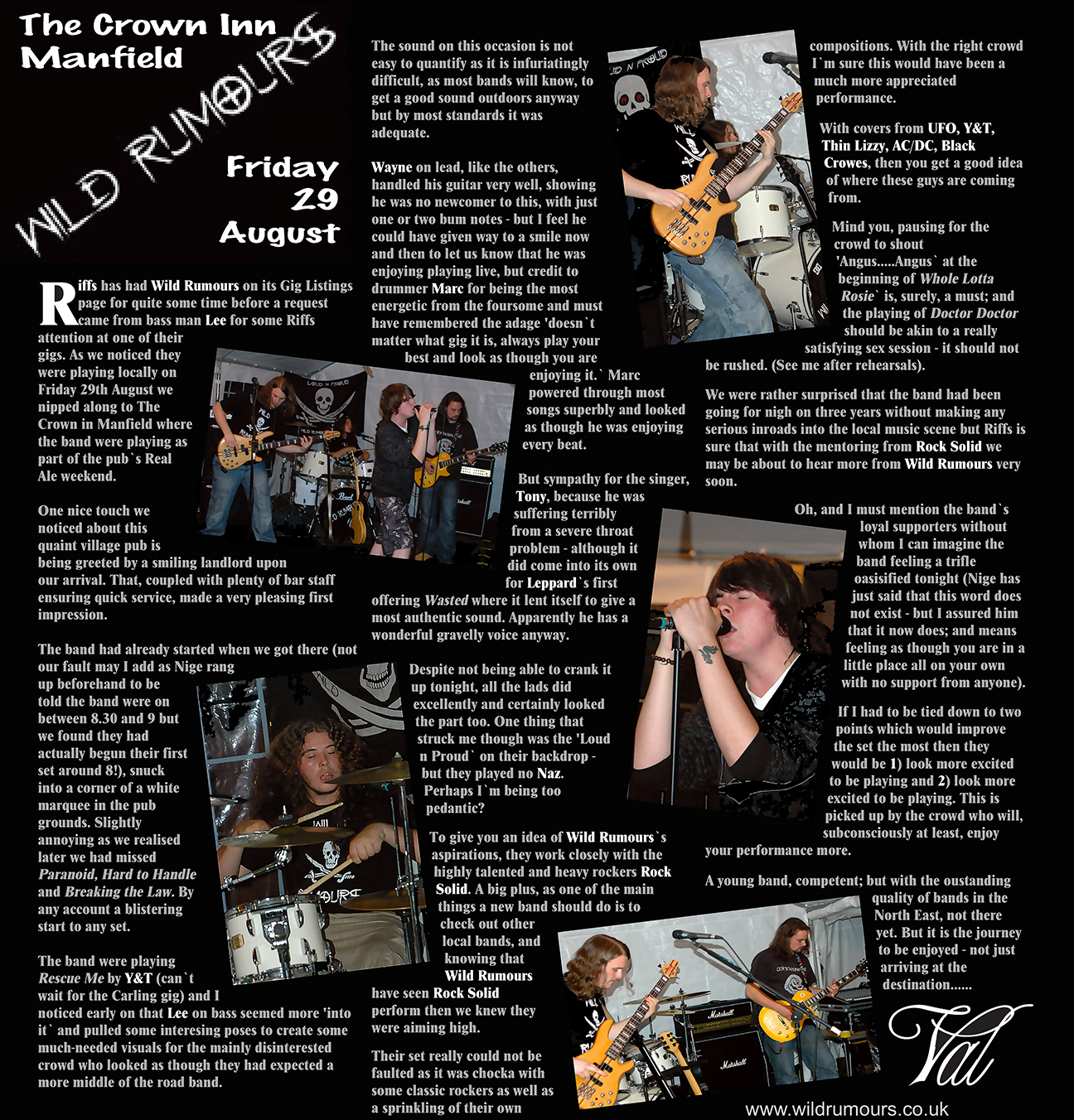 CELEBRATING THE SEVENTIES:

"I saw you walking down the street
Your hair was hanging down too deep"


CELEBRATING NWOBHM:



Factoid: In 1999, former Sex Pistols manager Malcolm McLaren announced that he was running for the Mayor of London.

This week in . . .
1943 - American jazz pianist, organist, composer, singer, and comedic entertainer Fats Waller died of pneumonia on a train trip near Kansas City, Missouri. Waller wrote many songs including 'Ain't Misbehavin', 'Your Feet's Too Big' and 'The Reefer Song'. In 1926 Waller was kidnapped at gunpoint in Chicago and driven to a club owned by gangster Al Capone. Inside the club he was ordered to perform at what turned out to be a surprise birthday party for the gangster. He enjoyed success touring the UK and Ireland in the 1930s, appearing on one of the first BBC television broadcasts on September 30, 1938.

1977 - The Sex Pistols were refused entry into the USA two days before a scheduled NBC TV appearance. Johnny Rotten because of a drugs conviction, Paul Cook & Sid Vicious because of 'moral turpitude' and Steve Jones because of his criminal record.

1979 - Pink Floyd started a five week run at No.1 on the singles chart with 'Another Brick In The Wall (Part 2)' their only UK chart topper. The song, which was also the final No.1 single of the 1970s, received a Grammy nomination for Best Performance by a Rock Duo or Group, but Floyd lost to Bob Seger's Against the Wind.

1984 - Do They Know It's Christmas? by Band Aid entered the chart at No.1 and stayed at the top for five weeks. It became the biggest selling UK single of all time with sales over 3 and a half million. Band Aid was masterminded by former Boomtown Rats singer Bob Geldof, who had been moved by a TV news story of famine in Ethiopia. Geldof had the idea of raising funds with a one-off charity single featuring the cream of the current pop world. Duran Duran, Spandau Ballet, Paul Young, Culture Club, George Michael, Sting, Bono, Phil Collins, Paul Weller, Francis Rossi and Rick Parfitt of Status Quo and Bananarama all appeared on the recording.

2010 - Various Pink Floyd items were sold at an Entertainment Memorabilia auction by Bonhams in Knightsbridge London. A demo pressing of the single 'Point Me To The Sky/Careful With That Axe Eugene' sold for £720. Pink Floyd signatures, in various blue marker pens on four separate pieces of paper mounted and framed together with a copy of 'Dark Side Of The Moon' sold for £624.00 and a demo pressing of the single by Syd Barrett 'Octopus' / 'Golden Hair' from 1969, misspelt 'Barratt' corrected in ink on A-side, sold for £300.

1955 - Dickie Valentine was at No.1 on the singles chart with 'Christmas Alphabet', the first Christmas song to reach the No.1 position. It was the first Christmas No.1 that was actually about Christmas, a trend that would continue off and on over the next several decades.

1966 - Jimi Hendrix made his TV debut on ITV's 'Ready Steady Go!' (Marc Bolan was also on the show). The Jimi Hendrix Experience also recorded 'Foxy Lady' on this day. The United States version of Are You Experienced listed the song with a spelling mistake as 'Foxey Lady' and this is how it is still known among many North American fans.

1970 - Dave Edmunds was at No.1 on the singles chart with his version of the 1955 Smiley Lewis hit 'I Hear You Knocking.' The Welsh singer, songwriter and producers only No.1 hit.

Patti Smith released her debut studio album Horses. Produced by John Cale, Horses has since been viewed by critics as one of the greatest and most influential albums in the history of the American punk rock movement, as well as one of the greatest albums of all time. Horses has also been cited as a key influence on a number of acts, including Siouxsie and the Banshees, The Smiths, R.E.M. and PJ Harvey.

2000 - It was announced that after 74 years the rock weekly Melody Maker was to close down. The Christmas edition would be the last one then it would merge with the NME creating a more sizeable broad-based magazine.

2001 - American singer, songwriter, and guitarist Chuck Schuldiner died of brain cancer. He founded the pioneering band Death in 1983. Schuldiner is often referred to as "The Godfather of death metal". Death's best-selling album is the 1991 release Human.

2012 - A collection of love letters written by Mick Jagger to American singer Marsha Hunt sold at auction for £187,250. The letters were penned in the summer of 1969 while The Rolling Stones frontman was in Australia. They are believed to be the inspiration for the band's hit single 'Brown Sugar'.

1970 - Smokey Robinson and the Miracles started a run at No.1 on the singles chart with 'Tears Of A Clown'. It was the group's 26th Top 40 hit and first No.1. The song was written by Stevie Wonder in 1966, and his producer Hank Cosby, Smokey Robinson wrote the lyrics.

1970 - The Doors played what would be their last ever live show with Jim Morrison when they played at the Warehouse in New Orleans.

Ian Stewart died of a heart attack in his doctor's Harley Street waiting room. Co-founder of The Rolling Stones (Stewart was the first to respond to Brian Jones's advertisement in Jazz News seeking musicians to form a rhythm & blues group). Stewart was dismissed from the line-up by the band's manager, Andrew Loog Oldham, in May 1963 but remained as road manager and piano player. He played on all The Rolling Stones albums between 1964 and 1983. Also played piano on Led Zeppelin's 'Rock and Roll' and 'Boogie With Stu' from Physical Graffiti. When the Stones were inducted into the Rock and Roll Hall of Fame in 1989, they asked that Stewart's name be included. "Stu was the one guy we tried to please," said Mick Jagger after he died. "We wanted his approval when we were writing or rehearsing a song." The last word is from Keith Richards autobiography, Life. "Ian Stewart, I'm still working for him. To me, the Rolling Stones is his band."

2008 - The town where Mick Jagger and Keith Richards grew up announced it was to name streets in a new estate after Rolling Stones hits. The 13 streets in Dartford, Kent, were to be given names such as Angie Mews, Babylon Close, Sympathy Street, Little Red Walk and Satisfaction Street. Leader of the council, Jeremy Kite, said he thought Ruby Tuesday Drive sounded a "fantastic" place to live, but police were concerned the street signs might be stolen by fans.

2012 - The Rolling Stones, The Who, Michael Stipe, Chris Martin, Bruce Springsteen and Roger Waters played at Madison Square Garden and raised over $30m (£18.6m) at a benefit gig in New York for those affected by superstorm Sandy which had caused the deaths of 120 people when it hit the Caribbean and US in October of this year. The surviving members of Nirvana, Dave Grohl and Krist Novoselic, also joined Sir Paul McCartney on stage to perform.

1961 - The Beatles agent Sam Leach attempted to introduce the group to London agents by promoting a show at The Palais Ballroom in Aldershot. The show was not advertised properly and, as a result, only 18 people attended (local newspaper The Aldershot News failed to publish the advertisement for the show). However, the band and friends had their own fun after the show, including a mock funeral for Paul McCartney.

1966 - Supergroup Cream released their debut studio album 'Fresh Cream'. The three piece of Eric Clapton, Jack Bruce and Ginger Baker also released their second single 'I Feel Free' on the same day.

1967 - The Doors appeared at the New Haven Arena, New Haven, Connecticut. Before the show a policeman found singer Jim Morrison making out with an 18 year-old girl in a backstage shower and after an argument the policeman sprays mace in Morrison's face. Once on stage Morrison tells the story of the backstage episode and starts taunting the police who drag him off the stage and arrest him. The crowd riots leaving the venue in disarray and many are arrested. Later over 100 protestors gathered at the police station in demonstration and more arrests were made.

1992 - George Harrison was the recipient of the first Century Award, presented by Tom Petty at the third Billboard Music Awards in Universal City, California.

2010 - Eric Clapton announced he was to sell off part of his extensive guitar collection to raise money for his Crossroads rehab Centre in Antigua. Highlights of the sale would include a guitar Clapton played at the Cream reunion shows in 2005, estimated to sell for more than £13,000. The sale to be held by Bonhams in New York would also feature a vast collection of amps and speakers, including a pair of Marshall speaker cabinets.

Week Commencing December 2
1964 - Beach Boy Brian Wilson married Marilyn Rovell in L.A. The couple divorced in 1979. Marilyn and her sister and cousin were in a group, the Honeys, who were produced by Brian Wilson. Marilyn and Brian had two daughters, Carnie and Wendy, who became members of Wilson Phillips.

1967 - The Beatles Apple boutique on 94 Baker Street, London, opened its doors. The store closed seven months later when it fell foul of council objections over the psychedelic mural painted on the outside. All the goods from the shop were given away free to passers by and to people who had queued throughout the night for a chance of getting a free item.

Carl Douglas started a run at No.1 on the singles chart with 'Kung Fu Fighting'. The song was recorded in 10 minutes, had started out as a B-side and went on to sell over 10 million.

1993 - Manic Street Preachers co-manager Phillip Hall died from cancer. Hall was a former Record Mirror journalist and had also worked in PR for Stiff Records. Represented many acts including The Stone Roses, The Pogues, James, The Waterboys, The Beautiful South and Radiohead.

2016 - Greg Lake, who fronted both King Crimson and Emerson, Lake and Palmer, died aged 69 after a battle with cancer. One of the founding fathers of progressive rock, the band combined heavy rock riffs with a classical influence. They scored hit albums with Pictures at an Exhibition, Trilogy and Brain Salad Surgery and Lake had his solo hit 'I Believe in Father Christmas'. Jimi Hendrix considered joining ELP in their earliest incarnation, and if this had happened, the band would've been known as HELP.

2016 - An inquest into the deaths of British band Viola Beach after a crash in Sweden heard that "none of the young men suffered". The four-piece group and their manager, who were aged between 19 and 32, died in the early hours of 13 February 2016, following a gig in Stockholm. Their car crashed into a raised section of a bridge and plummeted into a canal.

1961 - Brian Epstein invited The Beatles into his office to discuss the possibility of becoming their manager. John Lennon, George Harrison and Pete Best arrived late for the 4pm meeting (they had been drinking at the Grapes pub in Matthew Street), but Paul McCartney was not with them, because, as Harrison explained, he had just got up and was "taking a bath".

1965 - Rolling Stone Keith Richards was knocked unconscious by an electric shock on stage at the Memorial Hall In Sacramento, California, when his guitar made contact with his microphone.

1965 - The Who released their debut studio album: My Generation. In the United States it was released by Decca Records as 'The Who Sings My Generation' in April 1966, with a different cover and a slightly altered track listing. In 2003 it was named the second greatest guitar album of all time by Mojo magazine.

1966 - British act The New Vaudeville Band started a three-week run at No.1 on the US singles chart with 'Winchester Cathedral'. A No.4 hit in the UK.

1966 - The Monkees made their live debut at the International Arena, Honolulu. The massive success of the TV series and its spin-off records had created intense pressure to mount a touring version of the group.

1969 - The Rolling Stones recorded 'Brown Sugar' at Muscle Shoals studios. The single went on to be a UK & US No.1. The song was written by Mick Jagger with Marsha Hunt in mind; Hunt was Jagger's secret girlfriend and mother of his first child Karis.

1976 - A giant 40ft inflatable pig could be seen floating above London, after breaking free from its moorings. The pig, nicknamed Algie, was being photographed for the forthcoming Pink Floyd Animals album cover. The Civil Aviation Authority issued a warning to all pilots that a flying pig was on the run. The pig eventually crashed into a barn in Godmersham, Kent, where the farmer complained of his cows being scared by the incident.

1979 - A concert by The Who at The Riverfront Coliseum, Cincinnati, turned to disaster when 11 members of the audience were trampled to death after a stampede to claim unreserved seats, another 26 fans were injured. The concert was using 'festival seating' where seats are available on a first come-first served basis. When the waiting fans outside the Coliseum heard the band performing a late sound check, they thought that the concert was beginning and tried to rush into the still-closed doors.

1986 - Judas Priest were sued by two families, alleging that the band were responsible for their sons forming a suicide pact and shooting themselves. The parents and their legal team alleged that a subliminal message of 'do it' had been included in the Priest song Better By You, Better Than Me from the Stained Class album and alleged the command in the song triggered the suicide attempt. The trial lasted from 16 July to 24 August 1990, when the suit was dismissed.

2001 - American session guitarist Grady Martin died aged 72. He was a member of the legendary Nashville A-Team, playing guitar on hits ranging from Roy Orbison's 'Oh, Pretty Woman', Marty Robbins' 'El Paso' and Loretta Lynn's 'Coal Miner's Daughter'. During a 50-year career, Martin backed such names as Elvis Presley, Buddy Holly, Woody Guthrie, Arlo Guthrie, Johnny Cash, Patsy Cline, Joan Baez and J.J. Cale.

2008 - Composer, keyboardist and arranger Derek Wadsworth died in Oxfordshire. As a musician he worked with Georgie Fame, Alan Price, George Harrison, Mike Oldfield, Diana Ross, Tom Jones, Dionne Warwick, Simply Red. Arranger for David Essex, Dusty Springfield, Nina Simone, Judy Garland, Kate Bush, Cat Stevens, Rod Stewart, Small Faces, The Rolling Stones and Manfred Mann.

2009 - Rolling Stone Ronnie Wood was arrested in Esher, Surrey on suspicion of assault, after a passer-by dialled 999 as a violent argument took place between Wood and his 21-year-old on-off girlfriend Ekaterina Ivanova. He was later cautioned by police.

Week Commencing November 25
1957 - Buddy Holly and the Crickets appeared on 'The Ed Sullivan Show', performing 'That'll Be The Day' and 'Peggy Sue'. Sam Cooke was also a guest on the same show performing 'You Send Me'.

1964 - The Who played the first of 22 consecutive Tuesday night gigs at The Marquee Club in London, the band were paid £50 for each gig. The Marquee Club saw the rise of some of the most important British artists in the 60s such as Jimi Hendrix, David Bowie, Cream, Manfred Mann, The Nice, Yes, Pink Floyd, Jethro Tull, King Crimson and many others who all appeared at the club.

1967 - The Jimi Hendrix Experience released their second studio album Axis: Bold as Love. Hendrix expressed dismay regarding the album cover art, which depicts him and the Experience as various forms of Vishnu, incorporating a painting of them by Roger Law, from a photo-portrait by Karl Ferris. Hendrix stated that the cover would have been more appropriate had it highlighted his American Indian heritage.

1987 - A Kentucky teacher lost her appeal in the US Supreme Court over her sacking after showing Pink Floyd's film The Wall to her class. The court decided that the film was not suitable for minors with its bad language and sexual content.

Ray Gillen died age 34 from an AIDS related disease in a New York Hospital. He was best known for his work with Badlands, in addition to his stint with Black Sabbath in the mid-1980s and recording most of the vocals on Phenomena's Dream Runner album.

2014 - Phil Rudd the drummer of AC/DC pleaded not guilty to charges of threatening to kill and possession of drugs. Rudd was excused from appearing in New Zealand's Tauranga District Court, with his lawyer entering his plea. The 60-year-old Australian-born musician was originally charged with attempting to procure the murder of two men.

1969 - The Monkees made what would be their last live appearance for 15 years when they played at The Oakland Coliseum, California.

1969 - The Rolling Stones played the final night on a 17 date North American tour at the International Raceway Festival, West Palm Beach, Florida. Also appearing, The Moody Blues, Ten Years After, King Crimson, Janis Joplin, The Band, Steppenwolf and Iron Butterfly.

1996 - American singer and ukulele player Tiny Tim (Herbert Khaury) died from a heart attack on stage while playing his hit 'Tiptoe Through the Tulips' at a club in Minneapolis. On 17 December 1969, he married Victoria Mae Budinger on The Tonight Show Starring Johnny Carson, a publicity stunt that attracted over 40 million viewers. They had a daughter, Tulip Victoria. He performed at the 1970 Isle Of Wight Festival in front of a crowd of 600,000 people.

Scott Smith bassist for the Canadian rock band Loverboy died age 45. He was sailing his boat with two friends off the coast of San Francisco near the Golden Gate Bridge, when a large wave swept him overboard. Loverboy were best known for their hit singles 'Working for the Weekend' and 'Turn Me Loose', although their Top Ten hits were 'Lovin' Every Minute of It' in 1985 and 'This Could Be the Night'. Loverboy sold over 23 million records and in 1986 the band won six Juno Awards in 1982. He also later worked as a late-night radio DJ at US station CFOX.

2002 - High Court probate records showed that George Harrison left his fortune of £99m in a trust to his wife Olivia and his son Dhani, depriving the taxman of £40m. His English mansion near Henley-on-Thames was said to be worth £15m.

2003 - A block of East 2nd Street in New York City was officially renamed Joey Ramone Place. It is the block where Joey once lived with band mate Dee Dee Ramone and is near the music club CBGB, where the Ramones played their first gigs. In 2010, it was reported that "Joey Ramone Place," was New York City's most stolen sign. As of September 27, the sign has been moved to 20 feet above ground level.

2006 - The sale of Syd Barrett's final belongings were sold by Cheffins auctioneers in Cambridge. The sale of the 77 items raised £119,890. Ten paintings alone raised over £55,000 and two bicycles over £10,000. The sale included such things as the armchair he used to sit in, his home-made bread bin, tools, notebooks and binders and books. The sale catalogue described Barrett - who quit Pink Floyd in 1968 - as a man with a "total disinterest in materialism."

2015 - Former New Order bassist Peter Hook was suing his ex-bandmates for £2.3m. Hook accused Bernard Sumner and Stephen and Gillian Morris of "pillaging" the pop group's assets after the three other band members set up a company to handle the band's income in 2011 without him .

1961 - Neil Christian and the Crusaders, featuring a young Jimmy Page on guitar, played a concert at Holloway Women's Prison in London. The inmates were all dressed in washed out yellow, green, blue and red faded floral print dresses and wore homemade mascara, using the charcoal from burnt matches.

1962 - The Beatles recorded their first BBC radio session at the BBC Paris studio on Regent Street in London. They played 'Twist and Shout', 'Love Me Do' and 'P.S. I Love You', the tracks were aired on the BBC Light Program 'Talent Spot.'

1970 - George Harrison released All Things Must Pass which includes the hit singles 'My Sweet Lord' and 'What Is Life', as well as songs such as 'Isn't It a Pity' and the title track that had been turned down for inclusion on releases by the Beatles. The triple album would go on to be certified 6x Platinum by the RIAA, making it the best selling album by a solo Beatle.

1981 - The British Phonographic industry placed advertisements in the press claiming that 'home taping was wiping out music'. The Boomtown Rats, 10cc, Elton John and Cliff Richard all backed the campaign.

1997 - A disturbed rock fan brought the funeral of INXS singer Michael Hutchence to a standstill when he tried to launch himself from a 20 ft high balcony with a cord around his neck. He was removed by police and taken away to a psychiatric unit.

2005 - Tony Meehan drummer with The Shadows died aged 62 from head injuries sustained in a fall at his London flat in Maida Vale. Had the 1963 No.1 single 'Foot Tapper' plus 28 other Top 40 singles. Left The Shadows in 1961 to work as a session drummer with Joe Meek. Also had the No.1 hit 'Diamonds' with Jet Harris.

1962 - The Beatles recorded their second single 'Please Please Me' in 18 takes and 'Ask Me Why' for the flip side at EMI studios London. When released in the US on the Vee-Jay label, the first pressings featured a typographical error: The band's name was spelled "The Beattles".


1973 - The New York Dolls made their live UK debut at Biba's Rainbow Room, London. The American band who formed in New York in 1971 influenced the look of many new wave and 1980s-era glam metal groups.

1976 - The Sex Pistols released the single 'Anarchy In The UK'. Originally issued in a plain black sleeve, the single was the only Sex Pistols recording released by EMI, and reached No.38 on the Singles Chart before EMI dropped the group on 6 January 1977.

2016 - Punk memorabilia said to be worth £5m was set on fire in the middle of the River Thames in London. Joe Corre, the son of Sex Pistols manager Malcolm McLaren and fashion designer Dame Vivienne Westwood, burnt the items on the 40th anniversary of the Sex Pistols debut single. The 48-year-old told the crowd that "punk was never meant to be nostalgic".

1965 - Harrods department store in London was closed to the public so The Beatles could do their Christmas shopping in private.

1966 - The Jimi Hendrix Experience made their UK live debut at the Bag O'Nails Club, London, where they played using the club's DJ booth. Eric Clapton, Pete Townshend, The Beatles, Mick Jagger, Brian Jones, Jeff Beck, Jimmy Page, The Hollies and the Small Faces would all hang out at the club.

1972 - Chuck Berry was at No.1 on the singles chart with 'My Ding a-Ling', his only UK No.1. The song was originally recorded by Dave Bartholomew in 1952. Berry's version was from a concert recorded at the Locarno ballroom in Coventry, on 3 February 1972.

1974 - Singer, songwriter Nick Drake died in his sleep aged 26 of an overdose of tryptasol an anti-depressant drug. Drake signed to Island Records when he was twenty years old, recorded the classic 1972 album Pink Moon. In 2000, Volkswagen featured the title track from Pink Moon in a television advertisement, and within a month Drake had sold more records than he had in the previous thirty years.

1984 - The cream of the British pop world gathered at S.A.R.M. Studios, London to record the historic Do They Know It's Christmas? The single, which was written by Bob Geldof and Midge Ure, featured Paul Young, Bono, Boy George, Sting and George Michael. It went on to sell over three million copies in the UK, becoming the bestselling record ever, and raised over £8 million worldwide.

1996 - A statue in Montreux, Switzerland by sculptor Irena Sedlecka was erected as a tribute to Freddie Mercury. Standing almost 10 feet (3 metres) high overlooking Lake Geneva it was unveiled by Freddie's father and Montserrat Caballé, with bandmates Brian May and Roger Taylor also in attendance.

2000 - A burglar broke into Alice Cooper's home and made off with over $6000 worth of clothes, shoes and cameras belonging to the singer's daughter. The good's were all lifted from Cooper's house in Paradise Valley, along with four of the star's gold discs.

Kevin Dubrow, the frontman with metal band Quiet Riot, was found dead in his Las Vegas home at the age of 52. Their 1983 release Metal Health was the first metal album to top the US charts. The band's biggest hit was 'Cum on Feel the Noize', a cover of the Slade song which they are said to have grudgingly recorded - in just one take.

2009 - Brian May joined Freddie Mercury's 87-year-old mother Jer Bulsara in Feltham town centre, at a ceremony to unveil a plaque to the late singer's memory. They were joined by over 2,000 fans from as far as Japan and Australia who descended on the Centre, in Feltham High Street. The plague reads: "Freddie Mercury - musician, singer and songwriter" along with the dates he lived in Feltham, between 1964 and 1968.

Week Commencing November 18
1965 - Marc Bolan appeared live on Five O'Clock Funfair, performing 'The Wizard'.

1967 - A 16 date package tour played its 7th night at the Sophia Gardens Pavilion, Cardiff. Featuring The Jimi Hendrix Experience, Pink Floyd, The Move, The Nice, The Outer Limits, The Eire Apparent and Amen Corner, the entourage performed twice nightly. In 1974, Pink Floyd returned to the venue, which has since been demolished, to be replaced by the 'Really Welsh Pavilion'.

1975 - Queen started a nine-week run at No.1 on the singles chart with Bohemian Rhapsody. The promotional video that accompanied the song is generally acknowledged as being the first pop video and cost only £5,000 to produce. When the band wanted to release the single various record executives suggested to them that, at 5 minutes and 55 seconds, it was too long and would never be a hit.

Keith Richards' girlfriend Anita Pallenburg was cleared by a court of shooting a man found dead at her home. A 17-year-old, Scott Cantrell, had shot himself in the head with a gun owned by Keith Richards, while in Pallenberg's bed, at the South Salem, New York house shared by Richards and Pallenberg. Cantrell had been employed as a part-time groundskeeper at the estate and was involved in a sexual relationship with Pallenberg.

1994 - Tommy Boyce, singer, songwriter, committed suicide. 1968 US No. 8 single with Bobby Hart, 'I Wonder What She's Doing Tonite', also wrote 'Last Train To Clarksville', 'I'm Not Your Stepping Stone' and 'Scooby- Doo Where Are You.' Sold over 40m records.

2012 - According to a new list of the 200 rarest records published in Record Collector magazine, the original acetate of the pre-Beatles demo by the Quarrymen of 'That'll Be The Day' was worth £200,000. Several other Beatles records figured in the top 20. Low-numbered copies of The Beatles The White Album was said to be worth £7,000, though a copy of a mono White Album #0000005 sold for £19,201 in 2009.

1965 - Bob Dylan married Sara Lowndes in a secret ceremony during a break in his tour. The marriage took place under an oak tree on a judge's lawn on Mineola, Long Island, New York. Sara who is the mother of singer Jakob Dylan filed for divorce on March 1st 1977.

1968 - The Beatles double White Album was released. Featuring 'Ob-La-Di, Ob-La-Da', 'Dear Prudence', 'Helter Skelter', 'Blackbird' 'Back In The USSR' and George Harrison's 'While My Guitar Gently Weeps'. Priced at £3.13 shillings, it spent eight weeks as the No.1 album.

1975 - Scottish comedian Billy Connolly was at No.1 on the singles chart with a parody of the Tammy Wynette song D.I.V.O.R.C.E. Connolly's early career as a singer led to him forming a folk-pop duo called The Humblebums in the late 60s, with future star Gerry Rafferty.

1990 - Bill Wyman announced that his 17-month marriage to model Mandy Smith was over. With the consent of her mother, Smith had started dating the 47-year-old Rolling Stones bassist when she was aged 13.

1994 - Pearl Jam released their third studio album Vitalogy, which was first released on vinyl and became the first vinyl album to appear on the chart since the domination of the compact disc format. They followed the release in other formats two weeks later, whereupon it became the second-fastest-selling CD in history, behind only the band's previous release Vs.

1997 - INXS singer Michael Hutchence was found dead in his hotel suite in Sydney. He was 37. Hutchence body was found at 11.50am naked behind the door to his room. He had apparently hanged himself with his own belt and the buckle broke away and his body was found kneeling on the floor and facing the door. It had been suggested that his death resulted from an act of auto eroticism, no forensic or other evidence to substantiate that suggestion was found.

The Doors; Ray Manzarek and Robby Krieger, announced they would record and tour again with a new line up including ex-Cult singer Ian Astbury and former Police drummer Stewart Copeland. Original drummer John Densmore was unable to take part because he was suffering from severe tinnitus.

2004 - Ozzy Osbourne struggled with a burglar who escaped with jewellery worth about £2m from his Buckinghamshire mansion. Osbourne told reporters that he had the masked raider in a headlock as he tried to stop him. The burglar broke free and jumped 30 ft from a first floor window. A large amount of jewellery was stolen in the raid in which two burglars were involved.

2005 - A gig by former Stone Roses frontman Ian Brown was abandoned after 20 minutes because the floor at the venue began to sag. 2,000 people were told to leave Newcastle's Carling Academy, which had been open only a month. Organisers said it was simply a safety precaution after joists under the main dance floor came out of their springs.

1955 - Carl Perkins recorded 'Blue Suede Shoes' at Sun Studios in Memphis. The rock 'n' roll classic became a No.10 hit for Perkins in 1956, and has been covered by many acts including Elvis Presley and John Lennon.

1962 - The Beatles played gigs at three different venues. First they performed a lunchtime show at The Cavern Club, Liverpool, followed by an 85-mile drive to the Midlands, where they performed at Smethwick Baths Ballroom and then at the Adelphi Ballroom, West Bromwich in Staffordshire.

1964 - The Supremes became the first all girl group to have a No.1 single when 'Baby Love' went to the top of the charts. Written and produced by Motown's main production team Holland–Dozier–Holland, it was also the second of five Supremes songs in a row to go to No.1 in the United States.

1965 - David Bowie and the Lower Third appeared at The Marquee Club, London.

1965 - The Kinks, The Who, Georgie Fame & The Blue Fames, The Hollies, Wilson Pickett and The Golden Apples Of The Sun all appeared at the Glad Rag Ball, Empire Pool, London, tickets 30 shillings.

1976 - Sounds made the Sex Pistols debut single 'Anarchy In The UK' its single of the week.

1983 - English musician and songwriter Tom Evans from Badfinger committed suicide by hanging himself in his back garden from a willow tree after arguments concerning royalties for 'Without You'. Family members said the singer/songwriter was never able to get over his former bandmate Pete Ham's suicide.

1994 - Crosby Stills & Nash member David Crosby had a successful liver transplant operation at Dumont-UCLA in Los Angeles. Crosby's liver was deteriorated from extensive alcohol and drug abuse, as well as hepatitis-C.

Greg Ridley died from pneumonia. He was a member of the VIP's with Keith Emerson, Spooky Tooth, and Humble Pie who had the 1969 No.4 single 'Natural Born Boogie'. He formed Strange Brew with Clem Clempson and Cozy Powell.

2004 - Record producer Terry Melcher, who was behind hits by the Byrds, Ry Cooder and The Beach Boys, died aged 62 after a long battle with skin cancer. The son of actress Doris Day, he co-wrote 'Kokomo' for The Beach Boys, produced 'Mr Tambourine Man' for the Byrds, as well as hits for The Mamas & the Papas.

2012 - Two farmers were found not guilty of health and safety offences after a giant hay bale crushed former ELO cellist Mike Edwards to death. He was killed instantly when the 600kg bale rolled down a field and landed on his van near Totnes in Devon in September 2010. In March 2011 in Plymouth an inquest jury returned a verdict of accidental death on Mr Edwards.

2016 - A furious letter from John Lennon to Paul McCartney and his wife, Linda, written after The Beatles' break-up sold for nearly $30,000 (£24,200), to an anonymous collector in Dallas. In the two-page typed draft with handwritten notes, Lennon criticises the couple for their treatment of him and his wife, Yoko Ono. The attack is said to be in response to Linda's criticism of him not publicly announcing his departure from the band.

1956 - Fats Domino appeared on the Ed Sullivan Show performing 'Blueberry Hill.' Before the song became a rock and roll standard it had been recorded by various artists including Louis Armstrong, The Glenn Miller Orchestra, Gene Autry and Jimmy Dorsey. The version by Fats Domino was ranked No.82 in Rolling Stone magazine's list of the 500 Greatest Songs of All Time.

1965 - Manfred Mann, The Yardbirds and Paul and Barry Ryan all appeared at the ABC Cinema, Stockton-on-Tees.

1970 - Led Zeppelin III was at No.1 on the UK & US album charts. The original cover and interior gatefold art consisted of a surreal collection of random images. Behind the front cover was a rotatable laminated card disc, covered with more images, including photos of the band members, which showed through holes in the cover. The distinctive cover was based on a suggestion of Jimmy Page's that it should resemble an old-fashioned gardening seed chart. Designed by Richard Drew aka Zacron, the sleeve photographs were taken by fellow Leeds Polytechnic lecturer Martin Salisbury.

1972 - Singer, songwriter Danny Whitten died of a drug overdose aged 29. He was a member of Neil Young's Crazy Horse and writer of 'I Don't Wanna Talk About It', covered by Rod Stewart, Rita Coolidge and Everything But The Girl. The Neil Young song 'The Needle and the Damage Done' was written about Whitten's heroin use (before he died of an overdose).

1974 - Genesis released the double concept album The Lamb Lies Down on Broadway their sixth studio album and the last album by the group to feature the involvement of lead singer Peter Gabriel.

Richard Hell and the Voidoids made their debut at CBGBs New York. Hell was an innovator of punk music and fashion and was one of the first to spike his hair and wear torn, cut and drawn-on shirts, often held together with safety pins. Malcolm McLaren, manager of the Sex Pistols, has credited Hell as a source of inspiration for the Sex Pistols' look and attitude.

2017 - Australian musician and songwriter Malcolm Young died age 64. Young was best known as a co-founder, rhythm guitarist, backing vocalist and songwriter for AC/DC. Except for a brief absence in 1988, he was with the band from its November 1973 beginning until retiring permanently in 2014. Young was born in 1953 in Glasgow before his family emigrated to Australia when he was 10. His family confirmed he was suffering from dementia in 2014.

Week Commencing November 11
1968 - Led Zeppelin played their first ever show in the North of England when they appeared at Manchester College of Science & Technology. Zeppelin were paid £225 for the gig.

1968 - The Jimi Hendrix Experience went to No.1 on the US album chart with their third and final studio album Electric Ladyland. The double album included 'Crosstown Traffic,' 'Voodoo Chile' and a version of Bob Dylan's 'All Along the Watchtower'. Hendrix expressed displeasure and embarrassment with the "naked lady" cover which was banned by several record dealers as "pornographic", while others sold it with the gatefold cover turned inside out.

1971 - Frank Zappa appeared on this week's 'Old Grey Whistle Test', playing live and showing clips from his '200 Motels' film.

1976 - Beach Boy Brian Wilson gave his first formal interview for eight years on the 'Old Grey Whistle Test.'

1987 - Former Clash drummer Topper Headon was jailed for 15 months at Maidstone Crown Court, for supplying heroin to a man who later died.

1988 - Former Beach Boys manager Stephen Love was sentenced to five years probation for embezzling almost $1m from the group's accounts.

2006 - Queen's 'Greatest Hits' album was declared the Best Selling UK album of all time by The Official UK Charts Company. The chart which was made up of sales figures from the last fifty years showed their Greatest Hits compilation had sold 5,407,587 copies. The Beatles occupied second place with Sgt Pepper's Lonely Heart's Club Band.

1966 - The Doors officially signed with Elektra Records in a deal for the band to produce seven albums. The band also reluctantly agreed to release 'Break On Through' as their first single. The lyric "She gets high/she gets high/she gets high" was changed to 'She gets/she gets/she gets" in order to secure radio play.

1969 - The Carpenters released their debut album, Offering (later re-named as Ticket To Ride) on A&M Records. It was a commercial failure and produced only one minor hit single, a ballad version of The Beatles song 'Ticket to Ride'.

1969 - Janis Joplin was arrested during a gig in Tampa, Florida, after badmouthing a policeman and using vulgar and indecent language. Joplin became upset after police moved into the hall forcing fans to move back to their seats. As the singer left the stage she confronted a detective calling him 'a son of a bitch' and told him she would kick his face in. She was released on $504 bail.

1980 - Blondie had their fifth No.1 single and third No.1 of this year with 'The Tide Is High' a song written by reggae star John Holt.

1992 - Ozzy Osbourne announced his retirement from touring after a gig in California, saying "Who wants to be touring at 46?"

2007 - Kenneth Donnell from Glasgow paid £83,000 for two tickets to see Led Zeppelin rehearse and perform at the O2 arena in London on the 10th December. Donnell bid for the tickets as part of an auction for the BBC's Children in Need.

1964 - Decca Records released The Rolling Stones' 'Little Red Rooster'. Written by Willie Dixon (as The Red Rooster), and previously recorded by Howlin' Wolf and Sam Cooke, the single was recorded at Chess Studios in Chicago. The single was a No.1 hit and remains the only time a blues song has ever topped the UK pop chart.

1968 - Rolling Stone Brian Jones bought 'Cotchford Farm' in Sussex. The author AA Milne, who wrote Winnie The Pooh, had owned the house.

1968 - Hugo Montenegro was at No.1 in the singles chart with 'The Good The Bad And The Ugly', the soundtrack from a Clint Eastwood spaghetti western film. The first instrumental No.1 since 1963.

1976 - Led Zeppelin scored their seventh No.1 with the film soundtrack double album The Song Remains The Same, peaking at No.2 on the US chart. The tracks were recorded at Madison Square Garden, New York City in 1973.

1976 - The Melody Maker announced UK dates for the first major punk tour with The Sex Pistols and the Ramones co-headlining along with Talking Heads, The Vibrators and Chris Spedding. The 14-date tour which was due to start at Newcastle City Hall on Nov 29th never took place.

1990 - Patricia Boughton filed a lawsuit against Rod Stewart claiming that a football he kicked into the crowd during a concert at Pine Knob Music Theatre had ruptured a tendon in her middle finger. And as a result the injury had made sex between her and her husband difficult.

1992 - Ronnie Bond drummer with The Troggs died. Scored the 1966 No.2 single 'Wild Thing' and 1966 No.1 'With A Girl Like You.'



2016 - Leon Russell died in Nashville, he was 74. He led Joe Cocker's band Mad Dogs & Englishmen, and appeared at George Harrison's 1971 Concert for Bangladesh. Many of his songs became hits for others, among them 'Superstar' (written with Bonnie Bramlett) for the Carpenters, 'Delta Lady' for Joe Cocker, and 'This Masquerade' for George Benson. More than 100 acts have recorded 'A Song for You,' which Russell said he wrote in 10 minutes.

1956 - Johnnie Ray was at No.1 on the singles chart with 'Just Walking In The Rain.' It stayed at No.1 for seven weeks making it this years Christmas No.1. Written in 1952 by Johnny Bragg and Robert Riley, two prisoners at Tennessee State Prison in Nashville, after a comment made by Bragg as the pair crossed the courtyard while it was raining.

1965 - After changing his name from Toby Tyler to Marc Bolan, the future T. Rex star performed his first single 'The Wizard' on Ready Steady Go!

1965 - Velvet Underground made their live debut when the played at Summit High School, New Jersey, the band were paid $75 for the gig.

1966 - Pink Floyd appeared at the Corn Exchange, Bedford. The set list for these early Floyd shows included: 'Let's Roll Another One', 'Gimme A Break', 'Interstellar Overdrive', 'Astronomy Domine' and 'Stoned Alone'. 'Stoned Alone' was also known as 'I Get Stoned', and was possibly the first song Syd Barrett wrote for Pink Floyd.

1968 - Book and record chain WHSmiths refused to display The Jimi Hendrix Experience album 'Electric Ladyland' due to the naked girls featured on the sleeve. The album was then made available as two albums with changed artwork after the complaints.

1977 - The Sex Pistols went to No.1 on the album chart with their debut LP Never Mind The Bollocks, Here's The Sex Pistols. the group's only No.1 album. The album was met by a hail of establishment controversy upon its release. The first problems involved the allegedly 'obscene' name of the album, resulting in the prosecution of the manager of the Nottingham Virgin record shop for having displayed it in a window. More outrage was sparked by the lyrics of the songs 'God Save the Queen' and 'Anarchy in the UK.'

1990 - Rolling Stone Ronnie Wood broke both his legs after his car crashed on the M4 motorway near Marlborough, Wiltshire. Wood was trying to wave other cars past his when he was run over.

2001 - The three living former Beatles met for the last time at George Harrison's hotel in New York City for lunch. Harrison died two weeks later at a friend's home in Los Angeles on 29 November 2001, aged 58.

2002 - Die-hard Beatles fans were enraged after Paul McCartney altered the song writing credits on his 'Back In The US 2002' album, changing them to McCartney and Lennon from Lennon and McCartney.

2003 - American session drummer Tony Thompson died of cancer aged 48. He was most famous as the drummer with The Power Station along with Robert Palmer, and John Taylor and Andy Taylor of Duran Duran, and Chic, whose single 'Le Freak' hit No.7 in the UK. He also played on David Bowie's hit single 'Let's Dance'. Thompson also played drums with Led Zeppelin (along with Phil Collins) at Live Aid in 1985.

2004 - The funeral of iconic DJ John Peel took place at St Edmundsbury Cathedral, Bury St Edmunds. Pulp's Jarvis Cocker, Undertones singer Feargal Sharkey and The White Stripes were among mourners, while Sir Elton John left a wreath of yellow roses.

2008 - Mitch Mitchell, the British drummer with the Jimi Hendrix Experience was found dead in his US hotel room aged 61. As a teenager, he starred in a children's television programme, Jennings and Derbyshire, and starred in a leading role in the 1960 British film Bottoms Up with Jimmy Edwards. Mitchell had been working with Georgie Fame & the Blue Flames when in 1966 he was invited to audition for a new band being formed to back Jimi Hendrix. In December 1968, Mitchell played with the Dirty Macs, an all-star band assembled for The Rolling Stones 'Rock and Roll Circus' (with John Lennon, Eric Clapton and Keith Richards).

1965 - The final recording session for The Beatles Rubber Soul album took place, at Abbey Road, London. They needed three new songs to finish the album so an old song 'Wait' was pulled off the shelf and the group recorded two new songs from start to finish. Paul's 'You Won't See Me' and John's 'Girl', the basic tracks for both songs being completed in two takes. Rubber Soul was completed, and finished copies of the album were in the shops by December 3.

1971 - Top Of The Pops celebrated its 400th show. The chart show was presented by Tony Blackburn with guests Tom Jones, Dana, John Kongos, Cher, Slade, Cilla Black, The Piglets, Clodagh Rodgers and The Newbeats.

1972 - The Allman Brothers Band bass player Berry Oakley was killed when his motorcycle hit a bus at the same intersection as former band member Duane Allman, who had died a year earlier. Oakley was 24 years old.

1973 - Thirty US radio stations broadcasted a 'live' Mott The Hoople concert. In reality it was the band recorded in the studio with the applause dubbed in.

1978 - The Cars released 'My Best Friend's Girl', the first picture-disc single commercially available, which went on to be a No.3 hit.

1983 - Mick Jagger appeared on the The Tube to defend the video to The Rolling Stones latest single 'Undercover Of The Night' which had been banned by the Independent Broadcasting Authority. The Tube aired the video, minus the scene where Mick was shot through the head. The single peaked at No.8 on the chart

1989 - Chris Rea started a three-week run at No.1 on the album chart with 'The Road To Hell.' The iconic album cover features art by the English artist, Adrian Chesterman, who was also responsible for creating cover art for, amongst others, Motörhead for their 1979 'Bomber' album.



1990 - Ted Albert, the founder of Albert Productions, died from a heart attack aged 53. His Australian based company helped launch the careers of The Easybeats, John Paul Young, The Angels, Rose Tattoo and AC/DC. In recognition of his contribution to the music industry, the Australasian Performing Right Association established the annual "Ted Albert Award for Outstanding Services to Australian Music". [RIP the brilliant Doc Neeson from The Angels]

1990 - A 21 year-old AC/DC fan died after being attacked outside the Brendan Byrne Arena in New Jersey where the band were playing a gig that night.

2004 - Coldplay fan Sarah Sainsbury wrote to the band asking for their autographs so she could sell them to raise funds at her school charity. Coldplay sent her a triple platinum disc worth over £4,000.

2011 - The four original band members of Black Sabbath announced that they were reuniting and recording a new album followed by a world tour in 2012.

2015 - Phil Taylor better known as "Philthy Animal" Taylor and drummer with Motörhead died aged 61. He was in the classic mark IV Motörhead line-up of Lemmy, Taylor, and Fast Eddie Clarke who recorded ten studio albums and the live album No Sleep 'til Hammersmith.

Week Commencing November 4
1967 - The Beatles filmed three promotional films for their new single 'Hello Goodbye' at the Saville Theatre in London. Each of the three film clips featured different costumes and Beatle antics. In the first film they wear their Sgt. Pepper uniforms, for the second The Beatles are wearing everyday clothes, the third film clip features shots from the first two films, plus additional shots of The Beatles (especially John) doing the twist. A Musician's Union ban on lip-sync broadcasts prevented the film being used on British television.

1975 - David Bowie was at No.1 on the singles chart with 'Space Oddity' the track was first released in 1969 to tie in with the Apollo 11 moon landing. Rick Wakeman (former keyboard player with Yes) provided synthesizer backing. Bowie would later revisit his Major Tom character in the songs 'Ashes to Ashes', 'Hallo Spaceboy' and 'Blackstar'.

1979 - The Eagles went to No.40 on the singles chart with 'Heartache Tonight'.

1997 - American session guitarist Tommy Tedesco died of lung cancer aged 67. Described by "Guitar Player" magazine as the most recorded guitarist in history recording with The Beach Boys, Everly Brothers, The Supremes, The Monkees, The Association, Barbra Streisand, Elvis Presley, Ella Fitzgerald, Frank Zappa, Sam Cooke, Cher, and Nancy and Frank Sinatra. And played on many TV themes including Bonanza, The Twilight Zone, M*A*S*H and Batman.

2014 - The Rolling Stones faced a battle to win a £7.9m insurance claim for concerts they postponed when Mick Jagger's girlfriend died. L'Wren Scott took her own life in March, prompting the Stones to postpone a tour of Australia and New Zealand. The group had taken out a policy to be paid in the event shows were cancelled due to the death of family members or others, including Scott. But underwriters said Scott's death may not be covered by the policy. (wow, how unusual, an insurance company refusing to pay out).



1955 - The Everly Brothers made their first studio recordings cutting four tracks in 22 minutes, at Nashville's Old Tulane Hotel studios. Family friend Chet Atkins engineered a chance for The Everly Brothers to record for Columbia Records in early 1956. However, their first and only single for the label, 'Keep A' Lovin' Me', was a flop, and they were quickly dropped from Columbia.

1967 - The first issue of Rolling Stone Magazine was published in San Francisco. It featured a photo of John Lennon on the cover, dressed in army fatigues while acting in his recent film, How I Won the War and the first issue had a free roach clip to hold a marijuana joint. The name of the magazine was compiled from three significant sources: the Muddy Waters song, the first rock 'n' roll record by Bob Dylan and The Rolling Stones.

1968 - Led Zeppelin played their first ever London show when they appeared at The Roundhouse, Chalk Farm on the same bill as John Lee Hooker, Deviants, John James and Tyres. Robert Plant married his girlfriend Maureen in London on this day and held the reception at the gig.

1974 - Bachman Turner Overdrive went to No.1 on the US singles chart with 'You Ain't Seen Nothin' Yet'. Randy Bachman stuttered through the lyrics of the demo recording as a private joke about his brother Gary, who had a speech impediment. The record company liked that take better than the non-stammering version and released it.

1997 - Paul Weller was arrested and spent the night in a French jail after smashing up his hotel room. His record company paid £4,000 to cover the damage; Weller was released the following day.

2015 - Scottish session drummer Andy White died aged 82. He was affectionately christened "the fifth Beatle" as he was best known for replacing Ringo Starr on drums on the The Beatles' first single, 'Love Me Do'. White was featured on the American 7" single release of the song, which also appeared on the band's debut British album, Please Please Me. He also played on 'P.S. I Love You', which was the B-side of 'Love Me Do'. White also worked with Chuck Berry, Billy Fury, Herman's Hermits and Tom Jones.

2016 - David Bowie's retrospective show at the Victoria & Albert Museum had enjoyed so much foot traffic it was now officially the most successful touring exhibition in the cultural institution's 164-year history. According to the V&A over half a million people had visited 'David Bowie Is' in sites across the globe, including the 312,000 visitors who saw the exhibition in London back in 2013.

1952 - The first ever pop chart was published by the New Musical Express after staff asked 53 record shops to divulge their sales returns. 'Here In My Heart' by Al Martino was the first No.1. The song stayed at No.1 for nine weeks.

1968 - The Who, Joe Cocker and The Grease Band, The Mindbenders and The Crazy World of Arthur Brown all appeared at The Walthamstow Granada Theatre.

1971 - Led Zeppelin released their fourth album. With no title printed on the album, and generally referred to as Four Symbols, The Fourth Album or Led Zeppelin IV it has gone on to sell over 37 million copies worldwide. The 19th century rustic oil painting on the front of the album was purchased by Robert Plant from an antique shop in Reading. The 20th century urban tower block on the back of the full gatefold LP cover is Butterfield Court in Eves Hill, Dudley.

Lester Bowie died of liver cancer aged 58. He was a member of the Association for the Advancement of Creative Musicians and co-founded the Art Ensemble of Chicago. In 1993, he played on the David Bowie album Black Tie White Noise, including the song 'Looking for Lester', which was named after him.

2008 - AC/DC started a run at No1 on the album chart with 'Black Ice' the band's fifteenth studio album and the second-best selling album of 2008. Black Ice went to No1 in 29 countries, including Australia, Canada and the US.

1951 - Frank Sinatra married his second wife actress Ava Gardner, the couple split up in 1953 and divorced in 1957. Sinatra was married three other times, to his first wife Nancy Barbato, to the actress Mia Farrow and finally to Barbara Marx, to whom he was married at his death.

1967 - Reg Dwight (Elton John) and his song writing partner Bernie Taupin signed to DJM publishing, their signatures had to be witnessed by their parents because they were both under 21 years of age. Taupin answered an advertisement for a lyric writer placed in the New Musical Express, the pair have since collaborated on over 30 albums.

1975 - A new world record was set for continuous guitar string plucking by Steve Anderson who played for 114 hours 17 minutes.

1991 - Rhythm guitarist Izzy Stradlin quit Guns N' Roses and was replaced by guitarist Gilby Clarke. Stradlin citied a combination of Axl Rose's personal behaviour and the difficulties of being around Slash, Matt Sorum, and Duff McKagan, due to his new-found sobriety.

2004 - Elton John turned the air blue live on BBC Radio 1 using the words; 'fucking', 'wank', and 'tits'. The singer was a guest on the Chris Moyles breakfast show.

2014 - Two wealthy fans paid $300,000 to eat lasagne with Bruce Springsteen at his house. Springsteen started off the annual Stand Up For Heroes event by playing an acoustic set, then offering the instrument to the highest bidder. When bidding reached $60,000, he threw in a guitar lesson, which someone offered $250,000 for. At this point, he offered up a lasagne dinner at his house, a ride around the block in the sidecar of his motorbike and the shirt off of his back. All the money went to the Bob Woodruff Foundation, which helps injured servicemen and their families when they return home.

2014 - Australian drummer of AC/DC, Phil Rudd, had a charge of attempting to arrange a murder dropped in New Zealand, but he will still face charges of drugs possession and making threats to kill. The U-turn by authorities, announced less than 24 hours after Mr Rudd appeared in court, was because of a lack of evidence, his lawyer said.

2016 - Canadian singer, songwriter and poet Leonard Cohen died at the age of 82 at his home in Los Angeles. Cohen pursued a career as a poet and novelist during the 1950s and early 1960s, and did not launch a music career until 1967, at the age of 33. His first album, Songs of Leonard Cohen (1967), was followed by three more albums of folk music: Songs from a Room (1969), Songs of Love and Hate (1971) and New Skin for the Old Ceremony (1974).



2017 - Finnish rock drummer Pentti (Whitey) Glan died of lung cancer at the age of 71. He is best known for his work with Alice Cooper and Lou Reed. He also appeared in the movie 'The Rose' as the drummer of The Rose Band.

1964 - During their first promotional visit to the UK, The Beach Boys appeared live on ITV's 'Ready Steady Go!' which ran from August 1963 until December 1966.

1967 - During a three hour session Bob Dylan recorded 'All Along The Watchtower' and 'John Wesley Harding' at Columbia Recording Studios in Nashville, Tennessee. The Jimi Hendrix Experience later recorded their version of 'All Along the Watchtower' on January 21, 1968, at Olympic Studios in London after Hendrix had been given a tape of Dylan's recording by publicist Michael Goldstein, who worked for Dylan's manager Albert Grossman.

1968 - The Monkees' three quarter of a million dollar feature film, Head opened in New York City. Instead of being aimed at their target audience of teeny boppers, the film contained a dark theme about the manipulation of the group with walk-on appearances by inappropriate guests and scenes of Vietnam War atrocities. Reviews were harsh and the picture was a box office disaster.

1970 - Aerosmith performed their first ever gig when they played at Nipmuc Regional High School in Mendon, Massachusetts. Sometimes referred to as "The Bad Boys from Boston", Aerosmith became the best-selling American rock band of all time, having sold more than 150 million albums worldwide. They also hold the record for the most gold and multi-platinum albums by an American group.

1972 - During a UK tour, Billy Murcia of The New York Dolls died after choking on his coffee after an overdose of Mandrax. The influential American band formed in 1972 and made just two albums, the 1973 'New York Dolls' and 1974 'Too Much Too Soon'.

1973 - Michael Martin and Phil Kaufman were charged and fined $300 each for the theft of a coffin containing Gram Parsons body. The court heard that the two men were merely carrying out Parson's wishes to be cremated in the desert.

The Sex Pistols made their live debut at St Martin's School Of Art in central London, supporting a band called Bazooka Joe, which included Stuart Goddard (the future Adam Ant). The Pistols' performance lasts 20 minutes.

2003 - Metallica kicked off their 137-date Madly in Anger with the World Tour at Yoyogi Taiikukanin Tokyo, Japan. The Madly in Anger with the World tour was the fourth-highest grossing tour of 2004, reaping $60,500,000 in ticket sales.

2018 - English cellist Hugh McDowell died of cancer on aged 65. McDowell performed with the first live line-up of ELO in 1972 while only 19 years old. He also worked with Roy Wood in Wizzard.

1966 - The Monkees were at the top of the Billboard singles chart with 'Last Train To Clarksville', the group's first No. 1. Bobby Hart who co-wrote the song got the idea for the lyrics when he turned on the radio and heard the end of The Beatles' 'Paperback Writer'. He thought Paul McCartney was singing "Take the last train", and decided to use the line when he found out McCartney was actually singing 'Paperback Writer'.

1977 - The manager of the Virgin record store in Nottingham was arrested for displaying a large poster advertising the new Sex Pistols album, 'Never Mind The Bollock's, Here's The Sex Pistols'. High street stores banned the album after police warned they could be fined under the 1898 indecent advertising act.

1982 - Channel 4 TVs The Tube had its first showing. Presented by Paula Yates and Jools Holland, the show featured The Jam and an interview with Mick Jagger. The first live act on the show was local band Toy Dolls. The show ran until 1987 and was named after the plexiglass tunnel which led down into Studio Five at Tyne Tees TV, the place where all the stars from the 80s subsequently appeared.

1989 - Former US Army Staff Sergeant Barry Sadler died at a Veterans Administration hospital in Nashville from complications brought on by an unexplained gun shot wound to the head, suffered 14 months earlier in Guatemala City. Sadler is best remembered for his hit 'The Ballad of the Green Berets', which stayed on top of the chart for five weeks in 1966. He was 49 years old at time of his death.

2003 - Bobby Hatfield of The Righteous Brothers was found dead in hotel room in Michigan 30 minutes before he was due on stage, aged 63. The autopsy report from the Kalamazoo County Medical Examiner gave the opinion that Hatfield suffered a sudden, unexpected death due to acute cocaine toxicity. The Righteous Brothers had the 1965 No.1 single 'You've Lost That Lovin' Feelin', and the 1990 No.1 single 'Unchained Melody' first released in 1965.

2014 - The funeral for Jack Bruce was held in London, attended by Eric Clapton, Ginger Baker and noted musicians Phil Manzanera, Gary Brooker, Vernon Reid and Nitin Sawhney among others. Dozens assembled at the Golders Green Crematorium paying a last tribute singing "Morning Has Broken", "Strawberry Fields Forever" and "Theme for an Imaginary Western". The Scottish-born bass player and singer had died last month as a result of liver disease.

2017 - American singer Robert Knight died age 72. He is best known for the 1967 hit 'Everlasting Love'. The song was an even bigger hit the following year when a version by Love Affair reached No.1, preventing Knight's version from progressing further than No.40.

1967 - Pink Floyd made their US live debut when they appeared at the Winterland Auditorium, San Francisco. Floyd shared the bill with local group Big Brother & The Holding Company, featuring singer Janis Joplin and singer / songwriter Richie Havens.



1969 - Founder member of The Ink Spots, Ivory Watson died aged 60. The group who formed in the early 1930s in Indianapolis, had the 1939 US hit 'If I Didn't Care' (featured in the film The Shawshank Redemption), and 'The Gypsy' which was their biggest chart success, staying at the No.1 position for 13 weeks.

1971 - The Who opened up The Rainbow, Finsbury Park, London, appearing on the first of three nights.

1977 - The Last Waltz, the movie of The Band's final concert premiered in New York. The Martin Scorsese movie also featured Joni Mitchell, Dr John, Neil Young, Van Morrison, Neil Diamond, Eric Clapton.

1978 - Crosby Stills Nash & Young were sued by former bass player Greg Reeves for over a $1 million claiming he was owed from sales of their album 'Deja Vu'.

1991 - Bobby "Blue" Bland, Booker T. & The MGs, Johnny Cash, Jimi Hendrix, The Isley Brothers, Sam & Dave and The Yardbirds were all elected to the Rock & Roll Hall Of Fame.

Week Commencing October 28
1957 - Sun Records released 'Great Balls Of Fire', by Jerry Lee Lewis. The single went on to sell over five million copies worldwide, and was a No.1 hit in the UK and No.2 in the US.

1964 - During a Rolling Stones North American tour a 17 year-old Rolling Stones fan fell from the balcony during a gig in Cleveland, Ohio. The Mayor of Ohio banned all future pop concerts, saying; "Such groups do not add to the community's culture or entertainment."

1973 - David Bowie scored his second No.1 album when 'Pinups' started a five-week run at the top of the charts. The set contained Bowie covering his favourite 60s songs; his version of The Mersey's 'Sorrow' made No.3 on the singles chart (first recorded by The McCoys in 1965).

1995 - Hootie and the Blowfish reached an out of court settlement with Bob Dylan for the group's unauthorized use of Dylan's lyrics in their song 'Only Want To Be With You'.

2002 - Lonnie Donegan died mid-way through a UK tour and shortly before he was due to perform at a memorial concert for George Harrison with The Rolling Stones. He was aged 71. Donegan who launched the skiffle craze in the UK had the 1959 hit 'Does Your Chewing Gum Lose Its Flavour', the 1960 No.1 single 'My Old Man's A Dustman', 'Rock Island Line', plus over 30 other Top 40 singles.

1956 - Elvis Presley bought a new Harley Davidson motorbike and spent the day riding round Memphis on his new bike with actress Natalie Wood.

1968 - George Harrison released his first solo album, 'Wonderwall Music' on the Apple label. The songs which were mostly Harrison instrumentals, featured Eric Clapton, Ringo Starr and an unaccredited banjo contribution by Peter Tork of The Monkees.

Matthews Southern Comfort were at No.1 on the singles chart with their version of the Joni Mitchell song 'Woodstock'. The group's only No.1 hit.

2004 - 61-year old Terry Knight, the former manager of Grand Funk Railroad, was murdered at his home in Killeen, Texas. Knight was defending his daughter during a domestic disturbance, when he was stabbed by her boyfriend, 26 year old Donald Alan Fair. Knight began his music career by leading a Michigan band called Terry Knight and the Pack, who scored a Billboard top 50 hit with 'I, Who Have Nothing'.

2016 - Bap Kennedy, singer, songwriter from Belfast, died in Belfast in hospice care from pancreatic and bowel cancer. He is noted for his collaborations with Steve Earle, Van Morrison, Shane MacGowan and Mark Knopfler, as well as for writing the song 'Moonlight Kiss' which was on the soundtrack for the film Serendipity. Kennedy was also in the rock band Energy Orchard.

1963 - Gerry And The Pacemakers were at No.1 on the singles chart with 'You'll Never Walk Alone.' The group's third and final No.1.

1964 - The Supremes started a four week run at No.1 on the US singles chart with 'Baby Love', the group's second of five consecutive US No.1's. The group were formerly known as the five piece group The Primettes.

1969 - David Bowie appeared at a Halloween night at the General Gordon, Gravesend. The gig lasted about 15 minutes, after Bowie sang 'Space Oddity' to everyone's delight and then dragged a stool on stage, along with a huge book. He then sat and read poems and was booed off stage.

1970 - Led Zeppelin started a four week run at No.1 on the US album chart with Led Zeppelin III the bands second US chart topper.

Led Zeppelin held the UK launch for their new record label Swan Song at Chislehurst Caves, Kent, on Halloween night. Drinks were served by nuns in suspenders, a naked woman lay in a coffin covered in jelly and naked male wrestlers cavorted in recesses of the caves. Label mates Bad Company, The Pretty Things and Maggie Bell also attended. The launch also tied in with the releases of The Pretty Things new album Silk Torpedo. The label was named after an unreleased Zeppelin instrumental track.

1986 - A new series of Channel 4's The Tube started with Jermaine Stewart, Troublefunk, Bob Geldof and Frankie Goes To Hollywood, plus Spandau Ballet who played live in the studio at Newcastle upon Tyne.

1986 - Roger Waters went to the high court to try and stop David Gilmour and Nick Mason from using the name 'Pink Floyd', for future touring and recording.

1989 - The very first MTV unplugged show was recorded in New York, featuring Squeeze, the program was aired on 26th Nov 1989.

1990 - DJ Roger Scott died of cancer aged 46. Scott was one of the most respected broadcasters in the UK, working on Capital Radio for 15 years and then Radio 1. Working as a presenter at the Montreal station 1470 CFOX, Scott sang on 'Give Peace a Chance', recorded by John Lennon and Yoko Ono during their "Bed-in" for peace at the Queen Elizabeth Hotel in Montreal, Canada.

1990 - During a gig in Seattle, Washington, Billy Idol dumped 600 dead fish in Faith No More's dressing room. They responded by walking on stage, naked, during Idol's set.

1996 - Slash announced he was no longer in Guns N' Roses. The guitarist said that Axl Rose and he had only been civil to each other on two occasions since 1994.

1967 - Tyrannosaurus Rex recorded a session for the Radio 1 'Top Gear' show, the first group to do so without a recording contract.

Hotlegs made their live debut supporting The Moody Blues at the Festival Hall, London. Their only hit 'Neanderthal Man' made No. 2 in July 1970. The members from the group went on to become 10cc.

1971 - John Lennon and The Plastic Ono Band went to No.1 on the album chart with Imagine. The album contained two tracks attacking Paul McCartney, 'How Do You Sleep' and 'Crippled Inside.' Early editions of the LP included a postcard featuring a photo of Lennon holding a pig, in mockery of McCartney's similar pose with a sheep on the cover of Ram. The front cover photo was a Polaroid taken by Andy Warhol.

1978 - Blondie released the single 'Hanging on the Telephone', as the second single from the album Parallel Lines. Written by Jack Lee from US West Coast power pop trio The Nerves. The song gave Blondie their first UK Top 10 hit.

2004 - An arrest warrant was issued for Motley Crue singer Vince Neil after he allegedly knocked a soundman unconscious during a concert. Neil was said to have punched Michael Talbert in the face at Gilley's nightclub in Dallas after he asked the soundman for more volume on his guitar but attacked Talbert as he adjusted it, leaving him unconscious for 45 seconds.

2007 - Linda Stein, former co-manager of punk band the Ramones, was found beaten to death at her Manhattan apartment. Mrs Stein was the ex-wife of Seymour Stein, former president of Sire Records, which was the launching pad for the Ramones, Talking Heads and Madonna. Mrs Stein had become one of New York's leading estate agents, her clients included Sting and Billy Joel, long-time friend Sir Elton John told the New York Times he was "absolutely shocked and upset".

Week Commencing October 21
1957 - The Crickets started a three-week run at No.1 on the singles chart with 'That'll Be The Day'. It was also a No.3 hit in the US where it went on to sell over a million. The song was inspired by a trip to the movies by Holly, Jerry Allison and Sonny Curtis in June 1956. The John Wayne film The Searchers was playing and Wayne's frequently-used, world-weary catchphrase, "that'll be the day" inspired the young musicians.

1964 - 31 year old Salvatore Philip Bono married 18 year old Cherilyn Sarkisian La Piere. For a time they performed together as Caesar and Cleo before changing the name of their act to Sonny and Cher. Their union lasted 12 years.

1966 - The Four Tops were at No.1 on the singles chart with 'Reach Out I'll Be There.' The group's only UK No.1.

1969 - Muddy Waters was seriously injured in a car crash in Champagne, Illinois. Three people were killed in the accident.

1980 - Mark Chapman bought a five-shot .38 special for $169. A little over six weeks later, he would use the gun to kill John Lennon outside his New York City apartment.

1980 - Former T. Rex member Steve Took choked to death on a cherry stone after some magic mushrooms he had eaten numbed all sensation in his throat - he was aged 31. Took was also a member of The Deviants with Pink Fairies members Twink and Mick Farren.

1984 - During a US tour The Grateful Dead allocated a specific recording area for fans to bootleg the show; tonight's gig was in Berkeley, California.

2009 - Eric Clapton pulled out of Rock and Roll Hall of Fame concert in New York City after he underwent an operation to remove gallstones. His place at the Madison Square Garden gig was taken by Jeff Beck.

2013 - Velvet Underground frontman Lou Reed died at the age of 71. An admitted hard drinker and drug user for many years, he underwent a liver transplant in Cleveland in April 2013. Afterwards he claimed on his website to be 'bigger and stronger' than ever.

2016 - A letter John Lennon wrote to the Queen explaining why he was returning his MBE was found tucked in a record sleeve from a £10 car boot haul. The anonymous owner took the document to a valuation day at The Beatles Story in Liverpool and discovered it was worth about £60,000. Lennon had returned the MBE in protest at Britain's involvement in a civil war.

1958 - Bill Haley and his Comets played the first rock 'n' roll concert in Germany. Over 7,000 rock 'n' roll fans turned the show into a riot.

1968 - The two day San Francisco Pop Festival was held at Alameda County Fairgrounds. The Animals, Procol Harum, Iron Butterfly, Jose Feliciano, Deep Purple, Creedence Clearwater Revival and Canned Heat all appeared.

1970 - A wake was held at the Lion's Share in San Anselmo, California to celebrate the life of Janis Joplin. The singer, who died of an accidental drugs overdose, left $2,500 in her will to throw a wake party in the event of her demise. The party was attended by her sister Laura and Joplin's close friends; Brownies laced with hashish were unknowingly passed around amongst the guests. Joplin was cremated in the Pierce Brothers Westwood Village Mortuary in Los Angeles; her ashes were scattered from a plane into the Pacific Ocean and along Stinson Beach.

1979 - AC/DC appeared at The Mayfair, Newcastle, supported by Def Leppard. The bands were booked to appear the night before but after a fire at the venue in the afternoon, the show was cancelled.

1984 - 19-year-old John D. McCollum killed himself with a .22 caliber handgun after spending the day listening to Ozzy Osbourne records. One year later, McCollum's parents took court action against Ozzy and CBS Records, alleging that the song "Suicide Solution" from the album Blizzard of Ozz contributed to their son's death. The case was eventually thrown out of court.

1991 - Legendary Rock concert promoter Bill Graham was killed when the Bell 206B JetRanger III helicopter he was riding in struck the top of a Pacific Gas and Electric transmission tower near Sears Point, northwest of Vallejo and exploded. The crash, which left the helicopter's wreckage dangling near the top of the towering structure, killed Graham, his girlfriend Melissa Gold and pilot Steve Kahn. Graham had founded the Fillmore theaters in San Francisco and New York and had played key roles in supporting such bands as The Who, The Jimi Hendrix Experience, Janis Joplin, The Band, Bob Dylan, The J. Geils Band, The Allman Brothers Band and The Rolling Stones.

2008 - AC/DC went to No.1 on the album chart with 'Black Ice' the Australian bands fifteenth studio album which went on to become a No.1 hit in 29 different countries and the second-best selling album of 2008.

1966 - Newsweek interviewed The Monkees. They are asked how the music is created. Singer Davy Jones tells them, "This isn't a rock 'n' roll group. This is an act."

1970 - Pink Floyd were at No.1 on the album chart with the 'Atom Heart Mother', the group's first No.1. The album cover shows a cow standing in a pasture with no text nor any other clue as to what might be on the record.

2001 - Kim Gardner former bassist with Ashton Gardner & Dyke died of Cancer. Had the 1971 No.3 single 'The Resurrection Shuffle' and Gardner formed 60s band The Birds with guitarist Ronnie Wood.

Tom Dowd died of emphysema. He recorded albums by many artists including: Eric Clapton, Lynyrd Skynyrd, Derek and the Dominos, Rod Stewart, Aretha Franklin, Cream, Lulu, Chicago, The Allman Brothers Band, The J. Geils Band, Meat Loaf, Sonny & Cher, The Rascals, Willie Nelson, Diana Ross, Kenny Loggins, Dusty Springfield, The Drifters and Otis Redding.

2004 - Queen became the first rock act to receive an official seal of approval in Iran. Western music was still strictly censored in the Islamic republic, where homosexuality is considered a crime, but an album of Queen's greatest hits was released this week in Iran. Freddie Mercury was proud of his Iranian ancestry, and illegal bootleg albums and singles had made Queen one of the most popular bands in Iran.

2013 - NME published their latest '500 Greatest Albums of All Time' list. The top 5 read: 1. The Smiths - 'The Queen Is Dead', 2. The Beatles - 'Revolver' 3. David Bowie - 'Hunky Dory', 4. The Strokes - 'Is This It' and at 5. The Velvet Underground & Nico - 'The Velvet Underground'.

1963 - Bob Dylan recorded 'The Times They Are A-Changin' at Columbia Recording Studios in New York City. Dylan wrote the song as a deliberate attempt to create an anthem of change for the time, influenced by Irish and Scottish ballads. In January 1984, a young Steve Jobs would recite the second verse of 'The Times They Are a-Changin' during his opening of the 1984 Annual Apple Shareholders Meeting, where he famously unveiled the Macintosh computer for the first time.

1963 - The Everly Brothers, Little Richard, Bo Diddley, Mickie Most, The Rolling Stones, Julie Grant and The Flintstones all appeared at Odeon Theatre, Nottingham.

1966 - The Jimi Hendrix Experience recorded their first single 'Hey Joe', at De Lane Lea studios in London. The earliest known commercial recording of the song is the late-1965 by the Los Angeles garage band The Leaves.

1989 - Nirvana played their first ever European show when they appeared at Newcastle's Riverside Club. It was the first night of a 36 date European tour for the group who were sharing the bill with Tad.

2007 - British and Dutch police shut down a "widely-used" source of illegally-downloaded music after raids in Teesside and Amsterdam as part of an Interpol investigation into the members-only website OiNK. The UK-run site had leaked 60 major pre-release albums this year alone.

2014 - Alvin Stardust died after a short illness. His death came just weeks before he was due to release his first album after 30 years. He had recently been diagnosed with metastatic prostate cancer. The UK singer first performed under the name of Shane Fenton.

2016 - English singer-songwriter and television personality Pete Burns died following a sudden cardiac arrest. He was a member of the Mystery Girls (with Pete Wylie and Julian Cope), and then Dead Or Alive who scored the 1985 UK No.1 single 'You Spin Me Round, Like A Record'.

1958 - Buddy Holly's last recording session took place at Pythian Temple Studios, New York City. The songs recorded included 'Raining In My Heart', 'Moondreams' and 'It Doesn't Matter Anymore' which became a No.1 hit.

1965 - Bill Black, Elvis Presley's bass player (1954-57), died four months after receiving surgery to remove a brain tumour, aged 39. With guitarist Scotty Moore, and Elvis Presley on rhythm guitar, Black played on 'That's All Right (Mama)', Heartbreak Hotel, 'Baby Let's Play House', 'Mystery Train', 'Hound Dog'; 'Jailhouse Rock' in the late 1950s. Black, Scotty Moore and drummer D.J. Fontana toured extensively during Presley's early career. After leaving Presley Black formed Bill Black's Combo.

1965 - The Spencer Davis Group recorded 'Keep On Running' at Pye Studios in London. The track went on to top the chart next January.

1976 - Keith Moon played his last show with The Who at the end of a North American tour at Maple Leaf Gardens, Toronto. On September 7, 1978, Moon died of an overdose of a sedative Heminevrin, that had been prescribed to prevent seizures induced by alcohol withdrawal.

The Clash sacked manager Bernie Rhodes, saying the band and record company 'found him hard to deal with'. Melody Maker journalist Caroline Coon took his place.

1995 - Green Day singer Billie Joe was arrested and fined $141 after mooning at the audience during a gig in Milwaukee.

2006 - Legendary broadcaster John Peel left over £1.8m and over 25,000 vinyl records in his will. Peel died suddenly at the age of 65 from a heart attack in 2004.

2014 - Former Dr Feelgood guitarist Wilko Johnson said he has been "cured" of the terminal pancreatic cancer with which he was diagnosed in 2012. The 67-year-old was initially given 10 months to live after rejecting chemotherapy, but had radical surgery to remove the tumour earlier this year.

Week Commencing October 14
1966 - The Yardbirds arrived in New York for their first US tour with Jeff Beck and Jimmy Page on lead guitars. After two dates of the tour, Beck developed acute tonsillitis and quit the group. He would go on to form The Jeff Beck Group, that gave Rod Stewart his first major exposure.

1968 - On their farewell tour Cream appeared at The Forum in Los Angeles, California, where live recordings were made which were included on the 'Goodbye Cream' album which was released the following year.

Peter Frampton met Steve Marriott at a Small Faces show in London. After striking up a friendship, the two started planning a new group which emerged as Humble Pie the following April.

1980 - AC/DC kicked off a 20-date UK tour at Bristol Colston Hall. The bands first gigs since the death of singer Bon Scott.

1997 - Original Alice Cooper band guitarist Glen Buxton died from pneumonia, aged 49. Born in Akron, Ohio, he attended High School in Phoenix, Arizona, where he met Dennis Dunaway and Vincent Furnier, later to call himself the titular Alice Cooper. Buxton co-wrote several classic Alice Cooper hits, including 'School's Out', 'I'm Eighteen' and 'Elected.'

2005 - A survey concluded that the average person spent around £21,000 on music during their lives, the figure included the amount spent on Hi-Fi equipment, concerts and CDs. Music enthusiasts were likely to spend more than double that, parting with just over £44,000, in a lifetime, according to the survey conducted by Prudential.

2014 - Raphael Ravenscroft who played the sax riff on the Gerry Rafferty hit 'Baker Street' died aged 60 of a suspected heart attack. He was paid only £27.50 for the 'Baker Street' session, and it has been reported that the cheque bounced and that it was kept on the wall of Ravenscroft's solicitors; by contrast the song is said to have earned Rafferty £80,000 a year in royalties.

1957 - Paul McCartney made his first appearance with The Quarry Men at New Clubmoor Hall, Norris Green, Liverpool. The line-up for The Quarry Men was John Lennon, Paul McCartney, Eric Griffiths, Colin Hanton, and Len Garry. Paul played John some songs that he had composed which Lennon contributes, marking the birth of the Lennon and McCartney songwriting partnership.

1967 - The Bee Gees were at No.1 on the singles chart with 'Massachusetts', the group's first of five No.1s. Engelbert Humperdink was at No.2 with 'The Last Waltz' and Traffic were at No.3 with 'Hole In My Shoe.'

1964 - Manfred Mann started a run at No.1 on the singles chart with 'Do Wah Diddy Diddy', possibly the first No.1 with a Nonsense Song Title. The song was first released by the US group The Exciters.

1995 - Sting's former accountant Keith Moore was sentenced to six years in jail after being found guilty of embezzling £6 million from the singer's 108 bank accounts.

2017 - Canadian rock musician Gord Downie died of glioblastoma aged 53. He was the lead singer and lyricist for the Canadian rock band The Tragically Hip as well as releasing six solo albums. The band's final concert was held at the Rogers K-Rock Centre in Kingston, Ontario, on August 20 2016 and was broadcast and streamed live by the Canadian Broadcasting Corporation on television, radio and internet. It was viewed by an estimated 11.7 million people.

1961 - Decca records released 'Crazy' by Patsy Cline. The ballad, composed by Willie Nelson, gave Cline a No.2 country hit in 1962. Nelson originally wrote the song for country singer Billy Walker, but Walker turned it down. The song's eventual success helped launch Nelson as a performer as well as a songwriter. It spent 21 weeks on the chart for Cline, and eventually became one of her signature tunes.

1967 - Folk singer Joan Baez was arrested, along with 123 others, for blocking the entrance to an Armed Forces Induction Center in Oakland, California.

1969 - Record company executive and founder of the Chess record label Leonard Chess died of a heart attack aged 52. Home to John Lee Hooker, Chuck Berry, Bo Diddley Little Walter, The Moonglows, The Flamingos, Jimmy Reed and Sonny Boy Williamson.

1972 - Creedence Clearwater Revival split up following the failure of their most recent album, 'Mardi Gras'. After limited success as a solo act and some legal hassles with Fantasy Records, John Fogarty would have two big hits in 1985, 'Center Field' and 'Rock and Roll Girls'. John's brother Tom Fogarty died in September, 1990 and the surviving members have been touring as Creedence Clearwater Revisited.

1976 - One Hit Wonders Rick Dees and his Cast Of Idiots went to No.6 with 'Disco Duck (part one)'. Dees was a US TV and radio presenter. The vocals were actually voiced by Ken Pruitt.

2001 - Two security guards were sacked after refusing to allow Bob Dylan into his own concert. Dylan who had demanded that security on his 'Love and Theft' tour should be tighter than ever didn't have a pass when he arrived backstage.

2010 - Auburn University graduate student Justin Havird named a new species of fish, Lepidocephalichthys Zeppelini, because the fish's pectoral fin reminded him of the double-neck guitar used by Jimmy Page. 'I'm a big Led Zeppelin fan, and I was listening to them while I was working on the fish,' Havird said. 'The structure that makes this species unique just reminded me of the guitar that Jimmy Page played'.

Patti Smith was said to be moved to tears after a fan returned a bag of stolen goods to the singer, 36 years after they went missing. They included a shirt worn for a 1978 Rolling Stone cover shot and a bandana given to her by her late brother. The items went missing in June 1979 when a truck, which was carrying $40,000 in amplifiers, guitars and other musical equipment, was stolen from outside a hotel after Smith and her band played a show at the Aragon Ballroom in Chicago.

1965 - Jimi Hendrix signed his first recording contract in the UK, where he would receive £1 and a 1% Royalty on all of his recordings.

1966 - Pink Floyd (who were paid £15 for the gig), The Move, Denny Laine, Soft Machine, Yoko Ono and a West Indian steel band all appeared at the launch for the International Times (which became the first and longest running British hippy paper), at London's Roundhouse. Beatle Paul McCartney attended the event in Arabian dress. The flyers for the evening stated: 'Bring your own poison, bring flowers & gass (sic), filled balloons'. Admission was 10 shillings on the door.

Lieutenant Pigeon were at No.1 on the singles chart with 'Mouldy Old Dough.' Keyboard player Rob Woodward had his mum play piano on the single, making them the only mother and son act to score a UK No.1. The song was recorded in the front room of their semi-detached house.

2003 - Mike Smith, the former lead singer of The Dave Clark Five suffered a fall at his home in Spain that left him paralyzed from the waist down. Smith died of pneumonia on February 28th, 2008, less than two weeks before the band was to be inducted into the Rock and Roll Hall of Fame.

2004 - Bill Eyden, the session drummer hired to play on Procol Harum's 'A Whiter Shade Of Pale' died after a lengthy illness at the age of 74. Eyden also worked with Georgie Fame and the Blue Flames, Charlie Watts and was a member of the resident trio, led by Stan Tracey, at Ronnie Scott's club in London, until the late 60s.

1957 - Although it was banned by some radio stations for its suggestive lyrics, The Everly Brothers had a No.2 hit with 'Wake Up Little Susie').

1965 - The Rolling Stones, The Spencer Davis Group, Unit 4 Plus 2, The Checkmates, The Habit, The End and Charlie Dickins all appeared at The Odeon, Birmingham during a UK tour.

1967 - The second series of The Monkees TV show started on BBC tv in the UK. Plans for the shows to be screened in colour were dropped, so it was aired in black & white.

1971 - Music publishing firm, Arco Industries filed a $500,000 dollar lawsuit against Creedence Clearwater Revival singer John Fogerty, claiming that Fogerty's song Travelin' Band "contained substantial material copied from Little Richard's Good Golly, Miss Molly". The suit was eventually dropped.

1996 - 28 years after its creation, The Rolling Stones' Rock & Roll Circus was finally released. The 1968 event put together by The Stones comprised two concerts on a circus stage and included performaces by The Who, Taj Mahal, Marianne Faithfull and Jethro Tull. John Lennon and Yoko Ono performed as part of a supergroup called The Dirty Mac, along with Eric Clapton, Mitch Mitchell and Keith Richards. It was originally planned to be aired on BBC tv.

2004 - Eric Clapton was suspended from driving in France after being caught speeding at 134mph in his Porsche 911 Turbo near Merceuil. He was given a 750 euro (£515) fine and his UK licence was confiscated. After paying his fine Clapton posed for photographs with French police and then left the scene in his Porsche - with his secretary behind the wheel.

2014 - Isaiah "Ikey" Owens the American keyboardist known for his work with The Mars Volta, Jack White and an array of bands from the Long Beach music scene died aged 39. Owens was found dead due to a heart attack in his hotel room in Puebla, Mexico.

Week Commencing October 7
1962 - Don Everly collapsed during rehearsals on stage at the Prince of Wales Theatre in London on the eve of a 22 date Everly Brothers tour. He was flown back to the US for treatment and the tour continued with Phil Everly performing solo.

1965 - The Who recorded 'My Generation' at Pye studios, London. When released as a single it reached No.2 on the chart, held off the No.1 position by The Seekers 'The Carnival Is Over'. Roger Daltrey would later say that he stuttered the lyrics to try to fit them to the music. The BBC initially refused to play the song because it did not want to offend people who stutter.

Janis Joplin's ashes were scattered at Stinson Beach in Marin County, California. The singer had been found dead on the floor beside her bed at the Landmark Hotel in Hollywood California on 4th Oct. The official cause of death was an overdose of heroin, possibly combined with the effects of alcohol.

1979 - 'Reggatta De Blanc', the second album from The Police started a four-week run at No.1. The album, which features the band's first two No.1 hits, 'Message in a Bottle' and 'Walking on the Moon', cost only £6,000 to record.

2001 - Australian singer songwriter Peter Doyle died of throat cancer aged 52. Solo artist and a member of The New Seekers. Scored the hits, 'What Have They Done To My Song Ma', 'Never Ending Song of Love' and 'I'd Like to Teach the World to Sing' with The New Seekers.

2008 - In a video message on his website, Ringo Starr announced that he no longer has time to sign autographs and asked fans not to send him any mail at all. "No more fan mail and no objects to be signed. Nothing." After finishing a tour of the US and Canada, he was dividing his time between Los Angeles, the South of France and his home in Surrey.

2016 - Bob Dylan was awarded the 2016 Nobel Prize for Literature, becoming the first songwriter to win the prestigious award. The 75-year-old rock legend received the prize "for having created new poetic expressions within the great American song tradition".

1955 - The Chrysler Corporation launched high fidelity record players for their 1956 line-up of cars. The unit measured about four inches high and less than a foot wide and was mounted under the instrument panel. The seven inch discs spun at 16 2/3 rpm and required almost three times the number of grooves per inch as an LP. The players were discontinued in 1961.

1957 - During an Australian tour, Little Richard publicly renounced rock 'n' roll and embraced God, telling a story of dreaming of his own damnation after praying to God when one of the engines on a plane he was on caught fire. The singer threw four diamond rings, valued at $8,000, into Sydney's Hunter River and soon after launched a Gospel career. Five years later, he would switch back to Rock.

1968 - Big Brother And The Holding Company went to No.1 on the US album chart with 'Cheap Thrills'. The cover, drawn by underground cartoonist Robert Crumb, replaced the band's original idea, a picture of the group naked in bed together. Crumb had originally intended his art to be the LP's back cover, but Joplin demanded that Columbia Records use it for the front cover. Initially the album title was to have been Sex, Dope and Cheap Thrills, but this didn't go down too well at Columbia Records.

1971 - Gene Vincent (Vincent Eugene Craddock), died from a perforated ulcer, aged 36. Had the 1956 No.16 single 'Be Bop A Lula'. Appeared in the film, The Girl Can't Help It with Jayne Mansfield. In 1960, while on tour in the UK, Vincent and songwriter Sharon Sheeley were seriously injured the car crash that killed Eddie Cochran.

1974 - Blondie appeared at CBGBs in New York City, under the name 'Blondie' for the first time. The name is derived from comments made by truck drivers who catcalled "Hey, Blondie" to Debbie Harry as they drove by.

Rod Stewart and the Faces made their final live appearance when they played at Nassau Coliseum, Long Island.

1979 - Fleetwood Mac released their twelfth album Tusk, an experimental set of songs that cost the band over $1 million to record. The double album peaked at No.1 and achieved Platinum status.It achieved sales in excess of two million copies, spawning two Top Ten singles, 'Sara' and the title track.

1985 - Ricky Wilson of the B-52s died of complications from aids. The B-52s had the 1990 No.2 single 'Love Shack'.

1994 - Pink Floyd played the first of a 15-night run at Earls Court, London. Less than a minute after the band had started playing 'Shine On You Crazy Diamond', a scaffolding stand holding 1200 fans collapsed, throwing hundreds of people 20 feet to the ground. It took over an hour to free everyone from the twisted wreckage, ninety-six people were injured, with 36 needing hospital treatment. Six were detained overnight with back, neck and rib injuries. Pink Floyd sent a free T-shirt and a note of apology to all the fans who had been seated in the stand that collapsed. The show was immediately cancelled and re-scheduled.

2016 - David Bowie and Prince were both new entries in the latest list of top-earning dead celebrities compiled by Forbes. Prince's pre-tax income from 1 October 2015 to 1 October 2016 was estimated at £20.5m by the business magazine, putting him fifth in the list. Bowie, meanwhile, was ranked at 11th for an estimated income of £8.5m. Both, however, are dwarfed by Michael Jackson who topped the list once again with a record-breaking estimated income of £672.8m.

1961 - The Highwaymen were at No.1 on the singles chart with 'Michael'. The Highwaymen were US college students who broke up when they graduated. The only band to boast a sitting Federal Appeals Court judge, in the person of Steve Trott, in their line-up.

Pussycat started a four week run at No.1 on the singles chart with 'Mississippi' making them the first Dutch act to top the UK chart.

2005 - Freddie Mercury's 1974 Rolls Royce Silver Shadow was offered for auction on eBay by his sister, Kashmira Cooke, who had inherited the car from him. The luxury vehicle had not appeared in public since 2002, when it had been used to transport the Bulsara family to the premiere of the Queen stage musical We Will Rock You. It came with a box of Kleenex Mansize tissues left in the car by Freddie.

2009 - 54-year-old Jo Wood, wife of The Rolling Stones Ronnie Wood was granted a divorce after 24 years of marriage on the grounds of adultery. The couple split in 2008 after the guitarist, 64, began a relationship with a 20-year-old woman.

1964 - The Beach Boys recorded 'Dance Dance Dance', with Glen Campbell playing the lead guitar intro. It would go on to become their twelfth Top 40 hit.

1969 - For the first time in the history of the show, Top Of The Pops producers refused to air the No. 1 song, 'Je T'aime... Moi Non Plus', the erotic French language love song by Serge Gainsbourg and actress Jane Birkin. The song, an instrumental with the voices of Gainsbourg and Birkin apparently recorded in the act of love and superimposed over the top, caused such a stir that the original label, Fontana, dropped the record despite it being No. 2 on the charts. A small record company, Major Minor, bought the rights and saw the song climb to the top of the charts, the first French language song to ever do so.

1971 - The Who played a small, low-key show at the University of Surrey, Guildford, with guest John Sebastian joining in on harmonica on 'Magic Bus' ' the only outside musician ever to jam with The Who on stage. Backstage, the group celebrated John Entwistle's 27th birthday.

1971 - Rod Stewart was at No.1 on the singles chart with 'Maggie May' (first released as a B side to 'Reason To Believe'). The first of six UK No.1s for Stewart, it spent five weeks at the top of the chart.

1976 - The Sex Pistols signed to EMI records for £40,000. The contract was terminated three months later with the label stopping production of the 'Anarchy In The UK' single and deleting it from its catalogue. EMI later issued a statement saying it felt unable to promote The Sex Pistols records in view of the adverse publicity generated over the last few months.

Dr Feelgood scored their only No.1 album when 'Stupidity' went to the top of the charts. It was the first ever live album to go to No.1 in the chart in its first week of release. Some of the album was recorded at The Kursaal in Southend-on-Sea.

1993 - Nirvana entered the US album chart at No.1 with 'In Utero', their third and final studio album. Kurt Cobain had originally wanted to name the album 'I Hate Myself and I Want to Die.'

2007 - The Imagine Peace Tower was officially unveiled in Kollafjorour Bay near Reykjav'k, Iceland. The memorial to John Lennon from his widow, Yoko Ono, consists of a tall "tower of light", projected from a white stone monument that has the words "Imagine Peace" carved into it in 24 languages.

2008 - Paul McCartney (a vegetarian for 30 years), was said to be furious when he heard that a Liverpool branch of McDonald's restaurant displayed his picture, accusing them of using it to attract customers. Sir Paul was quoted as saying "What sort of morons do McDonald's think Beatles fans are?"

1965 - The Florescents supported by The Castiles, which featured a young singer called Bruce Springsteen appeared at the I.B. Club in Howell, New Jersey. This was The Castiles first publicly advertised nightclub appearance. Admission was $1.00.

1965 - During a UK tour The Rolling Stones appeared at The ABC, Stockton on Tees. Also on the bill: Spencer Davis Group, Unit Four + 2, The Checkmates, The End, and Charles Dickens and The Habits.

1966 - Cream drummer Ginger Baker collapsed during a gig at Sussex University, after playing a 20 minute drum solo. He later recovered in a local hospital.

1967 - Jimi Hendrix, Arthur Brown and John's Children all appeared at the Saville Theatre in London.

1969 - David Bowie played the first of a 10 date tour supporting Humble Pie at Coventry Theatre. Humble Pie were fronted by former Small Faces singer Steve Marriott and featuring Bowies old school friend Peter Frampton. Frampton's father, Owen taught Art at Beckenham Technical School were Bowie was a pupil. Another of his pupils was George Underwood, who became a painter and designed three David Bowie album covers, Space Oddity, Hunky Dory and Ziggy Stardust.

1971 - Led Zeppelin II was enjoying its 100th week on the album charts. It was the band's first album to hit No.1 in the US, knocking The Beatles' Abbey Road twice from the top spot, where it remained for seven weeks. When first released the album had advance orders of 400,000 copies in the USA (the advertising campaign was built around the slogan Led Zeppelin II Now Flying).

1987 - The three members from ZZ Top made advance bookings for seats on the first passenger flight to the Moon. The boys are still waiting for confirmation of the trip.

1988 - Pink Floyd's The Dark Side of The Moon finally left Billboard's Hot 200 Album Chart after a record breaking 741 weeks.

Week Commencing September 30
1964 - The Beatles spent the afternoon recording 'Eight Days A Week' at Abbey Road studios in London. Late evening was spent at The Ad Lib Club, London, partying with The Ronettes and Mick Jagger.

1967 - Pink Floyd appeared at the Miss Teenage Brighton Contest, Top Rank Suite, Brighton, playing the musical interlude during the contest.

1967 - The Jimi Hendrix Experience recorded a session for radio show 'Top Gear.' Stevie Wonder who was also appearing on the show jammed with Hendrix.

1972 - During sessions at RCA Studios, New York City, David Bowie recorded 'The Jean Genie', which became the lead single from his 1973 album Aladdin Sane. The track spent 13 weeks in the charts, peaking at No.2, making it Bowie's biggest hit to date. The line "He's so simple minded, he can't drive his module" would later give the band Simple Minds their name.

1979 - Buzzcocks, supported by Joy Division appeared at the Odeon Theatre, Edinburgh, tickets £2.50.

2011 - Starship's 'We Built This City' was named 'the worst song of the 1980s in a poll by Rolling Stone magazine. 'The Final Countdown' by the Swedish band Europe came in second and 'Lady in Red' by Chris de Burgh was third. Also making the top five were Wham!'s 'Wake Me Up (Before You Go Go)' and 'The Safety Dance' by Men Without Hats.

1958 - Cliff Richard and The Shadows played their first gig together when they appeared at the Victoria Hall, Hanley.

1970 - Led Zeppelin III was released in the UK on Atlantic records. The album peaked at No.1 on both the UK and US charts. It has now been certified 6 times Platinum by the Recording Industry Association of America (RIAA) for US sales in excess of 6 million copies.

1973 - Elton John released his seventh studio album Goodbye Yellow Brick Road. Under the working titles of 'Vodka and Tonics', and 'Silent Movies, Talking Pictures', Bernie Taupin wrote the lyrics to the album in two and a half weeks, with John composing most of the music in three days while staying at the Pink Flamingo Hotel in Kingston, Jamaica. Goodbye Yellow Brick Road has now sold over 30 million copies worldwide and is his best-selling studio album.

1974 - Mike Oldfield's 'Tubular Bells' went to No.1 for the first time on the album chart 15 months after being released. It went on to sell over 10 million copies worldwide.



1980 - The NME had Joy Division's 'She's Lost Control' as single of the week. The song is about a girl who singer Ian Curtis worked with at a disability centre. One day she didn't come to the center and Ian later learned that she died from an epileptic seizure.

1992 - American singer Eddie Kendricks of The Temptations died aged 52 of lung cancer one year after having one lung removed. His was the lead voice on 'The Way You Do The Things You Do', 'Get Ready', and 'Just My Imagination'. As a solo artist, Kendricks recorded several hits of his own during the 1970s, including the US No.1 single 'Keep On Truckin'.

2000 - Top Of The Pops issued a Top 40 chart based on singles that had spent the longest time on the chart. No.3 was 'My Way' by Frank Sinatra, No.2 'She Loves You', The Beatles and No.1 'Relax' by Frankie Goes To Hollywood who, incidentally, never actually played on the record.

1967 - American singer, songwriter Woody Guthrie died after suffering from Huntington's Chorea disease. Guthrie was a major influence on Bob Dylan and American folk music. The 70s film 'Bound For Glory' is based on his life. His best-known song is 'This Land Is Your Land', which is regularly sung in American schools.

1978 - The members of Aerosmith bailed thirty fans out of jail after they were arrested for smoking pot during an Aerosmith concert at Fort Wayne Coliseum.

1991 - Texas governor Ann Richards proclaimed October 3 (Stevie Ray Vaughan's birthday), to be "Stevie Ray Vaughan Day". An annual motorcycle ride and concert in Central Texas benefits the Stevie Ray Vaughan Memorial Scholarship Fund.

2000 - The Cars singer and bass player Benjamin Orr died of cancer at home in Atlanta at the age of 53. Sang lead vocals on the bands hits 'Just What I Needed', 'Let's Go' and 'Drive'.

2011 - According to new scientific research, Queen's 'We Are The Champions' was found to be the catchiest song ever written. Musicologist Dr Alisun Pawley from the University of London conducted research into what makes a song memorable and compiled a list of the ten "catchiest" songs of all time. During the research, they discovered that sing-along songs contained four key elements: long and detailed musical phrases, multiple pitch changes in a song's 'hook', male vocalists, and higher male voices making a noticeable vocal effort. Y.M.C.A. by the Village People, Sum 41's Fat Lip, and Europe's The Final Countdown were also in the list.

1965 - Bob Dylan appeared at Carnegie Hall in New York City. He introduced his new touring band on this tour, made up of guitarist Robbie Robertson, organist Garth Hudson, bassist Rick Danko, pianist Richard Manual and drummer Levon Helm. They will become known simply as The Band.

1966 - Jimi Hendrix appeared live for the first time in the UK when he jammed with Cream at their gig at London Polytechnic. Hendrix made his official UK live debut a month later on Friday 25 Nov 1966, when the Jimi Hendrix Experience appeared at the Bag O'Nails Club, London.

1967 - The first edition of Radio 1's 'Top Gear' was aired. Presented by John Peel and Pete Drummond, it featured The Move, Traffic, Pink Floyd, Tim Rose and Tomorrow featuring Keith West.

1970 - Jimi Hendrix was buried at The Greenwood Cemetery at the Dunlop Baptist Church, Seattle. Among the mourners; Miles Davis, Eric Burdon, Johnny Winter and members of Derek and the Dominoes.

1975 - 39 year old Al Jackson, drummer for Booker T. And The MGs, was shot and killed by a burglar at his home. His wife was questioned about the killing because she was arrested in July for shooting her husband in the chest during a domestic dispute. He wasn't badly hurt and the charges were dismissed when his wife claimed self-defense. Jackson had returned home to what police described as a botched robbery attempt. According to Jackson's wife, an intruder made her answer the door and then threw her husband to the floor demanding money. Jackson was forced to lie face down and then was shot in the back five times. The identity of the culprit remains a mystery. Booker T had backed such artists as Otis Redding, Al Green and Sam and Dave.

1981 - The Pretenders were forced to cancel the last leg of a US tour after drummer Martin Chambers put his hand through a windowpane, cutting tendons and arteries.

1983 - A David Bowie world convention was held at The Cunard Hotel in London. The event had the largest collection of Bowie merchandise ever assembled.



2004 - The Lord Mayor of Melbourne officially opened 'AC/DC Lane' after the veteran rockers. The Lord Mayor erected the sign to cheers and bagpipes playing the bands song 'It's A Long Way To The Top'. The City of Melbourne had extra copies of the sign made, in anticipation of fans stealing them.

2015 - An original tape of The Beatles performing at The Cavern Club in Liverpool in 1962 was found after 50 years languishing in a desk drawer. It featured the Fab Four playing 'Some Other Guy' in September 1962, four weeks before their debut single came out. It was recorded after the group were filmed for Granada TV's Know The North, but was never broadcast.

1965 - Donovan made his US television debut on Shindig! along with The Hollies, The Turtles and the Dave Clark Five.

1965 - The Rolling Stones performed at the Gaumont Theatre in Hanley, Staffordshire. Also on the bill were The Moody Blues, The Spencer Davis Group, The End and The Habits. Bill Wyman produced singles and the debut album for The End, on Decca Records.

1967 - The UK's first National pop radio station, BBC Radio 1 was launched in the to take over from the very successful pirate radio stations which had been forced off-air by the Government. Former pirate DJ Tony Blackburn, from Radio Caroline, was the first presenter on air, with The Move's Flowers In The Rain the first record to be played.

1974 - Police were called to a Lynyrd Skynyrd and Blue Oyster Cult concert after a fight broke out between two sound engineers. The Skynyrd roadie claimed that the sound had been deliberately turned off during the bands set.

2016 - A schoolboy from Philadelphia who skipped class to meet his musical hero handed his teacher an absence note with a difference. The typewritten note was signed by Bruce Springsteen. Fifth-grader Michael Fenerty met the star at a "meet-and-greet" in the Free Library of Philadelphia when Springsteen was in town signing copies of his new autobiography, Born to Run.

Week Commencing September 23 . . .
1960 - Ricky Valance was at No.1 on the singles chart with 'Tell Laura I Love Her', making him the first Welsh singer to top the charts, and a One-hit Wonder.

1971 - On the last night of their first ever Japanese tour Led Zeppelin appeared at Osaka Festival Hall. Near the end of the set the group played a medley of songs during an extended version of 'Whole Lotta Love', including 'Let That Boy Boogie', 'I Gotta Know', 'Twist and Shout', 'Fortune Teller', 'Good Times Bad Times' and 'You Shook Me'.

1976 - Enjoying his own birthday celebrations singer Jerry Lee Lewis accidentally shot his bass player Norman Owens in the chest. Lewis had been blasting holes in an office door. Owens survived but sued his boss.

1979 - The Police had their first No.1 single with 'Message In A Bottle' the group's third Top 20 hit. The song was released as the first single from Reggatta de Blanc and also topped the charts in Ireland and reached No.5 in Australia. Despite its popularity in the UK, the single only reached No.74 in the United States.

2004 - Keith Moon's five-piece drum kit, custom-made for The Who drummer in 1968, sold for £120,000 pounds in London to an American collector, setting a world auction record for a set of drums.

Otis Rush died from complications of a stroke aged 84. His distinctive guitar style featured a slow-burning sound and long bent notes. His first single, 'I Can't Quit You Baby', in 1956 reached No.6 on the Billboard R&B chart. Two of his other best-known songs, are 'Double Trouble' and 'All Your Love (I Miss Loving).'

1972 - Rory Storm singer from 60s group Rory Storm and the Hurricanes died aged 32 after taking an overdose of sleeping pills in a suicide pact with his mother. Ringo Starr played drums with Storm before joining The Beatles.

1979 - Scottish guitarist Jimmy McCullough died from a heroin overdose in his flat in Maida Vale, London, aged 26. Member of Stone The Crows, Thunderclap Newman and Wings (1974 to 1977). When 'Something in the Air' by Thunderclap Newman went to No.1 in 1969, it made McCulloch the youngest guitarist to ever play on a UK No.1 single, as he was was just sixteen years old at the time.

2008 - Pink Floyd's manager Bryan Morrison died after spending over two years in a coma. Morrison suffered severe brain injuries in a polo accident at the Royal Berkshire Polo Club, in 2006, and never recovered. He also managed The Pretty Things and was a music publisher for Syd Barrett, The Bee Gees, Elton John, The Jam, T-Rex and Wham!

2018 - American singer, songwriter Marty Balin died at the age of 76. He was best known as the founder and one of the lead singers of Jefferson Airplane and Jefferson Starship who had the 1967 US No.18 single 'White Rabbit'. Balin played with Jefferson Airplane at the Monterey Pop Festival in 1967 and at the Woodstock Festival in 1969.

Bessie Smith died aged 43 after being involved in a car accident while traveling along Route 61 outside Memphis, Tennessee. Her 1923 song 'Downhearted Blues' was inducted into the Grammy Hall of Fame in 2006.

1961 - The Greenbriar Boys started a two-week residency at Gerde's Folk Club in New York. The opening act was Bob Dylan.

1965 - At the end of a European tour Roger Daltry knocked out Keith Moon resulting in the singer being sacked from The Who. The band were playing two shows in one night in Denmark when an argument broke about between all four band members. Daltrey was reinstated the following day.

1967 - Pink Floyd played the first of three nights at the Fillmore in San Francisco, the groups first ever live dates in the US.

1981 - Bruce Dickinson joined Iron Maiden (Dickinson had been the vocalist with Samson).

1995 - AC/DC released Ballbreaker their 12th international studio album. The album which was produced by Rick Rubin, featured the return of former drummer Phil Rudd, who had been fired from the band in 1983 as a result of drinking and drug problems and a fight with founding rhythm guitarist Malcolm Young.

2003 - English singer, songwriter Robert Palmer died of a heart attack aged 54 in Paris France. He was a member of Vinegar Joe and Power Station (with Duran Duran members Andy Taylor and John Taylor with drummer and former Chic member Tony Thompson). As a solo artist had the 1986 US No.1 & UK No.5 single 'Addicted To Love' and the 1988 hit 'Simply Irresistible'.

1964 - The Temptations begin recording 'My Girl' which went on to be their first US number one and the first of fifteen US Top Ten hits.

1969 - John Lennon recorded the track 'Cold Turkey', with Eric Clapton, Ringo Starr, Klaus Voorman and Yoko. Lennon presented the song to Paul McCartney as a potential single by The Beatles, but was refused and released it as a Plastic Ono Band single with sole writing credits to him.

1972 - Black Sabbath released their fourth studio album, 'Black Sabbath Vol. 4'. The album which features a monochrome photograph of Ozzy Osbourne with hands raised, taken during a Black Sabbath concert was originally to be titled 'Snowblind', after one of several songs referring to the band's cocaine use.

1976 - Paul McCartney and Wings played a charity concert in St Marks Square, Venice to raise funds for the historic city. The night was a success but the weight of the equipment used by the group caused more damage to the square.

1980 - John Bonham, drummer with Led Zeppelin, died aged 32 after a heavy drinking session. 'Bonzo' was found dead at guitarists Jimmy Page's house of what was described as asphyxiation, after inhaling his own vomit after excessive vodka consumption (40 shots in 4 hours). During live sets his drum solo, 'Moby Dick,' would often last for half an hour and regularly featured his use of his bare hands. In 2007, Ludwig issued a limited edition drum kit in Bonham's memory.

1993 - Nirvana went to No.1 on the album chart with 'In Utero' the bands first No.1 album.

Stephen Canaday of The Ozark Mountain Daredevils was killed when the vintage WW II plane he was flying in, rolled, inverted and crashed into a tree. The pilot failed to maintain speed which resulted in a stall.

2000 - Ozzy Osbourne formally requested that Black Sabbath be removed from the nomination list for the Rock and Roll Hall of Fame. Calling the inclusion "meaningless", Osbourne went on to say "Let's face it. Black Sabbath have never been media darlings. We're a people's band and that suits us just fine."

2015 - David Gilmour's fourth studio album Rattle That Lock went to No.1 on the album chart. Gilmour had been writing the material for Rattle That Lock over the past five years, though he pointed out that one piano piece was recorded 18 years ago in his living room.

1961 - John Leyton was at No.1 on the singles chart with 'Johnny Remember Me.' The singer's only No.1 and producer Joe Meek's first No.1 hit.

1962 - Elvis Presley received an invitation to appear at the Royal Variety Performance in the UK which is attended by members of the British Royal Family. Presley's manager, Colonel Tom Parker, graciously declined, citing motion picture commitments. The real reason was that Parker was an illegal Dutch immigrant living in the United States who feared he might not be allowed to return if he left the country.

1966 - Jimi Hendrix arrived in London with manager Chas chandler on a flight from New York City. With only the clothes he was wearing, Hendrix had sold his other belongings to pay a hotel bill in New York. One of the first things he did after arriving in England was to legally change his name from James to Jimi.

1988 - Bobby McFerrin started a two week run at No.2 on the singles chart with 'Don't Worry Be Happy', the first a-cappella record to be a hit. 'Don't Worry, Be Happy was also included in the movie Cocktail. The song would go on to win Grammy Awards for both Record of the Year and Song of the Year.

1988 - The Hollies were at No.1 on the singles chart with 'He Ain't Heavy He's My Brother' after the song was used on a TV beer commercial, the song was originally a hit in 1969 and featured a young Elton John on piano.

1990 - AC/DC released 'The Razors Edge' their 11th internationally released studio album. The only studio album to feature drummer Chris Slade, it reached No.4 on the chart.

1997 - Barry Loukaitis was convicted of shooting and killing two pupils and a teacher at a school in Washington. His defence team claimed he had copied scenes from Pearl Jam's video 'Jeremy'.

Matthew Jay died aged 24 after falling from a seventh-storey window in London. Released the 2001 album 'Draw' and toured with The Doves, Stereophonics, Dido and Starsailor.

2004 - The Strat Pack: Live in Concert was held at Wembley Arena in London marking the 50th Anniversary of the Fender Stratocaster guitar. The concert featured Ronnie Wood, Joe Walsh, Gary Moore, Brian May, David Gilmour, Albert Lee, Andy Fairweather-Low, Hank Marvin and many more.

1957 - The Crickets went to No.1 on the singles chart with 'That'll Be The Day.' The title being taken from a phrase used by John Wayne in the film 'The Searchers.'

1965 - The Walker Brothers were at No.1 on the singles chart with the Burt Bacharach song, 'Make It Easy On Yourself', the trio's first of two No.1s.

1966 - The 'Rolling Stones 66' 12-date UK tour kicked off at the Royal Albert Hall London. Supported by Long John Baldry, Ike & Tina Turner and The Yardbirds (Jimmy Page was playing bass, with Jeff Beck on guitar). Michelangelo Antonioni attended this concert and asked The Yardbirds to appear in his forthcoming film Blow Up. Also both Keith Moon and John Entwistle from The Who were in the audience.

1967 - The Box Tops started a four week run at No.5 on the chart with 'The Letter'. The record went on to sell over four million copies and receive two Grammy nominations. It was also a Top Ten hit for Joe Cocker in 1970.

1974 - Robbie McIntosh founder member of the Average White Band died of a heroin overdose at a Hollywood party (after he inhaled a white powder thought to be cocaine but was actually pure heroin). AWB scored the No.1 single 'Pick up the Pieces' which was nominated for a Grammy Award in 1975.

1977 - David Bowie released 'Heroes' as a single. Co-written by Bowie and Brian Eno, the track features King Crimson guitarist Robert Fripp and has gone on to become one of Bowie's signature songs.



1978 - 10cc had their third and final No.1 single with 'Dreadlock Holiday.' The lyrics, about a white man lost in Jamaica, were based on a true event that happened to Moody Blues vocalist Justin Hayward and Eric Stewart from 10cc in Barbados.

2009 - A Blue Plaque was unveiled on the building where Cargo Studios used to be on Kenion Street in Rochdale. The plaque was to recognise the part the building played in the British music scene between 1978 and 2000. In the early years as a home to Cargo Studios and Tractor Music then later Suite 16 Studios. Factory producer Martin Hannett spent a great deal of time in Cargo recording Joy Division, Orchestral Manoeuvres in the Dark, Durutti Column, Section 25 and Nico amongst others.

Week Commencing September 16
1962 - The Springfields (Dusty Springfield her brother Tom and their friend, Tim Field) had 'Silver Threads and Golden Needles', enter the US Top 20 and became the first British vocal group to chart that high in America.

1964 - Herman's Hermits were at No.1 on the singles chart with the Carole King & Gerry Goffin song 'I'm Into Something Good', the group's only No.1.

1969 - The Band released their self-titled album, which peaked at No.9 on the US chart, and included the tracks; 'Rag Mama Rag', 'Up on Cripple Creek' and 'The Night They Drove Old Dixie Down'. In 2009, the album was preserved into the National Recording Registry because the album was 'culturally, historically, or aesthetically important, and reflects life in the United States.'

1973 - The Rolling Stones scored their eighth No.1 album when 'Goats Head Soup' started a two-week run at the top of the charts. Also a US No.1.

1979 - Gary Numan had his second and final No.1 single with 'Cars'. Also on this day Gary Numan went to No.1 on the album chart with 'The Pleasure Principle.'

1992 - Def Leppard were forced to cancel two US shows after their sound-equipment truck was found abandoned after one of the bands drivers had attempted to rob a store. The driver was later charged of possessing drugs and criminal damage.

2005 - Jimmy Page was made an honorary citizen of Brazilian city Rio de Janeiro for his work helping its street children. The Led Zeppelin guitarist had opened Casa Jimmy (Jimmy's House) in 1998 which had so far supported more than 300 children.

Chas Hodges died from pneumonia aged 74. Hodges had worked with British producer Joe Meek as a session musician, backing Jerry Lee Lewis and Gene Vincent. He later joined Heads Hands and Feet (with guitarist Albert Lee). With Chas & Dave he scored the 1982 No.2 single 'Ain't No Pleasing You'. He also played piano for the 1983 short-lived supergroup The Rockers, which featured Roy Wood, Phil Lynott and John Coghlan.



1968 - Deep Purple made it onto the singles chart with their debut single 'Hush', also a hit for Kula Shaker in 1997.

1970 - Freda Payne was at No.1 on the singles chart with 'Band Of Gold', the singers only No.1 which spent six weeks at the top of the chart.

1971 - The first edition of 'The Old Grey Whistle Test' was aired. The show included film clips of Jimi Hendrix from Monterey Festival playing 'Wild Thing', Bob Dylan playing 'Maggies Farm', plus America and Lesley Duncan 'live' in the studio. The influential show went on to enjoy a run from 1971 to 1987. According to presenter Bob Harris, the programme derived its name from a Tin Pan Alley phrase from years before. When they got the first pressing of a record they would play it to people they called the old greys—doormen in grey suits. The songs they could remember and whistle, having heard it just once or twice, had passed the old grey whistle test.

1974 - Carl Douglas was at No.1 on the singles chart with 'Kung Fu Fighting.' The song was recorded in 10 minutes, had started out as a B-side and went on to sell over 10 million and made Douglas a One Hit Wonder.

1980 - During a North American tour, Bob Marley collapsed while jogging in New York's Central Park. After hospital tests he was diagnosed as having cancer. Marley played his last ever concert two nights later at the Stanley Theater in Pittsburgh, Pennsylvania.

1981 - Adam And The Ants were at No.1 on the singles chart with their second chart topper 'Prince Charming'.

2011 - A contract revealing that The Beatles refused to perform in front of a segregated audience at the Cow Palace in Daly City, California on August 31st, 1965, sold for $23,033 at an auction in Los Angeles. In addition to the desegregation clause, the contract guaranteed the band $40,000 and at least 150 police officers to provide security at the show.

1968 - Led Zeppelin (recording under the name of The Yardbirds) started recording their debut album at Olympic Studios, Barnes, London. The album took only about 36 hours of studio time to complete at a cost of around £1,782, with most of the tracks being recorded 'live' in the studio with very few overdubs.

1969 - Blind Faith started a two-week run at No.1 on the chart with their self-titled debut album. The only release from the Eric Clapton, Steve Winwood, Ginger Baker & Rick Grech line-up also reached No.1 in the US. Their only UK gig was in Hyde Park on 7th June 1969.

1969 - During a meeting in London between John Lennon, Paul McCartney and Ringo Starr, Lennon announced he was leaving The Beatles.

1970 - Jim Morrison of The Doors was acquitted on charges of lewd and lascivious behavior, but was found guilty of exposing himself during a concert at The Dinner Key Auditorium in Coconut Grove a year and a half earlier. At his trial at the Dade County Courthouse in Miami, Judge Goodman sentenced Morrison to six months hard labor and a $500 (£270), fine for public exposure and sixty days hard labor for profanity. The sentence was appealed, but Morrison was never brought to trial, as he would die in Paris France on July 3, 1971.

1970 - The Rolling Stones live album 'Get Your Ya-Yas Out' started a two-week run at No.1 on the chart. Recorded at New York's Madison Sq Gardens on 27th & 28th Nov 1969, featuring 'Jumpin Jack Flash', 'Honky Tonk Woman' and 'Midnight Rambler'.

Robert Plant who won Best singer, Joni Mitchell, Best female singer, Yes won Best band, Genesis won Best live act, Best single, 'I'm Not In Love, by 10cc, Best album Led Zeppelin, and Brightest Hope went to Camel.

1975 - 'Fame' gave David Bowie his first No.1 in the US. The song was co-written with John Lennon. Lennon's voice is heard towards the ending of the song repeating the words: "Fame, Fame, Fame" from a fast track, through a regular track, to a slow track, before Bowie finished the lyrics.

1976 - AC/DC released their third studio album 'Dirty Deeds Done Dirt Cheap'. The album has been certified 6x Platinum in the United States, which means that it has sold at least 6 million copies, becoming the third highest sold album by AC/DC in the US after 'Highway To Hell' and 'Back In Black'.

1976 - The first of the two night 100 Club Punk Festival, Oxford St, featuring the Sex Pistols, The Clash, Subway Sect, Suzie (spelling on the poster), And The Banshees, The Buzzcocks, Vibrators and Stinky Toys. Admission £1.50.

1997 - Pearl Jam's 'Jeremy' video was cited as one of the reasons American teenager Barry Loukaitis had snapped into a violent rage that left three people dead. Defence attorneys took the unprecedented step of playing the video in a Washington court.

2012 - The former north London home of the original band members of Pink Floyd was bought by a Singaporean developer. Sham Masterman, who admitted not being a big fan of the rock band, bought the Highgate house and the one next door for £1.2m each. Roger Waters, Nick Mason, Richard Wright and Syd Barrett had all lived in the house in the 1960s. The previous owner, lighting technician Mike Leonard, was landlord and friend to the band and even inspired their earliest name, Leonard's Lodgers.

1957 - 16 year-old UK singer Cliff Richard, still known by his real name, Harry Webb, joined the Dick Teague Skiffle Group.

1960 - Former chicken plucker Chubby Checker went to No.14 in the singles chart with 'The Twist'. The Fat Boys made No.2 with it in 1988.

1960 - Hank Ballard and The Midnighters had the honour of being the first group to have three songs in the US Top 100 at the same time. 'Finger Poppin' Time,' 'Let's Go Let's Go Let's Go' and 'The Twist' all made the Top 30. Ballard refused to perform 'The Twist' on a highly rated US TV show, so Chubby Checker picked it up at the insistence of Dick Clark, and Checker's version of the song was number 1 this week in 1960.

1964 - Oxfam printed half a million Christmas cards of a drawing by John Lennon called the Fat Budgie, which was taken from his book A Spaniard in the Works. All profits from the cards went to help raise money for charity. Oxfam re-printed the cards in 2007 as a limited edition card which again sold thousands.

1969 - Creedence Clearwater Revival scored their only No.1 single with 'Bad Moon Rising' a US No.2 hit. Also on this day the group started a four-week run at No.1 on the US album chart with 'Green River.'



1970 - The first Glastonbury Festival took place featuring Marc Bolan, Ian Anderson, Keith Christmas, Quintessence, Amazing Blondel and Sam Apple Pie.

1973 - Country rock singer, songwriter 26-year-old Gram Parsons formerly of The Byrds and The Flying Burrito Brothers, died under mysterious conditions in Joshua Tree, California. His death was attributed to heart failure but later was officially announced as a drug overdose. His coffin was stolen by two of his associates, manager Phil Kaufman and Michael Martin, a former roadie for The Byrds, and was taken to Cap Rock in the California desert, where it was set alight, in accordance to Parson's wishes. The two were later arrested by police.

1992 - The Shamen started a four-week run at No.1 on the singles chart with 'Ebeneezer Goode'. One of the most controversial chart toppers due to its perceived endorsement of recreational drug use. The song was initially banned by the BBC.

1993 - Pearl Jam released their second studio album Vs. The album set the record for the most copies of an album sold in its first week, a record it held for five years, despite the fact that the group declined to produce music videos for any of the album's singles.

2005 - Research published by Guinness World Records showed that Status Quo have had more hit singles than any other band in UK chart history. The band had scored 61 chart successes, dating from 'Pictures of Matchstick Men' in 1968 to 'You'll Come Around' in 2004. Queen came second with 52 hits, with The Rolling Stones and UB40 with 51 hits each.

2008 - American drummer Earl Palmer died. Worked with The Beach Boys, Little Richard ('Tutti Frutti'), Frank Sinatra, Ike And Tina Turner ('River Deep, Mountain High'), The Monkees, Fats Domino ('I'm Walkin'), Neil Young, Elvis Costello, Tom Waits, The Righteous Brothers ('You've Lost That Lovin' Feelin'), Randy Newman, Tom Waits, Bonnie Raitt, Tim Buckley, Little Feat and Elvis Costello.

2010 - John Lennon's son Julian told the press that he has ended his long-running feud with his half-brother Sean and his step-mother Yoko Ono, which started after the former Beatle was murdered in December, 1980. The trio battled in court for a share of the singer's estate, but Julian now said "Things are good between us. Whenever I'm in New York, we all get together."

1970 - Jimi Hendrix was pronounced dead on arrival at St. Mary Abbot's Hospital in London at the age of 27 after choking on his own vomit. Hendrix left the message 'I need help bad man', on his manager's answer phone earlier that night. Rumors and conspiracy theories grew up around Hendrix's death. Eric Burdon claimed Jimi had committed suicide, but that's contradicted by reports that he was in a good frame of mind. In 2009, a former Animals roadie published a book claiming that Jimi's manager had admitted to him that he arranged the murder of Hendrix, since the guitarist wanted out of his contract.

1981 - Gary Numan took off on a round the world trip in a single engine Cesna plane. The attempt ended after he was forced to land in India, where local police arrested him.

1991 - Rob Tyner lead singer with the American hard rock band MC5 died after he suffered a heart attack in the seat of his parked car in his hometown of Berkley, Michigan. MC5 (shortened from the Motor City Five), formed in Detroit, in 1965, they released their first album, 'Kick Out the Jams' in 1969.

2006 - Sir Cliff Richard unveiled a plaque to mark a tiny basement said to be the birthplace of British rock and roll, fifty years after the "2 is" coffee bar opened in London's Old Compton Street. The Tornados, Tommy Steele, The Shadows and Adam Faith were among stars who started out at the club.

2009 - Leonard Cohen collapsed on stage during a concert in Valencia in Spain and was taken to hospital. He was later discharged after doctors told him he had food poisoning. Cohen was in the middle of singing his song Bird On The Wire when he fainted, prompting the band to stop playing and rush to help him.

1931 - The first long-playing record, a 331/3 rpm recording, was demonstrated at the Savoy Plaza Hotel in New York by RCA-Victor. The venture was doomed to fail however, due to the high price of the record players which started around $95 (about $1140 in today's dollars) and wasn't revived until 1948.

1956 - The BBC announced the removal of Bill Haley and His Comets' 'Rockin' Through The Rye' from its playlist because they felt the song went against traditional British standards (and included the lyrics "All the lassies rock with me when rockin' through the rye"). The record, based on an 18th century Scottish Folk tune, was at No.5 on the charts.

1962 - The Beatles played the last of three Monday night gigs at The Queen's Hall, Widnes, Cheshire. Also on the bill, Billy Kramer and the Coasters, Rory Storm and the Hurricanes and Sonny Kaye and the Reds. Tickets cost 3/6.

Queen's single 'Bicycle Race' was filmed at Wimbledon Stadium. It featured 65 naked female professional models racing around the stadium's track on bicycles, which had been hired for the day. The rental company was reported to have requested payment for all the saddles when they found out how their bikes had been used.

1996 - A bomb was found at a South London sorting office addressed to Icelandic singer Bjork. Police in Miami had alerted the post office after finding the body of Ricardo Lopez who had made a video of himself making the bomb and then killing himself.

2000 - Paula Yates was found dead in bed from a suspected drug overdose. Yates had presented The Tube during the 80s, married Bob Geldof and was the girlfriend of INXS singer Michael Hutchence.

2006 - American guitarist Al Casey died aged 69. Casey is noted for his work as a session musician and as a member of the Wrecking Crew and worked with The Beach Boys, Phil Spector, Elvis Presley, Glen Campbell, The Association, The Monkees, Johnny Cash, Simon & Garfunkel, 5th Dimension, Harry Nilsson, The Partridge Family, Frank Sinatra and Nancy Sinatra.

2011 - The estate of Jimi Hendrix gave the go-ahead for another round of archival releases nearly 41 years to the day after the singer's death. The four new products included an expanded version of his landmark Winterland concerts in 1968, a revamp of a 1972 live compilation, an upgraded DVD of his final UK festival gig, and a DVD reissue of some old talk-show appearances.

1966 - Member of Parliament Tom Drilberg asked Britain's House of Commons to officially "deplore" the action of a magistrate who'd earlier called The Rolling Stones "complete morons...who wear filthy clothes."

1967 - Jimi Hendrix's debut LP, Are You Experienced? entered the Billboard Hot 200 album chart where it stayed for 106 weeks, including 77 weeks in the Top 40. In 2003, Rolling Stone magazine ranked it No.15 on their 500 Greatest Albums of All Time and two years later it was selected for permanent preservation in the National Recording Registry at the Library of Congress in the United States.

1970 - Jimi Hendrix joined Eric Burdon on stage at Ronnie Scotts in London for what would become the guitarist's last ever public appearance.

Wishbone Ash, Family, Steppenwolf, John Kay Band, Slade, Uriah Heep, Roy Wood and Wizzard, Wild Angels, Glencoe, Sunshine and Cold Comfort Farm