-----------------------------------------------------------------------------------
IF THE NEED AROSE
COULD
YOU
GO FULL ZZ?
The last couple of years has been a strain on bands, venues and all things musical - I really don't think anyone remains untouched by this dreaded lurgy that has decimated lives and made everyday living fraught with problems. Many bands have bit the dust and a brief email from Barry Skeels tells the plight of just one -
Ghostband
. Instead of paraphrasing (it looks good in print, but you can't beat hearing it from the man himself)
: "Long long time since I've been here. Lockdown took its toll, with lost work but mainly the demise of Ghostband. Because of ill health Brian Vasey has decided to wind the band up and we were deciding whether to continue, but concluded it was better to stop now rather than cancelling gigs. We were using deps for a while (Jim Clare & Fred Purvis on various dates) and to this end Chris, drums & myself have formed a permanent band with Jim, which we've called Godzz of Wor."
Now, I'm gonna interrupt young Barry here because some of you may be thinking 'I've seen that name, but spelt many different ways' - well, every day's a schoolday here at Riffs, and how we've spelt it here is the correct way. You see, it's Godzz because . . . well, I'll
let Barry explain:
"We were going to be a pure ZZ Top tribute, but the feedback we got was that a lot of bars wanted a bit of a mixture, so for the most part we now play a scattering of other rock, rock/blues covers within the sets of ZZ Top songs but should the need arise we can go full ZZ."
So there you go. All sorted - well, not quite. Barry, like so many of us, came face to face with the scourge of the world.
"We really only got going in late April, but then had to take time out when we all got Covid, luckily none of us got it too bad, but it did put us back for a while and had to cancel serveral gigs but now we are rocking at full strength."
And he wasn't joking, they have practically taken over the Listings page with so many gigs booked in. So if you like
ZZ Top
and Classic Rock (and I suspect you do) then you could do a lot worse than moseying along to one of their gigs.
[top left pic taken at Stanhope Weekend Music Festival, above right taken at Tan Hill last week - and Riffs never took either, but thanks to whoever did]
--------------------------------------------------------------------------------------
FM stormin' Stormin'....
-----------------------------------------------------------------------------------
The more astute amongst you (and I know we have very stute readers) will have noticed that our pages have had a bit of a facelift. Thought it was about time we upgraded to the 20th Century. No doubt there will be some links that have been missed so I am inviting any eagle-eyed peeps out there to let me know if they spot any. The Band page has had a clear out and I was shocked by the amount of links that bands had let slip and hadn't bothered to let Riffs know. Well over half have now gone the distance - again, if I've chucked any by mistake just email me your link and I will reinstate it. I'm gonna need some help with the 'Venue' page; if you know of a venue who should be on there let me know, alternatively, if I'm showing a venue who does not now host live music, get in touch. Ta muchly.
-----------------------------------------------------------------------------------
Update on the Grand in Bishop Auckland who have had to do the old switch-around due to that damn Covid stickin' its nose where it isn't wanted: This Friday should have been
New Breed Revolution
but they have been put back to November, and standing in for them this Friday is
Planet Rock
. And yes, the Gig Listing page has been updated to show the change.
-------------------------------------------------------------------------------------
Just had a lovely email from FM guitarist and Steve's good friend David Johnstone. One of the things he mentioned was Steve's love of Zeppelin (such brilliant taste) and especially 'Good Times, Bad Times'. We link this track for all the good times that Steve gave to others . . .
"In the days of my youth, I was told what it means to be a man
And now I've reached that age, I've tried to do all those things the best I can."
R.I.P. STEVE IRELAND
What a come-down, one moment gee-ing up Riffs readers for a mega three-day Blues n Rock extravaganza, and now brought slap-bang down to earth with an email from Norm Force informing Riffs that
FM
's sensational former frontman has passed away.
Steve Ireland
. Can't be many in the North-East who haven't seen or heard of this superb lead singer. Myself and Val have had the pleasure of attending an
FM
gig on numerous occasions where I have been able to get some great pics of the band in action. No airs or graces, no over-inflated ego, just a solid, friendly down-to-earth guy. Steve's son, Finlay Ireland, said some very fine words concerning his father and I hope he won't mind if I recreate just a snippet here:
"He taught me the beauty of entertainment. The value in making people happy. The responsibility you have to take care of your fellow man."






-----------------------------------------------------------------------------

Three days of the finest Blues and Rock music
. . .
Friday headliners: Kyla Brox Band Saturday: The Revolutionaires Sunday: The Lucky 13s
------------------------------------------------------------------------------------
We give a shout out to
NEW BREED REVOLUTION
. And I can quote our source as it doesn't give him away:
"The guitarist, one Micky Crystal, whose career I've followed since he was in the Fishburn Mafia aged 17 years old, is an outstanding talent and who I last saw when he was playing in the Tygers of Pan Tang at the Cluny, some years ago. Their singer is ex Deep Purple in Rock chanter who has an amazing voice and the bassist is multi-talented too. A show not to be missed."
According to their Facebook page they are made up of ex members of Blitzkrieg, Tygers of Pan Tang and Acid Reign and
"play classic rock with authority and authenticity"
. They are playing next Friday at The Grand in Bishop Auckland. Let's see if they live up to the hype.........
---------------------------------------------------------------------------------------
LIFE'S A GAS
(But it really doesn't matter at all)
Bit of bad news for
Balls of Steel
fans (gotta be some) as next week's gig at
The Rose Inn, Wallsend
has had to be cancelled as there is some major disruption right outside the venue due to serious roadworks concerning gas pipes.
But, on the bright side, it gives Heavy Metal fans a whole fortnight to build up to Friday 29th which by all accounts should be a stunning gig by Sabbath tribute -
BLAKK SABBATH
.
Any ch-ch-changes and we will let you know.............
-------------------------------------------------------------------------------------
In these uncertain times it's certainly heartening to hear of a venue opening its doors to live bands and so we must give a mensh to The Mill Inn, Houghton le Spring who are dipping their toes in the pool of live music. This is the Seaham Silverback's territory and he was not backward in forwarding Riffs some info on the Inn. The Mill's full address is: Durham Rd, Houghton le Spring, DH5 8NG phone 0191 584 3211. It's less than 100 yards off the A690 and has plenty of free, off-road parking and there's a bus every 10 minutes from Sunderland and Durham that stops right outside. Here's their upcoming gigs: 23rd Oct
Black Cadillac
, 20th Nov
Small Wonder
.
----------------------------------------------------------------------
Bit of sad news just hit Riffs' news desk:
Tumblin' Dice
are no more. Vocalist Mike thoughtfully contacted Riffs to let us know of the band's demise. They will be sorely missed by their fans and music lovers of the North-East. If any of the band members join or form another band then Riffs is always here for publicity.
----------------------------------------------------
GIVE IT AWAY NOW, GIVE IT AWAY
Cos, like everyone else, Riffs has bills to pay (the ever-increasing webspace charge, the exorbitant domain name costs etc.) I have added a little sweetener to the already steal of a price for boxed adverts - not only just 15 smackers for a fully designed advert for one whole month on the Listings Page (only a tenner on the Home page!) NOW that price includes a highlighted gig listing so your gig stands out from the crowd. A better deal I don't think you could find.
---------------------------------------------------------------------------
A little birdy has just let on to Riffs that the Sunday lunches at the
Rose Inn in Wallsend
are to die for. I've also just learnt that the venue is a victim of its own success as they are working flat out to keep up with demand. Check 'em out on Trustpilot.
----------------------------------------------------------------------------
What a weekend
Queen UK
have had with two cracking sell out shows at the Mayfair suites recently.
If there's only one person who was wowed with one of those performances it was Little Max - Billy West's no.1 fan.
Billy told Riffs:
"A big thank you to all our loyal fans they really made our day(s)"
.
And if you were looking forward to their next gig - at Dougies Tavern in Hebburn - then I'm afraid if you don't hold a ticket then you're out of luck as it is old out.
They went down so well at the Mayfair Suites that they have been re-booked for next March.
Billy went on:
"The weekend gigs have really lifted the band - great to see packed houses really enjoying the Qween UK experience."
-----------------------------------------------------------------------------
Just typed in the gig listing for the
Bay Horse in Bishop Auckland
, and noticed that
FOUR LETTER WORD
are back there on the 8th of this month. I remember reviewing the band there a few moons ago (before the plague hit) so I host it here once more for no less of a flagrant reason than to give the lads a boost to their upcoming gig and hopefully get a few more locals back into the habit of getting out to see some quality live bands.............
--------------------------------------------------------------------------------------
---------------------------------------------------------------------------------
--------------------------------------------------------------------------------------------
COMING ON LIKE A HURRICANE
Just received a tasty little morsel from local futhamuckers
FM
, captured during their recent gig at The Star Inn, Newcastle. To play this well with nuclear fallout bathing the stage is to be respected. Thankfully their equipment was not affected and they managed to please the punters with some stunning
AC/DC
. Band member Dave told Riffs
"It's really great to be out gigging again."
And we can also report that Tony Liddle has settled in
"really well"
. Riffs is proud ('n' almost certainly loud) to host FM's rendition of
HELL'S BELLS.
(for those of you who have just landed from Mars (or wherever) you need to click the pic)
------------------------------------------------------------------------------------------
WOW - WHAT A RUSH
It's amazing how some people expect you to make something out of nothing. I mean, I'm always here to plug a good band, but it would be nice to have something to work with. When you have nothing to say it really is difficult to make a news item. But I remember what good ol'

Tommy Vance

said many rockin' moons ago -

"I just let the music do the talkin'".

(I think

Aerosmith

had a similar idea). And no amount of chat is gonna make a bad band sound good. But if you have a good band booked, and punters are few on the ground, it does make good sense to at least shout about it. Then, if the punters don't turn up and it was a crackin' gig; you may be out of pocket but you can get a massive banner printed reading "TOLD YOU SO". [For fuck's sake, Nige, get to the bloody point]. Well it's at

The Three Tuns

in Gateshead - yes, that hot, sweaty but oh so atmospheric venue, hosting a brilliant

RUSH

Tribute -

RUSHED.

Rushed had the honour of headling the Rush Eucon 2020 which took place over two days in October 2020 at Langtry's – The Royal Hotel, Crewe. [So how much to get in then Nige?] I hear you all say (I've got really good ears). As if you don't know Paul Tuns by now - it's TOTALLY FREE. Let's make this a gig that Paul doesn't lose money on....... so get along and have a few drinks.

It's

.... OVER
That okay for you Paul? Did me best mate, no pics, no blurb - just "give us a push for Rushed this Saturday". I mean, c'mon...


---------------------------------------------------------------------------------

Just heard from Karen at The Magnesia Bank in North Shields. The Stevestock Sunday on September 12 managed to raise over £1,000 for the McMillans Cancer charity. Loadsa pics on their Facebook page.

----------------------------------------------------------------------------------

As only one (that's just one!) band has asked for their video to be added to our "LOCAL ROCK BAND VIDEOS" then I have the option of either leaving the UK/DC video filmed at Trillians linked for ever - or scrapping the idea completely and going back to various videos under the title "CELEBRATING ROCK AND METAL". er . . . wonder what I should do.
I'm quite happy to help bands who want to help themselves.....

-----------------------------------------------------------------------------------

Sunday morning shout goes out to 'Brummy' for pointing out that the ticket prices shown for Trillians ticketed gigs on our (normally trustworthy) Gig Listings page do not show the full price. So I have painstakingly checked every price and added the fees so what is shown is exactly what you pay. Cheers Brummy. A full 20/20 for you then.

---------------------------------------------------------------------------------




-------------------------------------------------------------------------------------

I know it has been only a few days but I was beginning to think our local bands just didn't want any publicity. The new 'LOCAL ROCK BAND VIDEOS' link [over to the right] garnered absolutely no attention. I thought it would be a good place for local Rock bands to show off what they can do - and was just about to admit the idea was another turkey; then just last night (Wed) Bon from UK/DC sent in a link to a live video taken at their recent Trillians gig. Also won't do any harm to build up some more interest for The Tynedale Beer Festival where they are headlining. So (and I'm sure Bon and the lads will be pleased to hear) it will stay there until some other bunch of publicity-seeking Rockers take the opportunity to showcase their wares. So c'mon guys, I'm trying me best to help out 'ere .............................

----------------------------------------------------------------------------------

The Tynedale Beer Festival gig with headliners UK/DC and hard on their heels Deep Purple In Rock doesn't look like there will be door entry. Tickets are still available - but only for the next 24 hours. And the time now . . . beep beep beep . . . is 12.33pm on Thursday 2nd. And if you're interested in watching the progress being made at the festival site then click here.

--------------------------------------------------------------------------------------

It's always sad when a quality local rockin' band decides to call it a day. Even more so when it seems there are not many (if any, dare we say?) bands able or willing to step into those aforementioned shoes.
But on a totally unrelated note: make the most of ROCK SOLID in the next few months..............

-----------------------------------------------------------------------------------


Pretty lucky up here in the North-East - the weather may not be the best but by Christ we have some great bands, not to mention the people who can put together the whole nine yards for us to enjoy. So Riffs is proud to shout about this Maiden UK and Sticky Fingers gig that comes in at just a tenner if you buy your tickets from the Community Centre, and £11 from www.ents24. All eyes may be upon Maiden UK to pull out all the stops but I'm sure many will agree that Sticky Fingers deserve to be in the spotlight for supplying the region with decades of Classic Rock.
The advert says it all but . . . well, you'd be surprised, so we repeat the deets here:
Blackhall Community Centre Hesleden Road TS27 4LG
Saturday 13th November 2021 Doors 6-45 curfew 11-30 Tickets £10 from Centre or £11 online from Ents24..
And please note that this is a ticketed event only - there will be NO walk ups for this gig.

-----------------------------------------------------------------------------------------------


Sunday Sep 5 - £14.45 https://www.tynedalebeerfestival.org.uk/tickets


1.45pm Blues Jam


3.15pm Ma Kelly's Boys

5.30pm Deep Purple in Rock

7.45pm UK/DC

Tynedale Beer Festival, Tynedale Park, Corbridge



--------------------------------------------------------------------------------------

UPDATE ON THE UPDATE: All positions now filled [8.58pm]
UPDATE: The Crook Hotel for Sunday has just been sorted. [5.40]
---------------------------------------------------------------------------------------------------------
GIGS HERE IF YOU WANT 'EM
Didn't realise that all the North-East bands had all the bookings they need! There are three pubs that are still wanting bands for this weekend - one for tonight, one for tomorrow and one for Monday. Keep checking our Stop Press page for gigs.........

-------------------------------------------------------------------------------------



Life is just choc full of disappointment and I'm afraid we have more for people who hold tickets and are looking forward to the Mercury and May concert at Boldon on Friday September 3. This gig has been cancelled and rescheduled for January of next year. Riffs understands that full refunds will be given and the duo are most apologetic for any inconvenience the cancellation has caused. [pic is from a previous Boldon gig]


-------------------------------------------------------------------------------------------------------------------

FREE CONVENTION FRIDAY NOVEMBER 19

This year's event will see all three very fine bands covering FREE's material in depth. WALK IN MY SHADOW is dedicating their whole set to tracks from the 'Fire & water' and 'Highway' albums as a belated 50th Anniversary tribute. The night should make for a very fine fitting tribute to our favourite band: Free.
This year the event is taking place at The Cullercoats Club; this is a smaller venue than both the Park Hotel and The Wallsend Memorial Hall, but it was decided to change venues this year to create a more intimate atmosphere with a great sound and a good view from all seats. The club has a limited capacity of 200 and there are just 76 tickets remaining to be sold, so early booking is advisable.
Tickets are £15 from club, £20 door, or £16.50 via the following link Ents24 https://www.ents24.com/.../the-annual-free.../6227692.
There are a few tickets available from the club itself and anyone who can't pay by card or visit the club can contact Bill by telephone 07948017380 or 01282868352.
Door open 6.45 PM all times are approximate
7.15 THE STEALER
Excellent Band making their first Convention appearance performing rarer Free material from all the albums.
8.15 Raffle collection during Film show.
8.40 WALK IN MY SHADOW - Guitarist Dave Morris performed with Rabbit at the 1991 Free Convention. The band is excellent and will be performing tracks from the Fire & water, Highway and My Brother Jake sessions as a belated 50th Anniversary tribute.
9,30 Charity raffle drawn and Auction with some prizes donated by Paul Rodgers.
10.00 ABSOLUTE FREE - Covering classic Free from all the albums (the band went down a storm in 2019)
11.30 Finish.
freeconvention@aol.com

--------------------------------------------------------------------------------------------------------------------


LEGENDARY Rolling Stones drummer Charlie Watts has passed away age 80, it was confirmed today.
Watts, who has been with the band since the early 1960s heyday, pulled out of their US tour just weeks ago following an unspecified medical procedure.
It was initially reported that he was taking time to recover with the band saying they hoped to reunite with him again soon.
However his publicist confirmed today that Charlie had passed away "peacefully" surrounded by his loved ones.

----------------------------------------------------------------------------------------------------------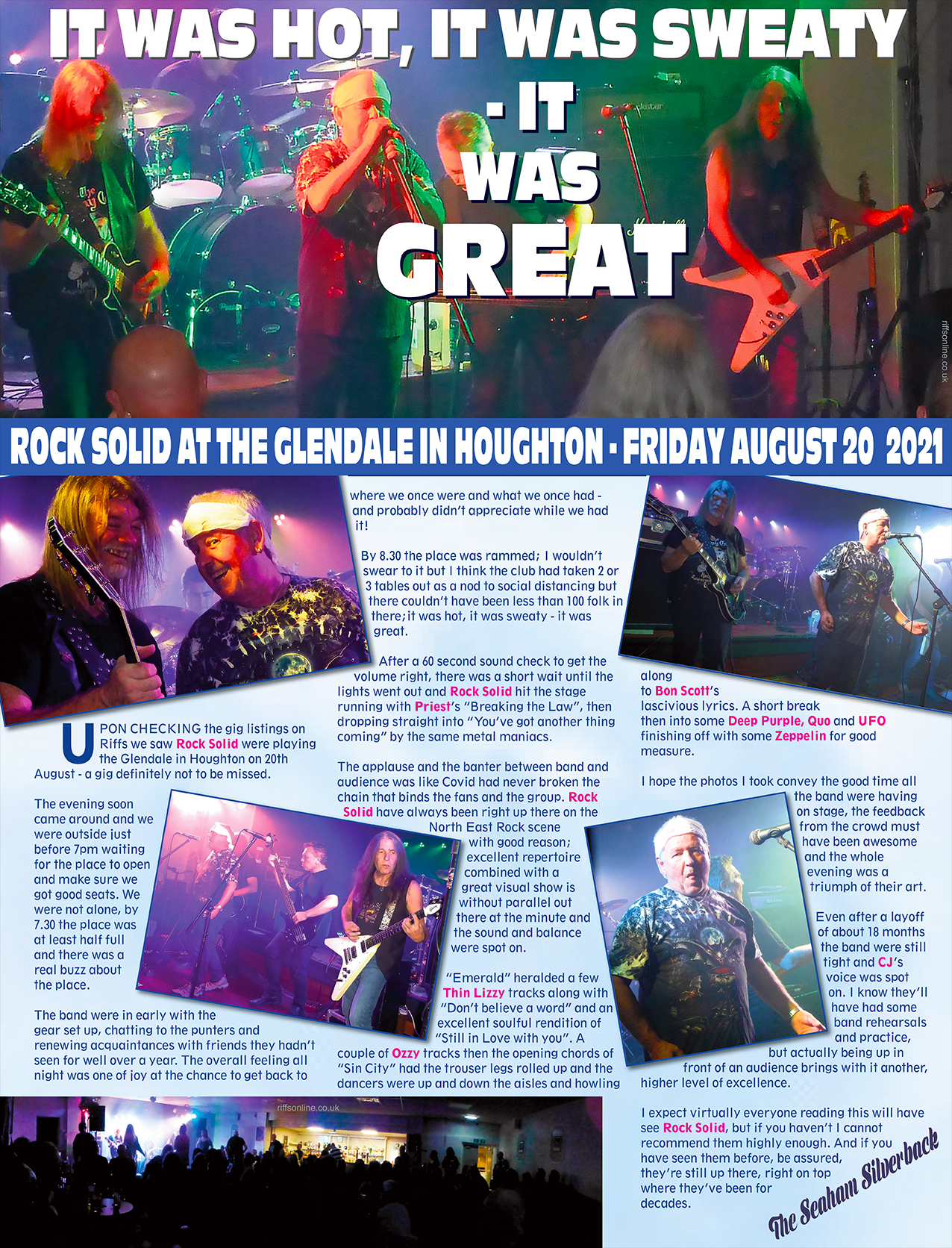 -------------------------------------------------------------------------------------------------------------

FORGET TICKETS - EVERYONE IN FREE!

For any Bon Jovi fans out there (I'm saying nowt) if you want to see Bon Jovi Forever in December in Middlesbrough it will cost you £11.75 for a ticket; if you were in a mind to travel to Shildon it would cost you £13.95 a ticket. But Paul Tuns has wangled for them to play tonight (Friday 20) and the entrance fee is . . . wait for it . . ABSOLUTELY NOTHING!.Just waltz straight in with a beaming smile that says "Wow, I've just saved a shitload of cash". But, as good a deal as this is, Paul has gone even one better, classic Rock afficianados The Kill is support band. So, both fans should set their sights on The Three Tuns, Sheriffs Hill, Gateshead and, well, as much as you can I suppose, enjoy the sounds of Bon Jovi.......
I, of course, will be enjoying myself much, much more as I will be banging myself on the head with a hammer, interspersed with bouts of watching some paint dry. OVER - YOU MISSED IT!!!

----------------------------------------------------------------------------------------------------

UPDATE: Final total for the Stan Morson charity night is a very respectable £3277.50 Wow, just WOW.

'Morning Nige,
Last Friday night was Stan Morson's brain cancer charity gig with the Sneaky Blinders playing in Dubmire club. I'd hoped to be able to give you a total raised for the evening, but on Saturday the total hadn't been finalised, it was standing at £2815.00 when I last heard and the organisers confidently expected it to be over 3 grand by the end. The band played their usual blinder, but the set was definitely geared more toward the less Rock inclined audience than us metalheads. The gig had been sold out for months and it did my heart good to see so many friends from gigs in both the old Buffs days and the Kepier hall. Stan was there, larger than life despite his illness, and loving being back in the heart of his community again.
Unless the asteroid of doom falls in the interim, I'll be in the Glendale on Friday

...


Dave.

---------------------------------------------------------------------------------------------------------

RIFFS BECOMES TRANSPARENT
Don't think I need to state how annoyingly frustrating it is to see "Tickets £xx" and to think what a good value gig this is - only to log on to a ticket site to find that all sorts of 'fees' are added that brings the price way way higher. [Ah, no, well, you ordered on a weekday so that's an extra £1, and you ordered via a mobile phone, so that's another £1, and it's so expensive and time consuming for me to click this button to send out the ticket so . . . ] Now, Riffs can do sod all about the price - but we at least can be honest about it. I've done a bit of checking and (head bowed low) our Listings page (and indeed adverts below) are prime examples of this anomaly. So, from this second on, any gigs where tickets are available MUST show the FULL price for purchase. I will personally check and make sure that the price stated on our Listings page is the price you pay. Any readers spot a price I've missed then email me immediately on riffsonline@gmail.com.
And talking of honesty, heaven knows why this age-old joke sprung to mind:
"Hey, John, you'll never believe what happened to me last night. I was in the pub and got talking to this gorgeous girl with a stunning hourglass figure and after a few drinks we went back to my place. She couldn't wait to show me her stocking-clad body and lacy bra, it was then she let slip she was under age. After a few seconds of deliberation I told her to get dressed, called her a taxi and she left"
"That's some story, strange ending though."
"Why, what would you have done?"
"Exactly the same as you, except I wouldn't have lied about it"

-----------------------------------------------------------------------------------------------------------

As things have been very ballooney of late it may be worth a mensh that the August 28th gig at Shildon Civic Hall is not only going ahead but even though tickets are still available, you can pay on door for 15 smackers. Here is a reminder of what's on offer . . .
SHILDON ROCKS 2021!
August Bank holiday weekend sees 3 of the best rock tribute bands in the country arrive at the Civic Hall in Shildon (Saturday 28th).
Kicking the night off in style is MA KELLYS BOYS, tribute to the mighty Status Quo. These guys play the Quo boogie from the golden years of '70 to '76 when the band were true Rockers. including the classics Roll Over Lay Down, Down Down, Caroline, etc.
Next up it's I'M MAIDEN from Hull, tribute to the rock metal gods Iron Maiden. Playing tracks from the early days of Di'Anno right through to the present day this band have been electrifying audiences with their sound, energy and attention to detail in recreating the very essence of a true Maiden gig!
And bringing the night to its dramatic conclusion is ACDC GB. Well established now on the tribute circuit these lads are back by popular demand at the Civic Hall. After their last sell out show here they once more take to the stage to deliver their breathtaking Brian Johnson era performance in tribute to the legendary Aussie rockers. Expect nothing less than a full on, hard hitting, non-stop Rock n Roll train on the Highway to Hell!
Get your tickets from http://skiddle.com/e/35813050 (+ fees it's £14.50), or the venue box office 01388 772902. £15 door.

-----------------------------------------------------------------------------------------------------------------

A PUNTER'S EYE VIEW - WITCHKRAFT AT THE GLENDALE
'Morning Nige,
I walked down to the Glendale last night (so good to be able to just nip round the corner to hear live music!) to see Witchkraft. 3 out of the 4 guys on the stage last night were deps as far as I could make out, the drummer & bassist are out of Sticky Fingers and the singer was out of the Codgers.
I'd reckon the place was about 75% full, guessing 70 – 80 punters; no masks, no social distancing or capacity limits. There was hand jell everywhere and standing at the bar was prohibited, although queuing to get served was okay. I'd hazard a guess that all the punters in there were of an age to be eligible for both jabs should they so desire and I didn't feel vulnerable or uncomfortable at any time. I was especially pleased that the club got a good turnout. The Buffs and the Comms Rock nights in August was always a struggle to get bums on seats what with holidays and folk staying at home to have a few cans in the garden with a BBQ. The folk I spoke to last night were happy to be out listening to live Rock and it was good to meet up with friends you hadn't seen for getting on for 18 months.
When the band started their sound check with Purple's "Perfect Strangers" there seemed to be a collective intake of breath to drink in that which sustains so many of us. It was magnificent.'

-----------------------------------------------------------------------------------

Have had more than a handful of emails from punters referencing the 'Where Have All the People Gone?' And a few of these have lambasted me for not mentioning their views on this News page. So here we go: The bottom line is they do not intend to be at a gig where people who are fully or partially vaccinated rub shoulders with those who are not, and therefore could be harbouring the virus. Most of the email senders are in favour of a 'pass' or 'Covid certificate' to prove full virus protection. "If someone can guarantee me that everyone in the pub has had two injections, then I will attend a gig like a shot" said one. "Why should I go to my local pub if anyone there could have Covid?" said another.


--------------------------------------------------------------------------------------------------------

WHERE HAVE ALL THE PEOPLE GONE?: A reply
Judging by the reply from Paul Smith from The Three Tuns and The Schooner in Gateshead, it's not just St Peter's Social Bar in Newcastle that suffers from poor attendances. Here's what Paul has to say: "I'm afraid it's just what it is. We had the Bryan Adams Experience for £550 - we got 18 in; we had a 60s tribute from Glasgow paid £550 - got 9 in. People say they missed live music but they've not come back." Worrying times indeed.


-------------------------------------------------------------------------------------

HARTLEPOOL HOSTS NWOBHM NIGHT


[l to r: Battleaxe, Troyen, Rhabstallion]
For those interested in the classic bands of NWOBHM (and I would wager the majority of you reading this) then circle this date in your calendar: Saturday September 25 as no less than BATTLEAXE, TROYEN and RHABSTALLION are sharing the same stage for an evening of Classic Rock and Metal courtesy of Hartlepool Steelies.
In the early 1980s Sunderland band Battleaxe toured with Saxon and also played with bands such as Twisted Sister, Anvil, Madam X, Girlschool and many more. http://nwobhm.com/battleaxe/
Troyen first graced the NWOBHM scene in 1981. Despite a promising arrival the band were sadly to part ways late on in 1982 due to financial issues and related rock and roll stuff, even though they had played approximately 130 gigs and supported Spider, Girlschool, Rhabstallion and Diamond Head amongst others. They re-formed in 2014 after 32 years apart. https://www.podomatic.com/podcasts/molten-metal-show/episodes/2021-07-21T14_52_01-07_00
Halifax based Rhabstallion shared the stage with bands such as Hanoi Rocks, Diamond Head, Stampede, Saxon and French band Trust. These guys dominated the scene by pumping out their rock - honest, hard and fast...
http://rhabstallion.com
If this night is a succes there could just be more in the pipeline.
7.30pm start tickets are £8.80 on Ents24 or £10 door.

------------------------------------------------------------------------------------

WHERE HAVE ALL THE PEOPLE GONE?
Just got an interesting email from Tony from St Peter's Social Bar in Newcastle. He's asking why, when he provides "top class bands - free, with cheap beer, yet we still have plenty available seating and space!". His venue has plenty of great bands and lots of seating with no chance of rubbing shoulders with strangers yet still people are wary. He continued: "Despite bands crying out for venues and seemingly punters wanting to go see/listen we are still not usually getting anticipated numbers."
He asks if other venues are in the same boat. Be interesting to hear of any other venues who are struggling . . .

-------------------------------------------------------------------------------------

A shout out to those who have been affected by the pandemic in such a way that their self-esteem has been shot, they suffer from anxiety, and find it difficult to socialise.

-------------------------------------------------------------------------------------


Well, if this poster hasn't got your Rock buds tingling then I don't know what will - this is a helluva line up. I took some pics of Ma Kelly's Boys when they appeared at the Crook Hotel before 'the bad times', and I was most impressed by their performance. No spring chickens and they played all the better for it. But after that dose of 3-bar Blues, be knocked metaphorically unconscious by the timeless Deep Purple in Rock. Then hang on to your horned hats for a tribute to the best era of AC/DC performed by UK/DC. But there's more ["surely not Nige" I hear you cry as one] as the whole kit and kaboodle (not exactly sure what a kaboodle is - must look that one up) is in support of local charities and community sport. Organiser Chris told Riffs: "Our Sunday special is themed NHS Day where we will be inviting over 500 NHS staff to be our guests." I'm not quite sure how it would be possible to make this day any better. Yes, I know what you're saying "only to have you there, Nige". I'm just so embarrassed by your kindness.


[Ma Kelly's Boys left, UK/DC right]
So get along - Sunday Sep 5 - £14.45 https://www.tynedalebeerfestival.org.uk/tickets


1.45pm Blues Jam


3.15pm Ma Kelly's Boys

5.30pm Deep Purple in Rock

7.45pm UK/DC

Tynedale Beer Festival, Tynedale Park, Corbridge


/----------------------------------------------------------------------------

Thurs 22; Just heard via Lenny Tube that the Crook Hotel is shut due to staff having to isolate . . .

-------------------------------------------------------------------------

I'm sure I don't need to mention how volatile gigs are at the moment, so please check our Listings page right up until your hour of departure because . . . well, you just never know.............

----------------------------------------------------------------------------

Just been informed today - Friday 9.55am (25th) - that the Philadelphia Music and Beer Festival has been moved to September.

----------------------------------------------------------------------------

Not only did I not have any decent pics of the band who are due to play at Stan Morson's charity event on August 13, but they have apparently had a slight line-up change (correct me if I'm wrong here Neil). So I was unable to include any pics of those cheeky little Sneaky Blinders on the earlier article. But, as is always the case . . . y'know; feast, famine, buses, etc. thanks to Neil I now have a few to choose from. So here are just three. I'll admit, visually they may not set the pixels alight, but if they can get not one favourable review from the Seaham Silverback - but two, then that'll do for me. And may I remind you this is a charity event so no-one will be walking away with full pockets - it's all going to cancer charities. You don't even need to give generously on the night - just turn the fuck up! Which, incidentally, is what I have been known to shout at many rock gigs.



-------------------------------------------------------------------------------

DYING JUST FOR YOU

Well, it feels good (just like I knew it would) to have some News coming in - and even better as it's good news.
Hands up all those who would like a Sabbath tribute? Wow - that's a lot of hands. Hands up who wants a North-East rock legend on lead guitar and vocals? Again, lotsa hands. But not just that, to join him we have another two of our very own highly talented and experience musicians. (Ffs Nige, just tell us who the fuck the band is) Okay, okay, it's Guitar/Vocs - Russ Tippins, Bass - Kev Laverty, Drums - Tom Atkinson, and together they are gigging as SAB3. They are all set to play the entire Master Of Reality (to celebrate the 50th anniversary), plus more classic Sabbath tracks. They have gigs in for July and, to save you the hassle and hard work of moving your cursor all the way up to 'gig listings' I'll add them here:.


Tyne Bank Brewery, Newcastle

- Sunday 18th July - Tickets £10 from

sab3tickets.com

or the band's Facebook page

The Forum, Darlington

- Wednesday 21st July - Tickets £10 from The Forum (01325 363135) or

ticketweb.uk

Hartlepool Steelies

(with Twister) - Saturday 24th July - Ticket details tba.

You can actually catch drummer

Tom

around the region doing his solo acoustic set - in fact he's on at

The Schooner

this Friday (25th).

Check for updates on their Facebook page:

www.facebook.com/sab3official

I'm hoping the band will let Riffs know of any updates and I'll announce them here too. Hope they do better than

Sneaky Blinders

from whom I'm still awaiting a pic...

.(pics just in. Will get them added to this page later today).


-----------------------------------------------------------------------------------

YOU SNEAKY LITTLE BLINDER

Regular readers (hey, and I'm talking to both of you) will know that I have great admiration and respect for venues and bands who not only go out of their way, but also expend time, effort and expense on putting on a charity event. How many of us really can say that we have given what we can, with absolutely no expectation of gaining anything in return? So without further ado (yeah, c'mon Nige, get to the point) I mention Friday August 13 when the Sneaky Blinders intend to belt out what they do best in honour of the founder and runner of Buffalos Rock Club - STAN MORSON. Earlier on this year he was diagnosed with a brain tumour and a lot of well-wishers from the music fraternity wanted to help but . . . well, I'll let Dave Fulton explain: "with the Covid restrictions it proved all but impossible to get a venue." He continued; "Local guys, The Sneaky Blinders, who've been reviewed a couple of times on Riffs, are putting on a gig 13th August with proceeds going to charities that have helped, and continue to help people with brain cancers."
Just to underline, here are details:
Dubmire Club, Wynyard St, Fence Houses, Houghton le Spring DH4 6LS.
Friday, 13th August, The Sneaky Blinders. Tickets £5.00

Nice pic of Sneaky Blinders on the way - hopefully!

--------------------------------------------------------------------

DISASTER AT THE THREE TUNS


Riffs is cock-a-hoop (well, with age creeping up it's more hoop than cock) to hear from Paul Tuns who, despite running one of the leading Rock venues in the region, Riffs has heard very little from recently. All venues have had their ups and down and The Three Tuns in Gateshead has been no exception. It was Alan from Fizzyfish who mentioned to me not so long back that the band had taken their wacky rockiness all over Teesside and the North-East but "d'y'know Nige, I'm not gonna rest till I've played The Tuns". I'm pleased to say they did and the band are all the better for it. But back to the Tuns, and last Saturday (19th) they had Punk Pop Disaster (no, I haven't either), so I popped on to Youtube where I found them playing at 2019s Christmas Rocks at the 02 in Newcastle...... but that's history now, but pop on to the Listings page and check out the Tuns for future gigs...........

---------------------------------------------------------------------------------



A socially-distanced Qween member donates a "He Will Rock You" t-shirt to Hartlepool Hospice recently to mark the release of the afore-mentioned single penned by members Billy West and Rob Javan.

"It's the 30th anniversary of Freddie's passing this year, so we thought it fitting that 50% of all sales money go to fundraising - in particular Alice House Hospice in Hartlepool" said Rob.

"Billy has been a professional entertainer and a Freddie Mercury tribute artist for over 30 years, and I think that speaks for itself. The feedback so far has been positive and we hope it's gonna be a big success. We have some major concerts coming up and look forward to people's reaction when we play it live."

The track is available on Spotify here.






--------------------------------------------------------------------------------

MONDAY JUNE 14: The lifting of lockdown restrictions has officially been delayed for at least one month. Gigs are unaffected and, if you are sensible and adhere to precautions arranged by the venues, there will be nothing stopping you enjoying a great evening's entertainment.

--------------------------------------------------------------------------------



Metallica are suing London-based insurance market Lloyd's of London for damages from their postponed 2020 tour dates. There were a handful of shows they had booked in South America that were canceled due to the COVID-19 pandemic.
According to NBC Los Angeles, Lloyd's of London has refused to compensate Metallica for the monetary losses they've endured as a result of having to postpone the tour.
The six-date run was set to take place in April of 2020 in Chile, Argentina and Brazil, and would have served as Metallica's first set of shows since James Hetfield's rehab stint in late 2019. Greta Van Fleet were set to be the opening act.
Prior to the tour, Metallica purchased a "cancellation, abandonment and non-appearance insurance" policy in case of any potential postponement or cancelations. Due to the worldwide lockdowns, the tour was postponed.
However, Lloyd's of London cited the policy's communicable disease exclusion and refused to reimburse the band for their losses "based on an unreasonably restrictive interpretation of the policy," the suit reads.
The band filed the lawsuit Monday (June 7) at the Los Angeles Superior Court, claiming that Lloyd's of London committed a breach of contract by denying them compensation, and they are seeking unspecified damages as a result.
Metallica have not yet announced the rescheduled dates for the South American tour. As of now, the only shows they have announced for 2021 are a few appearances at festivals in the fall.

---------------------------------------------------------------------------------

Can't say it's much of a surprise (given the numpties not adhering to the simple rules) but it's now looking more than likely that restrictions will NOT be lifted this month. Gigs will be going ahead but Covid rules will apply. Just be sensible.

--------------------------------------------------------------------------------------------------------

Sobering fact: There has been more deaths due to Covid in the first five months of this year than in the whole of 2020.

-----------------------------------------------------------------------------------


BOXED AD PRICES AT ROCK BOTTOM
I don't even need to mention what a difficult time this is, and I know I've bleated on about everyone doing their bit. Riffs has always had ultra-cheap advertising at just a tenner for a boxed advert on the Home page, and just £15 for the same on the Listings page - for one whole month; and this includes design. We have had this running for years. An absolute steal you must agree. Well, I can't play a musical instrument and would undoubtedly get stage fright anyway. Running a venue is way beyond my capabilities too (about now you'll be thinking "bit of a useless twat then really"). Ah, but, there is something I can do to help bands and venues, the price has just been lowered to just a tenner for one whole month on the Listings page (and yes, that includes design!) PLUS inclusion on the Home page AT NO EXTRA COST. Any cheaper and we'll be paying you!! So grab those ads now before they go back up to the dizzy heights of £15!!! We're here to help. Oh, that's Asda isn't it. Well, every little helps . . . erm.... bugga.
And please don't think "I don't know how to go about it, it may be complicated." Well, it isn't. I'll make it as easy and painless as possible. Just email me and before you know it you'll be looking at a copy of your ad . . . riffsonline@gmail.com

-----------------------------------------------------------------------------



----------------------------------------------------------------------------------------

READY TO ROCK?

It's totally understandable why people are still wary about going to gigs. But the bands are up for it, the venues are bending over backwards to accommodate all the restrictions - but it's all for nought if the region's punters aren't piling through the doors. Newcastle is known to have some of the best support in the region so it did come as quite a surprise to hear from Robert from PTE Social Club to say that turnout to gigs is less than satisfactory. Forget that it's a club, he says, it's a pub atmosphere with a club advantage. "We have a large concert room that holds 100 people under covid restrictions. The band play on a stage, so you get a good view no matter where you sit. We operate a table service and accept cash or card. We do charge £3 cover charge, but you can buy a pint from as little as £2.24." So you can see the venue is doing all it can. But that's not all, Robert continues: "You don't have to be a member and you don't have to sign in (except Track & Trace) we try and make things as "pub like" as possible." If you have four or more coming along you can reserve a table in advance, contact the club via Facebook. Coming up is Dog In A Box, The Beer Monkeys and The Force. I'll let Robert have the last say: "We really hope people will come and support live music and have a safe night and a great night."


PTE Social Club, Millers Rd, Newcastle upon Tyne NE6 2XP



----------------------------------------------------------------------

JUNE THREE-DAYER: FULL DETAILS
Paul from the Philadelphia Cricket Club in Houghton le Spring has been in touch with further details of their Music Festival in June. All info is now on the Listings page but, with a nod to the old adage of 'You Can't Have Too Much Of a Good Thing', here is the info. For those who miss the ambience, the natter, the tune up, the feedback (oh I do miss feedback), this is surely a gig to dust off the denims, search out that old air guitar and get that Philly feeling....


Thursday 24th June doors 5pm, £10 door: SADISTIC SLOBS, THE CARPETTES, THE PROLES, in aid of meningitis appeal.


Friday 25th June doors 5pm £5
BEEFY LA SLAP TRIO, THE GRUMPIES. pay on door or tickets available at club house
0191 5841348


Saturday 26th June doors noon, £12 F.A.B., THE CODGERS, ALEXANDERS PALACE, pay on door or tickets available at club house 0191 5841348.




-----------------------------------------------------------------------------

Just how much would you pay now for this gig line-up? . . .
The Doors, Pink Floyd, the Faces, Family, Curved Air, Atomic Rooster, The Kinks, Rory Gallagher, Uriah Heep, Country Joe McDonald, Buddy Miles, Status Quo, Brinsley Schwarz, Spencer Davis, The Strawbs and Humble Pie.
This was the line-up for 'The 2nd British Rock Meeting' in 1972.

--------------------------------------------------------------------------

"Hiya Nige,
Saw your bit on wanting bands to get in touch. Truth is mate, there's just nowt happening at the mo'.
Our drummer's broken his foot so he's no good to man nor beast - although saying that there was a bright side while he was in hospital when a fan actually came to see him and, noticing he was a bit down in the dumps, said 'These may cheer you up a bit' and then whipped up her blouse to reveal a couple of reet sweet terties. Oh yeah, how is Val keeping these days? Little birdie told me she's sort of settled down with a fella down in Bradders. Miss her, man. She was fun and put the bands at ease. Good times.
Drummer's foot break happened at the end of a gruelling rehearsal a few weeks back (he reckons an amp fell on it but I suspect it was his wallet!). I say gruelling cos we (the band) must have checked in our mojos at the rehearsal rooms door; nothing gelled. Y'know, the result should always be more than the sum of its parts, well the result was shite. We were just bemoaning this when we heard the band next door playing Stay With Me (the Stewart classic, not that new rubbish). Not just that, but we could all tell it was a bit 'off'. So we scooted next door and I don't know what hit me first - the fact that it was the guys that I played with years ago, or the cans in the corner (that's lager, not headphones). After a few slugs of the amber nectar and some chit chat: 'God, you look so much older', and 'Have you been sleeping rough?' we nailed that Stay With Me to the bone, man. Would've put a smile on the Faces. Talking of sleeping rough, our bassist actually is, well, next worst thing - he's sleeping in a sleeping bag in my garden shed. He was caught shagging his wife's sister. Bloody fool. Mind you, she is hot totty. So after that rehearsal fiasco, us and the other band are doing a double header when things get sorted with this Covid thing. If that doesn't go down a storm I think I may give up, feeling a bit too old, mate.
Sorry about that break, oh, you can't tell. Just got a call from a bandmate saying that we have a stand in gig tonight cos a band cancelled last minute at our local. If we can get our gear together and get there to open at 9, the landlord will not only pay us the full rate but throw in mucho drinkos. Hey, get yerself down and snap some pics of the band, then that'll give ya something for your mag. So all hands on deck to get our gear loaded. Must rush then Nige. Mind you, as I play the kazoo, all I have to do is pop it into its little plastic case and I'm good to go!
But, like I said at the outset, what's the point of getting in touch, there's just nowt happening at the mo'......"

See, you read that right till the end. Dincha?

---------------------------------------------------------------------------

Well, while I'm waiting for the bands due to play at the Philadelphia on that three-day extravaganza in June to get in touch (I know, breath not held), here's a brief article on Rock censorship.....



A great philosopher once said, "If you want to feel useless, remember that they put parental advisory stickers on Cannibal Corpse albums."
In 1965, "Satisfaction" by the Rolling Stones was banned by many radio stations and, in 1968, more stations banned "Unknown Soldier" by the Doors because of its anti-war message. Even songs by the Beatles were banned by the BBC, when "Lucy in the Sky With Diamonds" and "A Day in the Life" were forbidden for 'supposedly' promoting drug use. Yep, Sgt. Pepper himself wasn't safe.
However, censorship had a real boom in the 1980s when heavy metal, primarily, was targeted by four wives of powerful Washington D.C. types when they founded the Parents Music Resource Center (PMRC). The idea came to Tipper Gore, the wife of then-Senator Al Gore, after she bought a copy of Prince's Purple Rain for her 11-year-old daughter. She immediately regretted the purchase after overhearing some of the lyrics to the song "Darling Nikki."
Eventually, the PMRC came up with the Filthy Fifteen, a list of popular songs that contained references to sex, violence, drugs or occult themes in its lyrics. Among the songs were Judas Priest's "Eat Me Alive," Motley Crue's "Bastard," AC/DC's "Let Me Put My Love Into You," Twisted Sister's "We're Not Gonna Take It," WASP's "Animal (Fuck Like a Beast)," Def Leppard's "High n Dry," Mercyful Fate's "Into the Coven," Black Sabbath's "Trashed" and Venom's "Possessed."
The PMRC took their case all the way to United States Senate. They held a hearing to debate the merits of a proposed Parental Advisory sticker, which they suggested should be placed on any record they dubbed to be "Porn Rock." The PMRC did face its share of opposition during the Porn Rock Hearings, in the form of Frank Zappa, John Denver and Twisted Sister vocalist Dee Snider, who all testified on national television in protest of the PMRC.
Censorship didn't stop with the PMRC. Marilyn Manson was banned from performing in Salt Lake City, Utah after he ripped up the Book of Mormon onstage, and Bob Dole, who was a candidate for President of the United States at the time, used his platform to attack Cannibal Corpse.
Cannibal Corpse's music has been banned in Australia and Germany in the past, while in 2014, the band's music was outlawed in Russia. Lamb of God were banned in Malaysia for "blasphemous" content, Behemoth were banned in Russia for five years in 2014, and Singapore banned Watain in 2019, so the idea of censorship isn't going anywhere.

These articles, as interesting as I hope they are, are only a replacement for local band and venue news that I'm just not getting. Surely now more than ever it's relevant to let people know what bands are doing, planning, looking forward to etc. etc. So ffs let me know! We need to entice punters back into our Rock pubs rockin' and drinking..........

-------------------------------------------------------------------

THE PHILLY HOSTS THREE-DAY MUSIC FESTIVAL IN JUNE

Just getting spits and spots of info regarding a three-day even in June: Philadelphia Beer and Music Festival in Houghton le Spring starting on Thursday 24th June.

They must be more interested in the booze than the bands coz the only info I have at the mo' is The Grumpies for the Friday evening, and on Saturday The Codgers sometime in the afternoon and Alexanders Palace headlining the evening session.

If you are one of the bands on the festival bill then get pictures of your fizzogs along to me here at Riffs and we'll give you some publicity.

Let's fill the Philly!



-----------------------------------------------------------------------------------

Tony Iommi dismisses 'rock is dead' talk
as he readies Tony Martin-era Sabbath box set
'I don't think rock is going to die' says Black Sabbath riff lord Tony Iommi, as he promises new Sabbath retrospective.


Guitarist Tony Iommi is convinced that rock music is in rude health, and isn't about to fade away anytime soon.
Sabbath's founding guitarist addressed the topic raised on an annual basis by Kiss bassist Gene Simmons, and said, "I don't think rock is going to die… that's been said for years."
"Good music is not going to go," Iommi continued. "There's always going to be a market for it. There are going to be an amount of bands that fall by the wayside — as there always is, there always will be. But there are certain bands that are going to stick out and going to be there. You've got Metallica up there — they're not going to go away. They've got a lot of fans and they've got a great fanbase. There are a lot of bands out there. No, the music is not going to go away."
Iommi revealed that, having reissued Ronnie James Dio-era Sabbath albums Heaven And Hell and The Mob Rules, he'd like to dig into his personal vaults in order to compile a proper retrospective of Tony Martin's time in the band, which began with 1987's The Eternal Idol album and lasted through to 1995's Forbidden (save for the period when Dio returned to the band for 1992's Dehumanizer).
"I've got a lot of lots and lots and lots of recordings of stuff we've done in the past that's never seen the light of day," he revealed. "I'd like to sort some of that out and put that on some of the albums. We are gradually going through these box sets and then there will be a Tony Martin [era] box set at some point coming out and stuff with Ian Gillan maybe."
"It's unfortunate that over the years Tony Martin has got buried in all this Ozzy and Dio stuff and everything," Iommi added. "There will be a period now where we'll be able to release the box set with the Tony Martin albums with some good outtakes as well. I've already mixed [it] here at home, so that's all ready to go, but we have to wait until the time is right. We can't put all these things out together — it would cause confusion."
"I've got boxes and boxes of stuff that's probably never been heard," the guitarist admitted. "Even I can't remember it all, it's just a matter of rolling through it and finding it."

-----------------------------------------------------------------

That amazing cover of Don Maclean's American Pie was by none other than local rockers - FM.



Just received this corker of a superbly-engineered Rock cover song from a local band. I was gonna host their picture and mention what a rockin' uplifting version this was but . . . another slant - take a listen and see if you can guess who these guys are. And oh yes, they're North-East regulars; you've heard of them, seen them, and they have featured in Riffs many a time. This seven-minute rendition just blew me away - (and if I was in a Rock band [I can dream can't I?] this is the drum sound I would insist on) - and I just have to share . . .
HERE
Oh - and do I really have to say: PLAY LOUD.
I'll leave it a few days and then tell y'all who can take credit.

---------------------------------------------------------------------------


WELL, IF THERE'S one thing you can say for definite about Thunder's thirteenth studio album - 'ALL THE RIGHT NOISES', it's that the roll continues.
Having returned to the fray with 2015's triumphant Wonder Days, Luke Morley, Danny Bowes and co. seem to be mining an endlessly generous seam of rock'n'roll gold.
Given the events of the past year or so, this is precisely the kind of thing that hits the spot – top-drawer tunes and no-nonsense, full-throttle delivery, with chief writer Morley clearly fuelled by anger and frustration, but still finding inspiration to lighten the mood with some cheery, upbeat rockers.
If you're going to tackle serious stuff then you might as well go big straight from the off. Here it's with the urgent and driven Last One Out Turn Off The Lights, putting the boot into Brexit, followed directly by possibly the heaviest song the band have ever written, Destruction, about mental illness and depression, and then we have The Smoking Gun, a low-key acoustic number smouldering with righteous fury.
It's quite a triple whammy to kick off the album with, and the dark mood is echoed on Force Of Nature, focusing on Donald Trump and what must have gone through his mind as he rose to power, the brooding Don't Forget To Live Before You Die (carpe diem, baby), and St George's Day, which, dissects immigration and intolerance.
Fortunately the heavy stuff is expertly balanced by some wonderfully carefree feel-good rockers. Going To Sin City, where 'bad girls and pretty boys strut their stuff', is a gloriously low-slung stomper. She's A Millionairess is a bright and breezy piss-taking rocker ('She can't be too blond and she can't be too thin'). Young Man is propelled by an infectiously bouncy riff.
The strutting, cheeky You're Gonna Be My Girl is decorated with honky-tonk piano and has a middle section surely designed for crowd participation for when such things can happen again. And sitting in the middle of it all is I'll Be The One, one of the finest ballads the band have ever written, featuring a rather ace Morley guitar solo.
Honest, consistent and uncompromising, All The Right Noises is quite the classy tour de force of songwriting prowess and pacy execution, with Thunder sounding enraged, engaged and thoroughly energised throughout. Which is just what we need right now.

Having been one of the UK's most popular rock acts in the early '90s, Thunder found that record labels were no longer willing or able to promote their releases properly. Now they have taken matters into their own hands, using the Internet and new methods of distribution to get their records back in the charts.

Speak to any artist, producer or manager who has been around for some time and they will tell you that the global record industry has changed enormously over the last decade or so. While CD burning and the illegal downloading of MP3s have robbed the industry of necessary record sale revenue, other entertainment industries such as computer games are believed to have appropriated a portion of consumer spending once destined for singles and albums.
Whatever the reasons for industry difficulties, the upshot of it all is that record labels have less money to spend developing new acts, or indeed, sustaining the acts they already have on their books. Bands that were once flavour of the month are quickly dropped when their heyday has passed, and those that still have contracts often find there is no money in the pot for promoting and advertising their releases.
It's not surprising, then, that bands with loyal and active fan bases are now questioning whether signing to a label is the right thing to do, when they get so little in return for signing over the rights to their music.
Ups And Downs
British hard rock band Thunder are a good example, having recently enjoyed a top 30 hit despite having no label or management company, and without the help of any TV or radio advertising. They reached their commercial peak in the early '90s, performing sell-out gigs at London's Hammersmith Odeon and appearing at the Monsters Of Rock Festival. Their second album even reached number two in the charts, but they found themselves out of fashion when the grunge rock movement, spearheaded by Nirvana, knocked stadium rock from its pedestal.
Thunder kept their recording contract with EMI until 1995, when they were finally dropped because of declining sales. Nevertheless, they still had many record-buying fans, and on that basis were picked up by independents Castle Communications for one album, and then by Eagle Rock. By the end of the decade, though, the band had decided cut their losses and pursue other interests.
"Signing to Castle and Eagle Rock went well at first, but we soon realised that they'd spent loads of money on signings and didn't have anything left for marketing," explains Danny Bowes, singer and now also manager of the band. "We had a decent-sized fan base and that encouraged them to pay a lot of money to sign us, but, with hindsight, maybe they paid too much — which is why they couldn't afford any promotion and marketing. We began to feel like we were going round and round in smaller circles, so I told the band that I was getting tired. It takes just as much effort to make a record that doesn't sell as it does to record a hit album."

After The Storm
The split came in 2000, but only lasted for two years before the band regrouped to take part in a series of live shows. "We didn't come back with a view to starting a label and selling records in any kind of meaningful way," explains Danny, who was quite happily working in production after leaving Thunder. "I'd been involved with a Smash Hits tour and thought that it would be really good to have the same kind of thing for rock music, although I was thinking of a Monsters Of Rock-type thing for indoor arenas really. So I came up with a few solutions to some of the logistical problems and took the idea to a guy who runs Clear Channel in the UK and became sort of a back-seat partner.
"There were a lot of classic rock bands waiting for an opportunity to go out and play, so we asked Neil Warnock of the Agency Group if he had a big-name act to headline, and he said that Alice Cooper would love to do it, so suddenly we had a show! Clear Channel then asked Thunder to take part because our 'powder was dry', metaphorically speaking, after two years away, and they knew that we always sold well live.
"We didn't want to play some shows and then split up again because the fans would think we'd just done it for the money, so, before we knew it, we were making an EP to sell via our web site and at shows. In the end we sold 5000 copies to a total audience of 50,000, which was very encouraging."
The success of the EP started Thunder thinking about the possibility of making further single and album recordings, but they had no label, management or distribution, and did not intend to release anything half-heartedly. "I'd never considered just using the Internet to sell records because I didn't fancy doing the cottage-industry-style thing of licking up labels and sticking them on CD-Rs," Danny admits. "So I had a couple of long conversations with a guy called Bruce McKenzie about selling our music through shops without label distribution. He runs a chain of record stores called Townsend Records, but he's very much the new breed of record-store owner who wants to be involved in making records as well as selling them. He agreed to help me sell them on-line if I took care of the manufacture and finance of the records.
"Thunder had a good relationship with retail, so I knew it was possible. We used to do in-store tours around the time of the release of our records. We'd do an acoustic set in the morning, signing in the afternoon and we'd literally tour the country that way. We'd take a little PA and a driver who doubled up as a technical guy. Retail loved it and we sold loads of records on the strength of it. So I knew that if we said to retail that we were doing an album ourselves, as long as we had someone who could distribute the record correctly, they'd be interested. We couldn't have done that from scratch, though — we were in a position of strength."

Teaming Up
For Thunder to be able to manage their own affairs, each band member has had to take on a certain area of responsibility. Danny's friendship with guitarist and writer Luke Morley dates back to their school days (they formed their first band at the age of 15), so the idea of drawing up a contract denoting each Thunder member's role was never discussed. Instead, each person simply gravitated to their own area of interest. "We're very fortunate that everybody is qualified to do something that we need within the framework of our organisation," says Danny.
When he isn't singing, Danny manages the band, taking care of budgets, promotion and distribution, and sorting out contractual legalities and licensing deals, as well as other tasks that would otherwise be handled by a label. "I take care of a lot of the business, and do all the shouting and screaming and coordinating," he says. "Luke is very much the songwriter and the arbiter of taste when it comes to music. He writes the songs, occasionally with a bit of help from Harry James the drummer and Chris Childs the bass player. Luke's always been interested in that side of it.
"Ben [Matthews], one of our guitarists, is the Pro Tools man. He's a qualified studio engineer, and knows what the band needs. Last year we bought a big TDM Pro Tools rig [consisting of a dual-1.25GHz G4 Mac, an HD2 system and two 192 interfaces, each with the A-D expansion card, plus numerous plug-ins] and that's worked out very well for us. HHB designed it to fit in two cases which we can get into the back of an estate car. You can take it pretty much anywhere because all you need are a pair of plug sockets and two cables to connect the units together. The racks are also filled with Focusrite preamps so we don't need a desk, and the Mac fits in the cases too. You can operate the whole thing using pair of headphones. It cost approximately £20,000 but it saves us thousands too. We still have to record the drums and loud stuff in a controlled studio environment, but we can take the rig away and overdub and mix in our own home studio, so it's the convenience as well as the money savings that makes it a worthwhile way to work.

"We also get help from a Pro Tools expert called Rupert Coulsen who has worked with us on the last four studio albums. He's based at AIR Lyndhurst, and was trained by George Martin. He shares the programming stuff with Ben.
"Chris, our bassist, takes care of all the design, and what he isn't doing himself he's coordinating with a designer. He has a very keen eye for it although it has only emerged in the last year or so. He's done all the T-shirts for latest tour, as well as things like labels, but he has had to find his way in terms of what needs to be sent to the factory for production. A lot of it is learning as you go.
"Chris came up with the design concept for the new album. He wasn't quite up to doing the whole album package himself, so we gave the concept to another guy who we've used before, but the work was based on Chris's ideas. Chris also has a PC-based studio at home, so together with Ben, he's one of the technical guys."
The Knowledge
When Thunder temporarily split up in 2000, Danny immediately threw himself into a series of industry production jobs which gave him valuable experience. "Even when I first started singing in the band I was interested in what happened behind the scenes. I was always interrogating the manager, accountants and lawyers. While the rest of the guys were working on the tunes or chasing girls around after the gigs, I was analysing the merchandising figures! After the split I started doing production work for MTV, staging dance and club shows, managing a band and singer, and during that time I met the finance director of the company who manage the Barfly venues around the country. They were looking for someone to sort out all their production troubles, so I became their production manager.
"I also began acting as a consultant for the label started by Dave Stewart from the Eurythmics. We started with just an empty building, so I found myself doing things like getting the networking of the computers sorted out and tour managing Jimmy Cliff, who Dave had signed. I ended up negotiating with the BBC for the worldwide TV rights for the Commonwealth Games closing ceremony, which was performed by Dave and Jimmy Cliff's band."
Calm Behind The Storm
Despite having an able team of people within the band, releasing records and managing everything that goes with that process still requires outside help, particularly when it comes to distribution, accounts, manufacturing, publicity and promotion. Thunder hire in the help they need as and when necessary rather than retaining anyone on a salary, although it's possible that the situation may change as more and more recordings are released and need to be managed. "We're bringing in a production girl to help with manufacturing, which we haven't done before," admits Danny. "Her job will be to solely oversee the production and make sure records get made on time. We now manage four records including some singles and a Bowes & Morley album Luke and I recorded together, and they're all selling constantly.




"I do a lot of the accounting but we have a book-keeper who comes in a couple of days a week and we have a business manager who steps in every now and then. He used to manage a very big company, so he and I have the 'big picture' conversation a few times a year. We hired a radio plugger and a publicity person for the last single, but we won't use a plugger for the LP because there's no point trying to get LP tracks for this band on the radio. The publicity lady has some radio connections with all the kinds of stations we could expect to receive plays from, as well as local national and digital radio stations."


Many labels set aside a percentage of their production budget for advertising, promotion and so on, but Danny admits that he hasn't really found time to work out an exact system. "I have a gut feeling on how much I think we need to spend, which is based on how much we spent last time and how many records we sold. Each production run seems to bring in more and more money because we're reaching a bigger audience, and that makes you feel like you could reach an even bigger audience with a little more promotion, but we're very careful about how we go about it. We work on the assumption that sales pay for more records, and occasionally the band get some money out of it. Touring pays the band, so after we've paid our costs, the net income is distributed to the band members. So they all earn from touring but not from record sales at the moment."
As band manager, Danny takes a cut of the band's net income too. The amount also covers his work as the Thunder 'label manager'.
Thunder: The Band As Business
Bring On The Web
It's ironic that the very technology that many record labels blame for forcing them to cut back on their support for new signings and artist development has enabled some acts to go it alone without any label involvement. On the one hand, downloading and CD copying has allowed the public to get their hands on music without paying for it; on the other it has also made it easy for artists to place downloadable taster tracks on their official web sites to draw in the punters. Thunder have done just that, but the biggest benefit they have found has come from the way the site is used to publicise gigs and new releases, and to canvas fans' opinions on a day-to-day basis.
"Our web site is absolutely vital," insists Danny. "Direct communication is what it's all about. When there are thousands of people looking at your web site every week you are in a position where you can swap information with them, inform them of events, and they can tell you what they think about it. For example, when it came to the idea for a one-off T-shirt to be sold at the Christmas show, I became very aware that we might be demanding too much from our fans. We had already asked them to buy our single which came in three formats, each with a different B-side. All of those add up in terms of money, and we'd also asked our fans to buy Deep Purple tour tickets in November, tickets for our tour in March, and again for our Christmas show.
"I was able to ask directly via the web site how they would feel about us doing a limited-edition T-shirt specifically for the show, explaining that we were concerned that they might think we were trying to fleece them. We got over 200 replies saying that they wanted the T-shirts, and they were just the people who could be bothered to reply, so we went ahead."

The web site has also made it easy for the band to notify the fans of up-and-coming concerts, and to point them directly to the place where tickets can be bought, therefore removing the need for expensive advertising. "For our Christmas show at Rock City in Nottingham, we did a deal whereby all our tickets were sold directly from their box office. We didn't go to a promoter, or advertise it anywhere apart from on our site, we just pointed people to the Rock City credit-card hotline, and sold all 1000 tickets in six days at £25 a head. Being able to send out a blanket email to 10,000 people is just incredible."
Feedback from the public has even helped Thunder tackle problems with manufacturing and distribution, as Danny explains. "Recently we had to delay a single release date by two weeks because we had so many orders that we needed a larger print run. The problem was that some singles leaked out from the distributor to Virgin stores and started selling, and this happened while we were busy on tour with Deep Purple. Our web site manager called us having received emails from people who were buying singles two weeks early, and with that information I was able to call the distributor and get them to pull the stock from the stores. Without that instant communication we wouldn't have been able to do that, and would have lost our chart placing because of it."
Passing It On
Now that Thunder are having success managing their own releases, they are in a position to help other bands get started in the industry. Ever the businessman, Danny is considering the possibilities. "We've talked about it, and we've found a couple of interesting acts, but we need a substantial pool of money to help them develop and get a name, and at this moment in time we're still building the label and the Thunder catalogue by ploughing the money we make back in, but if we had some fat we could devote it to other acts, and I'd be happy to do that.
"If you find acts you believe in you have to be able to put your money where your mouth is, but there's no point berating record labels if you are just going to do the same thing as them. We need to have the courage of our convictions, find the acts and then get to work.
"It's actually hard to find acts who believe that you can help them, because there is still this misconception that only record companies can do it, which is patently untrue. In November we charted a single at 27, and we have no record label. What we do have is UK record distribution, lots of expertise, and a group of people working to help us put a proper campaign together.

"A new band starting out might want to do it themselves but don't have that experience. The Internet makes it very easy to have a go, but unless you have some experience and/or some kind of industry contacts then it's very hard. I'm sure a lot of bands have gone into it very gung-ho and come out disheartened by the whole thing.
"I wouldn't have gone for it if I was a new act starting from scratch. Luke and I had already been waiting for a deal for nine years by the time our band Terraplane were signed to CBS in 1984, so we've built up a following and have loads of experience. The problem is that it costs a fortune to find a fan base, and you can't manufacture one out of nothing. People tend to go and see the bands they know, so you have to get in front of other people's audiences initially and hopefully take advantage of your opportunities. After a while you can book your own shows in your own right, but you have to start small and build up, and it all costs money.
"I'm about to start managing a new band, but I'd probably release something by them independently purely and simply to help gain attention from a bigger record company who can supply the money to develop a fan base."
Selling The Hard Stuff
So far, actually selling records via their site has been less of an ambition for Thunder, who are determined to continue placing records in high-street shops. "We did an excusive deal with HMV for our first single because knew we weren't going to sell enough copies to put them in every shop in the country," says Danny. "We told fans that it was available in HMV and as a result we got it to number 48 in the charts, which was very good considering the limitations, and we made money out of that record!
"We used to sell all our on-line stuff through Townsend's on-line setup, although we do now have our own shop from where we sell some merchandise exclusively. For records, though, we still have links to Townsend's site. They buy the new stock from us, and have a large on-line store which carries all the old Thunder titles, rarities, imports and so on."
Naturally, Thunder have investigated the possibility of releasing MP3s, but Danny remains unconvinced that the necessary infrastructure is ready. "We are embracing every aspect of the digital revolution, but at the moment I don't feel totally comfortable that they've got it right. We did a deal with a company in the States to make the second Bowes & Morley album available on iTunes, but I wasn't very happy with how it turned out because although we do get revenue, it is not a massive amount because there are about eight people in the chain. For us it's not so much about the money, it's more about reaching a new audience through another shop window, but the whole thing took about six months to happen which I thought was ridiculous when the Internet is all about high speed. It's work in progress, in my opinion."
Danny is also sceptical that MP3s, and future download formats, are necessarily the way music will ultimately be delivered. "Downloading is very useful for people who live in remote places, but I don't think it will take over as the main way to buy records because of the physical need we all have for retail therapy. There's something irreplaceable about the feeling you get when you've found the thing you've been looking for or happened upon something you weren't expecting. The thing about the Internet is that it is all very good if you know the answer to the question.
"When I was young I bought records just because I liked the cover, although there was a lot more to look at on 12-inch vinyl. If something caught my eye I would buy it. Dark Side Of The Moon is a classic case of something I bought just because I was intrigued by the cover. When I got it home I was blown away. It shows how artwork can motivate people to do things."

The Here And Now
Thunder are understandably pleased with themselves, having recently charted a single at number 27 and completed a successful UK arena tour with Deep Purple and Peter Frampton. At one point it must have seemed as though their 15 minutes of fame were behind them, but it just goes to show what a little determination and organisation can do. Danny: "This is a fascinating business at this point in time, because all the rules that were accepted five years ago are gone. It now appears that you can do pretty much whatever you want.
"Running your own affairs is incredibly empowering. You don't see anything when you're a band signed to a record label; you just hear what your manager tells you. A&R don't like having difficult conversations with artists. I used to ask fairly pointed questions of people in our record company and they used to get very nervous. They'd be trying to get out of giving me the answers. The manager acts as the go-between, and there are things that record companies will tell a manager that they never tell an artist. Like the singer looks like he's put on two stone, he needs to lose weight — that kind of thing. The manager has to tactfully call the singer and say 'Have you thought about going on a diet recently?'
"Having the experience to know whether something is worth acting on in the first place is fairly vital. If you've been in the business long enough you know someone who knows the answer, even if you don't yourself. It is just a case of making enough phone calls and staying on good terms with people.
"But, for me, the most important thing is that you live and die by your own actions. If, at the end of the day, it all falls down then it is our fault. By applying a business-minded approach, we feel we're going about it in the same way as a label, only we're responsible for every decision, and every mistake, as well as every success. We won't go into old age thinking it was all the fault of record companies. It shouldn't be like that. If you don't like a situation, do something about it."


-----------------------------------------------------------------------------

There's four stages to life: Child, Failure, Old, Death.
CELEBRATING ROCK AND METAL:

THIS DAY ON . . .

MONDAY JANUARY 17
1963 - The Beatles played at The Cavern Club at lunchtime and in the evening played at the Majestic Ballroom, Birkenhead. At the Majestic every ticket had been sold in advance leaving 500 disappointed fans waiting outside.

1964 - The Rolling Stones released their first EP which included 'You Better Move On', 'Poison Ivy', 'Bye Bye Johnny' and 'Money'. It peaked at No.15 on the chart.

1967 - 40-year-old David Mason recorded the piccolo trumpet solo for The Beatles 'Penny Lane' at Abbey Road Studios in London. He was paid £27.10 shillings for his performance. In August 1987 the trumpet he used was sold at a Sotheby's auction for £10,846.

1967 - The Jimi Hendrix Experience recorded a session for Radio Luxembourg's Ready Steady Radio. The band ran up a bar bill of £2.5 shillings which they were unable to pay.

1970 - The Doors played the first of four shows at the Felt Forum in New York City. The shows were recorded for the band's forthcoming 'Absolutely Live' album.

1981 - Motley Crue formed when bass guitarist Nikki Sixx left the band London and began rehearsing with drummer Tommy Lee and vocalist, guitarist Greg Leon (who later left). Sixx and Lee then added guitarist Bob "Mick Mars" Deal. Vince Neil accepted an offer to join (after turning them down) in April of this year.

1996 - David Bowie Tom Donahue, The Jefferson Airplane, Gladys Knight And The Pips, Little Willie John, Pink Floyd, Pete Seeger, The Shirelles and The Velvet Underground were all inducted into the Rock and Roll Hall of Fame.

John Lennon and Mick Jagger was set to spark a biding war at a London auction. The acetate record was recorded in 1974 with Jagger singing the blues song 'Too Many Cooks' and Lennon playing guitar. The track had never been released because the two artists were both signed to different record companies.

2016 - Drummer Dale Griffin died aged 67. He was a founder member of Mott the Hoople - best known for classic tracks 'Roll Away The Stone' and 'All The Young Dudes'. The band who made eight albums during their five-and-a-half year existence reformed to mark their 40th anniversary in 2009 - but Griffin was too ill to take part. Griffin also produced numerous BBC Radio 1 John Peel sessions from 1981 to 1994 including the first professional recording session for Pulp in 1981.

2016 - American brass player Mic Gillette died of a heart attack. A child prodigy, Gillette picked up the trumpet and was reading music by age four. He was a member of soul band Tower of Power.

SUNDAY JANUARY 16:
1957 - The Cavern Club opened in Liverpool. It became the home of many Liverpool bands including The Beatles who appeared at the club 292 times. Over the years a wide variety of popular acts appeared at the club including The Rolling Stones, The Yardbirds, The Hollies, The Kinks, Elton John, Black Sabbath, Queen, The Who and John Lee Hooker.

1970 - Two days after it opened, the Bag One Gallery in London was raided by Scotland Yard. The police remove eight John Lennon lithographs under the Obscene Publications Act.

1985 - David Bowie's schizophrenic half-brother Terry Burnes killed himself aged 47 after laying down on the railway lines at Coulsdon South station, London. He was killed instantly by a passing train. Bowie refers to his half-brother in the line 'a crack in the sky and a hand pointing down at me' in his song 'Oh, You Pretty Things'.

1987 - TV presenter Jools Holland was suspended from Channel 4's The Tube for 6 weeks after using the phrase 'groovy fuckers' during a live trailer broadcast in children's hour.

1988 - 24 years after The Beatles first topped the chart, George Harrison went to No.1 on the singles chart with 'Got My Mind Set On You' an old favorite of George's that was originally recorded by James Ray in 1962.

1992 - Eric Clapton recorded his unplugged session for MTV. The set which included his current hit single 'Tears in Heaven' and a reworked acoustic version of 'Layla', earned six Grammy Awards for the album including Record of the Year.

2000 - It was reported that Mick Jagger had lost the chance of a knighthood because of his errant ways, Prime Minister Tony Blair having doubts about the message it would give about family values. This decision was changed and on 12 December 2003 Mick Jagger was made a Knight Bachelor by The Prince of Wales for services to music as Sir Michael Jagger.

2007 - James "Pookie" Hudson the lead singer of the fifties doo-wop group The Spaniels died. Their 1954 hit 'Goodnite, Sweetheart, Goodnite' was featured in such films as Three Men and a Baby and American Graffiti. The Spaniels became one of the first artists to sign with Vee-Jay Records, the first large, independent Afro-American owned record label.

2013 - It was announced that Joe Strummer was to have a city square named after him in Spain following a Facebook campaign. More than 2,000 residents of Granada, where The Clash frontman became a frequent visitor, signed a petition calling for him to be honoured. City hall officials agreed to the proposals and a square in the area was set to be renamed Plaza de Joe Strummer.

Lorna Doom died aged 61 of cancer. She was the bass guitarist for the punk rock band the Germs. Their music was influential to many later punk rock acts. Germs guitarist Pat Smear went on to achieve greater fame performing with Nirvana and Foo Fighters.

2021 - American producer Phil Spector died age 81 in prison. Known for his 'Spector Wall Of Sound' he was a member of Teddy Bears who had the 1958 US No.1 single 'To Know Him Is To Love Him'. He went on to produce many classic songs including Ben E King 'Spanish Harlem', The Crystals 'Da Doo Ron Ron', The Ronettes 'Baby I Love You', The Righteous Brothers 'You've Lost That Lovin' Feeling', Ike and Tina Turner 'River Deep, Mountain High'. He also produced albums for The Ramones, John Lennon, George Harrison, The Beatles, Cher and Harry Nilsson. The 2003 shooting of actress Lana Clarkson in his Alhambra, California home led to his 2009 conviction of murder in the second degree.

SATURDAY JANUARY 15:
1965 - The Who released their first single 'I Can't Explain'. With Jimmy Page on guitar and The Ivy League on backing vocals, it went on to reach No.8 on the chart.

1967 - The Rolling Stones were forced to change the lyrics of 'Let's Spend The Night Together' to Let's Spend Some Time Together when appearing on the US TV The Ed Sullivan Show after the producers objected to the content of the lyrics. Jagger ostentatiously rolled his eyes at the TV camera while singing the changed lyrics, resulting in host Ed Sullivan announcing that The Rolling Stones would be banned from performing on his show ever again.

1969 - George Harrison had a five-hour meeting with John, Paul and Ringo where he made it clear that he was fully prepared to quit The Beatles indefinitely. Harrison wasn't happy with plans for live performances and the current Let It Be film project.

David Bowie released 'Holy Holy' as a single which failed to chart. A more frantic version of the song was recorded in 1971 for The Rise And Fall Of Ziggy Stardust And The Spiders From Mars but was dropped from the album, but subsequently appeared as the B-side to 'Diamond Dogs' in 1974.

1972 - Led Zeppelin's Black Dog made its single debut but only on the US singles chart. The group's third single peaked at No.15 and spent 8 weeks on the chart. The song's title is a reference to a nameless black Labrador retriever that wandered around the Headley Grange studios during recording.

1976 - Pink Floyd's Wish You Were Here was on the album chart. The album's packaging, designed by Storm Thorgerson, featured an opaque black sleeve inside which was hidden the album artwork.

1992 - Bass guitarist Dee Murray died after suffering a stroke aged 45. He is best known as a member of Elton John's band. He first appeared with Elton on the 1970 album Tumbleweed Connection and the milestone albums Goodbye Yellow Brick Road and Captain Fantastic and the Brown Dirt Cowboy. Murray and drummer Nigel Olsson were also members of the Spencer Davis Group in 1969 and during the Eighties Murray continued working as a session musician.

2002 - 1980s British pop legend Adam Ant was admitted to a mental ward 24 hours after being charged by police with pulling a gun on staff in a London pub.

2015 - American record producer, singer and musician Kim Fowley died of bladder cancer in Hollywood, California at the age of 75. He is best known for his role behind a string of novelty and cult pop rock singles in the 1960s and for managing The Runaways in the 1970s. With Gary S. Paxton he recorded the novelty song 'Alley Oop' which reached No.1 on the charts in 1960 and was credited to the non-existent group the Hollywood Argyles. He arranged 'Nut Rocker' for B. Bumble and the Stingers which became a No.1 hit in the UK in 1962.

2020 - Multi-instrumentalist and singer-songwriter Chris Darrow died age 75 of complications from a stroke. He was considered to be a pioneer of country rock music in the late-1960s and performed and recorded with numerous groups including Kaleidoscope and the Nitty Gritty Dirt Band. Darrow played bass on Leonard Cohen's debut Songs of Leonard Cohen.

FRIDAY JANUARY 14:
1961 - Elvis Presley's 'GI Blues' started a seven-week run at No.1 on the chart.

1963 - Charlie Watts made his live debut with The Rolling Stones at The Flamingo Jazz Club, Soho. Before joining the Stones, Watts played regularly with Blues Incorporated.

1966 - David Jones changed his name to David Bowie to avoid confusion with Davy Jones from The Monkees, just in time for the release of his single 'Can't Help Thinking About Me'.

1970 - Diana Ross made her last appearance with The Supremes at The Frontier Hotel, Las Vegas. During the show, Diana introduced her replacement, Jean Terrell, who would lead the group to seven more Top 40 hits including the Top 10 entries 'Up The Ladder To The Roof' and 'Stoned Love' later in the year.

1977 - David Bowie released his eleventh studio album Low, the first of three collaborations with Brian Eno termed the "Berlin Trilogy". The track 'Sound and Vision' was released as a single and used by the BBC on trailers at the time providing much needed exposure as Bowie opted to do nothing to promote the single himself; the song reach No.3 on the charts.

1978 - The Sex Pistols played a show at the Winterland Ballroom in San Francisco where Johnny Rotten yelled to the crowd at the outset "Ever get the feeling you've been cheated?" It was the last time the band played with bassist Sid Vicious.

1992 - American rock drummer Jerry Nolan from The New York Dolls died aged 45 from a fatal stroke. The influential American band formed in 1972 and made just two albums, the 1973 New York Dolls and 1974 Too Much Too Soon. Nolan joined the New York Dolls in the autumn of 1972 to replace Billy Murcia who had died of asphyxiation as a result of a failed attempt to revive him from a drug overdose while on tour in England early in the band's career. Nolan left the Dolls together with Johnny Thunders in the spring of 1975. The two then placed a call to bassist Richard Hell, formerly of the Neon Boys and Television, to form The Heartbreakers.

Johnny Ramone was unveiled by his widow Linda at the Hollywood Forever Cemetery. Johnny died from prostate cancer in September 2004 at the age of 55. Hundreds turned out for the ceremony including Tommy Ramone the only surviving band member. Dee Dee Ramone died of a drugs overdose in 2002 and Joey died in 2001 of lymphatic cancer.

2010 - Guitarist Jimmy Page was honoured with the United Nations' first ever Pathways To Peace Award. Pathways To Peace is an international peace building, educational and consulting organization which has consultative status with the United Nations.

2012 - Drummer, producer, journalist, music educator and broadcaster Robbie France died aged 52. Born in Sheffield, France moved to Australia where he formed the jazz-fusion group Carnival. He also worked with Stevie Wright of the Easybeats, Marty Rhone, Tim Gaze and other major Australian artists as well as Skunk Anansie and Diamond Head in the UK. He amassed over 1,000 television, radio and advertising credits including eight documentaries and four film scores including Band on the Run, one of the most successful surfing films ever made.

THURSDAY JANUARY 13:
1963 - The Beatles recorded a TV appearance on the ABC Television program "Thank Your Lucky Stars" in Birmingham playing their new single, 'Please Please Me' The show was broadcast on January 19.

1965 - The first day of recording sessions for Bob Dylan's Bringing It All Back Home album were held at Studio A, Columbia Recording Studios in New York City. Dylan recorded Subterranean Homesick Blues and 'It's All Over Now, Baby Blue'.

1968 - Johnny Cash played a show which was recorded for his forthcoming live album at Folsom Prison near Sacramento, California in front of 2,000 inmates. When released, the lead single 'Folsom Prison Blues' (an update of his 1956 hit) became one of the most famous recordings of his career.

1973 - Eric Clapton made his stage comeback at the Rainbow Theatre, London with Pete Townsend, Ronnie Wood, Stevie Winwood, Rebop, Jim Capaldi and support from The Average White Band. The night's two shows were recorded for the 'Rainbow Concert' album. Pete Townshend from The Who had organised the concert to help Clapton kick his heroin addiction.

1978 - With a budget of only £1,500 borrowed from Stewart Copeland's brother Miles Copeland III, The Police started recording their debut album at Surrey Sound Studios, Surrey with producer Nigel Gray. The album 'Outlandos d'Amour' which was released in November of this year featured the hits 'So Lonely', 'Roxanne' and 'Can't Stand Losing You'.

1984 - Radio 1 announced a ban on 'Relax' by Frankie Goes To Hollywood after DJ Mike Read called it 'obscene', a BBC TV ban also followed. The song went on to become a No.1 and spent a total of 48 weeks on the chart.

1986 - Sex Pistols members John Lydon, Steve Jones and Paul Cook as well as the mother of Sid Vicious, sued former manager Malcom McClaren for £1 million. They later settled out of court.

2003 - Who guitarist Pete Townshend was arrested on suspicion of child porn offences. Police officers impounded seven computers from his £15 million home in Richmond, Surrey.

2016 - The Rolling Stones first manager, Giorgio Gomelsky, passed away at the age of 82. He owned the Crawdaddy Club in London where The Rolling Stones were the house band. After he was replaced by Andrew Loog Oldham in May, 1963, Gomelsky went on to manage The Yardbirds, Julie Driscoll and Brian Auger before moving to New York in 1978 and opening The Green Door nightclub.

2017 - Magic Alex (Alexis Mardas) a Greek electronics engineer died aged 74. He is best known for his close association with the Beatles. His nickname was given to him by John Lennon when he was involved with the group between 1965 and 1969 during which time he became head of Apple Electronics. Mardas often said that the Abbey Road studio was "no good", much to producer George Martin's annoyance. He allegedly said that he could build a 72-track tape machine and was then given the job of designing the new Apple Studio in Savile Row, London. His schemes lost Apple at least £300,000 at the time (£3million in 2017 money).

Tim Bogert died age 76 from cancer. He was bass guitarist and vocalist with Vanilla Fudge, Cactus and the power trio Beck, Bogert & Appice.

2021 - New York Dolls guitarist Sylvain Sylvain died age 69 from cancer. Along with the Velvet Underground and the Stooges they were one of the bands later credited as influences of the soon to be punk scene. The band's first two albums, New York Dolls (1973) and Too Much Too Soon (1974) became among the most popular cult records in rock. Prior to joining the New York Dolls, Sylvain and future band mate Billy Murcia ran a clothing company called Truth and Soul which would play a role in the band's ground-breaking look.

WEDNESDAY JANUARY 12:
1964 - The Beatles appeared on the ATV show Sunday Night At The London Palladium performing 'I Wanna Hold Your Hand', 'This Boy', 'All My Loving', 'Money' and 'Twist And Shout'. The compere for the evening was Bruce Forsyth. When The Beatles appeared on this show on October 13, 1963 their fee had been £250, now just three months later their fee was £1,000.

1969 - Led Zeppelin's debut album was released. Recorded at Olympic Studios in Barnes, London the album took only about 36 hours of studio time to complete at a cost of just £1,782, most of the tracks being recorded 'live' in the studio with very few overdubs. The album spent a total of 71 weeks on the UK chart.


1977 - EMI Records issued a statement saying it felt unable to promote The Sex Pistols records in view of the adverse publicity generated over the last two months.

1977 - The Police had their first rehearsal, held at drummer's Stewart Copeland's London flat, with Henri Padovani on guitar.

1981 - It was reported that the White House had expanded its record library by including albums by Bob Dylan, Kiss and the Sex Pistols.

1993 - Van Morrison failed to turn up at the Rock And Roll Hall Of Fame induction dinner, making him the first living inductee not to attend.

1996 - AC/DC played the first date on their Ballbreaker World Tour in Greensboro, North Carolina. The world tour would last for 11 months finishing on November 30, 1996 in Christchurch, New Zealand.

2003 - Singer-songwriter Maurice Gibb from The Bee Gees died aged 53 in Miami Hospital, Florida following a heart attack during abdominal surgery. The Bee Gees released over 20 albums and had the 1979 world-wide No.1 album 'Spirits Having Flown', and 'How Deep Is Your Love, 'Stayin' Alive', and 'Night Fever' from the soundtrack 'Saturday Night Fever' were all US No.1 singles. Gibb was married to the Scottish singer Lulu from 1969 to 1973. In 2002, Maurice was made a Commander of the British Empire (CBE) along with his brothers.

2013 - The 1974 Rolls-Royce Silver Shadow used by Freddie Mercury until his death in November 1991 sold at auction for £74,000 to a Russian businessman. The 62,000-mile classic Rolls-Royce which had a guide price of just £9,000-£11,000 featured grey leather, wood trim, electric windows, automatic gearbox, a car phone and radio cassette player and a 6.75-litre V8 engine. It was sold as part of the Coys auction at Autosport International.

TUESDAY JANUARY 11:
1958 - The release date for the Elvis Presley single 'Jailhouse Rock' was put back a week after Decca Records pressing plant were unable to meet the advance orders of 250,000 copies. Some of the characters named in the song are real people. Shifty Henry was a well-known LA musician, not a criminal. The Purple Gang was a real mob. "Sad Sack" was a U.S. Army nickname in World War II for a loser.

1962 - Cliff Richard was at No.1 on the singles chart with 'The Young Ones'. It stayed at the top of the charts for six weeks and made Cliff the first UK artist to enter the chart at No.1.

1964 - 'Louie Louie' by The Kingsmen was the No.1 song on the US Cash Box music chart. For a while the record was banned by a handful of US radio stations because of its indecipherable lyrics which were rumored to contain some naughty words. Even the F.B.I. investigated the song but after detailed analysis finally concluded that they could find nothing wrong.

1967 - The Jimi Hendrix Experience recorded 'Purple Haze' at De Lane Lea studios in London. Hendrix later stated 'The Purple Haze' was about a dream he had and that he was walking under the sea. In concert, Hendrix sometimes substituted lyrics for comic effect; "'scuse me while I kiss the sky" was rendered "'scuse me while I kiss this guy" (while gesturing towards his drummer Mitch Mitchell).

1975 - The Alan Freeman Radio 1 show broadcast a Pink Floyd show recorded at the Empire Pool, Wembley on 16th Nov 1974. The band had played four nights at Wembley on their The Dark Side Of The Moon tour and tapes from these shows have been remixed.

1975 - Led Zeppelin played their first concert in 18 months when they appeared at the Ahoy, Rotterdam playing one of two warm-up shows for their forthcoming North American tour. The set list included some new songs: 'Sick Again', 'The Rain Song', 'Kashmir', 'No Quarter' and 'Trampled Underfoot'.

1985 - A Brazilian rock Festival held in Rio claimed to be the biggest ever staged. The festival featured Queen, Rod Stewart, AC/DC, Whitesnake, Yes and Iron Maiden.

2002 - Mickey Finn percussionist and sideman to Marc Bolan in Tyrannosaurus Rex (T. Rex), died aged 55 of kidney and liver problems. (1971 UK No.1 single 'Hot Love', plus over 20 other UK Top 40 singles).

Bread guitarist and Academy Award-winning songwriter James Griffin died at his home in Nashville at the age of 61 after suffering from cancer. Bread had the 1970s hits 'Make It With You', 'Baby I'm-a Want You', and 'Everything I Own.'

2021 - Mark Keds the former frontman with early 90s British indie-punks Senseless Things died of unspecified causes at the age of 50. Keds was also briefly a member of The Wildhearts as well as Jolt, Lams, Trip Fontaine and Deadcuts.

MONDAY JANUARY 10:
1953 - Jo Stafford was at No.1 on the singles chart with 'You Belong To Me'. Originally a singer with Tommy Dorsey until 1942, Stafford was the first female to have a No.1 on the singles Chart.

1957 - Tommy Steele and the Steelmen were at No.1 on the singles chart with 'Singing The Blues'. Guy Mitchell had been at No.1 the previous week with his version and then returned to No.1 the following week.

1958 - Jerry Lee Lewis was at No.1 on the singles chart with 'Great Balls Of Fire'. Lewis was the only major white rock 'n' roll star to play piano rather than guitar.

1976 - Blues artist Howlin Wolf (Chester Burnett) died aged 66 in hospital of cancer. The guitarist, singer and harmonica player's well known songs included 'Smoke Stack Lightning', 'Little Red Rooster' and 'Spoonful.'

1981 - John Lennon's Imagine started a four-week run at No.1 on the singles chart, 10 years after it was recorded. Lennon had two other songs in the Top 5 this week, 'Happy Christmas (War Is Over') and '(Just Like) Starting Over.' 'Imagine' was voted by the viewers of BBC TV as the best lyrics of all time in a poll broadcast in Oct 1999.

2001 - Guitarist and songwriter and founder member of The Cramps Bryan Gregory died aged 46 after suffering a heart attack at Anaheim Memorial Medical Center, Anaheim, California. He appeared on The Cramps first two albums Gravest Hits and Songs the Lord Taught Us. He abruptly left the band in 1980 with a van full of most of the band's equipment; no police report or proof was established. After the Cramps, Gregory went on to play in Beast from 1980-1983.

2003 - A haul of 500 Beatles tapes known as the 'Get Back sessions' stolen in the 1970s were found after UK police cracked a major bootleg operation in London and Amsterdam. Five men were arrested.

2003 - Bee Gee Maurice Gibb was fighting for his life after a heart attack following major stomach surgery. The 53 year-old singer had been rushed to hospital after collapsing at his Florida home.

2005 - Drummer Spencer Dryden died from colon cancer at his home in California aged 66. Was the drummer for Jefferson Airplane (replaced Skip Spence), New Riders of the Purple Sage and The Dinosaurs. Dryden was the Nephew of Charlie Chaplin.

2006 - An Australian woman appeared in court charged with repeatedly stabbing her partner with a pair of scissors in the back, shoulder and thigh because he played Elvis Presley's song 'Burning Love' over and over again.

2016 - Singer, songwriter, multi-instrumentalist, record producer, painter and actor David Bowie died from liver cancer at his New York home two days after releasing the album Blackstar on his 69th birthday. His first Top 40 single was the 1969 'Space Oddity' which became a No.1 in 1975, plus over 50 other Top 40 hits including five No.1s. During his lifetime his record sales, estimated at 140 million albums worldwide, made him one of the world's best-selling music artists.

Eddie Clarke who was a member of heavy rock bands Fastway and Motörhead died in hospital where he was being treated for pneumonia. He was 67 years old. Of Motörhead's classic lineup which consisted of Lemmy, himself and Phil "Philthy Animal" Taylor, he was the last surviving member.

SUNDAY JANUARY 9:
1963 - Drummer Charlie Watts joined The Rolling Stones after leaving Blues Incorporated and his job working as a graphic designer.

1970 - During a UK tour Led Zeppelin appeared at The Royal Albert Hall, London, the night of Jimmy Page's 26th birthday. (John Lennon, Eric Clapton and Jeff Beck were all in the audience). The two and a quarter hour set was recorded and filmed but shelved for several decades, eventually seeing a release on a 2003 official DVD.

1973 - Mick Jagger was refused a Japanese visa on an account of a 1969 drug conviction causing The Rolling Stones to cancel a forthcoming tour.

1976 - Queen were at No.1 on the singles chart with 'Bohemian Rhapsody'. The single enjoyed a nine week run on the chart selling more than a million copies by the end of the month. It reached No.1 again in 1991 for five weeks following Mercury's death, eventually becoming the UK's third best selling single of all time.

1997 - David Bowie performed his 50th Birthday Bash concert (the day after his birthday) at Madison Square Garden, New York with guests Frank Black, Sonic Youth, Robert Smith of The Cure, Dave Grohl, Lou Reed, Billy Corgan and Placebo. Proceeds from the concert went to the Save The Children fund.

2005 - Elvis Presley went to No.1 on the singles chart with 'Jailhouse Rock.' The single sold just 21,262 copies to reach No.1, the lowest sales ever for a UK chart topper since data began in 1969. The single was released to celebrate the 70th anniversary of his birth, a previous Elvis chart topper was re-released each week.

2009 - Dave Dee died at the age of 65, following a three-year battle with cancer. The singer had eight top 10 hits with Dave Dee, Dozy, Beaky, Mick and Tich including a number one single in 1968 with 'The Legend of Xanadu' in which Dee famously cracked a whip. The singer, whose real name was David Harman, was originally a police officer and as a police cadet was called to the scene of the car crash that killed Eddie Cochran during a UK tour in 1960.

2014 - Rolling Stone magazine published their Readers Poll: The 10 Greatest Double Albums of All Time. The top 5 were: 5 Led Zeppelin - Physical Graffiti. 4 Bruce Springsteen - The River. 3 The Rolling Stones - Exile on Main Street. 2 Pink Floyd - The Wall, and winning the poll was The Beatles - The White Album.


SATURDAY JANUARY 8:
1958 - The Everly Brothers kicked off a 17 date North American tour at the Coliseum in Charlotte, North Carolina. Also on the bill, Buddy Holly, The Rays, Royal Teens, Shepherd Sisters, Paul Anka, Margie Rayburn and 
Danny & The Juniors.

1969 - Mick Jagger and Keith Richards were both barred from an exclusive hotel for wearing "op art" pants and nothing else. They were both asked to leave the Hotel Crillen in Lima, Peru after refusing to change clothes.

1979 - Canadian rock band Rush were named the country's official Ambassadors Of Music by the Canadian government.

1991 - Steve Clark guitarist with Def Leppard was found dead at his Chelsea flat by his girlfriend after a night of heavy alcohol consumption combined with prescription drugs. The autopsy revealed he had died from an overdose of codeine and had Valium, morphine and a blood alcohol level of .30, three times the legal driving limit. In 2007 Clark was ranked No.11 on Classic Rock Magazine's "100 Wildest Guitar Heroes".

1994 - Jamaican reggae/rap (ragga) duo Chaka Demus and Pliers were at No.1 with their version of 'Twist And Shout.' The song was originally recorded (and produced by Phil Spector) by the Top Notes in 1961 and then covered by The Isley Brothers. It was also covered by The Beatles on their first album Please Please Me.

2010 - Jimmy Page launched a new set of stamps which featured classic album covers from the last 40 years including Coldplay, Power, Corruption And Lies, New Order, David Bowie and Parklife by Blur.

2014 - It was reported that vinyl record sales had increased 32% in 2013, while CD sales declined 14.5% in the last last year, vinyl sales grew 32% from 4.5 million units sold in 2012 to 6 million sold in 2013, according to Nielsen SoundScan.

2016 - David Bowie released his twenty-fifth and final studio album Blackstar, coinciding with his 69th birthday and two days before his death. It became his first and only album to reach No.1 on the Billboard 200 album chart in the US. At the 59th Annual Grammy Awards the album won awards for Best Alternative Music Album; Best Engineered Album; Best Recording Package, and the title single won Best Rock Performance and Best Rock Song. The album was also awarded the British Album of the Year award at the 2017 Brit Awards.

Peter Sarstedt died at the age of 75. He was best known for the single 'Where Do You Go To (My Lovely)?' which topped the Singles Chart in 1969 (and 14 other countries) and won an Ivor Novello Award.

FRIDAY JANUARY 7:
1955 - 'Rock Around the Clock' by Bill Haley and his Comets entered the chart for the first time. The original full title of the song was 'We're Gonna Rock Around the Clock Tonight!' and is often cited as the biggest-selling vinyl rock and roll single of all time with sales over 25m.

1964 - The Beatles recorded a seven-song appearance for the BBC Radio program Saturday Club. They played 'All My Loving', 'Money', 'The Hippy Hippy Shake', 'I Want to Hold Your Hand', 'Roll Over Beethoven', 'Johnny B. Goode', and 'I Wanna Be Your Man'. The show was broadcast on February 15 while the Beatles were in the US.

1964 - Blues musician Cyril Davies died aged 32 of leukaemia. Davies was a driving force in the early Sixties blues movement forming Blues Incorporated with Alexis Korner. Davies and Korner opened a London Rhythm and Blues club "England's Firstest and Bestest Skiffle Club", later known as the "London Blues and Barrelhouse Club". Popular with other musicians the club hosted gigs by blues musicians such as Muddy Waters, Sonny Terry and Brownie McGhee and Memphis Slim.

1970 - Led Zeppelin kicked off an 8-date UK tour at Birmingham Town Hall. The set list included: I Can't Quit You Baby, Dazed And Confused, Heartbreaker, Since I've Been Loving You, Thank You, Moby Dick, How Many More Times, Whole Lotta Love and Communication Breakdown.

1980 - Pink Floyd released 'Another Brick In The Wall (Part 2)'. The single peaked at No.1 on both the US and UK charts giving Pink Floyd their first and only No.1 hit single. The single went to No.1 in many other countries including Australia, Germany and Italy.

1980 - Hugh Cornwell of The Stranglers was found guilty of possession of heroin, cocaine and cannabis. He was fined £300 and sentenced to three months in Pentonville prison.

2003 - The Beatles Book Monthly closed down after 40 years. Author Sean O'Mahony who set up the magazine in 1963 said there was nothing more to say as the number of things the former Beatles were doing gets less and less as the years go on.

2004 - Drummer John Guerin died aged 64 of pneumonia. Worked with Joni Mitchell, Frank Zappa, Linda Rondstadt, Gram Parsons, Todd Rundgren. He also played on the original title tune for the television series Hawaii Five-O.

Neil Peart, drummer and lyricist for Canadian rock band Rush, died aged 67 from brain cancer. Placed at No.4 in Rolling Stone's list of all-time greatest drummers, Peart was well-known for his technical proficiency and animated live performances.

THURSDAY JANUARY 6:
1956 - Elvis Presley performed in the gym at Randolph High School, Mississippi; this was the last time he ever appeared in a small venue.

1964 - The first night of a 14 date tour 'Group Scene 1964' featuring The Rolling Stones, The Ronettes, Marty Wilde, The Swinging Blue Jeans and Dave Berry and The Cruisers played at the Granada Theatre, Harrow on The Hill, Middlesex.

1967 - The Who played their first gig of this year when they appeared at Morecambe Central Pier. The band played over 200 gigs in this year including their first ever US tour.

1973 - Carly Simon's 'You're So Vain' (with Mick Jagger on backing vocals) started a three week run at No.1 on the US singles chart. In 2015, after keeping quiet for more than 40 years, Carly Simon admitted that 'You're So Vain' was about Warren Beatty, but only one verse of it. Simon said the other verses were about two other men.

1975 - Pink Floyd started sessions start at Abbey Road Studios for their next album Wish You Were Here. Their ninth studio album was released on 12 September 1975 and features 'Shine On You Crazy Diamond' a tribute to Syd Barrett whose mental breakdown had forced him to leave the group seven years earlier.

1977 - EMI Records dropped The Sex Pistols giving the band £40,000 to release them from their contract.

Georgeanna Tillman singer with Motown girl group The Marvelettes died from lupus and sickle cell anemia aged 35. The Marvelettes scored the 1961 US No.1 single 'Please Mr Postman'. In 1963 Tillman was diagnosed with lupus, she also had been diagnosed with sickle cell anemia during childhood.

1993 - It was reported that David Bowie had lost over £2.5 million in unpaid royalties to an Italian Mafia-linked bootleg fraud.

2001 - Pink Floyd guitarist David Gilmour won the right to his dot com name. Dave took legal action in his battle to reclaim davidgilmour.com from Andrew Herman who had registered the URL and was selling Pink Floyd merchandise through the site.

2006 - A collection of Elvis Presley memorabilia bought by a council worker who embezzled nearly £600,000 was set to be sold to compensate the local authority. Julie Wall, 46, from Rippon Drive in Sleaford was jailed for three years for the offence last October. The collection - which included rare recordings and foreign pressings of Elvis songs - was to be auctioned off by a High Court receiver to provide compensation.

2006 - Guitarist, trumpeter and drummer Alex St. Claire died. Member of The Omens, The Solid Senders and an original member of Captain Beefheart and his Magic Band and Frank Zappa.

2017 - Norway announced that it would become the first country in the world to gradually stop using the stereo FM radio network. The move, which aimed to ditch the analogue platform in favour of Digital Audio Broadcasting, would bring a clearer sound to the nation's five million people - albeit in mono.

2020 - Martin Griffin former drummer of Hawkwind and spin-off project Hawklords, died aged 69 following a short illness. Between 1978 and 1982 Griffin drummed on albums such as Sonic Attack, Church of Hawkwind and Choose your Masques. During the seventies he ran Roche recording studios in Cornwall, recording many upcoming artists including Elvis Costello, ABC and Secret Affair.

WEDNESDAY JANUARY 5;
1965 - The Supremes spent the first of three days sessions at Hitsville U.S.A. (Studio A) recording 'Stop! In the Name of Love'. Written and produced by Motown's main production team Holland–Dozier–Holland, when released the following month the song topped the US singles chart.

1967 - Pink Floyd and Eyes of Blue appeared at The Marquee Club London. Queen magazine said: "The two guitarists looked moody, the drummer thrashed wildly about and the lights kept flashing. After about twenty minutes it became very boring and after half an hour I left."

1968 - Jimi Hendrix was jailed for one day in Stockholm, Sweden on drink charges after going berserk and destroying everything in his room at the Goteberg Hotel.

1973 - Bruce Springsteen released his debut album 'Greetings from Asbury Park, N.J.' Recorded in a single week the album only sold about 25,000 copies in the first year of its release. Both 'Blinded By The Light' and 'Spirit In The Night' were released as singles but neither made a dent in the charts. Manfred Mann's Earth Band later released a version of 'Blinded By The Light' on their album 'The Roaring Silence,' which reached No.1 on the US charts in 1977.

1976 - Former Beatles roadie Mal Evans was shot dead by police at his Los Angeles apartment. His girlfriend called police when she found Evans upset with a rifle in his hand; he pointed the gun at the police who opened fire. Friends later said that Evans was depressed about his separation from his wife Lil Evans who had asked for a divorce before Christmas.

1980 - David Bowie appeared on Saturday Night Live Live from New York City performing 'The Man Who Sold the World', 'TVC 15' and 'Boys Keep Swinging' with a specially prepared backing group including Blondie's Jimmy Destri (keyboards) and Klaus Nomi and Joey Arias (backing vocals).

1991 - Iron Maiden went to No.1 on the singles chart with 'Bring Your Daughter To The Slaughter.' The second single from their album No Prayer for the Dying became the lowest selling No.1 since 1960 with just over 42,000 copies sold in its first week. The song was originally recorded and released by Bruce Dickinson for the soundtrack to A Nightmare on Elm Street 5: The Dream Child, but Iron Maiden bassist Steve Harris liked it so Iron Maiden re-recorded it.

1998 - American singer, producer and politician Sonny Bono was killed aged 62 in a skiing accident at a resort near Lake Tahoe. Bono was one half of Sonny and Cher who scored the 1965 UK & US No.1 single 'I Got You Babe' and had become a US Congressman. The United States Sonny Bono Copyright Term Extension Act of 1998, which extended the term of copyright by 20 years, was named in honor of Bono when it was passed by Congress nine months after his death.

Ken Forssi bassist with Love died aged 55 of brain cancer. In 1965 he met Arthur Lee who then had a band called Grass Roots and was greatly impressed. Lee hired Forssi as bassist and soon officially formed Love. Love scored the 1968 No.24 album Forever Changes.

2004 - Kinks singer Ray Davies was shot in the leg while on holiday in New Orleans. The 59-year-old singer-songwriter was shot when running after two men who stole his girlfriend's purse at gunpoint. Davies was admitted to the Medical Centre of Louisiana but his injuries were not considered serious. New Orleans police said one person had been arrested and police were still searching for the second.

2016 - Donald Fagen, lead singer and founder of Steely Dan, was arrested by New York police and charged with assaulting his wife at their home. Fagen was accused of pushing Libby Titus into a marble window frame and knocking her to the ground at their Manhattan apartment.

2019 - British musician Eric Haydock died age 75. He is best known as the original bass guitarist of The Hollies from December 1962 until July 1966. He was one of the first British musicians to play a Fender Bass VI, a six-string bass.

TUESDAY JANUARY 4:
1967 - The Doors released their self-titled debut album The Doors. The album features their breakthrough single 'Light My Fire' and the lengthy song 'The End' with its Oedipal spoken word section. The album was recorded at Sunset Sound Studios in Hollywood, California over six days and unique packaging of the album included each band members bio.

1967 - The Jimi Hendrix Experience played the first of what would be over 240 gigs in this year when they appeared at the Bromel Club, Bromley (Many of the concerts were two shows per night).

1969 - Music weekly Disc and Music Echo reported that The Beatles were to release five new albums. One would be their first ever live album plus four separate LPs, each one the choice of Lennon, McCartney, Harrison and Starr.

1970 - The Beatles (without John Lennon) re-record vocals and a new guitar solo on the Paul McCartney song 'Let It Be' at Studio Two, EMI Studios. This session will be the final studio appearance for The Beatles as a group. (The final date that all four of The Beatles were in the studio together is August 20, 1969).

1970 - Chauffeur Neil Boland was accidentally killed when The Who's drummer Keith Moon ran over him in his Bentley. Moon was trying to escape from a Gang of skinheads after a fight broke out at a pub in Hatfield. Boland got out to try to protect the car but left it in gear. He fell under the car and it started moving with Moon at the wheel as he tried to escape the fight. The drummer had never driven.

1986 - Irish singer, songwriter and bassist Phil Lynott of Thin Lizzy died of heart failure and pneumonia after being in a coma for eight days following a drug overdose. With Thin Lizzy he had the 1973 hit 'Whiskey in the Jar' (their version of the traditional Irish song) and hits with 'The Boys Are Back in Town', 'Jailbreak' and 'Waiting for an Alibi'. The group's 1978 album 'Live and Dangerous' spent 62 weeks on the chart. Lynott fronted several bands as a lead vocalist including Skid Row alongside Gary Moore. A life-size bronze statue of Phil Lynott was unveiled on Harry Street in Dublin Ireland in 2005.

2001 - Madame Tussaud's waxworks in London revealed that Oasis singer Liam Gallagher had come third in 'The Most Hated Characters' list of exhibits, behind Adolf Hitler and Slobodan Milosevic.

2006 - The house where Johnny Cash lived for 35 years was bought by Bee Gees singer Barry Gibb. The rustic house near Nashville, Tennessee went on the market in June 2005 with an asking price of $2.9m (£1.7m). Gibb said he planned to preserve the house to honour the Cash memory. Unfortunately Gibb's ownership of the house was short-lived. In April 2007, the house burned to the ground. Gibb was having the house renovated when a flammable spray sealer caused fire to break out during construction.

2009 - Led Zeppelin singer Robert Plant was voted the Greatest Voice In Rock by listeners of radio station Planet Rock. Plant beat Queen's Freddie Mercury, Free's Paul Rodgers and Deep Purple's Ian Gillan to the top spot in the poll.

MONDAY JANUARY 3:
1957 - Guy Mitchell was at No.1 on the singles chart with 'Singing The Blues' (Tommy Steele and Marty Robbins had also released versions and Steele would replace this version at No.1).

1963 - Cliff Richard was at No.1 on the singles chart with his sixth No.1 'The Next Time / Bachelor Boy.' Both songs were taken from the film Summer Holiday.

1967 - Having received a US army draft notice, Beach Boy Carl Wilson refused to be sworn in, saying he was a conscientious objector.

The Jimi Hendrix Experience were booked to perform two songs, 'Voodoo Child' (which was performed in full) then Hendrix stopped performing his new single 'Hey Joe' after a verse and chorus and instead launched into a version of the Cream song 'Sunshine Of Your Love' as a tribute to the band who had split a few days earlier. Hendrix then proceeded to continuing jamming, running over their allocated time slot on the live show, preventing the show's host Lulu from closing the show properly.

1970 - Working on the Get Back sessions at Studio Two of EMI Studios, three Beatles (Paul, George, and Ringo) record 16 takes of the George Harrison song 'I Me Mine'. John Lennon was away in Denmark at the time. A decade later it became the title of George Harrison's auto-biography.

1972 - Two weeks of rehearsals for Pink Floyd's The Dark Side Of The Moon tour began at the Bermondsey in London (the venue was owned by The Rolling Stones).

1976 - Bob Dylan's song 'Hurricane' peaked at No.33 on the Billboard singles chart, helping to cause enough publicity to eventually get former boxer Rubin 'Hurricane' Carter released from jail. The song promoted Carter's innocence, and a movie about Carter's life starring Denzel Washington was released in 2000.

1987 - Aretha Franklin became the first woman inducted into the Rock and Roll Hall of Fame.

2002 - Zak Foley bassist with EMF died aged 31 of a drug overdose. EMF had the 1990 world wide hit single 'Unbelievable' which reached No.3 on the singles chart and was a No.1 hit on the US Billboard Hot 100 chart. The name EMF is believed to be an abbreviation of Epsom Mad Funkers.

2012 - Musician Bob Weston died age 64. He had a brief role as guitarist and songwriter with Fleetwood Mac in the early 1970s. He also recorded and performed with a number of other musicians including Graham Bond, Long John Baldry, Murray Head, Sandy Denny and Danny Kirwan.

2020 - Sir Rod Stewart was charged by police following an alleged altercation at a hotel in Florida on New Year's Eve. A police document released in the US accused Stewart of punching a security guard after he and his companions, including his son Sean, attempted to get into a private party in a children's area at the Breakers Palm Beach Hotel.

2021 - Musician Gerry Marsden died age 78 after being diagnosed with a blood infection in his heart. With Gerry And The Pacemakers he had the 1963 No.1 single 'How Do You Do It' and the 1965 US No.6 single 'Ferry Cross The Mersey'. In common with The Beatles they came from Liverpool, were managed by Brian Epstein and were recorded by George Martin. Their cover of 'You'll Never Walk Alone' was released in 1963 peaking at No.1. After becoming a chart hit the song gained popularity on the Anfield terraces and the song quickly became the football anthem of Liverpool F.C. which adopted 'You'll Never Walk Alone' as its official motto on its coat of arms.

SUNDAY JANUARY 2;
1926 - The first issue of The Melody Maker went on sale priced at 3d. The monthly magazine was for 'all who are interested in the production of popular music'. In the first issue: Dance Band news, a feature on Ukuleles and how to read music by sight. Advertisements in Melody Maker helped assemble the line-ups of a number of major bands including The Jimi Hendrix Experience, Supertramp and The Stranglers to name just three.

1954 - Eddie Calvert started a nine-week run at No.1 on the singles with 'Oh, Mein Papa.' This was the first No.1 to be recorded at Abbey Road studios in London and stayed at the top of the charts for 9 weeks.

John Lennon and Yoko Ono's album 'Two Virgins' was seized by authorities in New Jersey due to the full frontal nude photograph of the couple on the cover. The album was eventually wrapped in plain brown paper in record stores.

1969 - Led Zeppelin played the first of four nights at the Whisky A Go-Go, Los Angeles during the bands first North American tour. Support group was the Alice Cooper band.

1969 - Filming began at Twickenham studios of The Beatles rehearsing for the 'Let It Be' album. The project ran into several problems including George Harrison walking out on the group on January 10th.

1979 - Sex Pistols bassist Sid Vicious went on trial in New York accused of murdering his girlfriend Nancy Spungen three months earlier, when he claimed to have awoken from a drugged stupor to find Spungen dead on the bathroom floor of their room in the Hotel Chelsea in Manhattan, New York.

1980 - US singer Larry Williams was found dead aged 45 from a gunshot wound to his head in his Los Angeles, California home. Williams had the 1957 US No.5 & UK No. 21 single 'Short Fat Fannie.' Also known for 'Bony Moronie' and 'Dizzy Miss Lizzy.' The Beatles, Rolling Stones, Dr. Feelgood, Flying Burrito Brothers, Johnny Winter, Little Richard, The Who, Ritchie Valens and Bill Haley & His Comets all covered his songs.

1985 - Rolling Stone Ronnie Wood married his girlfriend Jo Woodin Gerrards Cross, Buckinghamshire. Guests included Keith Richards, Bill Wyman, Charlie Watts, Ringo Starr, Rod Stewart and Jeff Beck. The couple divorced in 2009.

1997 - Guitarist Randy California from US group Spirit drowned when rescuing his 12-year old son when he was sucked into a riptide in surf off Hawaii.

2005 - Green Day were at No.1 on the album chart with their seventh album 'American Idiot.' The album went on to be nominated for seven Grammy Awards, winning the Best Rock Album of 2005.

2007 - Cristin Keleher who once broke into former Beatle George Harrison's Hawaii home was found dead aged 34 after an apparent murder-suicide in California. She made headlines in December 1999 by entering Harrison's Maui estate and then cooking herself a frozen pizza. Police said her body had been found with that of a 48-year-old man in a car, both had gunshot wounds to their heads.

2009 - According to official US sales figures AC/DC were the biggest sellers of 2008 with over 3.4m sales. To promote the groups latest album Black Ice in the US, Columbia Records created "Rock Again AC/DC Stores" as well as "Black Ice" trucks which were dispatched on the streets of New York and Los Angeles playing AC/DC music and making various stops each day to sell merchandise.

2012 - American rock guitarist Larry Reinhardt died aged 63 of cirrhosis of the liver. He played with Iron Butterfly and Captain Beyond. At one time Reinhardt was known by the nicknames "El Rhino" and "Ryno".

SATURDAY JANUARY 1:
1953 - American singer-songwriter and musician singer Hank Williams died aged just 29 of a heart attack brought on by a lethal cocktail of pills and alcohol. Williams is regarded as one of the most important country music artists of all time. 35 of his singles (five released posthumously) were placed in the Top 10 of the Billboard Country & Western Best Sellers chart, 11 of which ranked at No.1, including 'Cold, Cold Heart,' 'Hey, Good Lookin', 'I'll Never Get Out of This World Alive,' and 'Your Cheatin' Heart.' During his last years Williams's consumption of alcohol, morphine and painkillers severely compromised his professional life.

1956 - Bill Haley's 'Rock Around the Clock' went to No.1 on the singles chart for the second time. The single had sales over 25m.

1957 - BBC aired its new rock & roll show 'Cool For Cats' for the first time. With a miniscule budget the program was forced to rely on artists miming and the talents of a resident dance group (led by Douglas Squires). Ker Robertson, the first host, was succeeded after a few weeks by Kent Walton, later better known for his ITV wrestling commentaries

1962 - The Beatles auditioned for Decca Records in West Hampstead, London. A&R boss at Decca Dick Rowe turned them down in what is considered one of the biggest mistakes in music industry history, Decca decided to reject the band, selecting instead Brian Poole and the Tremeloes.

1964 - The first edition of Top Of The Pops was transmitted from an old church hall in Manchester. Acts miming to their latest releases included The Rolling Stones (I Wanna Be Your Man), The Dave Clark Five (Glad All Over), The Hollies (Stay) and The Swinging Blue Jeans (Hippy Hippy Shake). The first song played was Dusty Springfield's 'I Only Want To Be With You'. Also featured on disc and film was The Beatles (I Want to Hold Your Hand), Freddie & the Dreamers, Cliff Richard and the Shadows and Gene Pitney.

1967 - The Doors made their first live television appearance lip-synching their first single 'Break on Through' on Shebang, KTLA-TV Channel 5 in Los Angeles. The single peaked No. 126 on the US chart mainly due to lack of airplay after censors objected to the drug use implied by the line "she gets high" which is repeated in the middle section of the song.

1969 - Marmalade were at No.1 on the singles chart with their version of The Beatles song 'Ob-La-Di Ob-La-Da' which features on The White Album.

1977 - Genesis played the first of three nights at the new-look Rainbow Theatre, London, tickets cost £2.50. The theatre had been completely renovated at a cost of £80,000.

1977 - The Clash played the opening night at punk's first real venue, The Roxy Club in London.

Alexis Korner died aged 55 of lung cancer. Know as "the Founding Father of British Blues" he was a major force behind the early 60s R&B scene. Formed Blues Incorporated; members at various times included Jack Bruce, Ginger Baker, Long John Baldry, Graham Bond and Charlie Watts. Had hits with CCS, including a version of Led Zeppelin's 'Whole Lotta Love' which was used as the theme for Top Of The Pops for many years. He became a radio presenter in the Seventies.

1989 - Nirvana signed a one-year recording contract with Sub Pop records. The Seattle based label began not as a record label but as a fanzine (called Subterranean Pop) in the early 80s, also signed Soundgarden and Mudhoney.

2007 - Queen beat The Beatles to be crowned greatest British band of all time by BBC Radio 2 listeners.They pipped the Fab Four in a live contest trouncing other finalists The Rolling Stones, Oasis and Take That. The bands were judged on song-writing, lyrics, live performances, originality and showmanship.More than 20,000 listeners voted by email, text and phone.

2011 - Chuck Berry cut short a concert at Congress Theater, Chicago, Illinois after collapsing on stage an hour into the show. Berry slumped over a keyboard and did not move for a couple of minutes before being helped off stage, he returned 15 minutes later only to be forced off again almost immediately. The 84 year-old later re-emerged on stage but told fans he had no strength to continue performing.

2013 - Ultravox's 1981 hit 'Vienna' was voted the most popular number two single. The song topped a poll by BBC Radio 2 and the Official Charts Company to find the greatest track to miss out on