This week in . . .
1970, Motown singer
Tammi Terrell
died of a brain tumour at the age of 24. She had collapsed onstage on October 14, 1967 into
Marvin Gaye's
arms during a concert in Hampton, Virginia. Initially Terrell recorded solo, but from 1967 onwards she recorded a series of duets with Marvin Gaye, including the 1967 US No.5 'Your Precious Love' and the 1968, 'Ain't Nothing Like the Real Thing'. Marvin Gaye reacted to her death by taking a four year hiatus from concert performance and went into self-isolation.
1977, After being with the label for just six days the
Sex Pistols
were fired from A&M due to pressure from other label artists and its Los Angeles head office. 25,000 copies of 'God Save The Queen' were pressed and the band made £75,000 from the deal.
2010, A rare
Led Zeppelin
recording from the group's 1971 gig at St Matthew's Baths Hall in Ipswich, was unearthed at a car boot sale. The bootleg copy of the audio from the group's gig on November 16th 1971 was picked up for just "two or three pounds" by music fan Vic Kemp.
"I was going through a stand of CDs at the car boot at Portman Road and the guy who was selling them said, 'You might be interested in this,'"
Vic Kemp told the Evening Star.
"It must have been recorded by someone standing at the front with a microphone. You can hear Robert Plant talking to the audience quite clearly."
2015, Andy Fraser, songwriter and bass guitarist with
Free,
died of a heart attack caused by Atherosclerosis, in California aged 62. The London-born musician became a founding member of the British group when he was just 15 and went on to write most of the material with lead singer Paul Rodgers, including Free's 1970 hit 'All Right Now', 'My Brother Jake' and 'The Stealer'. Fraser also penned 'Every Kinda People', a hit for
Robert Palmer
as well as songs for
Joe Cocker, Chaka Khan, Rod Stewart
and
Paul Young
.
1964, For the first time in British recording history, all Top Ten singles in the UK were by British acts. No.1 was 'Anyone Who Had A Heart' by
Cilla Black
, No.2 - 'Bits and Pieces' by
The Dave Clark Five
, No.3 - 'Little Children' by
Billy J Kramer
, No.4 - 'Diane' by
The Bachelors
, No.5 - 'Not Fade Away' by
The Rolling Stones,
No.6 - 'Just One Look' by
The Hollies
, No.7 - 'Needles and Pins' by
The Searchers
, No.8 - 'I Think Of You' by
The Merseybeats
, No.9 - 'Boys Cry' by
Eden Kane
, and No. 10 - 'Let Me Go Lover' by
Kathy Kirby
.
1982,
Metallica
made their live debut when they appeared at Radio City in Anaheim, California. Metallica formed in Los Angeles, California, in late 1981 when Danish-born drummer Lars Ulrich placed an advertisement in a Los Angeles newspaper, The Recycler, which read,
"Drummer looking for other metal musicians to jam with Tygers of Pan Tang, Diamond Head and Iron Maiden."
Guitarists James Hetfield and Hugh Tanner of
Leather Charm
answered the advertisement.
2001, Peter Blake, who designed
The Beatles
classic
Sgt. Pepper
album cover sued the group's record company for more money. Blake was paid £200 for the famous figures in 1967, but was now 'cheesed off' that EMI had never offered to pay more money.
2008, Peter MacBeth, a member of
The Foundations
who had the 1968 UK hit with 'Build Me Up Buttercup', was jailed for child sex offences. MacBeth sexually assaulted a young girl on four occasions over the course of six years and downloaded child porn from the internet. The 71-year-old was suffering from cancer and had had he a tracheotomy which meant he lost his voice. Doctors had said he had between three and five years to live.
2010, Phil Blake of indie band
Redtrack
returned to his career as the bassist with the band after he underwent a pioneering operation to reattach his hand after it was hacked to the bone in a machete attack. Blake thought he would never play guitar again after a teenage robber hacked through his arm when he refused to hand over a mobile phone.
1978, The debut single from
Kate Bush,
'Wuthering Heights' a song inspired by the Emily Bronte novel, started a four-week run at No.1 on the singles chart. EMI had originally chosen another track, 'James and the Cold Gun' as the lead single, but Bush was determined that 'Wuthering Heights' would be the first release from the album.
2005, The front door of
Ozzy Osbourne's
childhood home in Birmingham went up for sale because the current owner was fed up with fans defacing it. Ali Mubarrat, who now owned the house in Lodge Road, Aston, said over the years it had become a pilgrimage destination. He was now auctioning the door on eBay and giving the money to charity.
2009,
Iron Maiden
's tour manager criticised people who were arrested for trying to gatecrash a concert in Bogota. Colombian police arrested more than 100 people after stones were thrown hours before the group were due to perform. In a statement posted on the band's website, Rod Smallwood said:
"We abhor the inane behaviour of a small minority of people outside."
Riot police fired tear gas canisters at those who tried to enter the concert without tickets.
2011, The former singer with
Iron Maiden
was jailed for nine months for fraudulently claiming benefits.
Paul Andrews
, fronted the band between 1978 and 1981, under the stage name Paul Di'Anno. Andrews, 52, was jailed at the city's crown court after earlier admitting falsely claiming more than £45,000. Fraud investigators had viewed online videos and read about gigs on the performer's website.
2015, Jimmy Greenspoon, keyboardist with
Three Dog Night
died after a long battle with cancer at the age of 67. During the course of their career, Three Dog Night had 21 top 40 hits, including three No.1 singles.
2016, English musician
Keith Emerson
died in Santa Monica, California, of a self-inflicted gunshot wound to the head after he had become "depressed, nervous and anxious" because nerve damage in his hands had hampered his playing. Emerson found his first commercial success with
the Nice
, in the late 1960s and was a founding member of
Emerson, Lake & Palmer
(ELP), one of the early progressive rock supergroups.
1965, During a
Rolling Stones
gig at The Palace Theatre in Manchester, a female fan fell from the circle while the group were playing. The crowd below broke her fall and the girl escaped serious injury just breaking a few teeth.
1966, Mike Millward guitarist from
The Fourmost
died, aged 23. The Liverpool group, who were managed by Brian Epstein, had the 1964 No.6 single 'A Little Loving'.
1966,
Tina Turner
recorded her vocal on the Phil Spector produced 'River Deep Mountain High'. It went on to make No.3 in the UK but only No.88 on the US chart. Spector was well aware of Ike Turner's controlling attitude in the studio, and therefore he drafted an unusual contract: the River Deep, Mountain High album and single would be credited to Ike & Tina Turner, but Ike was paid $20,000 to stay away from the studio, and only Tina Turner's vocals would be used on the record. Session musicians who played on the track included
Leon Russell
(keyboards),
Glen Campbell
(guitar), and
Hal Blaine
(drums).
1969,
Led Zeppelin
appeared at the Bluesville 69 Club at the Hornsey Wood Tavern, Finsbury Park, London. The venue was a function room at the back of the pub, and was so small that the stage was only just big enough for
John Bonham's
drums, and the rest of the group had to stand on the floor at the same level as the crowd.
2001, The man who discovered
Blur
,
David Balfe
won a high court battle to earn £250,000 in back royalties. Balfe had waged a legal battle for over two years to regain the royalties after selling his Food Records label to EMI in 1994.
2012, Sales of albums by
The Monkees
soared following the death of singer
Davy Jones
. 'Best Of The Monkees' re-entered the Billboard album chart at No.20 with sales of over 17,000 units.
1970, Charles Manson released an album called 'Lie' to help raise money for his defence in the Tate-LeBianca murder trial. The album jacket was made to look like a cover of Life magazine with the letter f removed from the word Life. In the mid sixties, Manson had been a wanna-be musician who befriended
The Beach Boys
drummer Dennis Wilson, eventually talking the group into recording one of his songs, 'Cease To Exist'. The title was changed to 'Never Learn Not To Love' and was released as the B side of the single 'Bluebirds Over The Mountain', which eventually climbed to number 61 in the US in early 1969.
1970,
David Bowie
released the single 'The Prettiest Star' in the UK as a follow-up single to 'Space Oddity'. The track featured
Marc Bolan
on guitar, with whom Bowie would spend the next few years as a rival for the crown of the king of glam rock. Despite receiving good reviews, the single reportedly sold fewer than 800 copies, a major disappointment on the back of the success of 'Space Oddity'.
1971,
Led Zeppelin
appeared at the National Boxing Stadium, Dublin, the group's first show in Dublin, where they played 'Stairway To Heaven' live for only the second time.
1973,
Slade
scored their fourth No.1 single with 'Cum On Feel The Noize', the first single to enter the charts at No.1 since
The Beatles
'Get Back' in 1969.
Elton John
had the No.1 album with 'Don't Shoot Me I'm Only The Piano Player'.
2010,
Mark Linkous
, frontman with US band
Sparklehorse
committed suicide by shooting himself in the heart outside a friend's house in Knoxville, Tennessee. In 1996 Linkous "died" for two minutes after ingesting a mix of Valium and antidepressants while supporting
Radiohead
on tour in the UK. He recovered, but the incident left him paralysed, after lying unconscious for 14 hours, with circulation to his legs cut off. He suffered a heart attack when doctors tried to straighten the limbs, and had surgery seven times to save his legs.
1965,
The Mannish Boys
released their second single 'I Pity The Fool', featuring a young
David Bowie.
Produced by Shel Talmy (who was also producing the early singles and albums by The Who and The Kinks). Jimmy Page was Talmy's regular session musician and played the guitar solo on 'I Pity the Fool'.
1971,
Led Zeppelin
started a 12-date 'Thank You' tour for British fans, appearing at the clubs from their early days and charging the same admission prices as in 1968. The first show was at The Ulster Hall, Belfast, Northern Ireland where they played songs from their upcoming fourth album, including the first public performances of 'Black Dog', 'Stairway To Heaven',
'Going To California' and 'Rock And Roll'.
1995,
Viv Stanshall
of
The Bonzo Dog Doo Dah Band
was killed in a house fire. The English singer-songwriter, painter, musician, author, and poet is best known for his work with the Bonzo Dog Doo-Dah Band, for his surreal exploration of the British upper classes in Sir Henry at Rawlinson End, and for narrating
Mike Oldfield
's Tubular Bells.
2004, Guitarist
John McGeoch
died in his sleep aged 49. He had been a member of
Magazine
, who had the 1978 No.41 single 'Shot By Both Sides', and also worked with
Siouxsie And The Banshees, Armoury Show
and
Public Image Ltd
.
2005, A commemorative plaque for the
The Jimi Hendrix Experience
was unveiled in Loisin-sous-Lens. Hendrix had appeared at The Twenty Club when it opened in 1967. It was his first European tour where he was totally unknown. Club owner Rikki Stein stated:
"The place was packed and at the end of 'Wild Thing', his first number, there was total silence. The entire audience just stood there, open-mouthed. They'd never seen or heard anything like it in their life."
Week commencing February 26 . . .
1968, 25 year old
Frankie Lymon
, lead singer of
The Teenagers
, died of a heroin overdose in his grandmother's New York home. Lymon was on leave from a Georgia Army post at the time and was scheduled to record for Roulette Records the next day. He first hit the national charts in 1956 when he was just 13 with 'Why Do Fools Fall in Love'.
1970, In an interview with the New Musical Express,
Fleetwood Mac
's
Peter Green
talked about his plans to give all his money away. The following year Green confronted his accountant with a gun after he sent him an unwanted royalty check. The guitarist went to jail briefly before being transferred to an asylum and was committed to a mental hospital in 1973. He re- launched his career in the 90s.
1970,
Led Zeppelin
played a gig in Copenhagen as
The Nobs
after Eva Von Zeppelin, a relative of the airship designer, threatened to sue if the family name was used in Denmark.
1974, Singer songwriter
Bobby Bloom
shot himself dead at his Hollywood apartment aged 28. Bloom had the 1970 US No.8 & UK No.3 single 'Montego Bay'.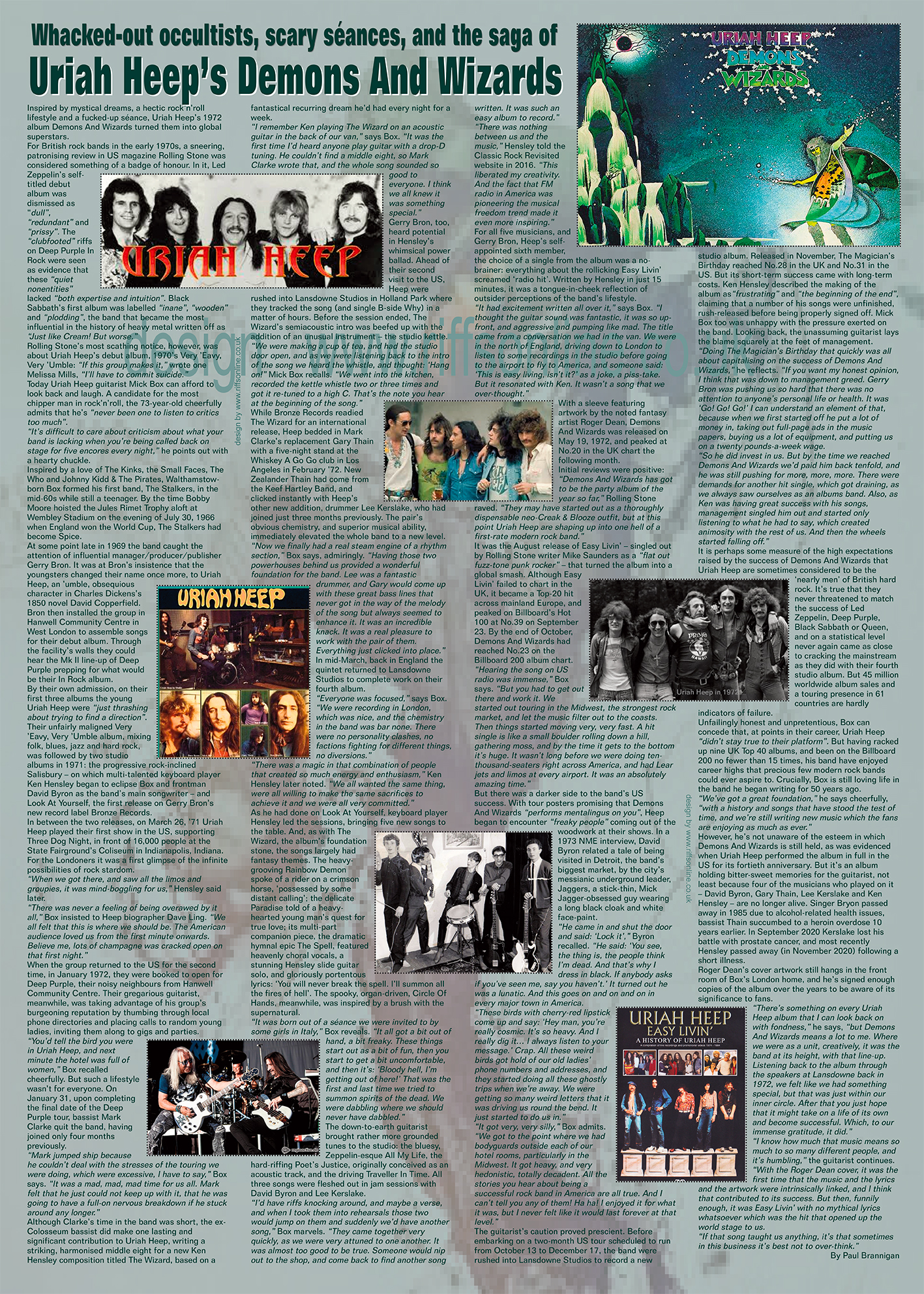 1985,
David Byron
, singer with
Uriah Heep
died from an epileptic fit and liver disease aged 38. Had a hit with 'Easy Livin' from the 1972 album Demons and Wizards.
2006, Two stewards were shot during a concert by rapper
Kanye West
at the NEC in Birmingham. Police said the shootings took place after people who tried to gain entrance without tickets were escorted from the arena. A man, who had no ticket, entered the foyer and was ejected, he then returned and shot at the stewards, one was in a serious condition after being shot in the face.
2010,
Tom "T-Bone" Wolk
, who played bass for nearly 30 years with
Daryl Hall And John Oates
died of an apparent heart attack at the age of 58. He had also recorded with
Carly Simon, Jellyfish, Squeeze, Elvis Costello, Shawn Colvin
and
Billy Joel
over the course of his career.
1965,
Jimmy Page
released a solo single called 'She Just Satisfies' in the UK. Page played all the instruments on it except for the drums, and produced the track, as well as singing lead vocals.
1969,
Peter Sarstedt
started a four week run at No.1 on the singles chart with 'Where Do You Go To My Lovely?' Some say the song was written about the Italian star Sophia Loren, but Peter Sarstedt has stated he wrote the song about a girl he fell madly in love with in Vienna in 1965, who later died in a hotel fire.
1979, During a court case between the
Sex Pistols
and their manager Malcolm McLaren it was revealed that only £30,000 was left of the £800,000 the band had earned.
1997, American songwriter
Ben Raleigh
died in a fire in his kitchen after setting fire to his bath robe while cooking. He co-wrote 'Scooby Doo Where Are You' and 'Tell Laura I Love Her.'
2009, A 10-minute version of
The Beatles
'Revolution 1' was leaked onto the internet, giving fans a never-before-heard listen of what The White Album sessions must have been like. Only two copies of the take were made when the song was completed on June 4th, 1968. One copy left the studio with Lennon that day and the other remained behind. It was unclear which copy appeared on the bootleg, nor how anyone acquired it.
Week commencing February 19 . . .
1974,
Suzi Quatro
was at No.1 on the singles chart with 'Devil Gate Drive', the singers second UK No.1 and fourth No.1 for the songs writers Chinn & Chapman.
1974, 'Rebel Rebel' by
David Bowie
entered the chart, the single reached No.5 the following month. Originally written for an aborted Ziggy Stardust musical in late 1973, 'Rebel Rebel' was Bowie's last single in the glam rock style that had been his trademark. It was also his first hit since 1969 not to feature lead guitarist
Mick Ronson
; Bowie himself played guitar on this track.
1976,
AC/DC
shot the video clip for "It's A Long Way To The Top (If You Wanna Rock 'n' Roll)" for the Australian music television program Countdown. It featured the band's then-current lineup, along with members of the Rats of Tobruk Pipe Band, on the back of a flat-bed truck travelling on Swanston Street in Melbourne. In May 2001, Australasian Performing Rights Association celebrated its 75th anniversary by naming the Best Australian Songs of all time, as decided by a 100-member industry panel. "It's a Long Way to the Top (If You Wanna Rock 'n' Roll)" was ranked as the ninth song on the list.
2003,
Howie Epstein
bassist with
Tom Petty and the Heartbreakers
died of a suspected drug overdose in New Mexico. He had replaced The Heartbreakers original bassist Ron Blair, Epstein also worked with
Bob Dylan,
Johnny Cash,
Stevie Nicks
,
Roy Orbison,
Carl Perkins, Linda Ronstadt
and
Del Shannon
.
1967,
Pink Floyd
started their first sessions at the EMI Studios, St. John's Wood, London on their debut album The Piper At The Gates Of Dawn, working on the song 'Matilda Mother'. While Pink Floyd were recording their album with former Beatles engineer Norman Smith,
The Beatles
themselves were working in the studio next door, recording 'Fixing A Hole' for their Sgt. Pepper album. Micky Dolenz from
The Monkees
attended the mixing session during the day.
1972,
Led Zeppelin
released
'Rock And Roll / Four Sticks'
as a 7 inch single in the US, peaking at No.47 on the chart. The song was written as a spontaneous jam session, whilst the band were trying to finish 'Four Sticks'. Drummer
John Bonham
played the introduction to
Little Richard's
'You Keep A-Knockin' and
Page
added a guitar riff; with the tapes rolling the basic song was finished fifteen minutes later.
1986,
Metallica
released their third album, the highly influential album, Master of Puppets, considered by many in the metal community to be the best metal album of all time. This was the last Metallica album with bassist
Cliff Burton
who was killed when the group's tour bus over-turned in southern Sweden while touring to promote the album.
2004,
Mud
singer
Les Gray
died of a heart attack, whilst fighting throat cancer, aged 57 (1974 UK No.1 single 'Tiger Feet' plus 14 other UK Top 40 singles').
2014, A statue of a weeping
Kurt Cobain
was unveiled in Aberdeen, Washington - the hometown of the late Nirvana frontman. The statue, which sees Cobain crying a single tear, is situated in the Aberdeen Museum of History. Kurt Cobain Day would now be celebrated annually in the city of Aberdeen. Of the day, Mayor Bill Simpson recently read a proclamation, which stated:
"Aberdeen residents may justifiably take pride in the role our community played in the life of Kurt Cobain and the international recognition our community has gained from its connections with Kurt Cobain and his artistic achievements."
2014, A crew member working on a biopic about
Gregg Allman
died after being hit by a train during filming. Police in south Georgia said the woman was struck after the crew for Midnight Rider placed a bed on the railway tracks in Doctortown. Wayne County Sheriff John Carter said several other people had been injured, two of them seriously.
1965,
The Kinks
were at No.1 with 'Tired Of Waiting For You', the group's second No.1. According to Ray Davies, the music for 'Tired of Waiting for You' was written on the train to the recording studio and the words were written at a coffee shop during a break in the session.
1972, On their first Australian tour,
Led Zeppelin
rescheduled to the following night their concert at the Memorial Drive, Adelaide, after heavy rain left the stage and equipment unsafe. Zeppelin had brought to Adelaide the largest PA system seen in Australia to produce what was expected to be the loudest rock show ever heard.
2000, An American court ordered the release of FBI files relating to
John Lennon's
interests and activities including his support for the Irish Republican cause and the Workers Revolutionary Party. The British Government told the US that it wanted the files to remain secret. MI5 also had files on Lennon, which they had passed on the FBI during the 70s.
Week commencing February 12 . . .

1970, On this day, Friday the 13th,
Black Sabbath
released their debut self-titled studio album on Vertigo records in the UK. Peaking at No.8 on the charts, the album has been recognised as the first main album to be credited with the development of the heavy metal genre.
1972,
The Greasy Truckers
concert took place at the Roundhouse in London, featuring
Man, Brinsley Schwarz
and
Hawkwind
. The eveining was recorded and released as a double vinyl album, in a limited edition of 20,000 which sold at just £1.50. The release rapidly sold out, becoming a collector's item.
1980, Police raided the home of former
Sex Pistols
John Lydon, who greeted them waving a ceremonial sword. The only illegal item they found was a canister of tear gas, which Lydon claimed to be for defence against intruders.
2005, Readers of The Sun voted
George Michael
's 'Careless Whisper' as the greatest British pop single of the past 25 years.
Oasis
came second with 'Wonderwall' and
Kate Bush
third with 'Wuthering Heights'. The rest of the Top 10: No.4,
Robbie Williams
'Angels', No.5,
The Jam
'Going Underground', in equal 6th,
Sex Pistols
'God Save The Queen' and
Joy Division
'Love Will Tear Us Apart', 7th was
Queen
'We Are The Champions', 9th,
The Stone Roses
'Fool's Gold' and 10th
The Undertones
'Teenage Kicks'.
2016, All four members of English indie rock group
Viola Beach
; Kris Leonard (guitar and vocals), River Reeves (guitar), Tomas Lowe (bass guitar), and Jack Dakin (drums) along with their manager Craig Tarry, died in a car crash in Södertälje, Sweden. Witnesses said they saw the car fall through a gap on the E4 motorway bridge, which was open to let a boat pass. The band had played at the Where's the Music? festival in Norrköping the previous day. The band had been scheduled to support
Blossoms
on a tour of the UK and Ireland during February and March 2016. The following year Arriva Buses launched five buses in the home town of Viola Beach in Warrington. Each vehicle had a picture of one of the band members and their manager.
1968, Hal Cone former manager of
The Monkees
and Head of Jones Records was found guilty of theft, forgery, receiving stolen property and conspiracy.
1981, American singer and musician
Bill Haley
who became known as the first Rock 'n' Roll star, was found dead, fully clothed on his bed at his home in Harlingen, Texas from a heart attack, aged 55. He scored the 1955 UK & US No.1 single
'Rock Around the Clock' as well as 'See You Later, Alligator', 'Shake, Rattle and Roll', 'Rocket 88', 'Skinny Minnie', and 'Razzle Dazzle'. Haley was blinded in his left eye as a child due to a botched operation and later adopted his distinctive spit-curl hairstyle to distract attention from his blind eye.
1997, Scottish singer
Brian Connolly
with the Seventies Glam rock group
Sweet
died of kidney and liver failure aged 51. Connolly replaced
Ian Gillan
(later of
Deep Purple
and
Black Sabbath
) in
Wainwright's Gentlemen
who became
Sweetshop
and then shortened to
Sweet
. The group scored 15 UK top 40 hits including the 1973 No.1 hit 'Blockbuster'.
Week commencing February 5 . . .

1971,
Led Zeppelin
announced a small club tour which would see the group playing Universities and small venues with ticket prices at 12 shillings (60p). Zeppelin manager Peter Grant said
'We decided to do the clubs and forget about the bread and the big concert halls'
.
1982,
Kraftwerk
were at No.1 on the singles chart with 'The Model / Computer Love', the first German act to score a No.1 single. The single spent 21 weeks on the chart.
1990,
Billy Idol
suffered serious injuries when he failed to pull up at a stop sign and crashed from his Harley-Davidson motorbike into a car.
1996, Former
Jam
members Bruce Foxton and Rick Buckler reached a high court settlement with Paul Weller after suing him for more than £100,000, after claiming they were owed royalties and group assets.
1998, American singer and guitarist
Carl Wilson
from
The Beach Boys
died aged 51 after a long battle with lung cancer (Wilson was diagnosed with brain and lung cancer in early 1997). He sang lead vocal on 'God Only Knows', 'Good Vibrations,' and 'I Can Hear Music.' Wilson also sang backing vocals on
Elton John's
'Don't Let The Sun Go Down On Me.'
1998, Austrian singer
Falco (Johann Holzel)
was killed in a road accident after his car collided with a bus. He scored the 1986 UK & US No.1 single 'Rock Me Amadeus' making him the first-ever Austrian act to score a UK and US No.1 hit single.
2001, Guitarist
Don Felder
was fired from
The Eagles.
He would later launch a $50 million law suit against drummer Don Henley and guitarist Glen Frey, alleging wrongful termination and breach of implied-in-fact contract. Henley and Frey then countersued Felder for breach of contract, alleging that Felder had written and attempted to sell the rights to a "tell-all" book. Both parties settled out-of-court for an undisclosed amount.
2011, Irish guitarist and singer
Gary Moore
died aged 58 in his sleep of a heart attack in his hotel room while on holiday in Estepona, Spain. Moore had been a member of
Skid Row
,
Thin Lizzy,
and
Colosseum II
, before going solo, scoring the 1979 UK No.8 single 'Parisienne Walkways'. Moore's greatest influence in the early days was guitarist Peter Green of
Fleetwood Mac
, who was a mentor to Moore when performing in Dublin. His 1990 album Still Got the Blues featured contributions from
Albert King, Albert Collins, and George Harrison
.
Week commencing January 29 . . .

1967,
Pink Floyd
spent the day recording parts for the
Syd Barrett
songs 'Arnold Layne' and 'Candy And A Current Bun' at Sound Techniques Studios, Chelsea, London. Floyd also turned professional on this day after signing a deal with EMI Records.
1972,
Chuck Berry
had his first UK No.1 single with a live recording of a song he'd been playing live for over 20 years 'My Ding-a-Ling'. UK public morality campaigner Mary Whitehouse attempted to have the song banned due to its innuendo-laden lyrics.
The Average White Band
members guitarist Onnie McIntyre and drummer Robbie McIntosh played on the single.
1979,
Sex Pistols
bassist Sid Vicious was released on bail after attacking Todd Smith, singer
Patti Smith
's brother, at a
Skafish
concert.
John Lydon
has since stated that
Mick Jagger
stepped in and paid for the lawyers for Vicious.
1995,
Richey Edwards
guitarist with the
Manic Street Preachers
vanished leaving no clues to his whereabouts. He left The Embassy Hotel in London at 7am, leaving behind his packed suitcase. His car was found on the Severn Bridge outside Bristol sixteen days later. Edwards has never been found, despite constant searching, and in November 2008 he was declared officially dead.
Week commencing January 22 . . .
1968,
Pink Floyd
played their first gig without
Syd Barrett
at Southampton University. They were supported by
Tyrannosaurus Rex
(later to be renamed T Rex) featuring
Marc Bolan
and percussionist
Steve Peregrine Took
.
1973,
Sweet
were at No.1 on the UK singles chart with 'Blockbuster'. The glam rockers only No.1 of 15 Top 40 hits.
1975, The BBC 'Omnibus' documentary 'Cracked Actor' a film about
David Bowie
was shown on TV. Filmed in 1974 when Bowie was was a cocaine addict, the documentary has become notorious for showing Bowie's fragile mental state during this period.
1977, Former
Fleetwood Mac
guitarist
Peter Green
was committed to a mental hospital following an incident when he threatened his accountant Clifford Adams with an air rifle when he was trying to deliver a £30,000 royalty cheque to him.
1986, Allen Collins, guitarist from
Lynyrd Skynyrd
crashed his car, paralysing him from the waist down and killing his girlfriend Debra Jean Watts. Collins had survived a plane crash in 1977 that killed two other band members.
1989, American soul singer
Donnie Elbert
died of a stroke aged 52. In 1955 he formed a doo-wop group, the
Vibraharps
making his recording debut on their single 'Walk Beside Me' but it wasn't until the Seventies when he had major success with the solo hit 1972 US No. 22 & UK No.11 single 'I Can't Help Myself', Sugar Pie Honey Bunch', as well as the hits 'Where Did Our Love Go?' and 'A Little Piece of Leather'.
1948, Born on this day (Friday),
Corky Laing
, drummer with heavy rock group
Mountain
who had the 1971 album 'Nantucket Sleighride'. Also worked with Jack Bruce.
1969,
Pink Floyd
appeared at the Sixty Nine Club, Royal York Hotel, Ryde, Isle of Wight. Support band was
The Cherokees,
who had had a minor hit single in 1964 with Seven Golden Daffodils produced by Mickie Most. They later changed their name to
New York Public Library
.
1975, The last Sunbury Rock Festival in Victoria Australia was held. The promoters who had made heavy losses only paid
Deep Purple. AC/DC
were scheduled to play after Deep Purple but a fight started on stage between road crews after Purple's set when they began packing up the lights and PA and denied AC/DC use of them, who then left the festival site without playing at all.
1986, US manager Albert Grossman died of a heart attack while flying on Concorde from New York to London. He managed
Bob Dylan
(between 1962 and 1970),
Peter, Paul and Mary, The Band
,
Janis Joplin
and
Todd Rundgren
. Grossman built the Bearsville Recording Studio near Woodstock in 1969 and in 1970 he founded Bearsville Records.
1992, The inaugural Big Day Out festival took place at the Hordern Pavilion in Sydney. Acts appearing included,
Nirvana, Beasts of Bourbon, Box The Jesuits, Celibate Rifles, Cosmic Psychos, The Clouds, Club Hoy, Died Pretty, Falling Joys, The Hard Ons with Henry Rollins Hellmen, Massappeal, The Meanies, Smudge, Sound Unlimited Posse, Ratcat, The Village Idiots, Violent Femmes
and
Yothu Yindi
.
1949, Born on this day (Thursday),
John Cooper Clarke
, 'Bard of Salford', Manchester, poet laureate. Well known for 'Kung Fu International', 'I Married A Monster From Outer Space', 'The Day My Pad Went Mad'.
1967,
Pink Floyd
spent the second of three days recording the
Syd Barrett
songs 'Arnold Layne' and 'Candy And A Current Bun' at Sound Techniques Studios, Chelsea, London. 'Candy And A Current Bun' was first known as 'Let's Roll Another One' and contained the line 'I'm high - Don't try to spoil my fun', but it was decided that Syd Barrett should rewrite it without the drug references.
1969, New Jersey state prosecutors issue a warning to US record dealers that they would be charged with distributing pornography if they were caught selling the
John Lennon / Yoko Ono
LP 'Two Virgins'. The front cover of the album showed the pair frontally nude, while the back cover showed them from behind. The album still managed to reach No.124 on the US, but failed to chart at all in the UK, where only 5,000 copies were ever pressed.
1970, James Sheppard, the lead singer from the
Heartbeats
and
Shep and the Limelites
, was found murdered in his car on the Long Island Expressway. The US singer had been beaten and robbed. The Limelites reached No.2 in the US in 1961 with 'Daddy's Home'.
1970,
Led Zeppelin
appeared at Leeds University. It was at this show when Zeppelin had a meeting with fine arts lecturer Zacron to discuss their ideas for the album sleeve of the band's next album,
Led Zeppelin III
.
Zacron, born Richard Drew, had studied at Kingston College of Art with members of
the Yardbirds.
1977,
The Buzzcocks
appeared at the Roxy, in London, supported by
Chelsea
. Also appearing at the venue over the last week;
The Damned, The Boys, The Adverts, Slaughter And The Dogs
and
Squeeze
.
1981,
Adam And The Ants
started a 10-week run at No.1 on the chart with their debut album 'Kings Of The Wild Frontier'.
2017, American drummer Butch Trucks from
The Allman Brothers Band
died of a self-inflicted gunshot wound to the head in West Palm Beach, Florida, at the age of 69. He played in various groups before forming the 31st of February while at Florida State University in the mid 1960s. He joined the Allman Brothers Band in 1969. Their 1971 live release, At Fillmore East, represented an artistic and commercial breakthrough.
1967,
The Monkees
performed live for the very first time at The Cow Palace, San Francisco to a sell-out crowd.
1994, American musician
Rhett Forrester
was shot and killed at a Northwest Atlanta intersection after he refused to give up his vehicle in an attempted carjacking, he was 37 years old. He was best known as the lead singer for New York-based band
Riot
from 1981 until 1984.
2002, English keyboardist
Peter Bardens
died from lung cancer aged 57. He was a founder member of the British progressive rock group
Camel
and also worked alongside
Rod Stewart, Mick Fleetwood
and
Van Morrison
, and recorded solo albums.
2017, English bass guitar player
Pete Overend Watts
and founding member of the 1970s rock band,
Mott the Hoople
died from throat cancer aged 69. Watts helped start the
Buddies
with guitarist Mick Ralphs, a band that evolved into Mott the Hoople after periods in which it was known as
the Doc Thomas Group, the Shakedown Sound,
then
Silence
. They became Mott the Hoople after Ian Hunter joined in 1969. Watts continued with Dale Griffin, Morgan Fisher and Ray Major in the Mott successor
British Lions
. He later became a record producer, producing albums for artists including
Hanoi Rocks
and
Dumb Blondes.
Week commencing January 15 . . .

1965,
The Rolling Stones
recorded 'The Last Time' and 'Play With Fire' at the RCA studio in Hollywood, California. Producer
Phil Spector
played acoustic guitar on 'Play With Fire.'
1967,
The Jimi Hendrix Experience
recorded an appearance on Top Of The Pops performing a live version of "Hey Joe". They also played a show at the Seven and a Half Club in Mayfair, London during the evening.
1974, Former members from
Free
(Paul Rodgers & Simon Kirke),
Mott The Hoople
(Mick Ralphs), and
King Crimson
(Boz Burrell), formed
Bad Company
. The band went on to top the charts with their debut release.
1981,
Wendy O. Williams
of
The Plasmatics
was arrested on stage at Milwaukee and was charged with the offence of simulating sex with a sledgehammer. Williams later filed a multimillion dollar civil suit against the Milwaukee Police, claming they sexually assaulted and beat her during the arrest, but a jury rejected her claims.
2000,
Spencer Goodman
was executed by lethal injection in Huntsville, Texas. Goodman was convicted of kidnapping and murdering the wife of
ZZ Top
manager Bill Ham in 1991. Ham was present for the execution.
2011, The largest collection of
Beatles
memorabilia went on display in a new museum in Buenos Aires, Argentina. Rodolfo Vazquez, a 53-year-old accountant, turned his mammoth Beatles collection into a museum with more than 8,500 objects - setting the new world record for the largest collection of Beatles memorabilia. Some of the items included a box of condoms bearing the names of John Lennon and Yoko Ono, a brick from the Cavern Club, a chunk of the stage from the Star Club in Hamburg, and certified copies of the band members' birth certificates. Among his favorite items were 64 boxes of chewing gum in the form of Beatles records.
2015, American session drummer Dallas Taylor died of complications from viral pneumonia and kidney disease, aged 66. He is best known as the drummer on Crosby, Stills and Nash's debut album, Crosby, Stills & Nash (1969) and their follow-up with Neil Young, Déjà Vu (1970) as well as appearing on Stephen Stills' eponymous first solo album in 1970. Taylor was the drummer for Stills' group Manassas in 1972 and 1973. In 1970, Dallas sat in with The Doors accompanying John Densmore on drums. Jim Morrison acknowledges him on The Doors Live in New York album.
1964,
The Beatles
played two shows at the Olympia Theatre, Paris, France, the first of an 18-night engagement. This first show was attended mostly by Paris' 'top society' members (all dressed in formal evening attire). The French press had little good to say about The Beatles in the next day's papers, but the foursome didn't care because they'd just received news that their single 'I Wanna Hold Your Hand' had hit No.1 in the US, selling 10,000 copies an hour in New York City alone.
1973,
Bruce Springsteen
appeared at Villanova University, Philadelphia, to an audience of 25 people. Due to a strike by Villanova's school newspaper The Villanovan, this concert went unadvertised, so this is probably the smallest crowd Bruce and The E Street Band have ever played in front of.
1985,
David Bowie's
schizophrenic half-brother Terry Burnes killed himself aged 47 after laying down on the railway lines at Coulsdon South station, London. He was killed instantly by a passing train. This incident was to be immortalized in the line 'a crack in the sky and a hand pointing down at me' in Bowie's song 'Oh, You Pretty Things'.
1987, TV presenter and pianist
Jools Holland
was suspended from Channel 4s UK music show
The Tube
for 6 weeks, after using the phrase 'groovy fuckers' during a live trailer broadcast in children's hour.
1992,
Eric Clapton
recorded his unplugged session for
MTV
.
The set which included his current hit single 'Tears in Heaven' and a reworked acoustic version of 'Layla', earned six Grammy Awards for the album including Record of the Year.
1996, Jamaican authorities opened fire on
Jimmy Buffett'
s seaplane, mistaking it for a drug trafficker's plane.
U2
singer Bono was also on the plane; neither singer was injured in the incident. The incident inspired Buffett to write a song called 'Jamaica Mistaica'.
2000, American singer
Will Jones
died aged 71 from the effects of diabetes. He is best known as the bass vocalist for
The Coasters
and
The Cadets
. The Cadets' biggest hit was 'Stranded In The Jungle' and his bass vocals can be heard on The Coasters' hits 'Yakety Yak' and 'Charlie Brown.' He also sang lead on
The Trammps
cover version of 'Zing! Went the Strings of My Heart'.
2000, It was reported that
Mick Jagger
had lost the chance of a knighthood because of his errant ways, Prime Minister Tony Blair having doubts about the message it would give about family values. This decision was changed and on 12 December 2003, Mick Jagger was made a Knight Bachelor by The Prince of Wales for services to music, as
Sir Michael Jagger.
2013, It was announced that
Joe Strummer
was to have a city square named after him in Spain following a Facebook campaign. More than 2,000 residents of Granada, where
The Clash
frontman became a frequent visitor, signed a petition calling for him to be honoured. City hall officials agreed to the proposals and a square in the area was set to be renamed
Plaza de Joe Strummer
.
1965,
The Who
released their first single 'I Can't Explain'. With
Jimmy Page
on guitar and
The Ivy League
on backing vocals, it went on to reach No.8 on the chart.
1967,
The Rolling Stones
were forced to change the lyrics of 'Let's Spend The Night Together' to Let's Spend Some Time Together when appearing on the US TV The Ed Sullivan Show, after the producers objected to the content of the lyrics. Jagger ostentatiously rolled his eyes at the TV camera while singing the changed lyrics, resulting in host Ed Sullivan announcing that The Rolling Stones would be banned from performing on his show ever again.
1969,
George Harrison
had a five-hour meeting with John, Paul and Ringo where he made it clear that he was fully prepared to quit
The Beatles
. Harrison wasn't happy with plans for live performances and the current Let It Be film project.
1971,
David Bowie
released 'Holy Holy' as a single in the UK which failed to chart. A more frantic version of the song was recorded in 1971 for
The Rise And Fall Of Ziggy Stardust And The Spiders From Mars but was dropped from the album, but subsequently appeared as the B-side to 'Diamond Dogs' in 1974.
1972,
Led Zeppelin
's
'Black Dog'
made its debut on the US singles chart. The group's third single peaked at No.15 and spent 8 weeks on the chart. The song's title is a reference to a nameless, black Labrador retriever that wandered around the Headley Grange studios during recording.
1994, American singer songwriter
Harry Nilsson
died in his sleep of heart failure after spending the previous day in the recording studio. He recorded 'Everybody's Talkin' from the film Midnight Cowboy and wrote hits for
Three Dog Night
and
The Monkees.
Had the UK & US No.1 single with his version of the
Badfinger
Evans & Ham song 'Without You,'.
2002, 1980s British pop legend
Adam Ant
was admitted to a mental ward 24 hours after being charged by police with pulling a gun on staff in a London pub.
2015, American record producer, singer and musician
Kim Fowley
died of bladder cancer in Hollywood, California at the age of 75. He is best known for his role behind a string of novelty and cult pop rock singles in the 1960s, and for managing
The Runaways
in the 1970s. With Gary S. Paxton he recorded the novelty song 'Alley Oop', which reached No.1 on the charts in 1960 and was credited to the non-existent group the
Hollywood Argyles
. He arranged 'Nut Rocker' for
B. Bumble and the Stingers
, which became a No.1 hit in the UK in 1962.
Week commencing January 8 . . .

1963,
Charlie Watts
made his live debut with
The Rolling Stones
at The Flamingo Jazz Club, Soho, London. Before joining the Stones, Watts played regularly with
Blues Incorporated
.
1966,
David Jones
changed his name to
David Bowie
to avoid confusion with Davy Jones from
The Monkees,
just in time for the release of his single, 'Can't Help Thinking About Me'.
1970,
Diana Ross
made her last appearance with
The Supremes
at The Frontier Hotel, Las Vegas. During the show, Diana introduced her replacement, Jean Terrell, who would lead the group to seven more Top 40 hits including the Top 10 entries 'Up The Ladder To The Roof' and 'Stoned Love' later in the year.
1977,
David Bowie
released his eleventh studio album Low, the first of three collaborations with Brian Eno termed the "Berlin Trilogy". The track 'Sound and Vision' was released as a single and used by the BBC on trailers at the time, providing much needed exposure, and helped the song reach No.3 on the charts as Bowie opted to do nothing to promote the single himself.
1978,
The Sex Pistols
played their last show at the Winterland Ballroom in San Francisco where Johnny Rotten yelled to the crowd at the outset,
"Ever get the feeling you've been cheated."
It was the last time the band played with bassist Sid Vicious.
1992, American rock drummer, Jerry Nolan from
The New York Dolls
died from a fatal stroke aged 45. The influential American band formed in 1972 and made just two albums, the 1973 New York Dolls and 1974 Too Much Too Soon. Nolan joined the New York Dolls in the autumn of 1972 to replace Billy Murcia, who had died of asphyxiation as a result of a failed attempt to revive him from a drug overdose while on tour in England, early in the band's career. Nolan left the Dolls together with
Johnny Thunders
in the spring of 1975. The two then placed a call to bassist
Richard Hell
, formerly of the
Neon Boys
and
Television
, to form
The Heartbreakers
.
2005, A $100,000 (£58,823) statue honouring the late punk guitarist
Johnny Ramone
was unveiled by his widow Linda at the Hollywood Forever Cemetery. Johnny died from prostate cancer in September 2004 at the age of 55. Hundreds turned out for the ceremony, including
Tommy Ramone
the only surviving band member.
Dee Dee Ramone
died of a drugs overdose in 2002 and
Joey
died in 2001 of lymphatic cancer.
1969,
Led Zeppelin's
debut album was released in the UK. Recorded at Olympic Studios in Barnes, London, the album took only about 36 hours of studio time to complete at a cost of just £1,782, most of the tracks being recorded 'live' in the studio with very few overdubs. The album spent a total of 71 weeks on the UK chart.
1975, The first night of a UK tour kicked off under the banner of The Warner Brothers Music Show. It featured
Little Feat, Montrose, Tower Of Power, The Doobie Brothers
and
Graham Central Station
. Also released was an album sampler featuring all the acts that was priced at 69p.
1977,
The Police
had their first rehearsal, held at drummer's Stewart Copeland's London flat, with Henri Padovani on guitar.
1993,
Van Morrison
failed to turn up at the Rock And Roll Hall Of Fame induction dinner, making him the first living inductee not to attend.
2005, It was announced that the Strawberry Field children's home immortalised by
The Beatles
was to close. The home in Woolton, Liverpool was made famous when
John Lennon
wrote 'Strawberry Fields Forever' after playing there as a child.
2017, Richard Carpenter said he was owed at least $2m (£1.6m) in royalties for the hits he recorded in
The Carpenters
. He claimed Universal Music had only paid the band a "minuscule fraction" of the money they were owed from downloads on sites such as iTunes and Amazon. The musician was suing for compensation, according to legal documents filed in Los Angeles.
1958,
Gibson
guitars launched it' 'Flying V' electric guitar. Guitarists who played a Flying V include
Albert Collins
,
Jimi Hendrix,
Marc Bolan
and
Billy Gibbons
from
ZZ Top
.
1964, The first night of a 14 date UK tour 'Group Scene 1964', featuring
The Rolling Stones,
The Ronettes, Marty Wilde, The Swinging Blue Jeans
and
Dave Berry and The Cruisers
, played at the Granada Theatre, Harrow on The Hill, Middlesex.
1967,
The Who
played their first gig of this year when they appeared at Morecambe, Central Pier. The band played over 200 gigs in this year, including their first ever US tour.
1973,
Carly Simon
's 'You're So Vain' (with
Mick Jagger
on backing vocals), started a three week run at No.1 on the US singles chart. In 2015, after keeping quiet for more than 40 years, Carly Simon admitted that 'You're So Vain' was about Warren Beatty, but only one verse of it. Simon said the other verses were about two other men.
1975, The mayor of Boston cancelled a
Led Zeppelin
concert after over 2,000 fans rioted trying to buy tickets. The fans caused an estimated $50,000 to $75,000 damage at Boston Garden. The gig, during the bands North American tour, was rescheduled for Feb 4th.
1980,
Georgeanna Tillman
singer with Motown girl group
The Marvelettes
died from lupus and sickle cell anemia aged 35. The Marvelettes scored the 1961 US No.1 single 'Please Mr Postman'. In 1963 Tillman was diagnosed with lupus, she also had been diagnosed with sickle cell anemia during childhood.
1993, It was reported that
David Bowie
had lost over £2.5 million in unpaid royalties to an Italian Mafia-linked bootleg fraud.
1997, Two bronze busts worth £50,000 were stolen from a garden at
George Harrison's
estate in Henley-on- Thames, Oxfordshire. Thieves had climbed a 10- foot-wall and cut the figures of two monks from their stone plinths.
2001,
Pink Floyd
guitarist
David Gilmour
won the right to his dot com name. Dave took legal action in his battle to reclaim davidgilmour.com from Andrew Herman who had registered the URL and was selling Pink Floyd merchandise through the site.
2006, Guitarist, trumpeter and drummer
Alex St. Claire
died. Member of
The Omens, The Solid Senders
and an original member of
Captain Beefheart and his Magic Band
and
Frank Zappa.
2017, Norway announced that it would become the first country in the world to gradually stop using the FM radio network. The move, which aimed to ditch the analogue platform in favour of a digital one - Digital Audio Broadcasting, would bring a clearer sound to the nation's five million people. Although it is to be noted that DAB broadcasts only in mono.
1969, Appearing live on The Lulu show on TV,
The Jimi Hendrix Experience
were booked to perform two songs, Voodoo Chile (which was performed in full), then Hendrix stopped performing his new single 'Hey Joe' after a verse and chorus and instead launched into a version of the
Cream
song 'Sunshine Of Your Love' as a tribute to the band who had split a few days earlier. Hendrix then proceeded to continuing jamming, running over their allocated time slot on the live show, preventing the show's host Lulu from closing the show properly.
1976,
Bob Dylan's
song, 'Hurricane', peaked at No.33 on the Billboard singles chart, helping to cause enough publicity to eventually get former boxer Rubin 'Hurricane' Carter released from jail. The song promoted Carter's innocence and a movie about Carter's life, starring Denzel Washington, was released in 2000.
2002,
Liam and Noel Gallagher
topped a poll of celebrities you would least like to live next to, getting 40% of the vote. Readers of Your Home magazine voted the brothers from
Oasis
as 'Neighbours From Hell'.
2014, Phil Everly, one half of the
Everly Brothers
, died of complications from lung disease aged 74, in California. In their heyday between 1957 and 1962, the Everly Brothers had 19 Top 40 hits, including 'Bye Bye Love', 'Wake Up Little Susie' and 'All I Have to Do Is Dream' and influenced acts such as
The Beatles
and
The Beach Boys.
The Everly Brothers had 35 Billboard Top-100 singles, 26 in the top 40. They hold the record for the most Top-100 singles by any duo. In the UK they had 30 chart singles, 29 in the top 40, 13 top 10, and 4 at No. 1 between 1957 and 1984.
1969, The entire shipment of
John Lennon
and Yoko Ono's album
'Two Virgins'
was seized by authorities in New Jersey due to the full frontal nude photograph of the couple on the cover. The album was eventually wrapped in plain brown paper in record stores.
1971, The
George Harrison
album 'All Things Must Pass' started a seven week run at No.1 on the US album chart, making Harrison the first solo Beatle to score a US No.1 album. The triple album included the hit singles 'My Sweet Lord' and 'What Is Life', as well as songs such as 'Isn't It a Pity' and the title track that were turned down by
The Beatles.
1979,
Sex Pistols
bassist
Sid Vicious
went on trial in New York accused of murdering his girlfriend Nancy Spungen three months earlier, when he claimed to have awoken from a drugged stupor to find Spungen dead on the bathroom floor of their room in the Hotel Chelsea in Manhattan, New York.
1980, US singer
Larry Williams
was found dead from a gunshot wound to his head in his Los Angeles, California home aged 45. Williams had the 1957 US No.5 & UK No. 21 single 'Short Fat Fannie.' Also known for 'Bony Moronie' and 'Dizzy Miss Lizzy.'
The Beatles, Rolling Stones, Dr. Feelgood, Flying Burrito Brothers, Johnny Winter,
Little Richard,
The Who, Ritchie Valens
and
Bill Haley & His Comets
all covered his songs.
1997, Guitarist
Randy California
from US group
Spirit
drowned when rescuing his 12-year old son when he was sucked into a riptide in surf off Hawaii.